SRM IST Chennai becomes All India Inter University Women Chess Champion 2023
The defending champion Adamas University and SRM Institute of Science and Technology Chennai scored 8/10. SRM won the tournament due to better tie-breaks. They scored more game points than Adamas. Thus, the only unbeaten team of the tournament, Adamas had to settle for second place. University of Madras edged past University of Mumbai and University of Delhi on tie-breaks to finish third with a score of 7/10. Krithigga K (SRM IST), WIM Arpita Mukherjee (Adamas), Sudipa Haldar (University of Calcutta), Poorna Sri M K (SRM IST), Divyabharathi Masanam (University of Madras) and Chetana D (Osmania University) won individual Gold on Board no. 1-6 each respectively. Photo: Al Kasi
Runner-up Adamas University only team to remain undefeated and beat the champion
Adamas University Women's team made a stellar debut last year by winning both East Zone and All India Inter University Championship. This year also they were on track to repeat the same performance. They needed to beat University of Madras in the final round to become a clear champion. Unfortunately, draw is the only result they could manage. SRM IST Chennai defeated Osmania University 3-1 to win the tournament on tie-breaks. Their fourth round loss against Adamas did not factor in as they had scored more game points (TB2) than the eventual runner-up.
L to R - Mohana Praba R B, Sunyuktha C M N, Krithigga K, Poorna Sri M K and WFM Divya Lakshmi R.
L to R - Debarpita Ghosh, Asmita Das, WIM Arpita Mukherjee, Diya Chowdhury, Samriddhaa Ghosh and Bidisha Roy.
Board prize winners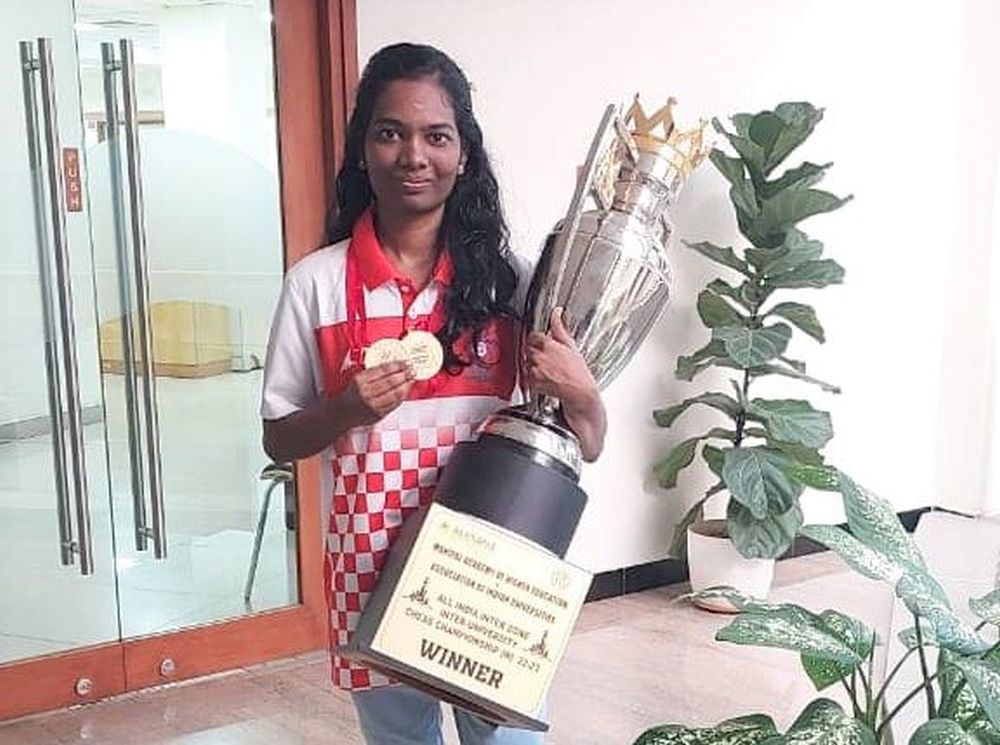 WIM Arpita Mukherjee also won an individual Gold on Board #3 for team Airports Authority of India at MPL 20th National Team Chess Championship Women 2023.
Round 5 results
No.
Team
Team
Res.
:
Res.
1
University of Madras
Adamas University Kolkata
2
:
2
2
SRMIST Chennai
Osmania University
3
:
1
3
University of Delhi
Savitribai Phule Pune
2½
:
1½
4
University of Mumbai
Jadavpur Univesity
2½
:
1½
5
Bharatiyar University, coimbatoore
Panjab University Chandigarh
2½
:
1½
6
Punjabi University Patiala
Gujarat University
1
:
3
7
Shivaji University, Kolhapur
Univesity of Jammu, Jammu
4
:
0
8
University of Cacutta
Atal Bihari Vajapeyye University Bilaspu
3
:
1
Final standings
| | | | | | | | | | |
| --- | --- | --- | --- | --- | --- | --- | --- | --- | --- |
| Rk. | SNo | Team | Games | + | = | - | TB1 | TB2 | TB3 |
| 1 | 4 | SRMIST Chennai | 5 | 4 | 0 | 1 | 8 | 14,5 | 163,8 |
| 2 | 3 | Adamas University Kolkata | 5 | 3 | 2 | 0 | 8 | 13 | 152 |
| 3 | 1 | University of Madras | 5 | 3 | 1 | 1 | 7 | 13 | 149 |
| 4 | 9 | University of Mumbai | 5 | 3 | 1 | 1 | 7 | 12 | 96,8 |
| 5 | 2 | University of Delhi | 5 | 3 | 1 | 1 | 7 | 10,5 | 124 |
| 6 | 5 | Osmania University | 5 | 3 | 0 | 2 | 6 | 13 | 132,3 |
| 7 | 6 | Bharatiyar University, coimbatoore | 5 | 3 | 0 | 2 | 6 | 10 | 76,5 |
| 8 | 7 | Savitribai Phule Pune | 5 | 2 | 1 | 2 | 5 | 10,5 | 84,5 |
| 9 | 12 | Gujarat University | 5 | 2 | 1 | 2 | 5 | 9 | 64 |
| 10 | 8 | Shivaji University, Kolhapur | 5 | 2 | 0 | 3 | 4 | 11 | 87,5 |
---