SRM Chennai and Adamas clinch All India Inter University Men and Women Chess Tournament 2022
Adamas University made a stellar debut by securing two podium finishes at All India Inter University Chess Tournament 2022. The fourth seeded Adamas Women's team won the tournament with an unbeaten 9.0/10. SRM University also finished with the same score, however they were placed second according to tie-breaks. University of Madras, Chennai secured third place 8.0/10. The top three seeds in the Men's event finished in the same order. SRM IST, Chennai won the tournament 9.0/10. Adamas University was placed second 8.0/10. Anna University Chennai edged past Savitribai Phule Pune University, Pune to finish third 7.0/10. Check out detail results and also the best games of both winning teams. Photo: Adamas University
SRM and Adamas University dominate the field
It would be difficult to find a better debut year at All India University Chess Tournament than what Adamas had in the past four months. Adamas University first won East Zone Inter University in both Men and Women events back in December 2021. Now they secured first and second place in Women and Men's event on 22nd April 2022. Tournament favorite and top seed in both events, SRM IST, Chennai clinched first and second place in Men and Women event respectively.
Men champion - SRM IST, Chennai 9.0/10
Three out of six members of SRM IST, Chennai won an individual board prize. They are - IM Harshavardhan G B 4.0/4 100% on board no.1, GM Arjun Kalyan 3.5/5 70% on board no.3 and GM Karthik Venkataraman 3.5/4 87.5% on board no.4. Check out the best games of each player selected by themselves.
Best games
Women champion - Adamas University 9.0/10
Adamas University Women's team had only four members. They had no reserve players, which means there was no element of surprise for other teams. Still, they managed to overcome all hardships and win the tournament. WIM Arpita Mukherjee scored 100% 5.0/5 to win first prize on board no.1. Samriddhaa Ghosh scored 90% an unbeaten 4.5/5 to secure second prize on board no.4. Bidisha Roy also scored a crucial 3.5/5 and remained undefeated. Each player of the team shared their best game.
Best games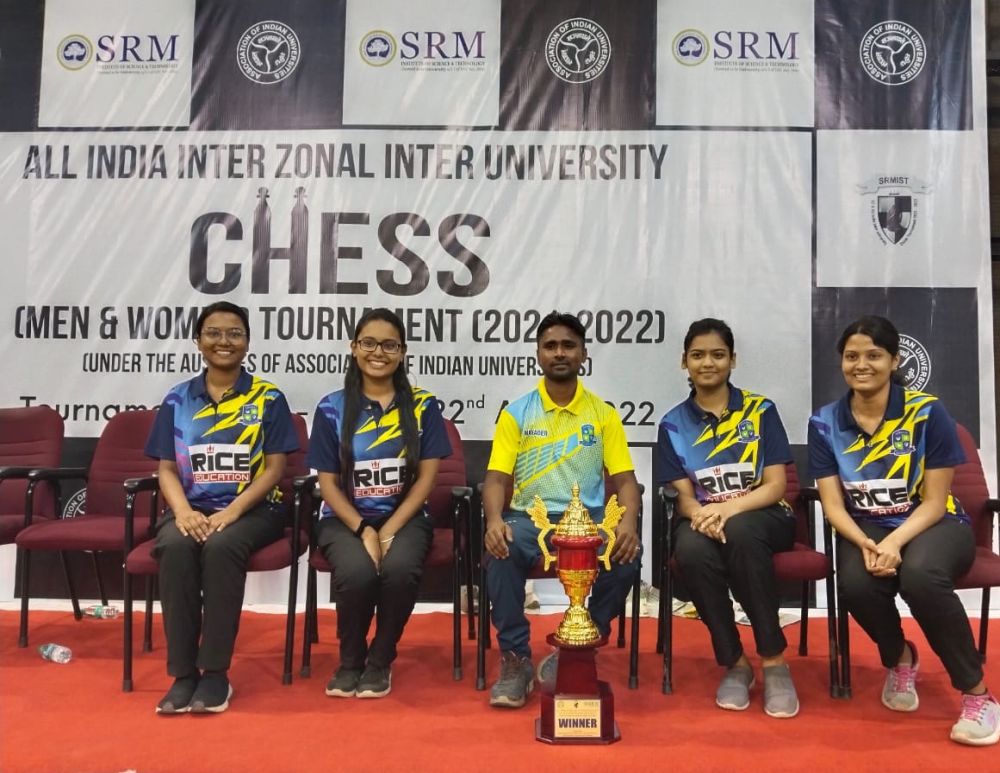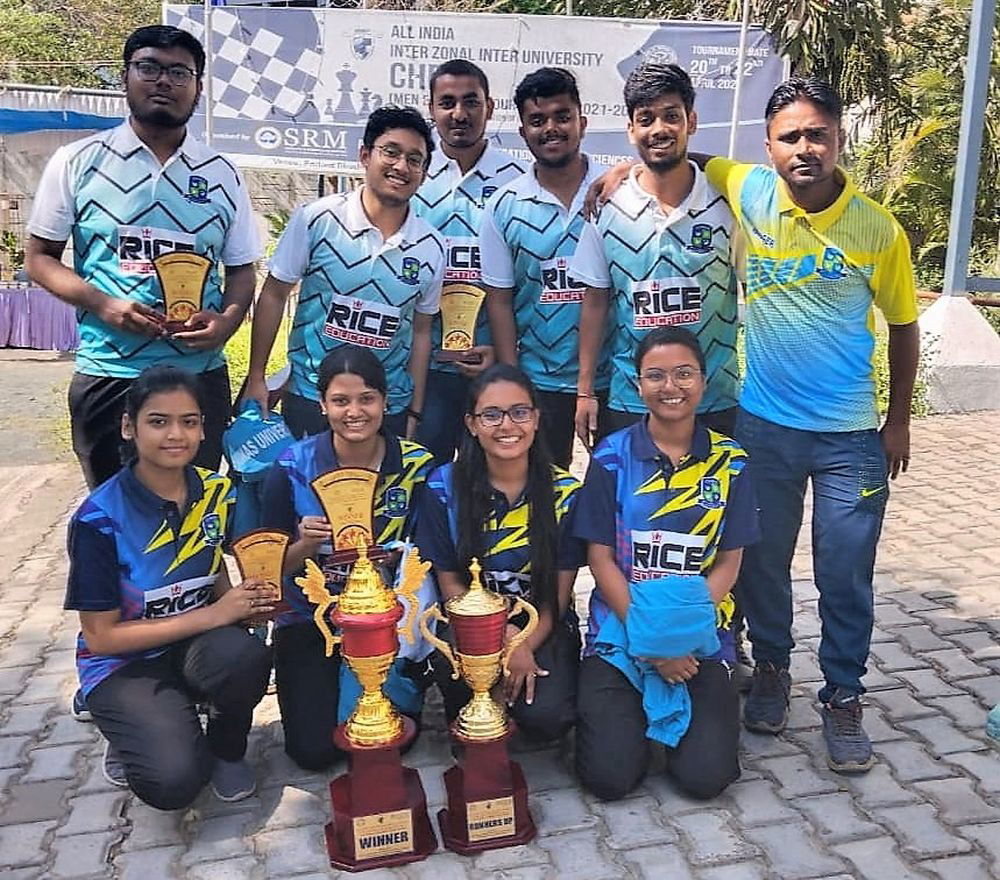 Bengal's football coach Ranjan Bhattacherjee is the sole reason for the start of chess in Adamas University. He has played for East Bengal and Mohammedan Sporting, some of the top football clubs of Bengal as well as India. Out of 23 different sports, chess is the only sport where Adamas University won first and second place in their debut at All India University tournament this year.
Board prize winners
WIM Arpita Mukherjee also won an individual board prize at MPL 19th National Women's Team Chess Championship 2022.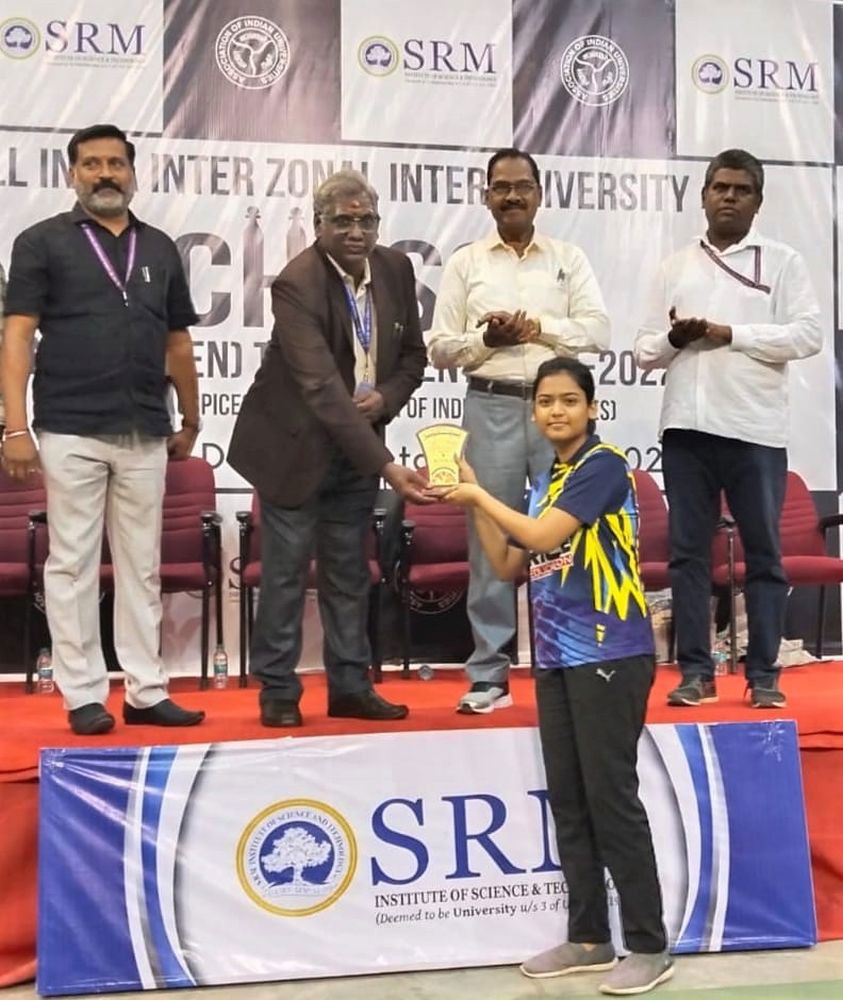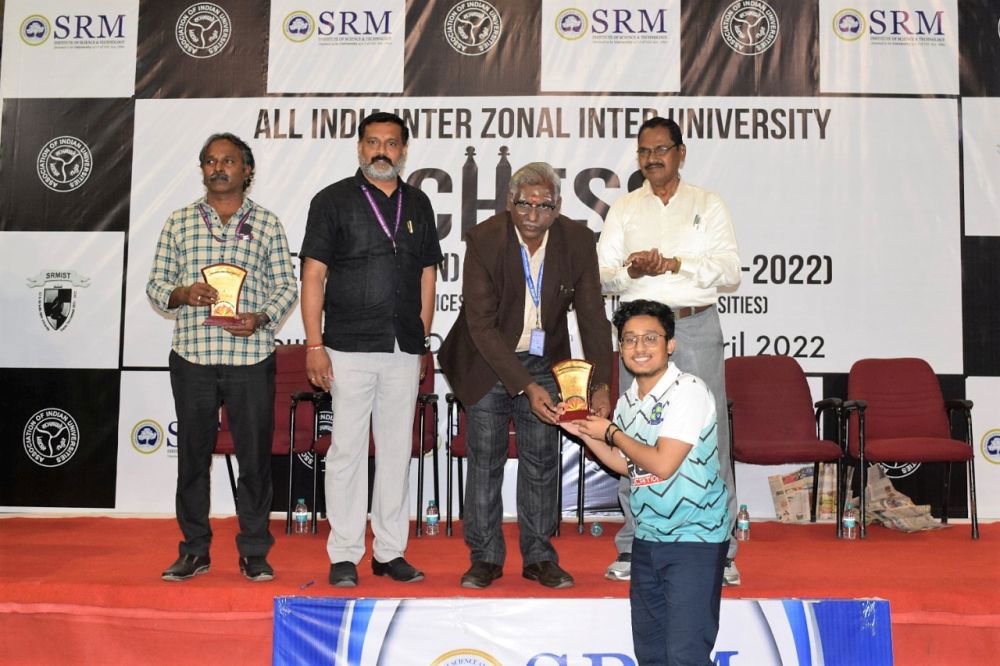 Round 5 results in Open
No.
Team
Team
Res.
:
Res.
1
SRM IST, Chennai
Anna University Chennai
3
:
1
2
APJ Abdulkalam Technological University,
Adamas University
0
:
4
3
Savitribai Phule Pune University, Pune
University of Delhi
3
:
1
4
University of Madras, Chennai
University of Calcutta
2½
:
1½
5
Shivaji University, Kolhapur
Punjabi University,Patiala
2
:
2
6
MLS University, Udaipur
L.N. Mithila University
4
:
0
7
Maharishi Dayanand University, Rohtak
Punjab Engineering College, Chandigarh
3
:
1
Final standings in Open
| | | | | | | | | | |
| --- | --- | --- | --- | --- | --- | --- | --- | --- | --- |
| Rk. | SNo | Team | Games | + | = | - | TB1 | TB2 | TB3 |
| 1 | 1 | SRM IST, Chennai | 5 | 4 | 1 | 0 | 9 | 15,5 | 169,0 |
| 2 | 2 | Adamas University | 5 | 3 | 2 | 0 | 8 | 14,0 | 158,5 |
| 3 | 3 | Anna University Chennai | 5 | 3 | 1 | 1 | 7 | 13,0 | 136,8 |
| 4 | 5 | Savitribai Phule Pune University, Pune | 5 | 3 | 1 | 1 | 7 | 10,5 | 98,3 |
| 5 | 6 | University of Madras, Chennai | 5 | 3 | 0 | 2 | 6 | 11,0 | 85,5 |
| 6 | 9 | MLS University, Udaipur | 5 | 2 | 1 | 2 | 5 | 11,5 | 105,3 |
| 7 | 7 | APJ Abdulkalam Technological University, | 5 | 2 | 1 | 2 | 5 | 9,0 | 78,5 |
| 8 | 14 | Maharishi Dayanand University, Rohtak | 5 | 2 | 1 | 2 | 5 | 9,0 | 63,0 |
| 9 | 12 | Punjabi University,Patiala | 5 | 1 | 2 | 2 | 4 | 10,0 | 77,0 |
| 10 | 4 | University of Calcutta | 5 | 2 | 0 | 3 | 4 | 9,5 | 89,0 |
Round 5 results in Women
No.
Team
Team
Res.
:
Res.
1
SRM IST, Chennai
University of Delhi
3½
:
½
2
Anna University,Chennai
Adamas University
1
:
3
3
SGB Amravati University
University of Madras, Chennai
½
:
3½
4
Shivaji University, Kolhapur
Kannur University, Kerala
2½
:
1½
Final standings in Women
| | | | | | | | | | |
| --- | --- | --- | --- | --- | --- | --- | --- | --- | --- |
| Rk. | SNo | Team | Games | + | = | - | TB1 | TB2 | TB3 |
| 1 | 4 | Adamas University | 5 | 4 | 1 | 0 | 9 | 15,5 | 187,3 |
| 2 | 1 | SRM IST, Chennai | 5 | 4 | 1 | 0 | 9 | 15,0 | 165,5 |
| 3 | 2 | University of Madras, Chennai | 5 | 4 | 0 | 1 | 8 | 15,0 | 153,3 |
| 4 | 3 | University of Delhi | 5 | 3 | 0 | 2 | 6 | 13,0 | 117,0 |
| 5 | 7 | Shivaji University, Kolhapur | 5 | 3 | 0 | 2 | 6 | 12,5 | 95,3 |
| 6 | 5 | Anna University,Chennai | 5 | 3 | 0 | 2 | 6 | 11,5 | 102,3 |
| 7 | 10 | Rani Durgawati Vishavidhyalya, Jabalpur | 5 | 2 | 1 | 2 | 5 | 10,5 | 75,8 |
| 8 | 11 | Punjab University, Chandigarh | 5 | 2 | 1 | 2 | 5 | 10,0 | 62,5 |
| 9 | 9 | Kannur University, Kerala | 5 | 2 | 0 | 3 | 4 | 10,0 | 63,3 |
| 10 | 8 | SGB Amravati University | 5 | 2 | 0 | 3 | 4 | 6,0 | 62,5 |
---