Lokesh wins GMLs Coimbatore Grand Prix Rapid Rating Open
Fourth seeded Lokesh N scored 6.5/7 to win the final leg GMLs All India Rapid Rating Open, part of All India Chess Grandprix. Two other players Selvamurugan B and Senthil Maran also finished at 6.5/7 each and they were placed second and third respectively. Total 280 players participated in this one-day rapid rating tournament at Hindusthan Arts & Science College, Coimbatore on 23rd February 2020, organized by GMLs Academy. The tournament had a total prize fund of ₹1.25 lacs, Lokesh bagging the first prize of champion's trophy and ₹15000 cash. He will also be one of the top ten finalists of All India Chess Grandprix which will take place next month. Photo: Uma Maheswaran Palanisamy
Three players finished at 6.5/7
Lokesh N, Selvamurugan B and Senthil Maran K finished at 6.5/7 each respectively at GMLs 1st All India Rapid Rating, part of All India Chess Grandprix. Lokesh was declared the winner, Selvamurugan as the runner-up and Senthil as the second runner-up according to their tie-break scores.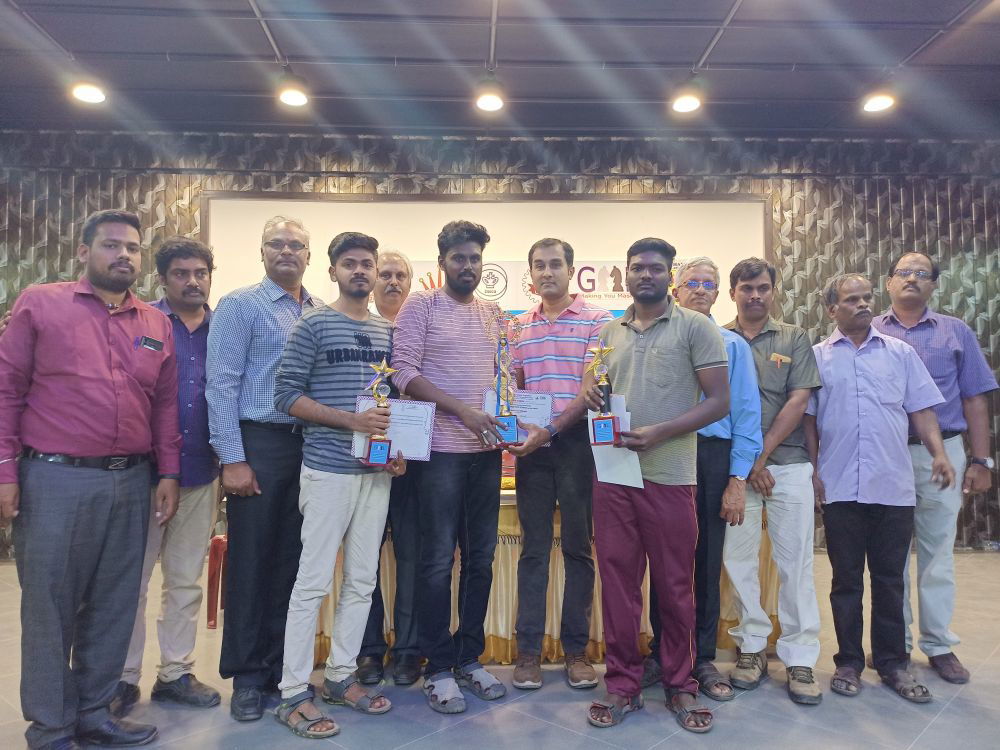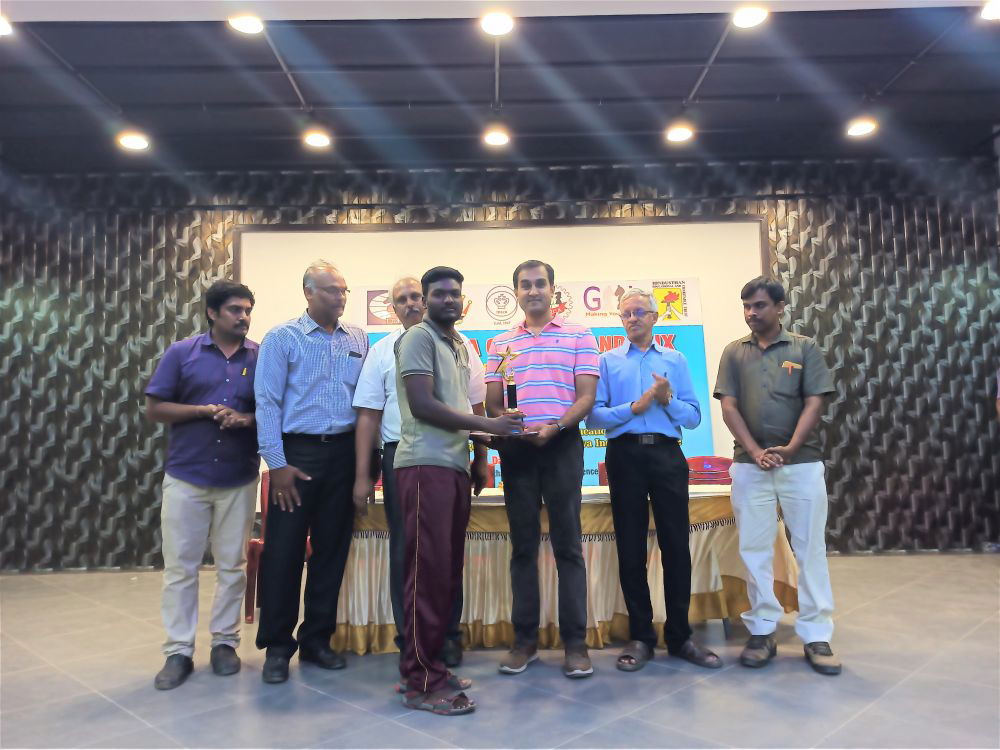 The Coimbatore GP aftermath
by Uma Maheswaran Palanisamy
The GMLs Grandprix is the final leg of the five-series of rapid events. Others were held previously were in Tiruvarur, Sivakasi, Karaikudi, Madurai and now in Coimbatore. Each series had a similar prize structure of ₹1.25 lakhs with winner getting richer by ₹15000/-. The top ten players are allotted GP points which is accumulated to choose top ten players from the five grand prix series to play in a super final with a cash prize similar to the existing one, on 22nd of April 2020. The tournament had strong participants like top seed IM B T Muralikrishnan of Southern Railways, Syed Anwar Shazuli of ICF, Senthil Maran and IM A Ra Harikrishna to name a few. A total of 280 participants took part eagerly.
The Tournament was inaugurated by International Arbiter R Srivatsan, Treasurer TNSCA, Member Arbiter Commission AICF, Rating Officer AICF, Assistant Manager National Insurance Company. Other guests on the dais were IA Vijayaraghavan, Chief Arbiter, Mr. SK Vijaya Kumar, Vice President CDCA, Mr. K Dhanasekar, Secy, CDCA.
The event was organized by Mr Arasu, Organising Secretary, GMLs Academy. The arbiters team under IA V Vijayaraghavan, Chief Arbiter and IA S Ganesh Babu, Dy Chief Arbiter. The Prizes were distributed by Dr. J P Satish Prabhu, Executive Director, Hindusthan Hospitals. He praised the parents for their patience and was happy that young chess players are staying well away from cell phones. IA R Srivatsan, the guest of honour for the PD distributed the prizes for the ELO category along with V Vijayaraghavan, Joint Secretary of TNSCA & Chief Arbiter of the event and K Dhanasekar, Secretary, CDCA, B Arasu, Secretary, GML Academy; Co-Founder & CTO at Neunets Technology Private Limited., Dr S Karunanidhi, P.Ed, HICAS.
The fifth and final leg of All India Chess Grandprix, GMLs 1st All India Rapid Rating Open was organized by GMLs Academy on 23rd February 2020 at Hindusthan Arts & Science College, Navaindia, Coimbatore.
Final Standings
| | | | | | | | | | | | |
| --- | --- | --- | --- | --- | --- | --- | --- | --- | --- | --- | --- |
| Rk. | SNo | | Name | FED | RtgI | Pts. | TB1 | TB2 | TB3 | TB4 | TB5 |
| 1 | 4 | | Lokesh N. | IND | 2170 | 6,5 | 0,0 | 35,5 | 32,5 | 32,25 | 6 |
| 2 | 20 | | Selvamurugan B | IND | 1816 | 6,5 | 0,0 | 34,0 | 31,5 | 30,75 | 6 |
| 3 | 3 | | Senthil Maran K | IND | 2175 | 6,5 | 0,0 | 32,5 | 29,5 | 30,00 | 6 |
| 4 | 6 | IM | Harikrishnan.A.Ra | IND | 2081 | 6,0 | 0,0 | 35,0 | 31,5 | 28,50 | 6 |
| 5 | 7 | | Surendran N | IND | 2056 | 6,0 | 0,0 | 34,0 | 30,0 | 28,75 | 5 |
| 6 | 5 | | Ram S. Krishnan | IND | 2169 | 6,0 | 0,0 | 33,5 | 30,5 | 27,00 | 6 |
| 7 | 1 | IM | Murali Krishnan B T | IND | 2283 | 6,0 | 0,0 | 33,0 | 29,5 | 27,50 | 6 |
| 8 | 14 | AGM | Sa Kannan | IND | 1896 | 6,0 | 0,0 | 32,0 | 29,0 | 26,00 | 6 |
| 9 | 9 | | Manigandan S S | IND | 2012 | 6,0 | 0,0 | 32,0 | 28,0 | 27,00 | 6 |
| 10 | 16 | | Sharan Rao | IND | 1873 | 6,0 | 0,0 | 31,5 | 29,5 | 26,00 | 6 |
| 11 | 15 | | Barath Kalyan M | IND | 1887 | 6,0 | 0,0 | 31,5 | 29,5 | 25,00 | 6 |
| 12 | 39 | FM | Harshad S | IND | 1560 | 6,0 | 0,0 | 31,0 | 29,0 | 25,00 | 5 |
| 13 | 2 | | Syed Anwar Shazuli | IND | 2178 | 6,0 | 0,0 | 31,0 | 28,5 | 25,25 | 5 |
| 14 | 37 | | Roshan S | IND | 1575 | 6,0 | 0,0 | 31,0 | 28,0 | 22,00 | 6 |
| 15 | 10 | | Sibi Visal R | IND | 1988 | 5,5 | 0,0 | 34,5 | 31,5 | 25,25 | 5 |
| 16 | 45 | | Kanishk S K | IND | 1436 | 5,5 | 0,0 | 33,0 | 30,0 | 24,50 | 5 |
| 17 | 22 | | Eshwanth Dev Kumar J | IND | 1812 | 5,5 | 0,0 | 33,0 | 29,5 | 24,75 | 5 |
| 18 | 30 | | Shreyas M | IND | 1675 | 5,5 | 0,0 | 32,5 | 29,5 | 23,25 | 5 |
| 19 | 31 | | Farhaan M | IND | 1665 | 5,5 | 0,0 | 30,5 | 27,5 | 23,75 | 5 |
| 20 | 11 | | Bala Kannamma P | IND | 1978 | 5,5 | 0,0 | 30,5 | 27,5 | 21,75 | 5 |
---