All India Chess Grand Prix begins in three days
It is a well known fact that Tamil Nadu is the chess hub of the country. This time Tamil Nadu brings up an innovative series of rapid tournaments named All India Chess Grand Prix. There will be five one-day rapid rating tournaments, spanning a total of five months. To be eligible for a Grand Prix prize, a player must play a minimum of three tournaments of the series. Entry fee is as low as only ₹600. If you play more and submit your entry fee early, you can save more too. That's not all, each tournament has its own prize fund of ₹125000 each and the Grand Prix final will also have a total prize fund of ₹125000. There is no dearth of tournaments in Tamil Nadu. All India Chess Grand Prix is surely going to spice things up more.
AICGP comprises of Five Rapid Rating tournaments
Tamil Nadu, always a forerunner in chess has launched a new innovative series of rapid tournaments similar to Grand Chess Tour. The All India Chess Grand Prix, abbreviated as AICGP has five legs in five cities of Tamil Nadu – Tiruvarur, Sivakasi, Madurai, Karaikudi and Coimbatore from 19th October 2019 to 23rd February 2020. The AICGP is a brain child of the international arbiter S Ganesh Babu, in coordination with the author of this article.
The difference between the Grand Prix and AICGP is that these are Swiss system tournaments open to all and we cannot compare the prize money.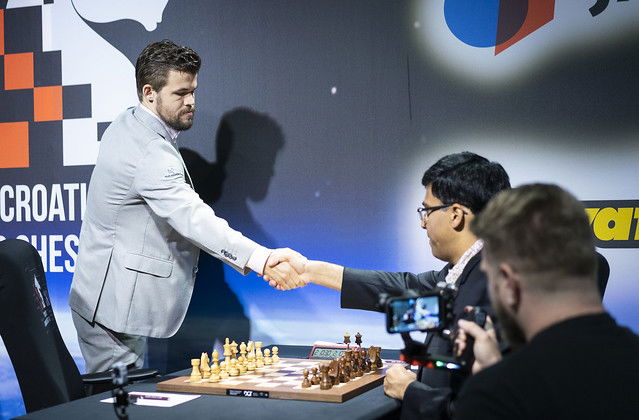 Each tournament will be of seven rounds for one day only carrying a prize money of ₹125000.
1. Tiruvarur 19th October 2019
2. Sivakasi 17th November 2019
3. Madurai 25th December 2019
4. Karaikudi 26th January 2020
5. Coimbatore 23rd February 2020
In addition to the prize money for the five tournaments, the top ten accumulators of the Grand Prix points will have a prize money of another ₹125000. The mode of sharing the prize money (may be by a round-robin play off by the ten players is subject to approval by AICF) will be decided in a few days.
Eligibility for the Grand Prix Prizes
- To be eligible for a Grand Prix prize, a player must have played at least three of the five tournaments.
- The overall top ten finalists of the Grand Prix will be decided by the sum of the Grand Prix points earned by a player from the best four tournament s/he played.
- The Grand Prix points to be earned by a player in one tournament is mentioned below
| | |
| --- | --- |
| Rank | GP Points |
| 1st | 200 |
| 2nd | 160 |
| 3rd | 130 |
| 4th | 110 |
| 5th | 100 |
| 6th | 80 |
| 7th | 70 |
| 8th | 60 |
| 9th | 50 |
| 10th | 40 |
| Total | 1000 |
Subject to the approval by TNSCA and AICF, the top ten rankers of the overall standings of the Grand Prix will play a round robin Blitz playoff in April/May to decide the final ranking of the Grand Prix.
| | |
| --- | --- |
| GP Rank | Amount |
| 1st | 35000 |
| 2nd | 25000 |
| 3rd | 15000 |
| 4th | 10000 |
| 5th | 10000 |
| 6th | 8000 |
| 7th | 7000 |
| 8th | 5000 |
| 9th | 5000 |
| 10th | 5000 |
| Total | 125000 |
The entry fee for each tournament is ₹600. If the player plays in all the five tournaments, the total entry fee is ₹2500. If s/he plays in four tournaments, the total entry fee is ₹2000. For three tournaments, the entry fee is ₹1500. This amount has to be paid before the player participates in his/her first tournament.
Tiruvarur – 19th October
A small town in the east coast of Tamil Nadu has a very brisk chess activity. Under the guidance of Mr. Balagunashekaran, the joint secretary of Tamil Nadu State Chess Association, the Tiruvarur District Chess Association has organised several tournaments, especially for women. To cap it all, they organised the ONGC National Premier Championship in 2015, which was won by GM Karthikeyan Murali.
Sivakasi – 17th November
Sivakasi has earned a permanent place in the chess map of Tamil Nadu. It has organised Asian Junior Championship in 1979, besides several National and State championships and rating tournaments. This year, the Virudhunagar district has already conducted three rating tournaments and two more on the offing in November, making it to be the only district in Tamil Nadu to have organised five rating tournaments in 2019.
Madurai – 25th December
Madurai shot into chess prominence since 1970s. It has produced several grandmasters – P Magesh Chandran, Deepan Chakkravarthy and National champion Aravind Chithambaram, besides many International Masters.
Recently Athens of the East, Madurai organised the first ever GM tournament in the city. Golden Knights Chess Academy, headed by IA Ganesh Babu is making all efforts to make it a successful one.
Karaikudi – 26th January 2020
Karaikudi is a potential chess hub in the south Tamil Nadu. The Chettinadu Public School has conducted two national championships in 2018 and 19, the major one being the National Women championship in July. IM Bhakti Kulkarni won the prestigious tournament. International Arbiter S Athulan runs the Castle Chess Academy which organises the tournaments.
Coimbatore – 23rd February 2020
The final leg of the Grand Prix is to be organised by GMLs Chess Academy, which recently conducted the Tamil Nadu State Championship. Fide Arbiter B Arasu, a software engineer, is the secretary of the club. Coimbatore also has a rich chess heritage. Dr. N Mahalingam, former president of AICF and TNSCA is instrumental in promoting chess. Anand achieved his final GM norm here only at Coimbatore, tournament hosted by Dr. Mahalingam's Sakthi Group. Coimbatore has produced several National champions and International Masters like former National champion Raja Ravishekhar and V Saravanan.
Follow us here for regulations, rankings, photos & certificates.
Enjoy the Grand Prix tournaments and enrich your rapid rating.
Contact details: IA S. Ganesh Babu - 99445 64728 E-mail - ganeshbabu.chess@gmail.com
IA R. Anantharam - 94431 55852 E-mail - vranantharam@gmail.com
About the Author
Prof. Rathinam Anantharam is an A-grade international arbiter. Member of FIDE Arbiters' Commission, Chairman of Arbiters' Commission in All India Chess Federation and also International Braille Chess Association, Vice President of Tamil Nadu State Chess Association, Chief Arbiter for six world championships, many Asian, International and National Championships.
The article has been edited by Shahid Ahmed
---