"I wanted to enjoy every moment of pressure and learn from it" - Aravindh Chithambaram
On 18th December 2018, Aravindh Chithambaram won his maiden National Open Senior title, after getting close to it multiple times and missing it. The next National title he won was National Teams on 11th February 2019 along with his PSPB Teammates. He became first National Triple Crown Champion of India when he won National Rapid and Blitz title on 27th and 28th May 2019 respectively. Thus winning all four National titles in three different formats of the game in just 163 days. In this article we interview Aravindh and he shares three of his best games from the recently concluded National Rapid and Blitz. We also take you back in 2013-14 when Aravindh was a rising star in Indian chess and how he has progressed logically through these last five years.
Aravindh wins four National titles in 163 days
If we say 'Age of Aravindh' began on 18th December 2018 then not a lot of people will argue with that except maybe Aravindh himself. Aravindh believes in being modest, but this time his achievement has been so tremendous that even the youngster cannot downplay it. Aravindh recently won the National Rapid and Blitz making himself the classical, rapid and blitz national champion of Indian chess! This is the first time in the history of Indian chess that someone has been able to achieve this distinction. Well, let's not forget that Aravindh was also part of the PSPB team that won the National Team Championships earlier this year!
An interview was conducted between the author of this article and Aravindh after the 37th GM of the country won National Rapid and Blitz title.
Shahid Ahmed (SA): Congratulations Aravindh for your record breaking performance at National Rapid and Blitz 2019. How do you feel about it?
Aravindh Chithambaram (AC): Thank you for your wishes! I never thought I would win all three formats which came as a surprise to me. It was overall a good performance and experience.
SA: Did you know that you are the first Triple Crown winner in Indian chess history?
AC: I didn't know when I won the tournament but some players in the tournament hall were telling me about this. Some of the top Indian chess players were not present so I personally don't see this as a history or record.
SA: What was your preparation and mindset going into the tournament?
AC: Actually Chess wise I didn't prepare much. I mainly wanted to enjoy every moment of pressure and learn from it.
SA: At what point did you feel that you were going to win both Rapid and Blitz tournament in each case?
AC: In Rapid, I never felt that I am going to win the tournament because Visakh was chasing me until the end of the tournament. Even a draw on penultimate round would have destroyed my chances. But I won that game. In blitz, I was really confident after scoring 8.0/8 so I kept going.
SA: Did you plan on playing this as a part of a practice before you head for Asian Continental?
AC: Yes, I haven't played anything after Dubai Open 2019 so I thought of playing some tournament to get into touch.
SA: Which one do you like more Rapid or Blitz? Why?
AC: Blitz! Don't have a specific reason. I just like it. I like faster time controls. The reason is classical time control requires lot of stamina which I lack! (laughs)
SA: Which game would you describe to be your best from the tournament in both Rapid and Blitz?
AC: In Rapid, I would say my game against Sriram Jha and Muthaiah. Muthaiah game was crucial because we both were on 5.0/5 and I think it was important to take the lead. In Sriram Jha's game, I somehow managed to trick him in an equal endgame. And in blitz, my game against Ravi Teja was nice but failed to get full point.
Here are the best games of Aravindh handpicked by the champion himself from National Rapid 2019. Annotations by IM Sagar Shah.
SA: Do you play blitz matches online or over-the-board? Which one do you prefer?
AC: I play both online blitz and over-the-board blitz but I prefer to play it on the board.
SA: Do you plan on playing the next World Rapid and Blitz?
AC: Of course, I am looking forward to play against top class players.
SA: Do you think playing Rapid and Blitz helps in the Classical format of the game?
AC: Definitely we go through Rapid or blitz stage in a classical game. So it should definitely be useful.
SA: Do you have any sponsor at the moment?
AC: I am currently supported by AMM Foundation, Microsense and ONGC (scholarship).
From a prodigy to triple national champion
By IM Sagar Shah
Back in 2014, I had just begun writing for ChessBase newspage (ChessBase India didn't exist back then) and one of my first articles for the website was on Aravindh Chithambaram. The 14-year-old had just made his second GM norm. Here's a small story that I began the article with:
It was the 7th of October 2012. The experienced Indian IM S. Satyapragyan (2456) had just beaten youngster Aravindh Chithambaram (2276). And it was no ordinary victory. Satyapragyan had seemingly crushed Aravindh positionally without giving him any chance. I ran over to ask him about his game and his opponent. After such a rout, I expected him to say that Aravindh is positionally very weak or he doesn't have a great understanding of the game. But I was surprised when he replied, "This young lad will become a GM very soon!" "Why do you say that? You just crushed him." was my instant retort. After pausing momentarily he said, "He just doesn't have any fear. Even while he was losing he showed no signs of nervousness. With such an attitude, he is bound to go very far!" The words of the experienced Indian IM have surely proved to be true!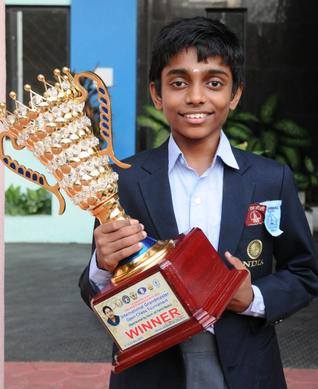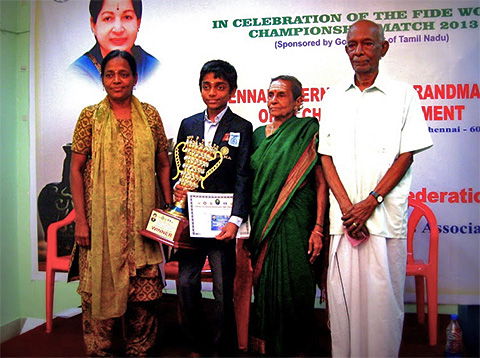 When I first saw Aravindh in Mangalore in 2010, the thing that struck me as highly surprising was the ease with which he would play chess. In one of the games, while his opponent was busy thinking about his move, Aravindh lifted his hand in the form of an airplane and started his ascent. The opponent was in deep thought and Aravindh was highly engrossed in flying his imaginary plane. After a few minutes the opponent raised his head from the board to look at Aravindh. Though the lad was embarrassed, he couldn't let his imaginary flight crash. Very slowly he landed his plane safely and started thinking about the position!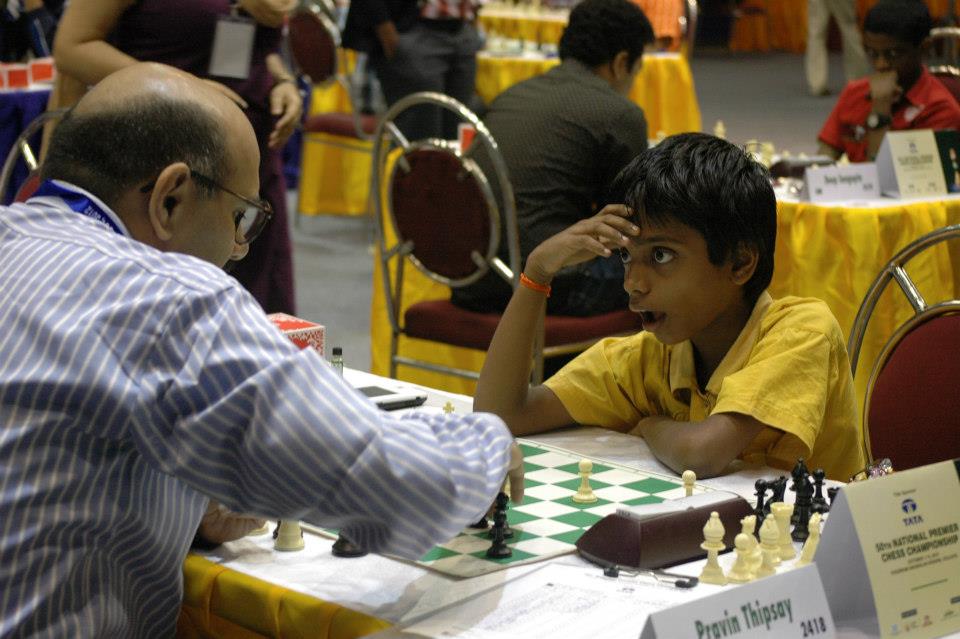 When I congratulated Aravind for winning the Chennai Open 2013, he replied to me saying that his opponents just made mistakes and he was lucky. Now of course to win in chess you need your opponents to make mistakes, but players don't usually want to put it this way. They always want to prove it was their excellent play which got them the victory. But Aravindh is truthful to himself and others! A talented at the same time modest person is really hard to find! After winning the Chennai Open 2013, Aravindh immediately played the Hyderabad GM open. On the first day of the Hyderabad tournament, he distributed sweets to all the players to share his happiness at winning the Chennai Open. Very strong values have been imbibed in him right from a young age.
Aravind lost his father when he was three years old. But he has received the love and support from chess fans not only in India but all over the world. No wonder Caissa, the goddess of Chess has her own way of rewarding the people who play the game with complete dedication and sincerity, like Aravindh does!
---