Harsha, Vidit, Nihal impressive at World Blitz 2019
Harsha Bharathakoti surprised by defeating Nihal Sarin in the final round of World Blitz 2019 and finishing with 13.0/21. Thus becoming the best Indian performer at World Blitz 2019, ranked 28th. Why is it a surprise? Because Harsha finished day 1 of Blitz with only 5.5/12. Vidit Gujrathi and Nihal Sarin both were impressive and they did not disappoint with their performance. They scored some fine victories over Dmitry Andreikin, Sergey Karjakin and Ian Nepomniachtchi. They held their own against some of the best of the world. Among the women, both Humpy and Harika made a solid start. Humpy was in the lead till round 13. But the most crucial point was losing her game against the eventual champion Kateryna Lagno. Find out how all Indian players fared at World Blitz 2019. Photo: Rupali Mullick and Lennart Ootes/FIDE
Indians were brilliant at World Blitz 2019
Total twelve Indian players combining ten in Open and two in Women participated in World Blitz 2019. To play 21 rounds of blitz in two days after 15 rounds (12 in women) of rapid games in three days is not an easy. First day of blitz consisted of twelve rounds and second day had nine rounds, for Women, it was nine rounds on first day and eight on the final day of Blitz.
Harsha Bharathakoti
Harsha scored a meager 5.5/12 on the first day of Blitz, however on second day he racked up 7.5/9 and secured shared 21st, 28th position according to tie-breaks including wins over Gadir Guseinov (2593), Ivan Cheparinov (2647), Alvar Alonso (2617), Andrey Esipenko (2582), Johan-Sebastian Christiansen (2613), Alexander Motylev (2629) and Nihal Sarin (2685). He made only one draw with David Anton Guijarro (2674) in round 17. This clearly shows that Harsha had no draw, go-for-win only approach on the final day and it definitely did him a whole lot of good.
If I have to pick one game of Harsha from World Blitz then that would be against Andrey Esipenko (RUS, 2582) in round 18. Harsha employed 1.c4 on first day for most of the game, despite winning one against World Championship Candidate Kirill Alekseenko (RUS, 2569), three consecutive losses made him switch to Birds opening where he took a stonewall structure in majority of the games and got fantastic results.
Harsha also played brilliantly against Alekseenko, till the later blundered a checkmate.
Vidit Gujrathi
Vidit had a near perfect start with a score of 8.5/12 on Blitz day 1, with wins over Dmitry Andreikin (he defeated Carlsen in the previous round), Sergey Karjakin (World Blitz Champion 2016) and draws with Hikaru Nakamura (then World no.1 in Blitz) and Vladislav Artemiev.
He was looking poised to finish in top 10, at least in top 20. However on the final day of Blitz, Vidit managed to score only 4.0/9 including a win over Daniil Dubov (World Rapid champion 2018). The Nashik lad's final rank might be less than what anyone was hoping for, but you cannot take away the fact that he hung with some of the best of the business, defeated two World Champions and one of them was on his general worse day. Can you fathom what he could actually do on his best day?
First, let's take a look at the game where he beat Dmitry Andreikin (RUS, 2780) in round 8, who just beat Magnus Carlsen in round 7. Vidit won the game in just 28 moves arising out of Nimzo-Indian Samisch where he employed Anand's idea of positional exchange sacrifice which he used almost two decades ago.
Winning against former World Rapid champion, Daniil Dubov (RUS, 2736) in round 18 was definitely a highlight for Vidit on the final day of World Blitz 2019.
Nihal Sarin
After last year's 11th place finish at World Blitz 2018, everybody had a lot of expectation from the reigning Asian Blitz champion, but he he less than par performance on the final day. Despite starting World Blitz 2019 with a strong 7.0/12, on the final day he only managed to score 5.0/9, which resulted in him finishing at 49th position.
Nihal's first brilliant win was against Gadir Guseinov (AZE, 2593) in round 10 where Nihal played sharp chess and outplayed his opponent in just 25 moves.
On the final day, Nihal scored another fantastic win, this time against rapid and blitz specialist Ian Nepomniachtchi (RUS, 2826). Check out Nihal's sharp play.
Adhiban Baskaran
'The Beast' did not take into its full form as Adhiban managed to score only 11.5/21 in World Blitz 2019. Adhiban's best win in the tournament was against Zaven Andriasian (ARM, 2766) in round 20.
Aravindh Chithambaram
Aravindh had a roller coaster of World Blitz. He lost four consecutive games and then he won the next four. His overall score 11.0/21 doesn't justify his performance at the event as he defeated Anish Giri (2769), Anton Korobov (2720), Gata Kamsky (2699), drew with Nikita Vitiugov (2719) and Georg Meier (2701).
Aravindh played some inspired chess to beat super strong Anish Giri in round 3.
His next big win was against Sitges Open 2019 winner Anton Korobov when he seized the Ukrainian's blunder after a solid game.
Aravindh scored a fine victory against the legendary Gata Kamsky in round 16.
Sethuraman S P
The former Asian champion, Sethuraman suffered quite a few losses as he scored 10.5/21. However it was not without any good games. His notable wins are against Alexander Riazantsev (RUS, 2635) and Georg Meier (GER, 2701).
In the first round, Sethuraman scored a fine victory over Alexander Riazantsev.
In the final game of day 1, Sethuraman won in a very instructive game against Georg Meier in round 12.
Surya Sekhar Ganguly
Surya Sekhar Ganguly had a fantastic 2019. However he closed out the year with a score of 10.5/21 at World Blitz 2019. His most notable wins are against Sergei Zhigalko (BLR, 2678) and Maksim Chigaev (RUS, 2626).
In the first round, Ganguly scored a fine win over Sergei Zhigalko
His another best win was against Tigran Petrosian in round 12.
Sasikiran Krishnan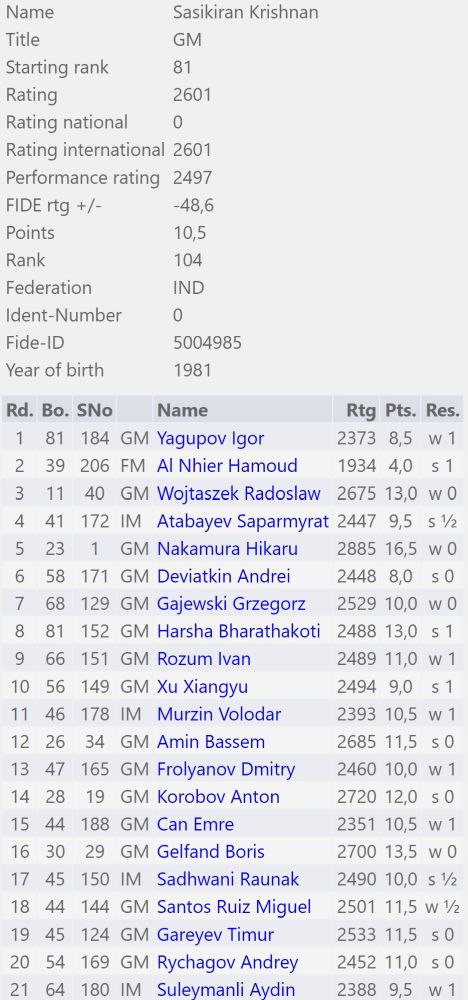 Sasikiran's best win was against Dmitry Frolyanov (RUS, 2460) in round 13.
Raunak Sadhwani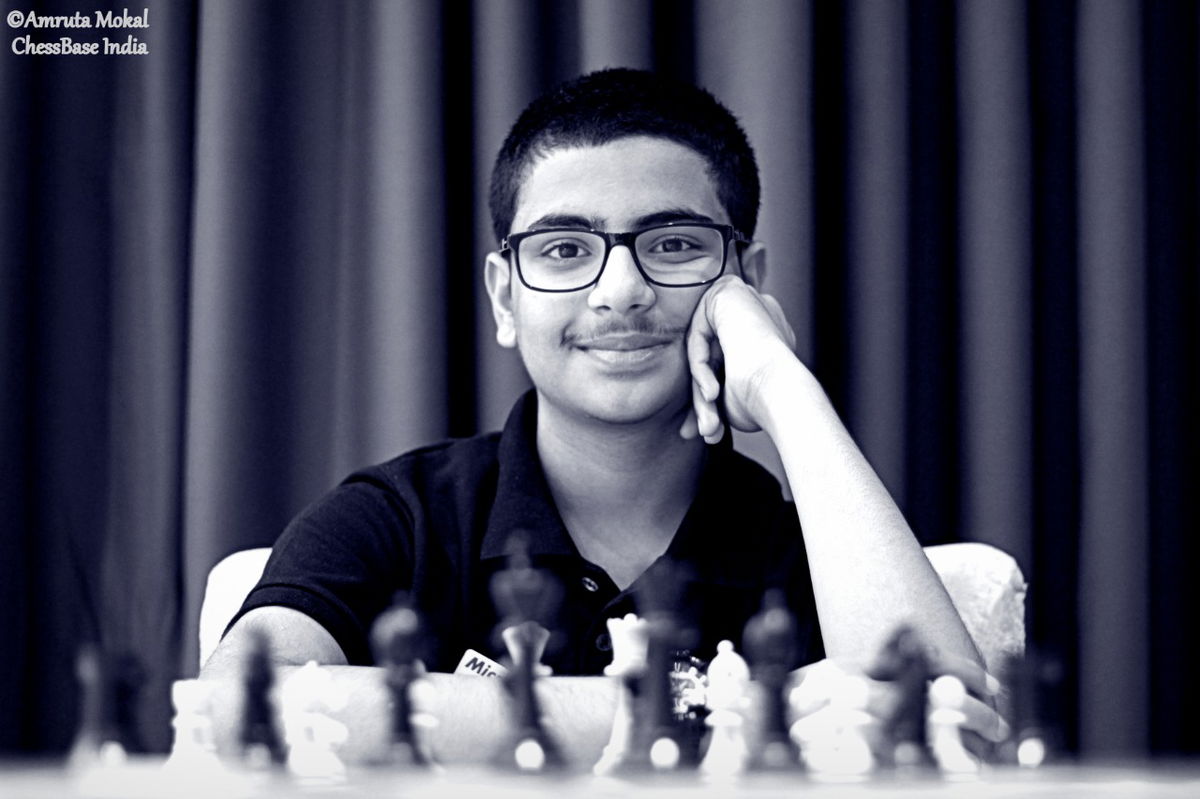 14-year-old Raunak Sadhwani made an impressive debut at World Blitz by scoring wins over Alexey Sarana (RUS, 2657), Emil Sutovsky (ISR, 2647), Alexander Riazantsev (RUS, 2635), Daniel Fridman (GER, 2623) and drew with Georg Meier (GER, 2701), Leinier Dominguez Perez (USA, 2715), Dmitry Bocharov (RUS, 2616) and Sasikiran Krishnan (IND, 2601).
Raunak started the tournament on a high note by scoring a victory over Alexey Sarana in round 1.
His next best win was against Daniel Fridman in round 9.
Vishnu Prasanna
Vishnu started the tournament with two consecutive victories over compatriot Nihal Sarin and Venezuela no.1 Eduardo Iturrizaga (2669).
Vishnu scored a very long grinding and instructive victory against Nihal Sarin in the first round.
His round 2 victory is another fantastic showcase of brilliant attack on the castled king.
Srinath Narayanan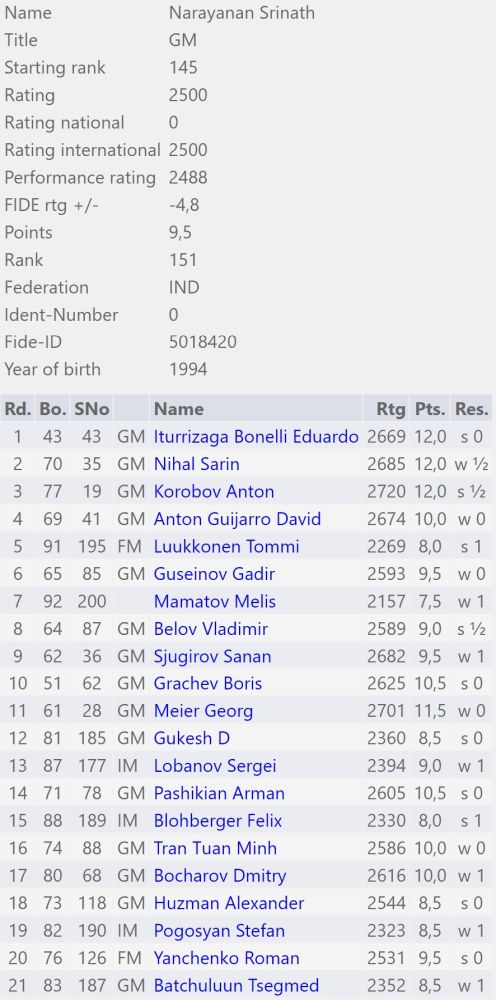 Srinath's best win of the tournament was against Sanan Sjugirov (RUS, 2682) in round 9.
His highlight of the tournament was holding Anton Korobov (UKR, 2720) to a draw in round 3.
Gukesh D
Gukesh's best victory would be against Rinat Jumbayev (KAZ, 2585) in round 9.
His next best win would be against Emil Sutovsky (ISR, 2647) in round 6.
Humpy Koneru
After winning World Rapid 2019, Humpy had all the momentum on her side as playing two blitz and an Armageddon during the Playoff helped her to get into Blitz mode. She was in the joint lead till round 13 along with the eventual champion Kateryna Lagno. However suffering three consecutive losses in the last three rounds shattered all medal hopes and she finished at twelfth position.
The most critical game of Humpy's was against Lagno in round 9 which was the last game of the first day of the event. Humpy refused a draw and eventually lost the game which definitely made an impact on her final day's performance. One possible explanation for her declining the draw was, before the position reached to an equal Queen-Rook, she had a completely winning position. The thought remained with her and it was difficult to accept a draw after that.
Harika Dronavalli
Harika's best win was against IM Ekaterina Atalik (TUR, 2211) in round 4.
---