"I feel I have learnt a lot in endgame play from the Kramnik Camp" - IM Leon
Goa's IM Leon Mendonca (2401) was one of six of the brightest chess talents from the country identified by the 14th World Champion, Vladmir Kramnik for an intensive 10-day chess program at Chens-Sur-Leman, France recently. Looking back at the residential Kramnik Microsense India Chess Program which was managed by Chess Base India, the 13-year old chess prodigy gushes at the opportunity afresh to memory as one of his biggest accomplishments till date. Photo: Gulesh D
Leon on his lifetime learning lesson with Kramnik
"The 10-day (with one rest day) camp in France went very well. I was one of the six hand-picked kids (from India) by Kramnik. Many profiles were sent to him but he selected six of us," revealed the elated Dona Paula resident. The five other promising youngsters in the age bracket of 13-16 included GM R. Praggnanandhaa, GM D. Gukesh, GM P. Iniyan, GM Prithu Gupta and IM Raunak Sadhwani.
In the course of the intensive camp, Kramnik revealed that all parts of the chequered game of 64 squares were tackled. "He went through the endgame, middle game and the openings as well. While the first five days was for the endgame, the next four was dedicated to the middle game. Since each of us were different with our openings, he only guided us on how to prepare for an opponent," disclosed the future chess star.
Having worked with the likes of GM R.B. Ramesh and GM Vishnu Prasanna, latter under whom he currently trains under in Chennai; Mendonca admits that training under a World Champion is a lot different. "I basically learnt how a World Champion thinks, how he (Kramnik) prepares for his opponents and how he basically improves upon his game. I also got to understand how prior to a tournament, he brushes through his theoretical endgames so that when he ends up in such positions, he would know the method of winning or drawing. Apart from revising on endgames, he may also prepare some new ideas for the tournament," the eighth-grader of Velammal Vidyalaya, Chennai explained. Speaking further, Mendonca stated that while chess is actually a very complicated game, Kramnik somehow made it look simple. "While teaching us, he showed examples of his games so that he could explain what his thinking was during the game. It was basically his game. So it was very easy for him to teach us and help us understand chess better," deduced the chess wizard.
In the course of the camp, Kramnik put his protégées to test on various game positions and worked in tandem to the minutest detail from a move to its options, and to a reply and its alternatives and what could arise therefrom from each play. From these analytical games, Mendonca acknowledged there were a few games which helped him to understand a new concept. "In his (Kramnik's) game against Nils Grandelius, I liked how he created something out of nothing. It looked like a completely drawish position and how he (Kramnik) kept finding resources to keep the game going until his opponent cracked, made a mistake and he capitalized on it. Another game that I liked was against Georg Meier because he improved upon his position and stopped all of his opponent's counter play and it looked very simple how he won the game," detailed Mendonca.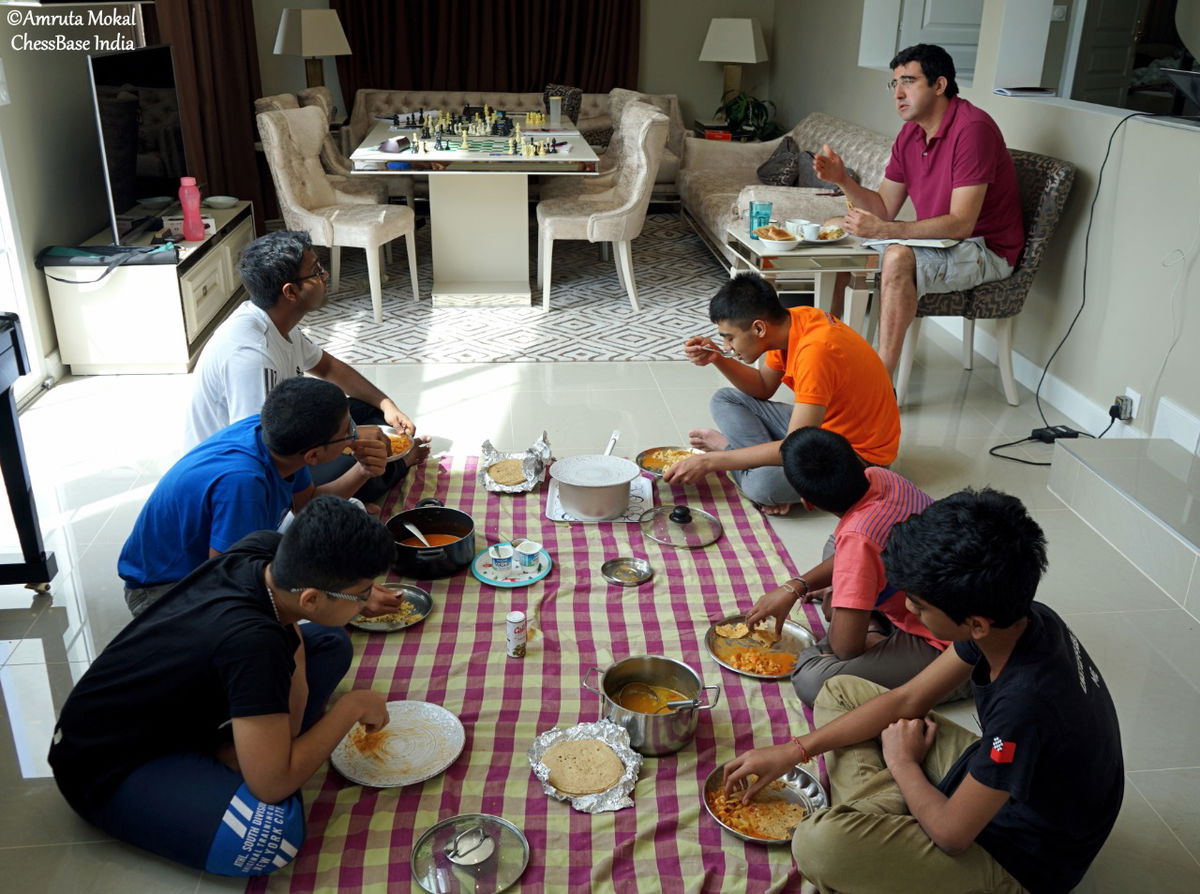 On his impressions on Kramnik, Mendonca was lavish in his praise. "He is quite a nice person and friendly. He made us feel very comfortable with him and it was fun interacting with him. All the classes were very good and we looked forward to them all the time. He was quite humble and down-to-earth and I liked that about him as a person."
Kramnik Microsense India Chess Program held in a picturesque border village in France in close proximity with neigbouring Switzerland proved an ideal setting for the young mind sport athletes undergoing a rigorous training regimen. The verdant expanse, surrounding their residential camp was just perfect, for the nurturing young chess minds, to unwind themselves after two intensive training sessions either side of lunch break. Late evenings the kids were given their free time and space, to be like any other normal kid engaging in lighter moments and outdoor sport. "Since it was hard-work in what we were doing in class for most of the day, having a little fun is just what we needed to unwind. We played games like football, kho-kho and kabbadi as well," Mendonca divulged. In fact, as Mendonca knew he was going for a long time for a training camp, he took along with him his violin which he played during free evenings. "I thought I would take it to practice (in France) as otherwise for tournaments, I do not get time as I have to prepare for my next opponent and have adequate rest as well," the Grade 5 Trinity College London student admitted.
While thanking Microsense Networks for making this Chess Program a reality through sponsorship and Kramnik himself for his really deep insights into chess, Mendonca acknowledged that the camp benefitted him greatly. "From what I have learnt, it has been basically end games which made an impact on me. I was not very good at them but now, I think I have learnt a few new things which make me much better at it now. It will help me a lot," declared the talented chess star.
For now, Mendonca braces himself for the Western Asia Youth Chess Championship to take place in New Delhi from September 4. Thereon, in October he is slated to participate in back-to-back tournaments – the World Youth Chess Championship in Mumbai and World Junior Chess Championship in New Delhi.
About the Author
Basil Sylvester Pinto earns a living through his passion for writing. Having dabbled in various genres of journalism, for the last few years he is attached to The Goan Everyday as a sports reporter, and also contributes features occasionally. He is very passionate about fashion photography, high altitude trekking and loves to travel. He is fond of cricket, has played chess at the college and Goa State Open level and has been a decent National level Scrabble player.
The article was edited by Shahid Ahmed
---