Grenke 2019 Round 2: Old is Gold! 49 years old Vishy Anand beats 14-year-old Vincent Keymer
Round two of the Grenke Chess 2019 saw a very interesting pairing. The oldest player in the field Vishy Anand took on the youngest - 14-year-old Vincent Keymer. Just as we had expected Keymer went for the most aggressive line - the Sicilian Najdorf and tried to put pressure on Anand from the word go. But Vishy's experience helped him to tackle the youngster's aggression in the perfect manner. Rather than lashing out, Anand played in a calm manner, improving his position bit by bit. Very soon Vincent went wrong and Vishy managed to bring home the full point quite easily. Two other important news of the day were Magnus Carlsen's magical endgame play against Vallejo Pons and Peter Svilder excellent knight manoeuvre to beat Arkadij Naiditsch. Check out our illustrated round two report.
In the most anticipated game of the round, 14-year-old Vincent Keymer audaciously essayed the Najdorf variation of the Sicilian against the former five time world champion, Viswanathan Anand. Out of the opening, Keymer reached a decent position with his pawns threateningly advanced in the centre and the kingside. Anand said after the game that it was difficult for him to judge what would happen if the black pawns had advanced any further. Unfortunately, Keymer made a big error at this point with his 24.Nf4 and Anand made the most of it. Let's have a look at the game.
With a technique that could be nothing short of witchcraft, the reigning world champion pulled off a miraculous win over GM Francisco Vallejo Pons of Spain to retain his half point lead over the field. After the game, Carlsen said that he knew that the pawnless endgame was winning but wasn't sure if he would manage to make it happen within fifty moves. It is just amazing to see how much knowledge Carlsen really has. We all usually feel that Magnus is an excellent practical player, but his theoretical knowledge helps him to make the right decisions in the game.
Peter Svidler's game against Arkadij Naiditsch concluded with a very interesting win for the former. Play mainly revolved around white's centre where the pawn duo on e4 and f4 was constrained by the black forces. Playing black, the eight time Russian champion came up with a masterful knight maneuver to pile up the pressure on white's centre and soon managed to win a pawn and, in a few moves, the game.
After two rounds, Carlsen leads the tournament with a perfect 2/2 score while Anand and Svidler remain a half point behind at 1½/2. Third round begins on Monday at 18:30 hours IST. Pairings for the same can be found below.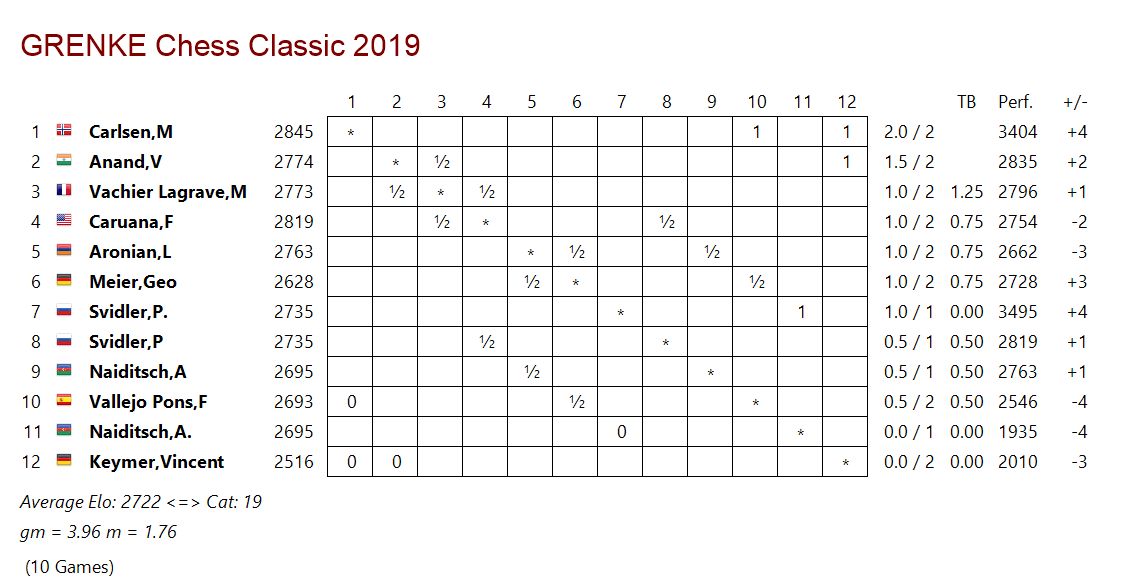 ---