Grenke 2019 Round 1: 14-year-old Vincent makes Carlsen toil for 6.5 hours for the full point!
When you sit opposite the World Champion it is already a difficult feeling. You know that man is the best chess player on the planet and when he gives it his all, he is able to perform at an Elo of 3000 like he did at Shamkir just a couple of weeks ago. But for a 14-year-old such statures and titles do not matter. Youngsters are fearless and that is what Vincent Keymer showed in round one of the Grenke Masters 2019. He fought for nearly 6.5 hours against Magnus Carlsen and made the World Champion stretch for the full point. In fact the position was even until move 67 but then Keymer blundered. This was the only decisive game of the day. Vishy Anand playing MVL with black drew easily with the Caro Kann. Full report.
Fast forward 16 years...
Life has come a full circle for Magnus. He has etched his name as one of the legends in chess and facing him is a moment of immense pride for just about any youngster. For 14-year-old Vincent Keymer, a first place finish in the Grenke Open 2018 had given him a chance to play the Masters in 2019. And he faced the toughest challenge right in round one as he was up against World Champion Magnus Carlsen.
Vincent Keymer vs Magnus Carlsen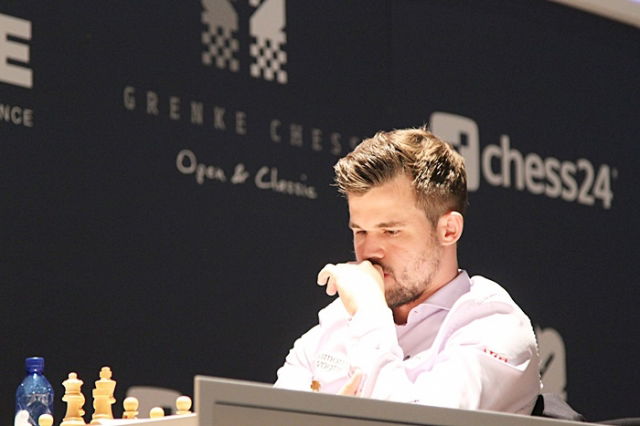 Vincent will next face Vishy Anand in round 2.
---