5 chess tales from Goa!
A chess tournament is a place where you finds plenty of interesting tales! There are so many diverse individuals, with so many different backgrounds and cultures, that you are bound to get some interesting stories. Add to it the over the board action and you can see why we (ChessBase India) enjoying being present at tournaments. We can bring our readers some of the exciting stories so that people can not only enjoy them, but also learn from them. At the 2nd Goa GM International 2019, seven rounds have been completed and we have three leaders with 6.0/7 - Manuel Petrosyan, Samvel Ter-Sahakyan and P. Iniyan. In this article we bring to you five tales from the event that will teach, enlighten and entertain you!
Tale 1: From Armenia to India
Two friends living in Yerevan decided to visit India to play in three chess tournaments. Twenty seven rounds later, they feel that this entire experience has uplifted their chess level. They played double rounds, each day after the game they would sit down and analyze, they would prepare against their opponents. In short, they had just one aim for the entire month - to play better chess. And the players in India were challenging enough for them to improve their game. That's the story of Samvel Ter Sahakyan and Manuel Petrosyan - two Armenians who are leading the Goa GM 2019. The food has not been an issue, the weather has been fine and the chess culture of the country has impressed both of them. Says Samvel, "In Europe it has always been difficult to find consecutive tournaments. Here in India, I am able to play three back to back events and this is a real advantage." For Manuel, this is the first time, he is coming to India and this has been quite a big experience for him both chess wise and also culturally. "I would whole-heartedly recommend my friends to come to India and play in the GM tournaments", says Ter Sahakyan.
In the evening round, i.e the 7th round, Ter Sahakyan and Petrosyan were paired against each other and they quickly drew their game. But Sahakyan's fine achievement was in the morning 6th round when he completely demolished Deepan's Sicilian Najdorf/Scheveningen.
A look at the game below will tell you why Samvel is such a wonderful active/aggressive player. He made all the natural attacking moves and won the game. The moves made by Ter Sahakyan might seem easy in retrospect, but during the game to just keep your self discipline when presented with a sea of options is never easy.
Tale 2: A bitter sweet day for Rahul Srivatshav
One youngster who has impressed one and all with his resilience is Rahul Srivatshav. Rahul had already scored a huge victory in the tournament beating the defending champion Pouya Idani. In the morning round he was up against another GM Vadim Malakhatko and he played one of the best games of his tournament.
As the seventh round began Rahul once again got an excellent position out of the opening, this time against Iniyan. Iniyan is not one of those who would go down lightly. He decided to complicate the play, even if it meant that he would lose the game quickly. Rahul tried his best to control the situation, but beyond the point he needed to take some bold decisions. This is where the youngster faltered and instead of scoring his 3rd GM win, he slumped to a defeat. Iniyan, thus scored an important win and became the joint leader of the tournament.
Tale 3: The Vietnam coup
Vietnamese IM Nguyen Van Huy was playing the second seed of the tournament Levan Pantsulaia. After the opening it seemed that the Vietnamese IM had absolutely no idea of what he was doing. White's pawns were advancing towards his kingside and Black had to be resourceful in order to avoid his bishop getting trapped. Nguyen Van Huy was more than resourceful and he managed to play one strong move after another to take home the full point. It is a game worthy of deeper investigation and analysis.
Tale 4: Shardul Gagare's complete revamp
After becoming a GM Shardul Gagare realized that with his limited repertoire (playing 1.c4 or 1.Nf3) is not good enough for his improvement. He decided to reduce the number of tournaments that he was playing and focus on building up his opening repertoire. The result is here for all to see. Shardul has begun playing 1.e4 in his games and against Ratnakaran, he played in great aggressive style.
For a person who believes in initiative it seems like Shardul should be better even when he is two pawns down. That's because White is well developed and the dark squares in Black's position are quite weak. But the computer doesn't seem to agree with this assessment. It says that Ratnakaran is completely fine. Below are the analysis of the interesting game. Have a look at it and let us know if you feel that White could have improved his play after sacrificing two of his pawns.
Tale 5: The comeback of K. Priyanka
Priyanka K. is one of those players whose immense talent in the game is overshadowed by her financial condition. A girl who had crossed 2200 in the Elo rating list, became twice national under-17 champion, commonwealth under-16 champion, should not be coming back to an Elo of 2053. After her fifth round win against Sameer Kathmale, we interviewed Priyanka. She was quite excited to play at the Commonwealth Championships 2019. She is selected to represent India at the under-18 section. However, she was also keen to play in the open section (the rounds take place in the evening). But that would mean an additional cost of nearly Rs.25,000 including travel, entry fee and stay.
After the interview, two viewers of ChessBase India, who wish to remain anonymous, came forward and contributed Rs.10,000 and Rs.15,000 and ensured that Priyanka will play at the Commonwealth Championships 2019 in the open section! With a big pressure off her mind, Priyanka has come into her groove and in round 6 drew with GM Pravin Thipsay and in round 7, beat IM Rishi Sardana.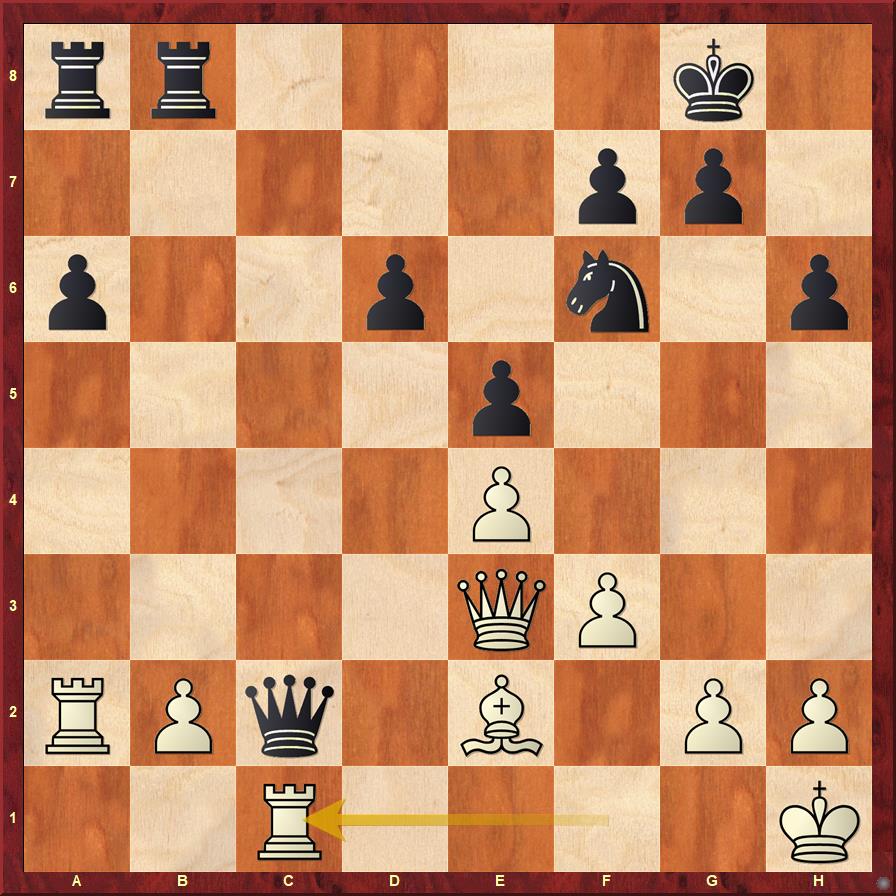 Black has to play ...Rb3. Instead Rishi faltered with ...Qb3 when Rc8+! followed and it was game over.
We hope that Priyanka can continue her performance and achieve her 2nd WIM norm here.
Rank after round 7:
| | | | | | | | | | | | | | | | | | | | | | |
| --- | --- | --- | --- | --- | --- | --- | --- | --- | --- | --- | --- | --- | --- | --- | --- | --- | --- | --- | --- | --- | --- |
| Rk. | SNo | | | Name | Typ | sex | FED | Rtg | Club/City | Pts. | TB1 | TB2 | TB3 | TB4 | TB5 | n | w | we | w-we | K | rtg+/- |
| 1 | 3 | | GM | Ter-Sahakyan Samvel | | | ARM | 2611 | ARM | 6,0 | 0,0 | 29,0 | 32,0 | 26,25 | 5 | 7 | 6 | 5,07 | 0,93 | 10 | 9,3 |
| 2 | 11 | | GM | Petrosyan Manuel | | | ARM | 2573 | ARM | 6,0 | 0,0 | 28,0 | 31,0 | 25,25 | 5 | 7 | 6 | 4,93 | 1,07 | 10 | 10,7 |
| 3 | 19 | | IM | Iniyan P | | | IND | 2525 | TN | 6,0 | 0,0 | 26,5 | 29,0 | 24,25 | 5 | 7 | 6 | 5,06 | 0,94 | 10 | 9,4 |
| 4 | 28 | | GM | Kostenko Petr | | | KAZ | 2473 | KAZ | 5,5 | 0,0 | 30,5 | 33,5 | 24,75 | 4 | 7 | 5,5 | 4,15 | 1,35 | 10 | 13,5 |
| 5 | 9 | | GM | Jojua Davit | | | GEO | 2580 | GEO | 5,5 | 0,0 | 29,0 | 32,0 | 24,25 | 4 | 7 | 5,5 | 5,31 | 0,19 | 10 | 1,9 |
| 6 | 62 | | | Sankalp Gupta | | | IND | 2359 | MAH | 5,5 | 0,0 | 29,0 | 31,5 | 23,25 | 5 | 6 | 4,5 | 2,34 | 2,16 | 20 | 43,2 |
| 7 | 8 | | GM | Stupak Kirill | | | BLR | 2584 | BLR | 5,5 | 0,0 | 28,5 | 32,5 | 25,00 | 4 | 7 | 5,5 | 5,59 | -0,09 | 10 | -0,9 |
| 8 | 1 | | GM | Iturrizaga Bonelli Eduardo | | | VEN | 2637 | VEN | 5,5 | 0,0 | 27,0 | 31,0 | 24,00 | 4 | 7 | 5,5 | 5,73 | -0,23 | 10 | -2,3 |
| 9 | 5 | | GM | Gupta Abhijeet | | | IND | 2606 | DEL | 5,5 | 0,0 | 27,0 | 30,5 | 23,50 | 4 | 7 | 5,5 | 5,46 | 0,04 | 10 | 0,4 |
| 10 | 32 | | IM | Nguyen Van Huy | | | VIE | 2456 | VIE | 5,5 | 0,0 | 27,0 | 30,0 | 22,50 | 4 | 7 | 5,5 | 4,16 | 1,34 | 10 | 13,4 |
| 11 | 13 | | GM | Paichadze Luka | | | GEO | 2557 | GEO | 5,5 | 0,0 | 25,0 | 28,0 | 21,50 | 5 | 7 | 5,5 | 5,63 | -0,13 | 10 | -1,3 |
| 12 | 17 | | GM | Tukhaev Adam | | | UKR | 2527 | UKR | 5,5 | 0,0 | 24,5 | 27,5 | 21,50 | 4 | 7 | 5,5 | 5,65 | -0,15 | 10 | -1,5 |
| 13 | 7 | | GM | Aleksandrov Aleksej | | | BLR | 2588 | BLR | 5,5 | 0,0 | 24,5 | 27,5 | 21,25 | 5 | 7 | 5,5 | 5,78 | -0,28 | 10 | -2,8 |
| 14 | 25 | | GM | Rahman Ziaur | | | BAN | 2481 | BAN | 5,5 | 0,0 | 23,5 | 26,0 | 19,00 | 5 | 7 | 5,5 | 5,31 | 0,19 | 10 | 1,9 |
| 15 | 12 | | GM | Deepan Chakkravarthy J. | | | IND | 2557 | TN | 5,0 | 0,0 | 28,5 | 31,5 | 20,25 | 4 | 7 | 5 | 4,96 | 0,04 | 10 | 0,4 |
| 16 | 79 | | | Neelash Saha | | | IND | 2315 | WB | 5,0 | 0,0 | 28,0 | 29,0 | 19,00 | 3 | 7 | 5 | 2,99 | 2,01 | 20 | 40,2 |
| 17 | 53 | | IM | Rahul Srivatshav P | | | IND | 2395 | TEL | 5,0 | 0,0 | 27,5 | 30,0 | 19,75 | 4 | 7 | 5 | 3,67 | 1,33 | 10 | 13,3 |
| 18 | 20 | | GM | Malakhatko Vadim | | | BEL | 2505 | BEL | 5,0 | 0,0 | 27,0 | 31,0 | 21,50 | 4 | 7 | 5 | 5,19 | -0,19 | 10 | -1,9 |
| 19 | 6 | | GM | Idani Pouya | | | IRI | 2597 | IRI | 5,0 | 0,0 | 26,5 | 29,5 | 19,75 | 4 | 7 | 5 | 5,84 | -0,84 | 10 | -8,4 |
| 20 | 39 | | IM | Shyaamnikhil P | | | IND | 2434 | TN | 5,0 | 0,0 | 26,5 | 29,0 | 20,00 | 3 | 7 | 5 | 4,79 | 0,21 | 10 | 2,1 |
| 21 | 18 | | GM | Burmakin Vladimir | | | RUS | 2526 | RUS | 5,0 | 0,0 | 26,0 | 29,0 | 20,00 | 3 | 7 | 5 | 5,39 | -0,39 | 10 | -3,9 |
Pairings for round 8:
Picture Gallery: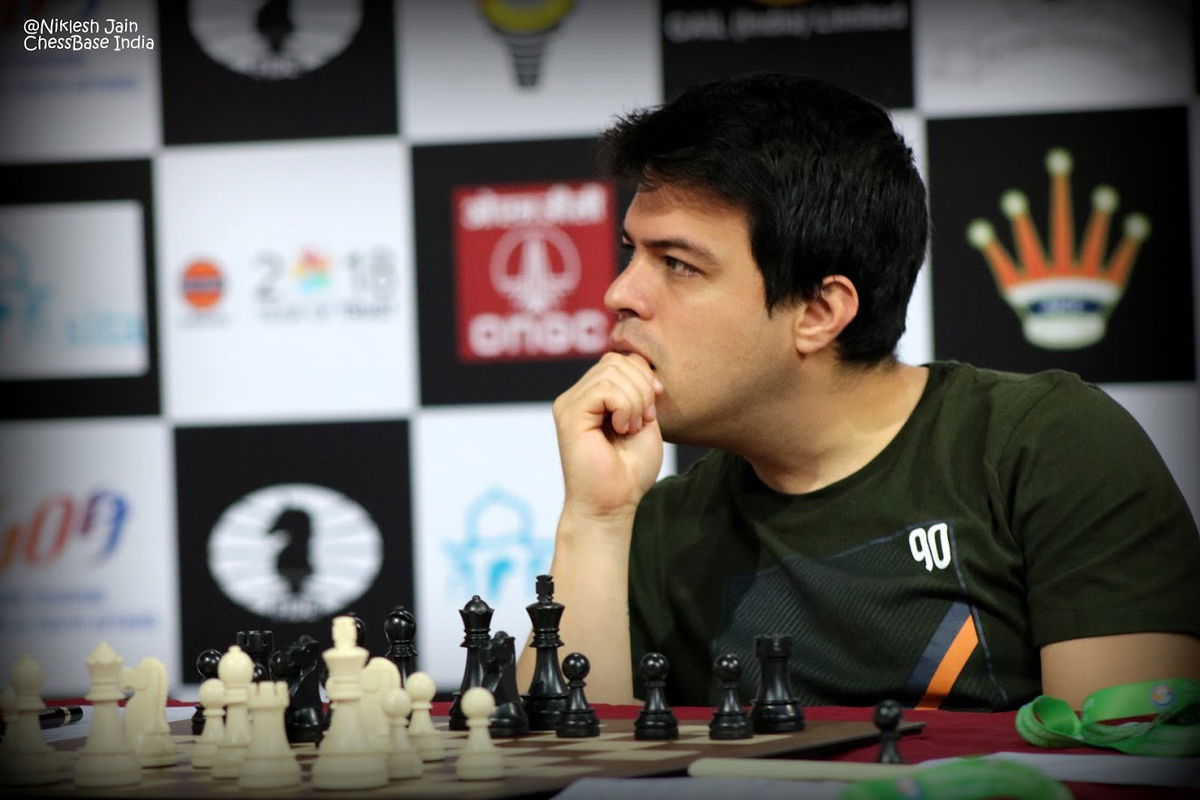 ---