FIDE announces Online Olympiad 2021
The first edition of the FIDE Online Olympiad is a memorable event for all Indians as team India won their first ever Gold medal at an Olympiad. It was 30th August 2020 when the entire chess universe had their eyes on India-Russia Finals. The Cloudfare outage during the finals caused both team to share the first place and the Gold. This year, everyone is hoping for a definitive champion, while Indians all over the world want India to win the Gold for the second time. We have twelve Indians who are taking part in the biggest FIDE World Cup in history, also including the first ever FIDE Women's World Cup. We are in for two exciting events in two consecutive months. Photo: FIDE
The second edition of FIDE Online Olympiad will start on 13th August
The International Chess Federation is excited to announce the FIDE Online Olympiad 2021, to be held between August 13 and September 15. The event will follow a format similar to one used last year, with member Federations being represented by their best players and top juniors. The national teams will compete in rapid chess matches played on six boards (see tournament regulations for details).
Chess.com will be again the hosting platform for this event that, on its inaugural edition, became one of the highlights of 2020. With more than 1,500 participants representing 163 national teams, it was a truly global competition, very much in the spirit of the traditional chess Olympiads. It helped our big chess family to unite around a wonderful event at a time of crisis, when it was most needed.
The second edition of the Online Olympiad will receive the support and sponsorship of the Shenzhen authorities, which include the Shenzhen Longgang District Culture and Sports Bureau, the Shenzhen MSU-BIT University, Shenzhen Chess Academy, Shenzhen Pengcheng Chess Club. Simaland, the Russian wholesale online store and proud sponsor of the Candidates tournament 2020-21, will also be a partner for the Online Olympiad 2021.
Once again, the event will consist of two stages: the "Divisions stage", and the Play-offs stage with the top eight teams qualified from Stage 1 battling in knockout format. Usually, at live Olympiads, the teams that can't boast of the world's best players in their lineups are not in the spotlight, as the general chess audience focuses on favorites. The unique format of the FIDE Online Olympiad gives us a chance to take a closer look at the teams bereft of chess stars but united by a sincere love for the game and a strong desire to develop and make progress. The qualifying format of tournaments in divisions also allows us to make some predictions and try to figure out the teams that will advance to the next stage.
The qualifying events will kick off on August 13. Top Division, featuring the strongest 25 seeded and 15 qualified teams, will begin on September 08. The decisive play-off stage is scheduled for September 13-15.
Like a year ago each team will consist of six players, including at least 2 women, at least 1 player U-20 (born in 2001 or later), and at least 1 girl U-20 (born in 2001 or later). The time control will be 15 minutes + 5 seconds increment per move, starting from move 1.
Each federation intending to take part in the FIDE Online Olympiad shall confirm its participation by July 31, 2021.
Schedule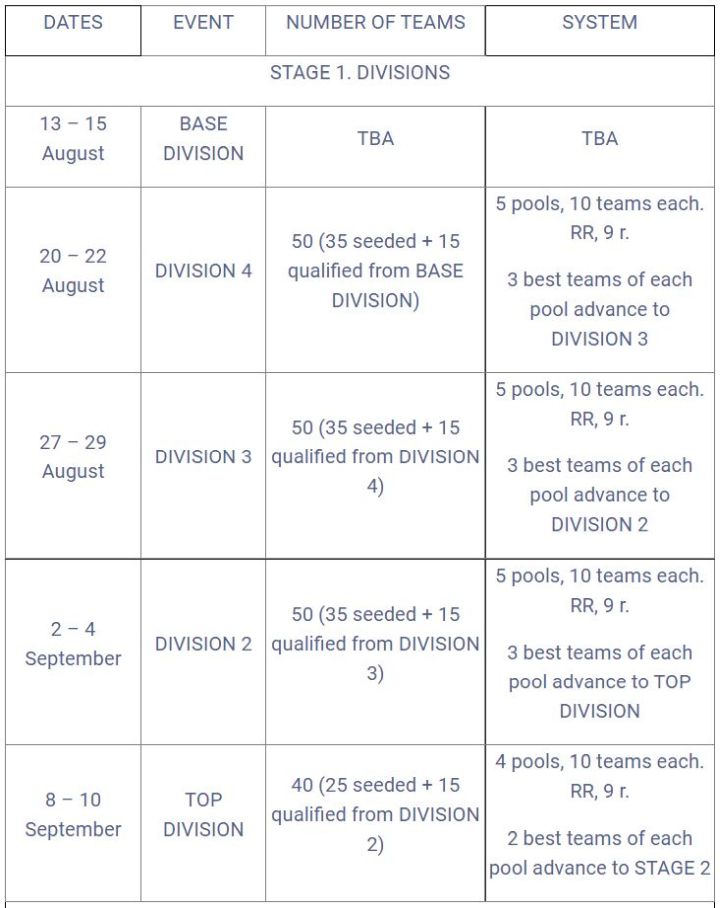 FIDE.com and the official website of the FIDE Online Olympiad (http://onlineolympiad.fide.com, currently under construction) will provide daily coverage of the event. The games will be broadcast live with multilingual expert commentary on the FIDE's official Youtube channel and by Chess.com.
---