FIDE Online Olympiad 2021 QF: India vanquishes Ukraine to advance to the Semifinals
India has made it to the Semifinals of FIDE Online Olympiad 2021 with a dominant show. India won the first duel but Ukraine made a comeback in the second one. However, in the tie-break, India showed who is the stronger team as they defeated Ukraine 5-1 without losing a single game. Adhiban solved the Shevchenko problem, Harika won all three of her games, Vaishali got her revenge and Nihal won as his opponent was having technical issues. Vidit and Humpy scored crucial draws. Praggnanandhaa obliterated his opponent in the second duel in what could arguably be the best game of the day. India will face either Kazakhstan or USA in the Semifinals tomorrow which we will get to know in a few hours. Photo: Amruta Mokal
Adhiban solves Shevchenko, Harika scores a hat-trick
Ukraine lost to India 2-4 in the first duel, then they made a comeback by winning the second one 2.5-3.5 which resulted in tie-breaks. Ukraine got dominated by India 1-5 in the tie-breaks, which means Ukraine's journey at the FIDE Online Olympiad 2021 has come to an end.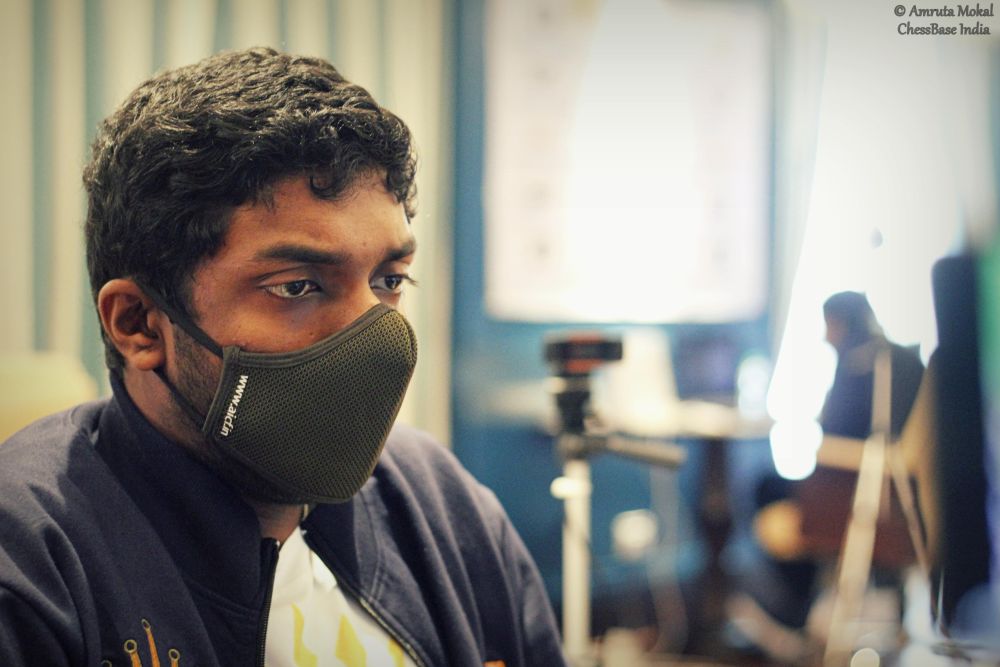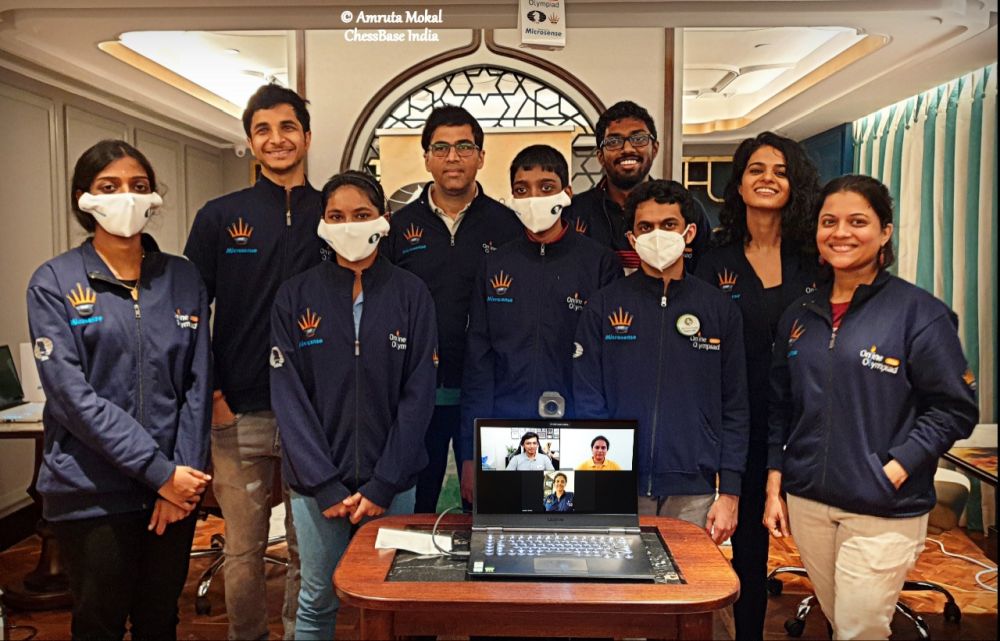 Duel 1: Ukraine - India: 2-4
India dominated Ukraine in the first duel as they scored a 2-4 victory without suffering a single loss. Harika and Nihal scored the victories for the team, Anand, Harikrishna, Humpy and Vaishali made draws. Anand was completely winning against Ivanchuk.
Ivanchuk - Anand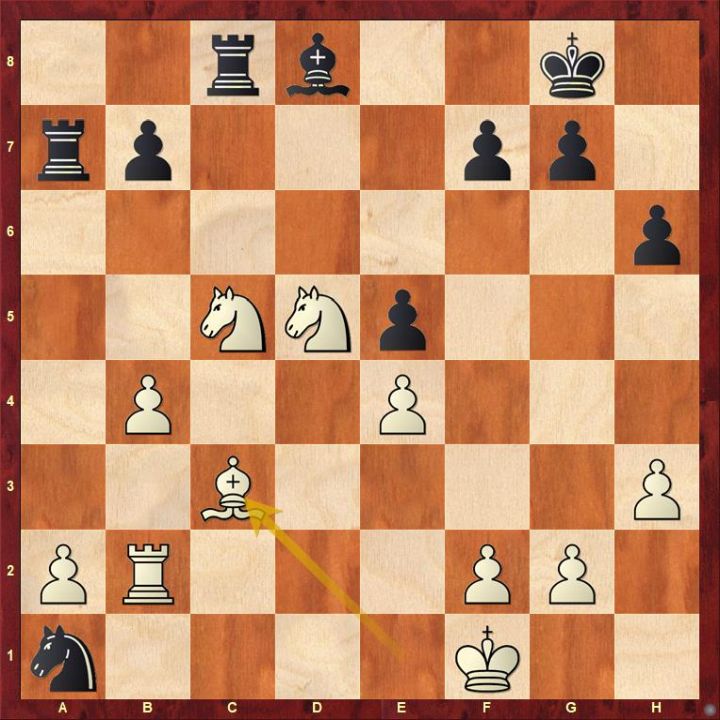 39.Bc3 is a mistake because after 39...b6 40.Nd3 Ra3 White loses material. Due to time pressure, Black exchanged the rooks and the lack of enough pawns resulted in the game getting drawn.
Kirill Shevchenko forced Harikrishna to repeat moves to avoid material loss.
Harikrishna - Shevchenko
Black has no other choice but to go for 22...Bd4+ and White is also forced to play 23.Kh2 to make sure the knight remains pinned because the e7-pawn is hanging. White cannot afford to play 23.Kh1 because the loss of another pawn will be devastating for White. Thus moves were repeated for a threefold repetition, ending the game in a draw.
IM Julia Osmak held GM Koneru Humpy to a solid draw.
IM Natalija Buksa played the opening incorrectly which landed her in a disadvantage. GM Harika finished the game with a nice combination at the end.
Harika - Buksa
Black had to play 34...Qe8 to continue the fight. Find out why 34...exf3 is a game losing blunder.
GM Nihal Sarin scored a clinical victory over IM Platon Galperin after the latter had a tactical oversight.
Galperin - Nihal
18.Ne4 is a blunder as Black opens the f-file 18...fxe5. Now, irrespective of what White chooses to play, Black's idea is to play d5, remove the guard and play Bxf2+ in the next move, gaining an exchange and converting it should be easy which is something Nihal does not miss.
IM Vaishali made a great save against FM Mariia Berdnyk in a completely lost endgame.
Berdnyk - Vaishali
One of the simplest win was in the above position 52...Rb4+ 53.Kg5 Rg4+ followed by Kb3 having the idea to shield the pawn with Ra4 and Black would have gained a full point which means Mariia could have made it 3-3. Vaishali showed her grit once again as she saved the game despite having much less time than her opponent.
Duel 2: India - Ukraine: 2.5-3.5
India lost the second duel against Ukraine 2.5-3.5. Praggnanandhaa blazed through his opponent and score the first win for the team in 20 moves, then Harika won her game. Anand scored the only draw of the match. Vidit, Humpy and Vaishali lost their respective games. Anand had a very good position against Ivanchuk and could have created huge trouble for him.
Anand - Ivanchuk
26.Ne2 followed by Nf4-e6 is a strong idea. However, the game continued 26.Qxh5 Rh8 27.Qg4 Qxg4 28.Rxg4 and it petered out to a draw.
Vidit blundered in the endgame against Shevchenko.
Shevchenko - Vidit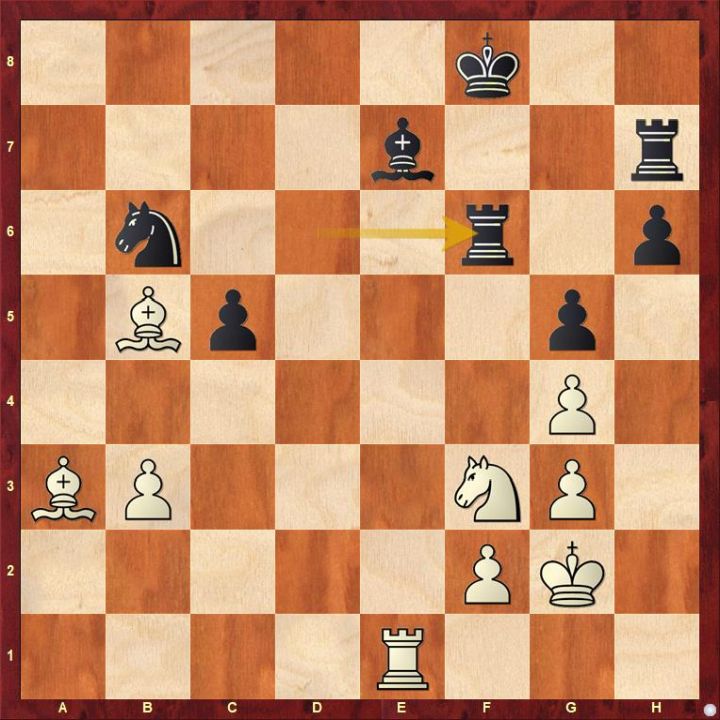 31...Nd7 would have been a better continuation. 31...Rf6 allows White to improve the a3-bishop's position 32.Bb2 Rd6 33.Be5 and there is no way for Black to get away from the wrath of bishop pair.
Everything was depending on Humpy's game, if she had made a draw against Julia, the second duel score would have been 3-3 and India would have advanced to the Semifinals without the need for a tie-break. Humpy was better in the endgame but time scramble cost her the chances.
Humpy - Osmak
39.Bc1-e3 maneuvering was the right way for White to proceed here.
Humpy managed to prolong and almost saved the game. 73.Qf6+ or Qb2+ would have been easier to draw. 73.Qd4+ allowed Black to move the passed e-pawn. The closer it reaches to the promotion square, the harder it becomes for White to defend especially in low time, eventually she lost and Ukraine won the match.
Harika defeated GM Natalia Zhukova with ease.
Zhukova - Harika
20.Rc7 cost White b4-pawn which gave Black the decisive advantage. Harika had no trouble converting it into a win.
Praggnanandhaa was playing with the sole intent of winning. It became evident as he went 6.g4.
Praggnanandhaa - Galperin
Pragg launched a devastating attack 12.g5 hxg5 13.hxg5 Rxh1 14.Qxh1 Ng4 15.Qh8+ Ke7 16.g6 and it's all over for Black.
Tie-breaks: Ukraine - India: 1-5
Ukraine got demolished by India in the blitz tie-breaks 1-5. Adhiban, Harika, Nihal and Vaishali scored the wins. Vidit and Humpy drew their respective games. Vidit made a quick draw with the legendary Ivanchuk in just 18 moves. Adhiban unleashed his beast mode on Shevchenko.
Adhiban - Shevchenko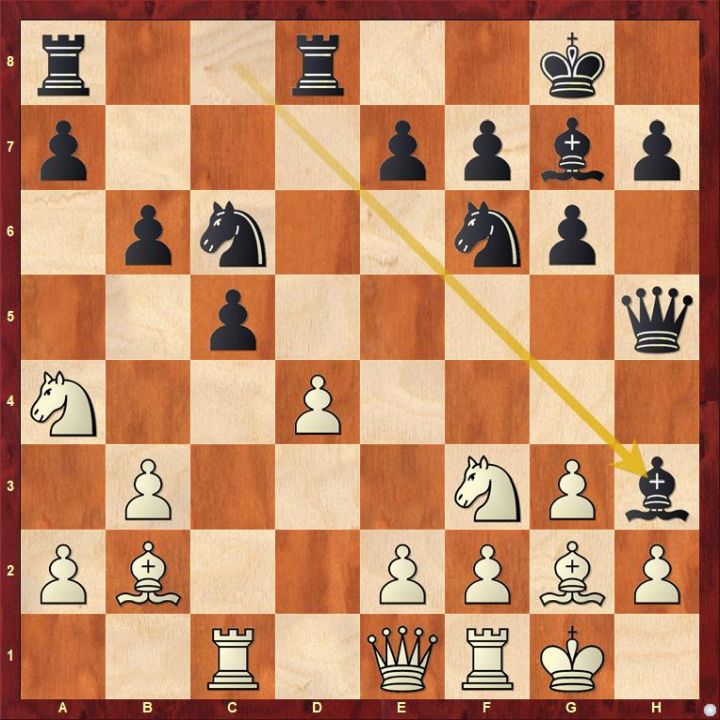 Adhiban is always to ready to strike first. This game was no different. The first opportunity he got when 13...Bb3 was played. He immediately struck 14.Nxc5!. Black continued with a very basic attack on the kingside 14...Ng4 which White had no trouble in defending and converting his advantage into a full point.
Adhiban did what the team India needed to him to do, deal with Shevchenko and that's exactly what he did.
Harika scored her third consecutive win of the day, her second one against Buksa.
Nihal won against Galperin after he got disconnected before making the eleventh move. Vaishali got her revenge against Berdnyk. There was one tiny mistake she made during time scramble, thankfully the Ukrainian was not able to spot it, and she got her win.
Semifinals will take place tomorrow Tuesday 14th September 2021 against either Kazakhstan or USA. Timings will be notified later.
Replay the Live stream
Replay Quarterfinal games of Team India
Quarterfinal results
Round 1 on 2021/09/13 at 1100 UTC
No.
Team
Team
Res.
:
Res.
1
Ukraine
India
2
:
4
Round 2 on 2021/09/13 at 1200 UTC
No.
Team
Team
Res.
:
Res.
1
India
Ukraine
2½
:
3½
Round 3 on 2021/09/13 at 1315 UTC
No.
Team
Team
Res.
:
Res.
1
Ukraine
India
1
:
5
Links
---