FIDE World Women's Team 2023 R3-4: Indian women on the brink of elimination
It was an extremely tough day for the Indian at FIDE World Women's Team Chess Championship 2023. In the third round, they lost to Ukraine and in the fourth against Georgia. Against Georgia, IM Vantika Agrawal's loss against 44th Olympiad Gold medalist, IM Nataliya Buksa cost them the match. In Round 4, GM Harika Dronavalli and IM Divya Deshmukh suffered losses against GM Bella Khotenashvili and GM Nino Batsiashvili respectively. In both rounds, Indian women did not manage to register a single game win, although Vantika and Padmini had their fare share of chances to win in Round 3 and 4 respectively. India will have to Egypt in Round 5 by the biggest margin and hope everything else works out in their favor. Round 5 starts today at 3 p.m. local time, 6:30 p.m. IST. Photos: FIDE/Michal Walusza
Almost a miracle needed for India to advance to the Knockout stage
India beating Egypt 4-0 might not be enough to advance to the next stage. If Ukraine and France draw their match against each other, then they both are through to the next stage. Only if India wins against Egypt and Ukraine-France has a decisive result, then tie-break will come into question and India might get a sliver of hope.
Round 3: Ukraine - India: 2-0
GM Harika Dronavalli, IM Divya Deshmukh and WGM Savitha Shri B drew against GM Anna Ushenina, IM Inna Gaponenko and WIM Yelyzaveta Hrebenshchykova respectively. IM Nataliya Buksa scored the decisive win over IM Vantika Agrawal.
Replay Ukraine-India games
Round 4: India - Georgia: 0-2
GM Harika Dronavalli and IM Divya Deshmukh lost to GM Bella Khotenashvili and GM Nino Batsiashvili, IM Vantika Agrawal and IM Padmini Rout drew against IM Meri Arabidze and IM Lela Javakhishvili respectively. Although, Padmini had winning chances, it would not have changed the outcome of the match result.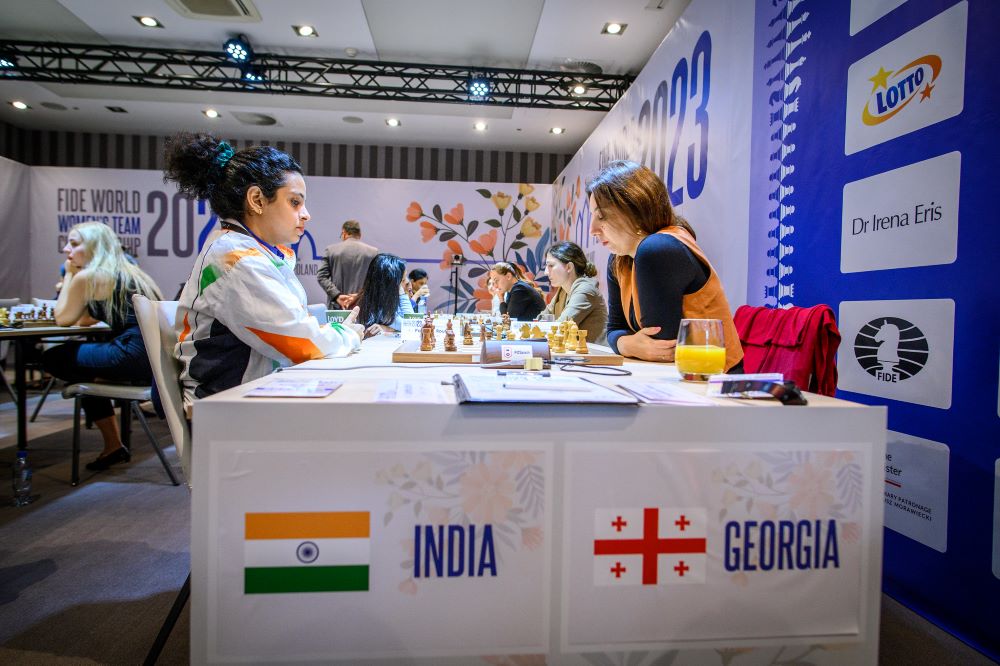 Replay India-Georgia games
Pool A
Round 5: Egypt - India
Pool A standings after Round 4
Pool B standings after Round 4
Schedule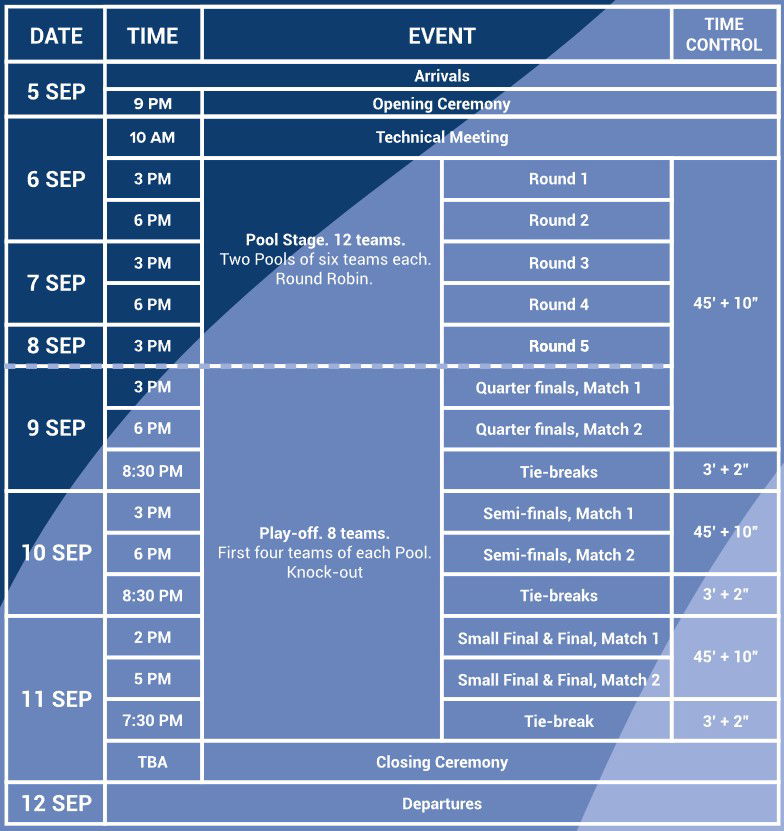 Time Control
The time control is 45 minutes + 10 seconds increment for the entire game, for tie-breaks - 3 minutes + 2 seconds increment.
Links
---