FIDE World Women's Team 2023 R1-2: A mixed start for India
Indian women made a good start at FIDE World Women's Team Championship 2023. They won the first round 2-0 against France. IM Vantika Agrawal and IM Divya Deshmukh scored the wins against IM Deimante Daulyte-Cornette and IM Anastasia Savina, IM Padmini Rout and WGM Savitha Shri B drew against IM Sophie Milliet and WGM Hejazipour Mitra respectively. In the second round, India lost against Kazakhstan 0-2. GM Harika Dronavalli, Vantika and Padmini drew against IM Bibisara Assabayeva, WGM Meruert Kamalidenova and WIM Alua Nurmanova. Savitha lost to WIM Amina Kairbekova which cost team the match. India will face Ukraine and Georgia in Round 3 and 4 which starts today at 3 p.m. and 6 p.m. local time, 6:30 p.m. and 9:30 p.m. IST. Photo: FIDE/Michal Walusza
Vantika and Divya power India's win over France
Kazakhstan has taken early sole lead in Pool A scoring 4/4. USA and China have made a perfect start 4/4. All three teams who are leading currently, haven't conceded a loss in a single game.
Round 1: India - France: 2-0
India started with a 2-0 victory over France without conceding a single game. IM Vantika Agrawal (2307) and IM Divya Deshmukh (2216) defeated IM Deimante Daulyte-Cornette (2249) and IM Anastasia Savina (2252), IM Padmini Rout (2282) and WGM Savitha Shri B (2236) drew against IM Sophie Milliet (2335) and WGM Hejazipour Mitra (2244) respectively.
Deimante - Vantika
Black is very much in the game as it is quite difficult for White to make a progress in the above position. 27...Kf8 is what Black needed to play. 27...Raxc4?? helped 28.Rxc4 Rxc4 29.a4 and the passed a-pawn proved to be the decisive factor in White earning a full point.
Savina - Divya
IM Anastasia Savina (2252) tried to hold on to the h4-pawn when she needed to let it go. 18.g3? Rc8 19.Nb1 Qd6 20.Kg2?? Bh3+! 21.Kxh3 Rxc1 22.Kg2 Rec8 23.Qb5 Rxf1 24.Bxf1 Rc2 25.Be2 Qb6 26.Na3 Qxb5 and it's over as White loses more material.
Replay India-France games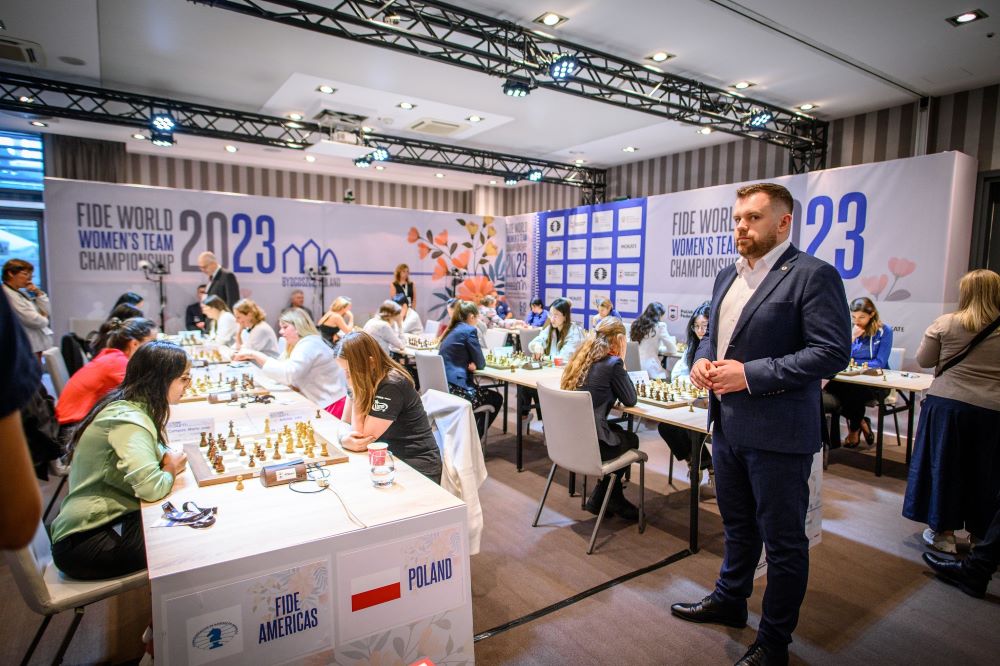 Pool A
Round 3: Ukraine - India
Round 4: India - Georgia
Replay Round 1-2 games
Pool A standings after Round 2
Pool B standings after Round 2
Schedule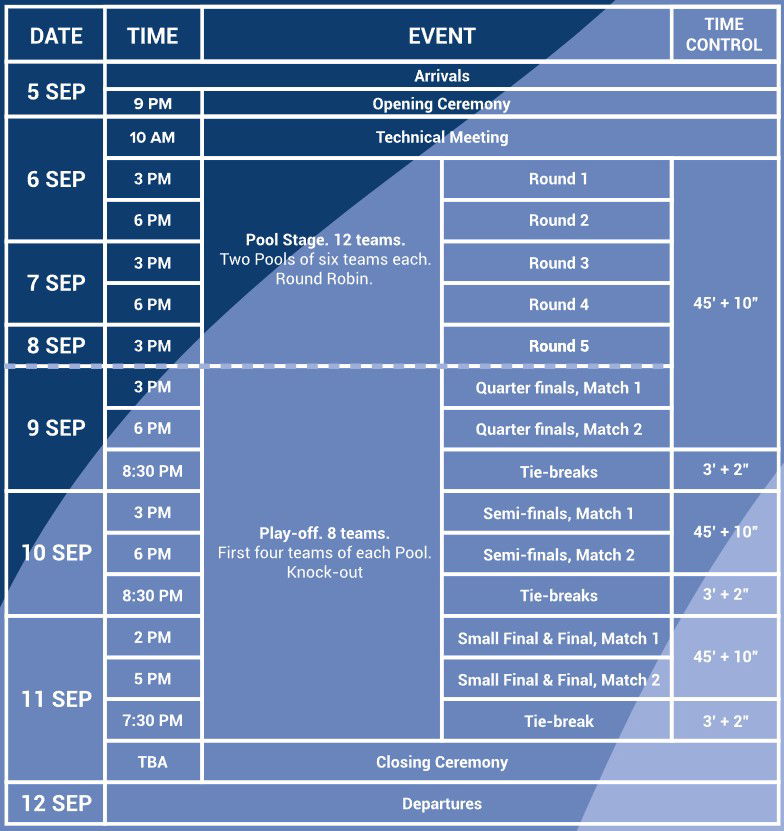 Time Control
The time control is 45 minutes + 10 seconds increment for the entire game, for tie-breaks - 3 minutes + 2 seconds increment.
Links
---