India's medal hopes in World Cadets 2019 rests on Vivaan
Vivaan Vijay Saraogi has emerged as one of the leaders of the under-8 open after the penultimate round at the ongoing FIDE World Cadet Chess Championships 2019. One of country's upcoming talents, Vivaan has scored an impressive 8.0/10 points so far in the event and shares the lead with Kazakhstan's Tulendinov Dinmukhammed and Russia's Lebedev Artem S. Among players of other categories, Yash Bharadia too is performing commendably and has registered four victories in a row from rounds seven to ten. But unfortunately in the final round of the tournament he has been paired up against compatriot Ilamparthi A R which dwindles the country's medal hopes in that category.
Can Vivaan win the FIDE World Cadet under-8 open?
Vivaan Vijay Saraogi had to suffer defeat only in the hands of Kazakhstan's Tulendinov D in round four, apart from that his performance in the event has so far been quite consistent. After registering three consecutive wins from rounds seven to nine, in the tenth round too he was close to victory against Vietnam's Dau Khuong Duy. The latter had the black pieces and was a clear pawn down at one point of the game. But Vivaan somehow wasn't able to capitalize on his advantage and settled for a draw.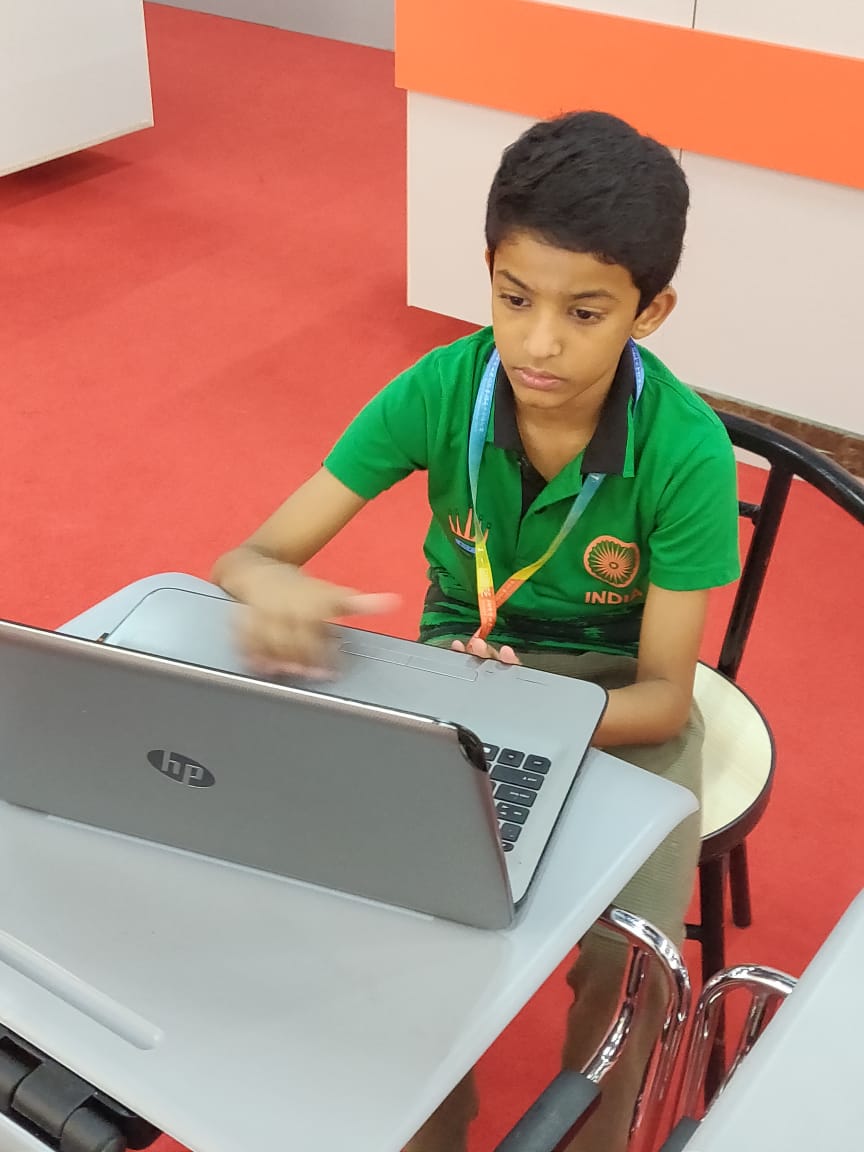 In round eight he was up against Nguyen Manh Duc of Vietnam with the Black pieces. The game opened with a Ruy Lopez and the following critical moment was reached after White's 33rd move.
Nguyen Manh Duc - Vivaan Vijay Saraogi, Round 7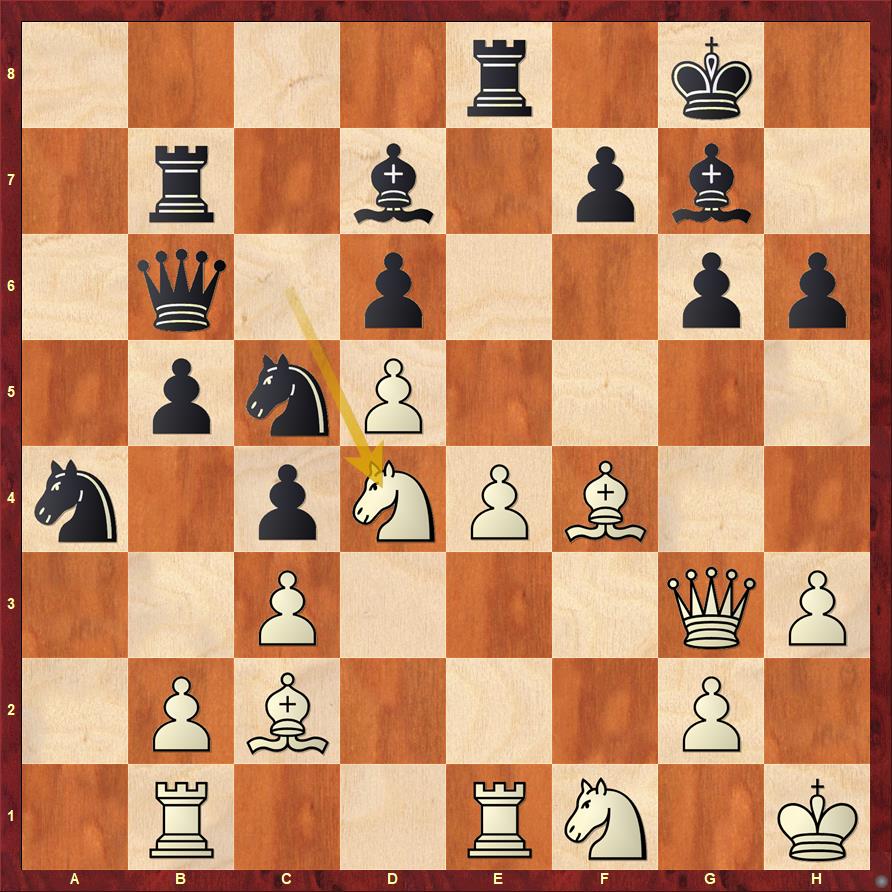 Apparently the only move that keeps balance in the position is 33...b4 creating a thrust on the queenside. The game move actually allows the nice and tactical 34.Nf5! Even though Black was spared of this poisonous blow, his position aggravated from here on anyway.
Vivaan's round nine encounter against Wang Bingnan of China where he employed the unusual Scandinavian opening with the black pieces is also worth looking at. It was a topsy-turvy game where the former held the initiative for the most part but the finish came with a nice tactical motif.
Wang Bingnan - Vivaan Vijay Saraogi, Round 9
The under-8 girls section is being led by Yuan Zhilin and Wang Qinxuanyi of China who both have 8.0/10 points. Among Indians, Aadhya Jain has the best score of 6.5/10. Aadhya performed really well in rounds seven and eight winning both her games against higher-rated opposition but in the next two rounds she had to face bitter defeats. Lakshana Subramanian, Meenakshi Kolagatla, and Anaishaa Nahar closely follow her with 6.0/10.
Yash Bharadia is on the roll in under-10 open!
In the under-10 open section of the event medal hopes have been kept alive by Yash Bharadia and Ilamparthy A R. Both have scored 7.5/10 so far and are one point behind the leaders Wei Jianzhou and Vetokhin Savva. But unfortunate for the Indian contingent they have been paired up against each other in the final round!

In under-10 girls Lee Alice of USA and Chen Yining of China have emerged as leaders, both scoring a fantastic 9.0/10. Among Indians, Indira Priyadharshini Subbu and Sneha Halder have the best score of 6.0/10 points each. In under-12 category the performance of Indian players have been sombre. Savitha Shri B, the top seed of the under-12 girls and former champion, has slipped to a rather disappointing eighteenth place with a dismal score of 6.0/9 points. Check detailed results of all category here.
A complete overview of all Indian performances
| | | | | | | | | | | | | | | | | | | | | |
| --- | --- | --- | --- | --- | --- | --- | --- | --- | --- | --- | --- | --- | --- | --- | --- | --- | --- | --- | --- | --- |
| SNo | | Name | RtgI | FED | 1 | 2 | 3 | 4 | 5 | 6 | 7 | 8 | 9 | 10 | 11 | Pts. | Rk. | K | rtg+/- | Group |
| 9 | | Vivaan Vijay Saraogi | 1480 | IND | 1 | 1 | 1 | 0 | 1 | ½ | 1 | 1 | 1 | ½ | | 8,0 | 2 | 40 | 22,40 | U8 Open |
| 22 | | Jaivardhan Raj | 1287 | IND | 1 | 1 | ½ | 1 | 0 | ½ | 1 | 0 | 0 | 0 | | 5,0 | 43 | 40 | 6,40 | U8 Open |
| 27 | | Ayushman Mohanty | 1269 | IND | 1 | 0 | 1 | 1 | 1 | ½ | 0 | 1 | 0 | 1 | | 6,5 | 13 | 40 | 33,20 | U8 Open |
| 28 | | Amogh Bisht | 1260 | IND | 1 | 1 | 0 | 1 | ½ | 1 | 0 | 0 | 1 | 0 | | 5,5 | 31 | 40 | 15,20 | U8 Open |
| 29 | | Ishaan Singh Khanuja | 1240 | IND | ½ | 1 | 1 | 0 | 1 | 0 | 1 | 0 | 0 | 1 | | 5,5 | 35 | 40 | 34,00 | U8 Open |
| 3 | | Ilamparthi A R | 1984 | IND | 1 | 1 | ½ | 1 | ½ | 1 | 1 | 1 | ½ | 0 | | 7,5 | 3 | 40 | -46,00 | U10 Open |
| 4 | | Bharadia Yash | 1963 | IND | 1 | 1 | ½ | ½ | ½ | 0 | 1 | 1 | 1 | 1 | | 7,5 | 5 | 40 | -58,40 | U10 Open |
| 14 | | Mayank Chakraborty | 1731 | IND | 1 | 1 | ½ | 1 | 1 | ½ | 0 | 1 | 0 | 1 | | 7,0 | 10 | 40 | 22,00 | U10 Open |
| 25 | | Raghu Ram Reddy Seelam | 1631 | IND | 1 | 1 | ½ | 0 | 0 | ½ | 0 | 1 | ½ | 1 | | 5,5 | 36 | 40 | -35,20 | U10 Open |
| 26 | | Daakshin Arun | 1628 | IND | 1 | 1 | 0 | 1 | ½ | 0 | 0 | 1 | 1 | 1 | | 6,5 | 18 | 40 | -54,80 | U10 Open |
| 47 | | Rajveer Pinkesh Nahar | 1410 | IND | ½ | 0 | 1 | 1 | 0 | ½ | 1 | 0 | 0 | ½ | | 4,5 | 69 | 40 | 7,60 | U10 Open |
| 51 | | Aarav Sinha | 1383 | IND | 0 | 1 | 1 | ½ | ½ | 0 | ½ | 0 | 1 | 0 | | 4,5 | 68 | 40 | 34,40 | U10 Open |
| 3 | CM | Shahil Dey | 2207 | IND | ½ | 0 | ½ | 1 | 1 | 1 | 1 | 0 | 0 | 1 | | 6,0 | 32 | 40 | -122,80 | U12 Open |
| 4 | CM | Dev Shah | 2161 | IND | 1 | 1 | 0 | 1 | 1 | 0 | ½ | ½ | 1 | 0 | | 6,0 | 22 | 40 | -101,60 | U12 Open |
| 17 | CM | Kadam Om Manish | 2028 | IND | 1 | ½ | 1 | 1 | ½ | ½ | 0 | 0 | 1 | ½ | | 6,0 | 29 | 40 | -51,60 | U12 Open |
| 41 | | Mahendra Teja Mekala | 1827 | IND | 1 | 1 | 1 | 1 | 0 | 0 | 0 | 1 | 1 | 0 | | 6,0 | 24 | 40 | 122,00 | U12 Open |
| 75 | | Bang Atharva | 1486 | IND | 0 | 1 | 0 | 0 | 1 | ½ | 0 | 1 | ½ | ½ | | 4,5 | 78 | 40 | 9,20 | U12 Open |
| 4 | | Aishani Pathak | 1245 | IND | ½ | 0 | 1 | ½ | 0 | 1 | 1 | 0 | 0 | 1 | | 5,0 | 38 | 40 | -13,60 | U8 Girls |
| 10 | | Lakshana Subramanian | 1159 | IND | 1 | 0 | 1 | 0 | 1 | 1 | 1 | 1 | 0 | 0 | | 6,0 | 18 | 40 | 0,80 | U8 Girls |
| 17 | | Kolagatla Alana Meenakshi | 1061 | IND | 1 | ½ | ½ | 0 | 1 | 0 | 1 | 1 | 1 | 0 | | 6,0 | 22 | 40 | -6,00 | U8 Girls |
| 21 | | Anaishaa Pinkesh Nahar | 1033 | IND | 1 | 0 | ½ | 0 | ½ | 1 | 0 | 1 | 1 | 1 | | 6,0 | 25 | 40 | 0,00 | U8 Girls |
| 23 | | Aadhya Jain | 1008 | IND | 0 | 1 | 1 | 1 | 1 | ½ | 1 | 1 | 0 | 0 | | 6,5 | 11 | 40 | 62,40 | U8 Girls |
| 24 | | Abhishree Deepu | 0 | IND | 0 | 1 | 0 | 1 | 0 | 1 | 0 | 0 | 1 | ½ | | 4,5 | 51 | 0 | 0,00 | U8 Girls |
| 58 | | Samaira Jain | 0 | IND | 0 | 0 | 0 | 1 | 0 | 1 | ½ | 1 | 1 | 0 | | 4,5 | 52 | 0 | 0,00 | U8 Girls |
| 12 | | Sneha Halder | 1561 | IND | 1 | 1 | 0 | 0 | 1 | 1 | 0 | 1 | 0 | 1 | | 6,0 | 26 | 40 | -82,40 | U10 Girls |
| 27 | | Indira Priyadharshini Subbu | 1346 | IND | 1 | 1 | 0 | 1 | 0 | 0 | ½ | ½ | 1 | 1 | | 6,0 | 21 | 40 | -30,00 | U10 Girls |
| 33 | | Sachi Jain | 1282 | IND | 1 | 0 | 1 | 0 | 1 | ½ | 1 | ½ | 0 | ½ | | 5,5 | 29 | 40 | 69,60 | U10 Girls |
| 38 | | Aswinika Mani R | 1242 | IND | 0 | 1 | 0 | 1 | 1 | 1 | ½ | 0 | 0 | 1 | | 5,5 | 38 | 40 | 30,80 | U10 Girls |
| 1 | WFM | Savitha Shri B | 2010 | IND | ½ | 1 | 1 | 0 | 1 | 1 | ½ | 1 | 0 | 0 | | 6,0 | 18 | 40 | -112,00 | U12 Girls |
| 38 | | Akshaya Rajaraman | 1457 | IND | 1 | 0 | 0 | 1 | 0 | 0 | 0 | 0 | 0 | 0 | 0 | 2,0 | 86 | 40 | -26,80 | U12 Girls |
| 42 | | Tejaswi R | 1393 | IND | 1 | 0 | 1 | 0 | ½ | ½ | ½ | 0 | 0 | 1 | | 4,5 | 57 | 40 | -39,60 | U12 Girls |
| 44 | | Sinthia Sarkar | 1384 | IND | 0 | 0 | 0 | 0 | 0 | 0 | 0 | 0 | 0 | 0 | 0 | 0,0 | 90 | 40 | 0,00 | U12 Girls |
---