European Club Cup 2023 R1: Nihal baffles Bosiocic, moves to 2699
Nihal Sarin scored a fantastic win against Marin Bosiocic in the first round of European Chess Club Cup 2023. The teenager launched a devastating attack on his opponent's attack. While computer might say that the first stage of the attack was thwarted, only a human can understand that it was incredibly difficult to defend. This win pushed Nihal's live rating to 2699. His team Tajfun SK Ljubljana scored a 0-6 whitewash victory over Chess Club Dardania. Pranav Venkatesh and Aditya Mittal made a winning start. Raunak Sadhwani was on the brink of defeat against IM Jasel Lopez. He had a great opportunity to win the game. Somehow he couldn't find it and settled for a draw. Offerspill Sjakklub won 0.5-5.5 against Bloemendaalse SV. Round 2 starts today at 3 p.m. local time, 6:30 p.m. IST. Photo: Shahid Ahmed
Pranav and Aditya make a winning start, Raunak escapes jaws of defeat
Vishy Anand and Magnus Carlsen were rested for their respective teams Superchess and Offerspill Sjakklubb in the first round.
Bloemendaalse SV - Offerspill Sjakklubb: 0.5-5.5
GM Raunak Sadhwani (2641) was completely lost against IM Jasel Lopez (ARU, 2383). Jasel missed his opportunity and went for a perpetual check in a winning position. GM Aryan Tari (NOR, 2619), GM Pranav Venkatesh (2579), GM Johan-Sebastian Christiansen (NOR, 2606), GM Frode Olav Olsen Urkedal (NOR, 2519) and IM Benjamin Haldorsen (NOR, 2454) scored a victory each.
Jasel - Raunak
Black is certainly lost after 30.Nxg6. However, White could not follow through properly. 30...fxg6 31.Rxg6+ Bxg6 32.Qxg6+ Kh8 33.Qh6+ Kg8 here White needed to find 34.Bg4 to win the game. Instead, White went for perpetual check 34.Qg6+ Kh8 35.Qh6+ Kg8 36.Qg6+ and the game was drawn.
Replay Bloemendaaise SV - Offerspill Sjakklubb games
Tajfun SK Ljubljana - Chess Club Dardania: 6-0
GM Nihal Sarin (2694), GM Andrei Volokitin (2664), GM Viktor Erdos (2559), GM Ivan Saric (2647), GM Ante Brkic (2606) and GM Matej Sebenik (2523) scored a win each for Tajfun SK Ljubljana. Nihal launched a devastating attack GM Marin Bosiocic (2534).
Nihal - Bosiocic
19.e6! is a nice move to disintegrate Black's kingside. 19...fxe6 20.fxe6 instead, the obvious 20.fxg6 would have been a better continuation. 20...Nf8 21.Rf7 Bxg3 22.hxg3 Bc6 23.Qg4 Qd6 24.Raf1 Rxe6 25.e4 d4 26.Bc4 begins the next stage of White's attack.
26...dxc3 27.Qg5 Be8 28.Rxf8+ Kg7 29.e5 Qd8 30.Qxd8 Rxd8 31.Bxe6 c2 32.Rg8+ Kh6 33.Bb3 and it's over as Black has no compensation for the lost rook.
Replay Tajfun SK Ljubljana - Chess Club Dardania games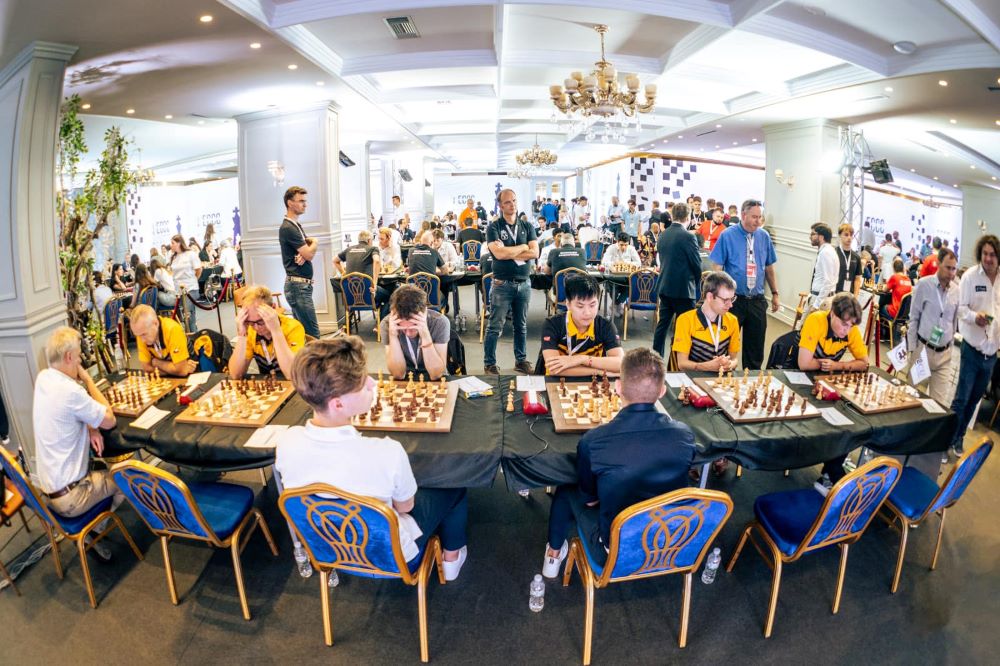 Replay live stream
Every day round starts at 3 p.m. local time, 6:30 p.m. IST from 1st to 7th October 2023. The final round on 7th October starts 2 p.m. local time, 5:30 p.m. IST. The seven-round Swiss system tournament has a time control of 90 minutes for 40 moves plus 30 minutes for the rest of the game with an increment of 30 seconds per move, starting from move one. The tournament will be taking place at Grand Blue FAFA Conference Hall in Durrës, Albania.
Replay Round 1 Open games
Replay Round 1 Women games
Round 1 Open results
No.
Team
Team
Res.
:
Res.
1
Superchess
Rishon Lezion B
6
:
0
2
Bloemendaalse SV
Offerspill Sjakklubb *)
½
:
5½
3
Zuid-Limburg
Novy Bor
0
:
6
4
Asnieres - Le Grand Echiquier
Slough Sharks
6
:
0
5
Schachclub Viernheim 1934 e.V.
Blackthorne
5½
:
½
6
Asker Schakklubb
Turkish Airlines Sports Club
½
:
5½
7
TAJFUN SK Ljubljana
Chess Club Dardania
6
:
0
8
LSG Leiden
CE Le Cavalier Differdange *)
3½
:
2½
9
Koninklijke Brugse Schaakkring
Sentimento Ajka BSK
½
:
5½
10
C' Chartres Echecs
TSM Schifflange
6
:
0
Standings after Round 1
Round 2 Open pairings
No.
Team
Team
Res.
:
Res.
1
SK Rockaden
Superchess
:
2
Offerspill Sjakklubb *)
Wood Green
:
3
Novy Bor
SV Werder Bremen
:
4
Silla Chess Club
Asnieres - Le Grand Echiquier
:
5
KSK Rochade
Schachclub Viernheim 1934 e.V.
:
6
Turkish Airlines Sports Club
Paul Keres 1
:
7
MRU - ROSK Consulting
TAJFUN SK Ljubljana
:
8
CE Le Cavalier Differdange *)
Partizani
:
9
Sentimento Ajka BSK
SK Dunajska Streda
:
10
CE Gambit Bonnevoie
C' Chartres Echecs
:
Links
---