CBIJ #05: Mothers's Day Edition!
This week's CBIJ (ChessBase India Juniors) article brings to a special Mother's Week Edition! Instead of the perspectives of the juniors, we decided to have a look at what the chess moms have to say! Their take on the world of their juniors is unique and yet shares a lot in common. Featured in this article are chess moms Sonal Patel, Saimeera Ravi, Vanita Noronha, Rekha Patil, Kusum Mittal, Anita Mendonca, Priti Mahendru and Shilpa Bhagat. This article is a tribute to every mother who supports her child's chess career in her special way. Check out today's trivia as well.
A game of chess is never easy. There will always be tense, long and strained moments of thinking about what way to continue ahead. But the players know whether they will win or lose at a certain point. It's the people outside the hall that are in suspense as to what could possibly be going on. Even if they are from different places, chess moms have some feelings in common: the long waits outside the hall while in sick worry of the game, the struggle when player loses to a lower rated, and the highest of high hopes when playing a stronger player. Not all the chess moms can understand the position and play like the player, but every one of them can tell when something is wrong in the position. It's simple to them; you won by tactics, or you made a blunder. Her only response, chess-wise, is then 'what was your opponent's mistake' or 'didn't you see this tactic coming?'. However, frustrating as this lack of knowledge might be, the emotional touch that mothers have to the game is the same as the player. It is with their help, mentally, and shared emotional pain and happiness, that I think they have successfully nurtured the juniors of the world.
Juniors are back to work with the coming of the summer holidays! To capture a different angle of chess life, we decided to ask some chess moms a general question:
You are the mother of a talented junior. You experience almost the same emotions as the player. You also always stand by their side come what may. We juniors salute you for that. My question to you is "what would you say is the best (and not so best) part of being the mother of a chess talent?"
to which they answered like so...
Saimera Ravi, mother of Rakshitta Ravi
The best part I feel is when they work and get success; any mother would love to see their child's smile as a reward. The not so best part is that in my case since I am a player also I think maybe it's pressurizing the child while analyzing a position, calculation, arguments etc.
Vanita Noronha, mother of Rithvik Krishnan and Trisha Krishnan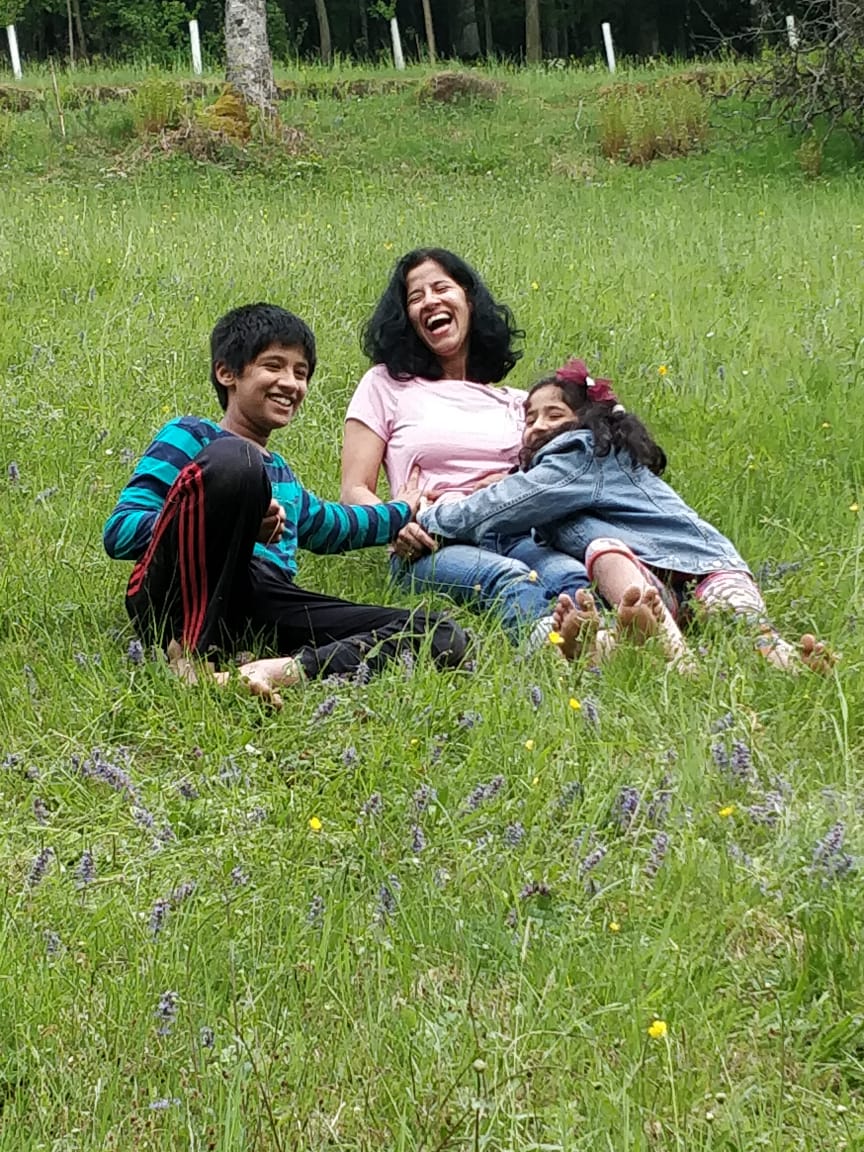 The best outcomes of having two kids who love chess is watching firsthand the joy they experience just by playing chess and the fact that we get to visit so many new places for tournaments. We also have mastered most of the flags of the world, by spending so much time on follow chess! The bad parts are the fact that I have to miss my work so often and that we miss out on a lot of social and family occasions due to chess.
Shilpa Bhagat, mother of CM Kush Bhagat
The best part of being a chess mother is we get to be a part of a sportsman journey and experiences even without playing the sport. My spiritual and emotional learning curve has been the steepest in the last 5 years since I became a chess mom. I feel a transformed person now, someone who is more patient, is up for any challenge, able to deal with failure and embracing everything that life throws at me with a lot of zest. The not so best part of being a chess mom is that I need to be away from the rest of the family physically.
Rekha Patil, mother of Bhagyashree Patil
Having a bright child gives rise to many challenges as it happens in any sport, there is pressure and pleasure, but we as parents try to be optimistic about her play and encourage her to enjoy the game and learn. So, the best part is the satisfaction or the joy that comes out of the sport, and the not so best part is dealing with the outcomes.
Kusum Mittal, mother of CM Aditya Mittal
The best part of being a mother of a chess talent is seeing him becoming so strong in decision making ability at such a young age. A chess player has that courage to take the risks, to make decisions in less time thus teaching them a big life skill and preparing them for life. In fact this game has taught me many things, how to be patient, how to believe in your child and how to take highs and lows. This game has given us lot of recognition too and who does not want to create a name in this world. I owe a lot to chess. The not so best part is to see your child doing unbelievable hard work at an age where he should be playing with his friends and enjoying in the park. To see your child getting disheartened at times when even after lot of hard work, the results are not seen. To see him getting helpless sometimes. In fact the worst part is when I get angry on him. It's really difficult to control your emotions. I then feel it's me who requires introspection.
But at the end I just have a single thought in mind, chess is the flowing blood now and it cannot be stopped whatever good or bad part it may have. I am happy to be a chess mom.
Sonal Patel, mother of WCM Dhyana Patel
The good part of being the mother of chess talent is that the time is managed properly and we get used to the places we go and get to know new people. I cannot really think of a downside.
Priti Mahendru, mother of Jaiveer Mahendru
Best part is this journey where you get to see an entirely unexplored side of your child. Not so good part is, not knowing where we are going, how is it going to be ahead; is there a way back? My favorite part is the fact that this sport allows my child to play and compete against opponents of varied sizes and ages! Not so enjoyable is having to finish loads of school work after coming back from a tournament!
Anita Mendonca, mother of CM Leon Luke Mendonca
The best - The Pride
The not so best - The Sacrifice.
Truly, as one can conclude after reading the above, that all mothers, no matter what the struggle, are reluctant to leave their junior's side. If you noticed all the mothers say the bad part is that they don't get to be with their family. The affectionate and doting attention to their kids is unmatched to any other bond. As Abraham Lincoln once said,
"All that I am, or hope to be, I owe to my angel mother"
CBIJ #04 Trivia:
Last time, the winners were Tarun Kanyamarala, Prashant Mullick, Mohammed Sultan and Karthik S. Kumar. (We are going to limit the prizes to only those who comment on ChessBase India website) Good job! Please claim your prize by writing to us at chessbaseindiajuniors@gmail.com.
TODAY'S QUIZ
This time, you won't be guessing a talent! All of you have at some point been elated upon receiving a prize. Some love cash prizes, while others insist on trophies. My question to you is: "Do you prefer Cash Prize or a Trophy? Why?" All you have to do is write your opinion on the matter and comment it below. The person with the best write-up gets a special prize from ChessBase India Juniors!
About the author:
Avathanshu Bhat has been writing about chess for well over a year now. He has published innumerable articles on ChessBase India and his reports have been well received by the audience. He is the editor-in-chief of ChessBase India Juniors. His main intention is to bring the best junior players of our country into the limelight with his writings. Here is some of the work he has done in the past:
G. Akash wins the Grand Hyderabad affair
10-year-old boy's deep calculation (50,000+ hits on Youtube)
12-year-old chessentrepreneur Avathanshu Bhat
Hemant Sharma becomes International Master
Champion from Chudamani - IM Sidhant Mohapatra
Blindfold simul by Timur Gareyev
---