Leinier Dominguez clinches Champions Showdown 2021 Chess 9LX
Leinier Dominguez started the final day with a loss against Shankland in Champions Showdown 2021 Chess 9LX. He drew with Vachier-Lagrave next and defeated Aronian in the final round to finish clear first 6.0/9. So, Vachier-Lagrave and Shankland tied for the second place at 5.5/9 each respectively. Kasparov, who was having another fantastic day after beating Svidler and making a draw with Nakamura, losing to MVL in the last round cost him a podium finish. He still managed to finish fifth with 5.0/9 and once again showed the world that if you take out the opening theory, he can still go against the best the world has to offer. Photo: Saint Louis Chess Club
Vachier-Lagrave spoils Kasparov's finish
Four players - So, Leinier, Kasparov and Shankland were tied for the first place 5.0/8 heading into the final round of the event. Kasparov's chances of finishing tied first was shunned by Vachier-Lagrave in the final round. 31 out of 45 games were decisive which means 68.89% games had a definitive winner. 12 games finished in 30 moves or less, out of them eleven were decisive. This tournament shows that Chess 960 games eliminate short or quick draws, games are more decisive when opening theory is out of question.
Round 7: Shankland - Leinier: 1-0
Shankland ended Leinier's four-game winning streak. Leinier dropped a pawn in a double rook and bishop endgame and then missed a tactic which cost him another.
19.Rxa5 Ra8 did not work because White had 20.Rxb5 cxb5 21.Bxd5+ Kg7 22.Bxa8 Rxa8 23.Ra1 and rest was just a matter of technique which Shankland converted with ease.
Caruana - So: 1-0
So played a fantastic positional game to beat Caruana.
19...Bd5 prevents Nxc6 ideas, however, what So played 19...Nxc5 is a nice practical continuation too. 20.Nxc6 Qc7 21.Nxd8 Nxd3 22.exd3 Qxd8 and Black is doing well.
Svidler - Kasparov: 0-1
Kasparov launched a brilliant at the center of the board against Svidler.
Kasparov launched a typical attack, 20...Nexc4 which was also possible in the previous move, yet 20.Qd2 made it more devastating. 21.bxc4 g5 22.Bxg5 Bxg5 23.f4 Nxc4 and the attack was absolutely crushing. Svidler resigned in another three moves.
Round 8: So - Svidler: 1-0
So made a short work of Svidler in just 21 moves.
13...f6 makes things difficult for Black as White strengthens the pin on c-file 14.Rc1 and it's all over. Find out what Black could have done instead.
Round 9: Aronian - Leinier: 0-1
Leinier scored a very nice win against Aronian to finish clear first.
20.b4 did not gain any tempo for White, in fact it lost it after 20...Nb3 21.Ra2 Be6 Black is in commanding position and White's pieces are all over the place.
Vachier-Lagrave - Kasparov: 0-1
Kasparov overstretched in the final round against Vachier-Lagrave.
Position after 17...e4
17...e4 was not required. Instead, 17...Bd7 would have been fine for Black. Kasparov obviously wanted to win this game and finish tied first which probably caused him to take these risks and eventually lose the game.
Replay all Round 7-9 games from Day 3
Replay the live stream
Final standings after Round 9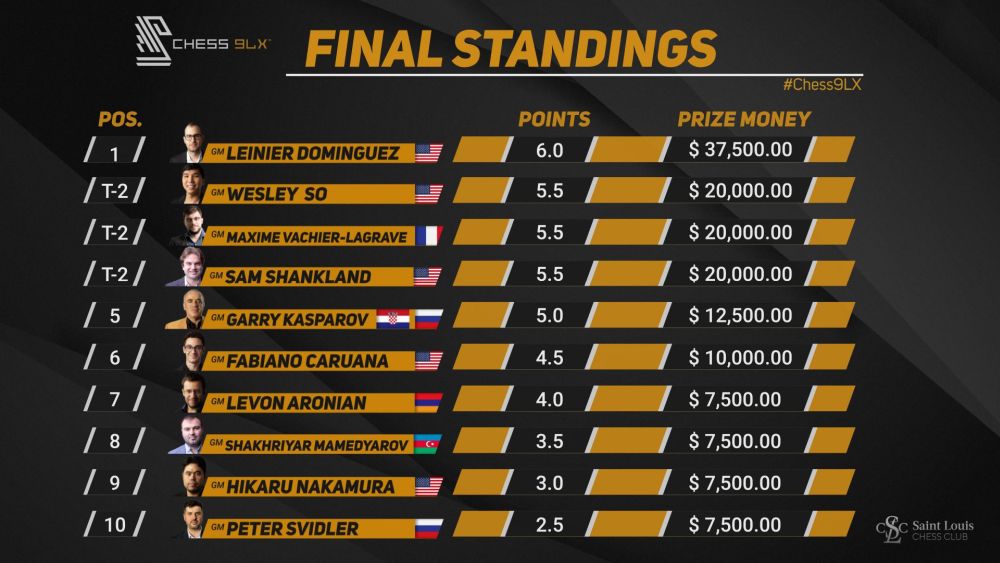 Schedule
| | | |
| --- | --- | --- |
| DATE | TIME | EVENT |
| Sept. 9 | 12:15 a.m. | Reveal Position |
| Sept. 9 | 12:30 a.m. | 9LX Round 1 |
| Sept. 9 | 1:30 a.m. | Draw for Position |
| Sept. 9 | 1:45 a.m. | 9LX Round 2 |
| Sept. 9 | 2:45 a.m. | Draw for Position |
| Sept. 9 | 3:00 a.m. | 9LX Round 3 |
| Sept. 10 | 12:15 a.m. | Draw for Position |
| Sept. 10 | 12:30 a.m. | 9LX Round 4 |
| Sept. 10 | 1:30 a.m. | Draw for Position |
| Sept. 10 | 1:45 a.m. | 9LX Round 5 |
| Sept. 10 | 2:45 a.m. | Draw for Position |
| Sept. 10 | 3:00 a.m. | 9LX Round 6 |
| Sept. 11 | 12:15 a.m. | Draw for Position |
| Sept. 11 | 12:30 a.m. | 9LX Round 7 |
| Sept. 11 | 1:30 a.m. | Draw for Position |
| Sept. 11 | 1:45 a.m. | 9LX Round 8 |
| Sept. 11 | 2:45 a.m. | Draw for Position |
| Sept. 11 | 3:00 a.m. | 9LX Round 9 |
Play-off (if needed) - 11 September at 4:00 a.m. Time is in IST
Prizes
Total Prize Fund: US$150,000
| | |
| --- | --- |
| Place | Prize |
| 1st | $37,500 |
| 2nd | $25,000 |
| 3rd | $20,000 |
| 4th | $15,000 |
| 5th | $12,500 |
| 6th | $10,000 |
| 7th | $7,500 |
| 8th | $7,500 |
| 9th | $7,500 |
| 10th | $7,500 |
Links
---