Champions Showdown 2021 R1-3: Caruana takes sole lead 2.5/3
Champions Showdown 2021 Chess 9LX returns to over-the-board after last year it had to be conducted online due to the unprecedented Covid-19 pandemic. Fabiano Caruana scored an unbeaten 2.5/3 on the first day to take the sole lead. Vachier-Lagrave, Mamedyarov and Shankland are at shared second place 2.0/3. So started the day with a beautiful combination against MVL, then he survived a massive scare against Kasparov in the following round. Mamedyarov was the only player to score a win against Kasparov so far in the third round. Aronian, So and Leinier are at 1.5/3, Svidler and Kasparov at 1.0/3 each respectively. Nakamura is at the last place, yet to score a point. Round 4 resumes tonight from 12:30 a.m. IST. Photo: Bryan Adams/Saint Louis Chess Club
A tough start for Nakamura
Nakamura had a forgettable start as he lost all three games on the first day including a 15-move loss against Shankland. He is the only player who is yet to score in the tournament so far.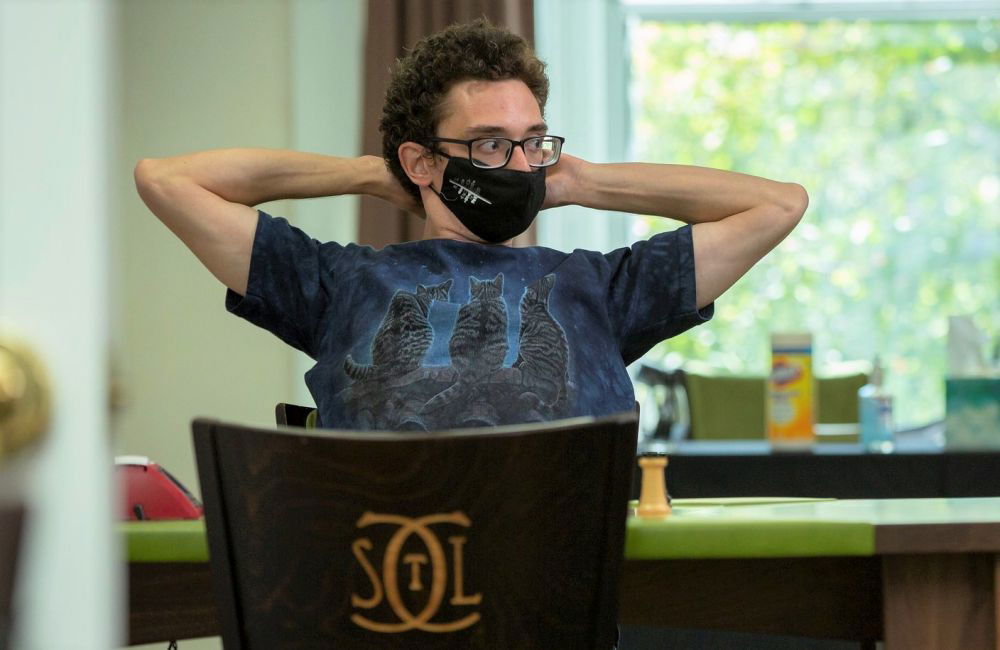 Round 1: So - Vachier-Lagrave: 1-0
So made a beautiful combination which gave him a decisive advantage.
8...0-0 is a mistake, as White has something up his sleeve. Find out what it is.
Round 2: Leinier - Caruana: 0-1
Caruana completely dominated Leinier.
Svidler - Aronian: 1-0
Svidler's attack proved too strong for Aronian to thwart.
Nakamura - Shankland: 1-0
Nakamura made a rare tactical blunder and immediately resigned after 15 moves.
14.Nxe5 is a mistake because after 14...Bxe5, White is forced to recapture with the pawn 15.dxe5 and then White's position becomes uncomfortable. Nakamura blundered 15.Rxe5 which allowed Shankland to take the rook 15...Qxe5 as 16.dxe5 leads to checkmate 16...Ne2+ 17.Kc2 Bg6+ and mate is inevitable.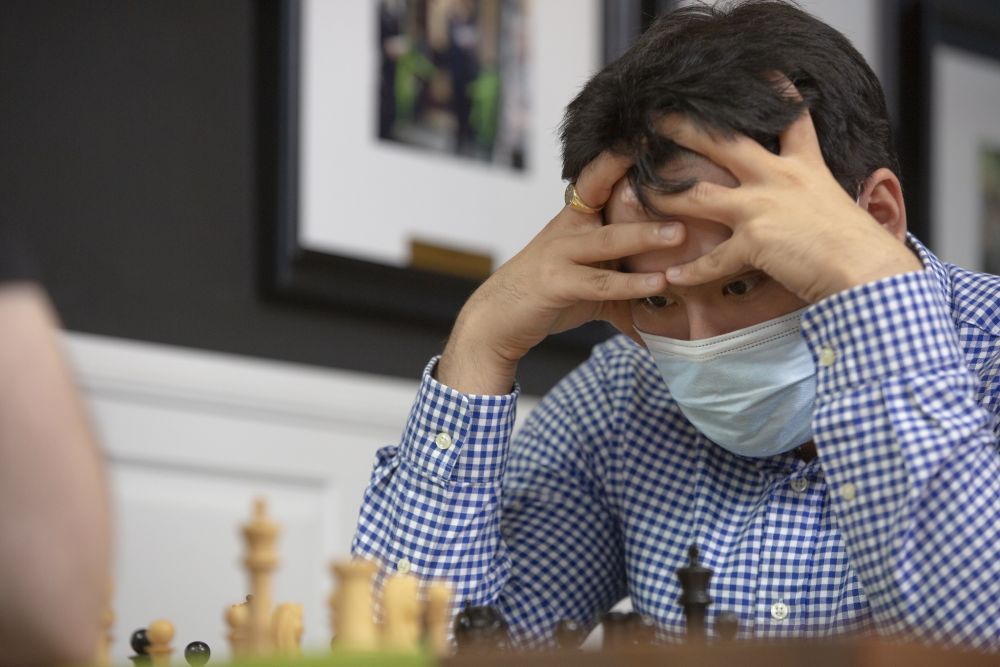 Vachier-Lagrave - Mamedyarov: 1-0
Vachier-Lagrave scored a very nice win over Mamedyarov.
Kasparov - So: 0.5-0.5
So got an early an opportunity against Kasparov.
Try to find out what opportunity Black had in the above position. This was the only good chance So had in the game to gain substantial advantage.
Kasparov had a decisive advantage for the better part of the game. The best opportunity he had was in the queen endgame. 37.e6 is complete winning for White. However, he played 37.Qa5 and allowed So to escape with a draw via 37...Qh7.
Round 3: So - Leinier: 0-1
So suffered his first loss of the event against Leinier after making a terrible mistake.
Find out why 23.Bg5 is a big mistake.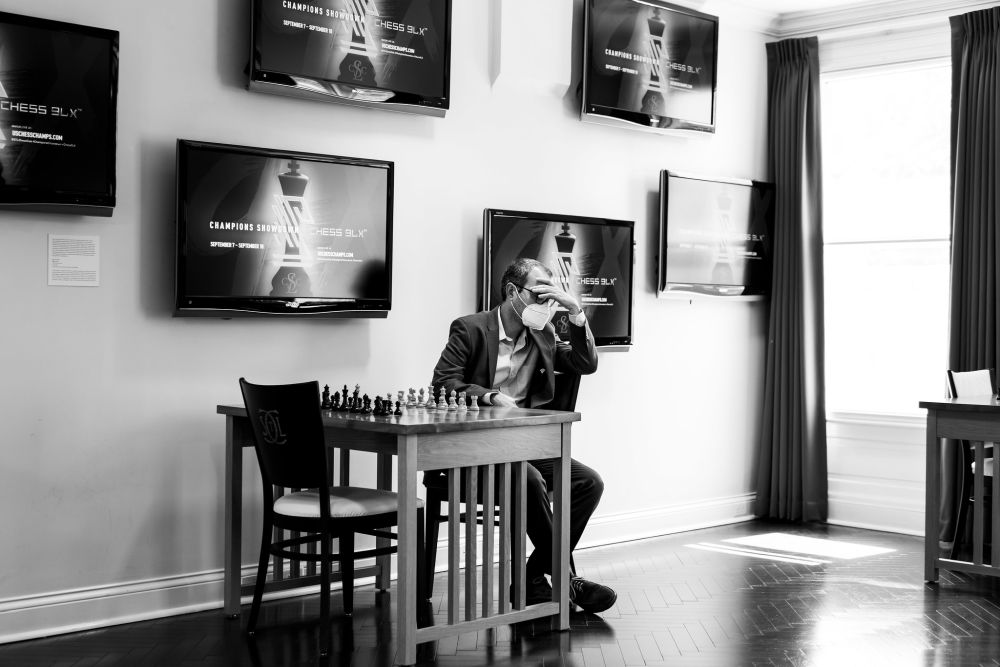 Mamedyarov - Kasparov: 1-0
Mamedyarov found a nice tactics to gain decisive advantage against Kasparov.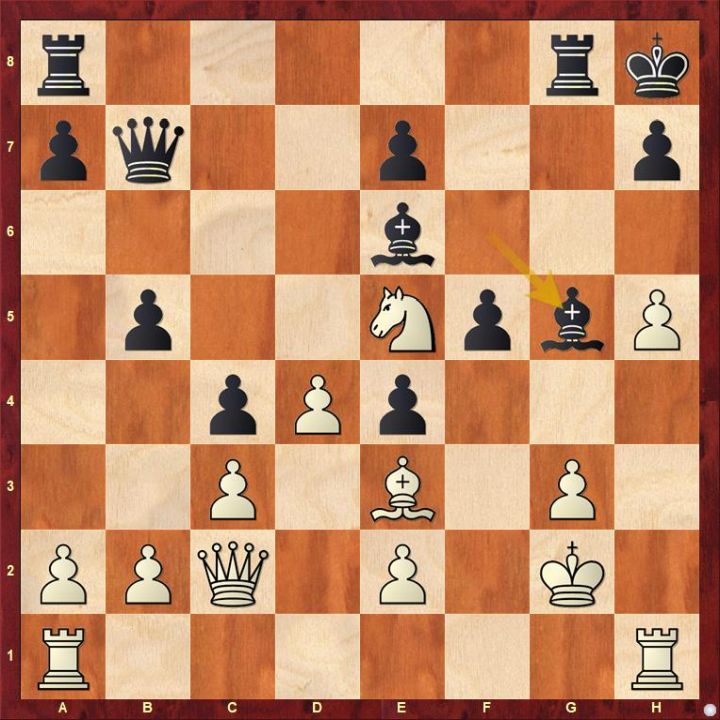 Black needed to play 23...Rxg5 because the text allows White to do a neat combination 24.Ng6+ hxg6 25.Bxg5 e3+ 26.Kg1 gxh5 27.Rxh5+ and it's all over for Black.
Shankland - Vachier-Lagrave: 0-1
Shankland went wrong early in the game.
The game continued 10.dxc5 and things slowly spiraled out of control for White after 10...Bxd5.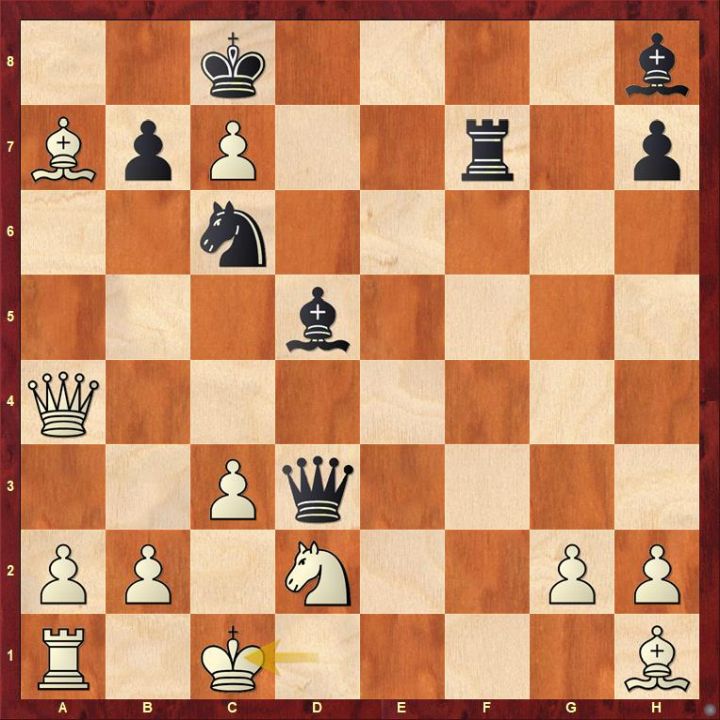 Find out the finish for Black after 19.Kc1.
Aronian - Nakamura: 1-0
Aronian handed Nakamura his third consecutive defeat of the day.
What a beautiful break by White 25.c5. Black took with the d-pawn 25...dxc5 26.Bxc5 bxc5 27.Rxc5 and White is completely winning.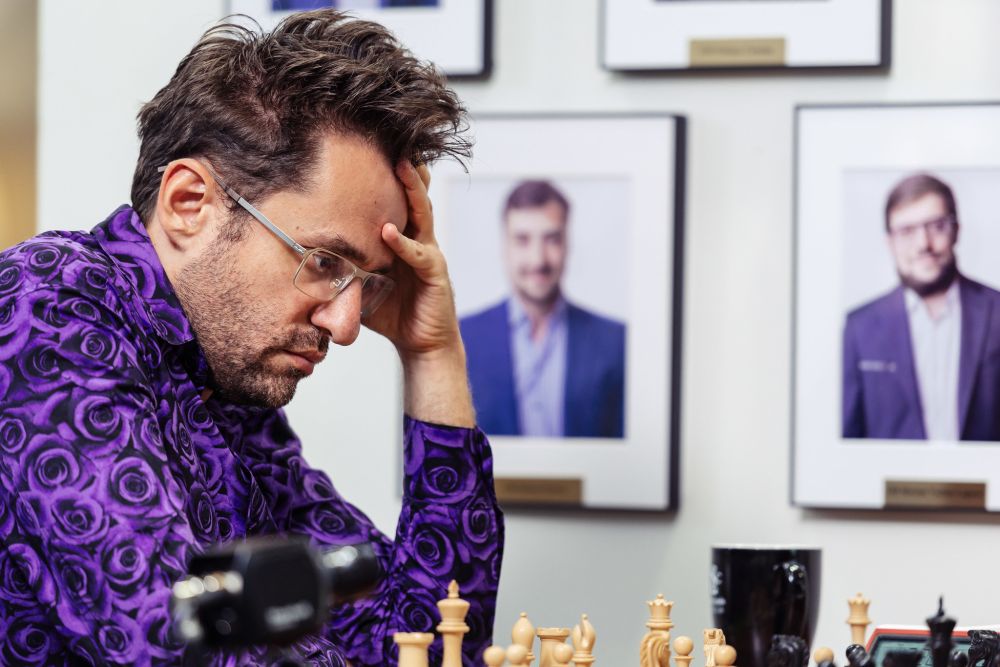 Caruana - Svidler: 1-0
Caruana scored a fine victory over Svidler who blundered in the rook and few pawns endgame.
Replay all Round 1-3 games from Day 1
Replay the live stream
Standings after Round 3
Schedule
| | | |
| --- | --- | --- |
| DATE | TIME | EVENT |
| Sept. 9 | 12:15 a.m. | Reveal Position |
| Sept. 9 | 12:30 a.m. | 9LX Round 1 |
| Sept. 9 | 1:30 a.m. | Draw for Position |
| Sept. 9 | 1:45 a.m. | 9LX Round 2 |
| Sept. 9 | 2:45 a.m. | Draw for Position |
| Sept. 9 | 3:00 a.m. | 9LX Round 3 |
| Sept. 10 | 12:15 a.m. | Draw for Position |
| Sept. 10 | 12:30 a.m. | 9LX Round 4 |
| Sept. 10 | 1:30 a.m. | Draw for Position |
| Sept. 10 | 1:45 a.m. | 9LX Round 5 |
| Sept. 10 | 2:45 a.m. | Draw for Position |
| Sept. 10 | 3:00 a.m. | 9LX Round 6 |
| Sept. 11 | 12:15 a.m. | Draw for Position |
| Sept. 11 | 12:30 a.m. | 9LX Round 7 |
| Sept. 11 | 1:30 a.m. | Draw for Position |
| Sept. 11 | 1:45 a.m. | 9LX Round 8 |
| Sept. 11 | 2:45 a.m. | Draw for Position |
| Sept. 11 | 3:00 a.m. | 9LX Round 9 |
Play-off (if needed) - 11 September at 4:00 a.m. Time is in IST
Prizes
Total Prize Fund: US$150,000
| | |
| --- | --- |
| Place | Prize |
| 1st | $37,500 |
| 2nd | $25,000 |
| 3rd | $20,000 |
| 4th | $15,000 |
| 5th | $12,500 |
| 6th | $10,000 |
| 7th | $7,500 |
| 8th | $7,500 |
| 9th | $7,500 |
| 10th | $7,500 |
Links
---