Adhiban is the 5th player in the history of Indian chess to cross 2700!
We have a lot of talented youngsters coming up in India chess. Many players have crossed the 2600 Elo mark in the past, but breaking into the 2700 zone has remained quite elusive for Indians. Anand was the first Indian to breach the 2700 mark in 1993. It took another two decades for India to produce its next 2700 player. It was Sasikiran in January 2012. Harikrishna was next in February 2013. After another four years Vidit Gujrathi crossed 2700 in September 2017. And now we have the fifth Indian in Adhiban Baskaran who broke into the magical 2700 mark on 8th of March 2019. A proud moment for Indian chess.
In 2012 I played the National Team Championships held in Goa. It was like any another National Team event - meager prize fund, but lots of strong players representing their organizations. PSPB like always were the favourites, followed by Railways and Air India. The biggest attraction of the event was surely Sasikiran Krishnan, playing on board one for the PSPB team. Sasikiran had just broken into the 2700 zone for the first time in his chess career a month ago. I remember after my game would get over I would rush over the Sasikiran's board, not to just see his game, but also to see his actions, the way he would move his pieces, the juice he was drinking, the chocolate he was eating! Such was the aura of a 2700 rated chess player. And in spite of all the chess boom that India has witnessed in the last few years, the importance of 2700 Elo still remains the same. That's because although from 25 GMs in 2012, we have moved to 61 GMs, from two players in 2700+ range, we have only moved to five! Becoming a 2700 rated player still remains extremely difficult!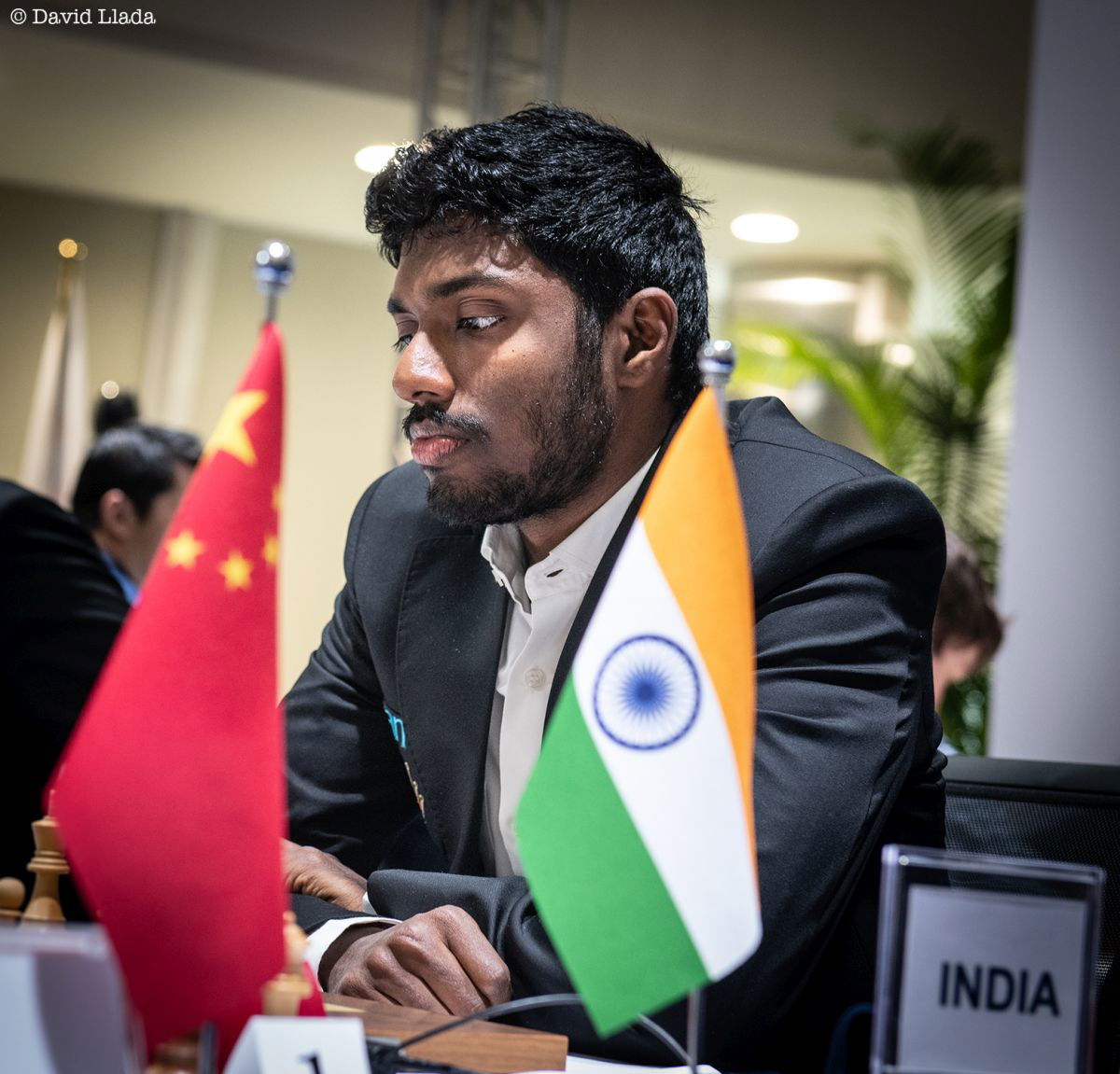 Adhiban had reached an Elo of 2698 when he played the tournament of Peace in Croatia. But then the Asian Continental didn't go as per plan, nor did Gibraltar Masters 2019. That brought him down to 2683. Usually to get 17 Elo points at this level would require at least an entire event. But AD, as his friends like to call him, likes to do things in style. At the World Team Championships 2019 in Astana, Kazakhstan, he gained 17.2 Elo points in the first four rounds and crossed the coveted 2700 mark. He beat Nils Grandelius (2694), Parham Maghsoodloo (2673) and Bassem Amin (2709).
In the evening when we tried to contact Adhiban to know what he felt about his achievement, more than crossing 2700 he wanted the team to win against China. A 2-2 draw was fine, but a victory would have made Adhiban more happy than crossing 2700. Team before individual, that has always been his motto!
Adhiban reaching 2700 is not just a moment of celebration for Indian fans. Check out the reaction (below) of Quality Chess Academy Camp COO Kallia Kleisarchaki when she was told Adhiban had crossed 2700! Kallia knows Adhiban very well because the Chennai GM was attending the Quality Chess Academy training camp that was held in November 2018.
Previous coverage of Adhiban on ChessBase India
The secret of Adhiban's positive approach towards life and chess
When you meet Adhiban you realize what a powerhouse he is of positive energy. There's never a dull moment around him. How does he maintain this energy? How does his support system help him to cope with the pressure, stress and tension of the sport? In this article you get to know all about it.
I believe beating top players is a part of my destiny! - Adhiban
Just read the title! Do we need to say more?
Adhiban in superman mode in Sharjah
---