2020 Champions Showdown Chess 9LX: Carlsen and Nakamura are the Co-Champions
Magnus Carlsen and Hikaru Nakamura had an identical performance on the final day of 2020 Champions Showdown: Chess 9LX. As both of them scored a victory and drew the other two games. They became Co-Champions with a score of 6.0/9 Meanwhile, previous day leader Aronian had a difficult day as he scored two draws and suffered one loss. Aronian and Caruana finished at shared third place with 5.5/9. Firouzja might have finished at the bottom of the final standings but he finished his event with a victory over the reigning Fischer Random World Champion Wesley So. So finished at fifth place with 5.0/9. Photo: Saint Louis Chess Club Live stream
Carlsen and Nakamura are back at the top
Aronian lost his momentum from the previous day as he managed to draw two games and lose one on the final day. Meanwhile, Carlsen and Nakamura both managed to win a game and draw the remaining two to finish with 6.0/9 and become co-champions. Both players were happy with their performance and the World Champion was happy with the fact that there was no Armageddon this time. Aronian and Caruana finished at shared third place with 5.5/9 each respectively. Firouzja got his redemption by winning against the reigning Fischer Random Official World Champion Wesley So in the final round of the tournament.
Round 7
Kasparov started his first game of the day with 0-0. The moves were 1.d4 0-0, perks of playing Chess960. Well white could have done the same too since it was possible in the very first move.
Aronian - Kasparov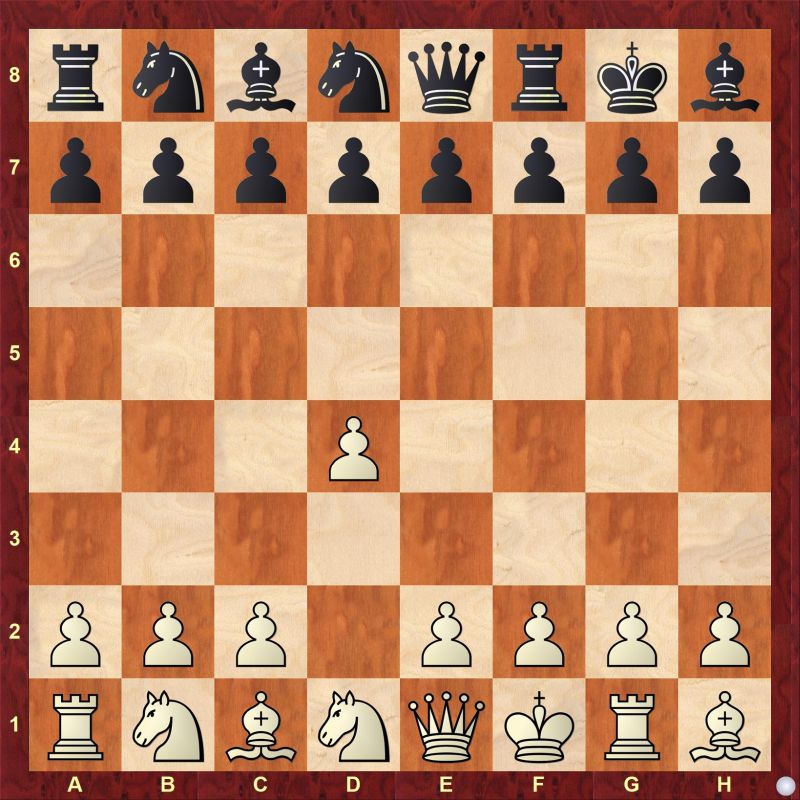 Leinier Dominguez-Perez made a grave mistake of taking his queen out a bit early and wasting tempi.
Vachier-Lagrave - Dominguez-Perez
Find out why 4...Qc5 is incorrect and what black should have played instead.
Svidler lost to Carlsen due to an unfortunate mouse slip which cost him the game.
Carlsen - Svidler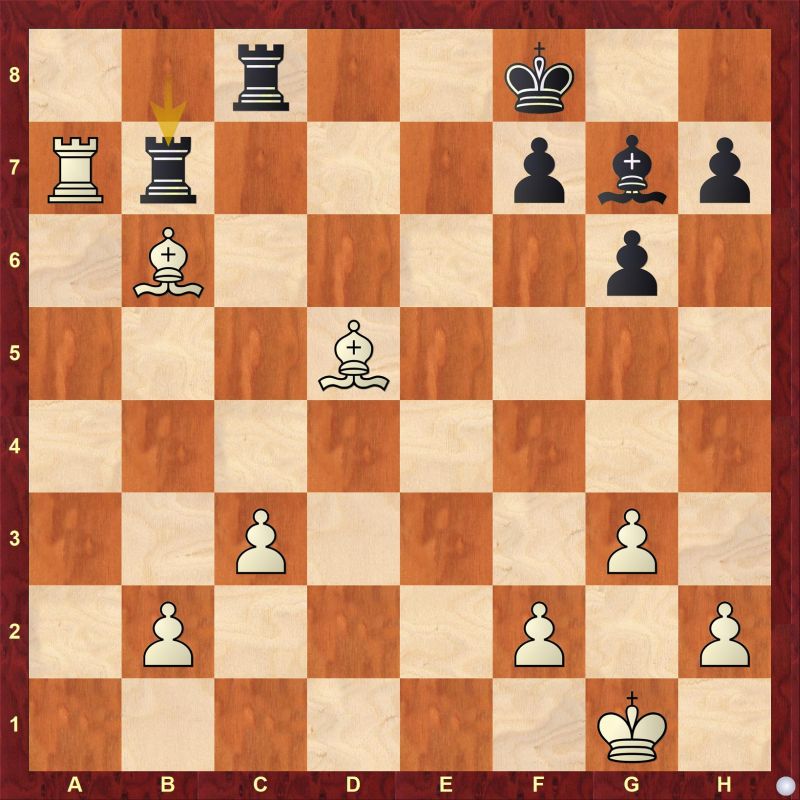 Of course Svidler intended to play 31...Rb6 then the game would have continued with 32.Rxf7+ Ke8 33.Rxg7 Rd8 and it was far from over.
Round 8
Firouzja got an early advantage against Nakamura and he was cruising towards the full point. However he just dropped his own momentum and allowed Nakamura to get back in the game.
Firouzja - Nakamura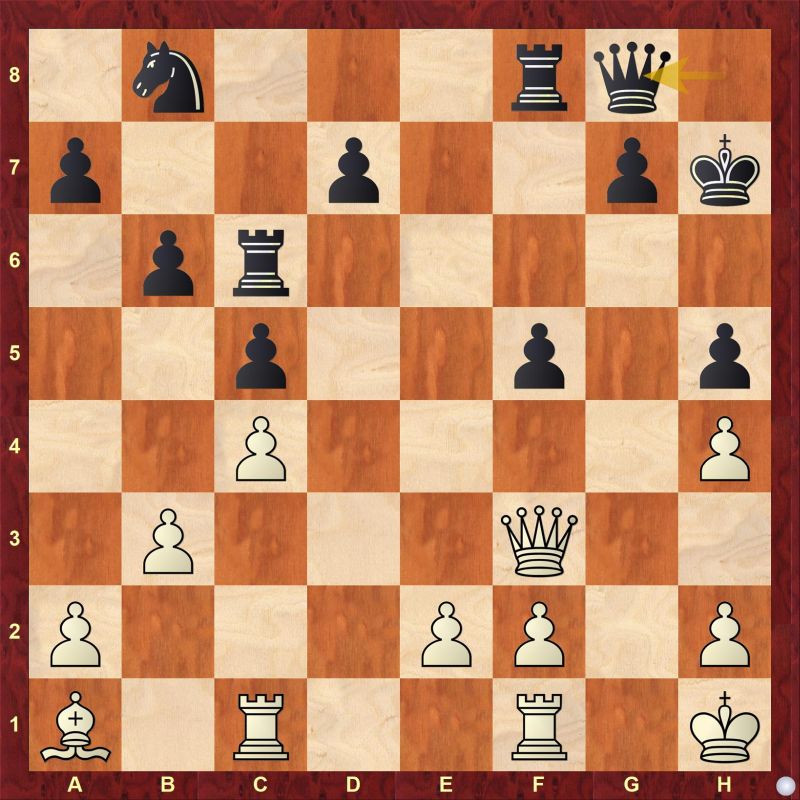 The game continued with 17.Rg1 but there was a simpler and better continuation. Can you find it?
Round 9
Both Carlsen and Nakamura drew their final round games against Dominguez-Perez and Svidler respectively to become co-champions. However Nakamura was in a bit of a pickle against Svidler.
Nakamura - Svidler
The game continued with 38...Rxb5 39.Rxc4+ Kd5 40.b3 and a draw was agreed. However things could have gone in a different way if black had chosen to play 37...Kxb5
Nakamura's preparation before the final round, maybe a nod to the newly crowned US-Open champion Naomi Osaka?
Firouzja had an abysmal tournament but his only redemption is scoring a win against the reigning Fischer Random Official World Champion Wesley So in the final round.
Both Carlsen and Nakamura finished with 6.0/9 and they shared the first place. Both of them were quite happy with event and their performances. They applauded each other on twitter and Carlsen was happy with the fact that no Armageddon was there. They shared the first prize and won US$31250 each respectively.
Replay all Round 7-9 games from Day 3
Replay the live stream
Standings after Round 9
Schedule
| | | |
| --- | --- | --- |
| DATE | TIME | EVENT |
| Sept. 11 | 11:30 p.m. | Draw for Position |
| Sept. 11 | 11:33 p.m. | 9LX Round 1 |
| Sept. 11 | 1:00 a.m. | Draw for Position |
| Sept. 11 | 1:33 a.m. | 9LX Round 2 |
| Sept. 11 | 2:30 a.m. | Draw for Position |
| Sept. 11 | 2:33 a.m. | 9LX Round 3 |
| Sept. 12 | 11:30 p.m. | Draw for Position |
| Sept. 12 | 11:33 p.m. | 9LX Round 4 |
| Sept. 12 | 1:00 a.m. | Draw for Position |
| Sept. 12 | 1:33 a.m. | 9LX Round 5 |
| Sept. 12 | 2:30 a.m. | Draw for Position |
| Sept. 12 | 2:33 a.m. | 9LX Round 6 |
| Sept. 13 | 11:30 p.m. | Draw for Position |
| Sept. 13 | 11:33 p.m. | 9LX Round 7 |
| Sept. 13 | 1:00 a.m. | Draw for Position |
| Sept. 13 | 1:33 a.m. | 9LX Round 8 |
| Sept. 13 | 2:30 a.m. | Draw for Position |
| Sept. 13 | 2:33 a.m. | 9LX Round 9 |
Time is in IST
Prizes
Total Prize Fund: US$150,000
| | |
| --- | --- |
| Place | Prize |
| 1st | $37,500 |
| 2nd | $25,000 |
| 3rd | $20,000 |
| 4th | $15,000 |
| 5th | $12,500 |
| 6th | $10,000 |
| 7th | $7,500 |
| 8th | $7,500 |
| 9th | $7,500 |
| 10th | $7,500 |
Links
---