Champions Showdown 9LX: So beats Carlsen
Day 2 of 2020 Champions Showdown 9LX belonged to the Armenia no.1 Levon Aronian as he wrecked through all three opponents and take the sole lead with 4.5/6. He felt like he was playing with more passion in his games. Meanwhile in the battle of World Champions, So once again had Carlsen's number as Carlsen suffered defeat in the fifth round. Carlsen was visibly distracted against Nakamura in Round 4 and the game turned out to be a draw. Three players are at shared second position with 4.0/6 and they are - Carlsen, Nakamura and So. Round 7 resumes tonight from 11:33 p.m. IST. Photo: Saint Louis Chess Club Live stream
Aronian takes sole lead after Round 6
Two-time World Cup winner Levon Aronian took sole lead after Round 6 of 2020 Champions Showdown 9LX. Aronian scored a hat-trick of victories against Firouzja, Svidler and Dominguez-Perez. Carlsen was visibly distracted during his match against Nakamura. He lost his fifth round game against Fischer Random Official World Champion Wesley So, however Carlsen managed to bounce back and beat Firouzja in the sixth round to finish at the second place with 4.0/6, half point behind Aronian. Nakamura and So, both are at shared second position along with Carlsen at 4.0/6 at the end of Day 2.
Round 4
Kasparov had a fantastic position and he had decisive advantage against Caruana. Unfortunately a mouse slip cost the former world champion the game.
Kasparov - Caruana
The game continued with 31.Qd3. However, white could have won the game even by taking the pawn with Qxb5.
Roger Federer's coach Ivan Ljubicic was saddened to see Kasparov losing a fantastic position due to a mouse slip.
Kasparov explains what happened
Firouzja - Aronian
Black got a winning position after 32.Qd5 which was a mistake and black got decisive advantage. Find out the best continuation for black here, also try to find out what white should have played instead.
Round 5
Kasparov had an interesting position against then tournament co-leader Dominguez-Perez. However Kasparov was unable to convert his advantage into a full point.
Dominguez-Perez - Kasparov
Kasparov played a strange move 16...Kd6 here which doesn't add much to his advantage. Can you find out what black should played here instead?
Aronian scored a 20-move miniature like victory over Peter Svidler in Round 5. In an already difficult position, Svidler weakened his king's position with an unprovoked pawn push.
Aronian - Svidler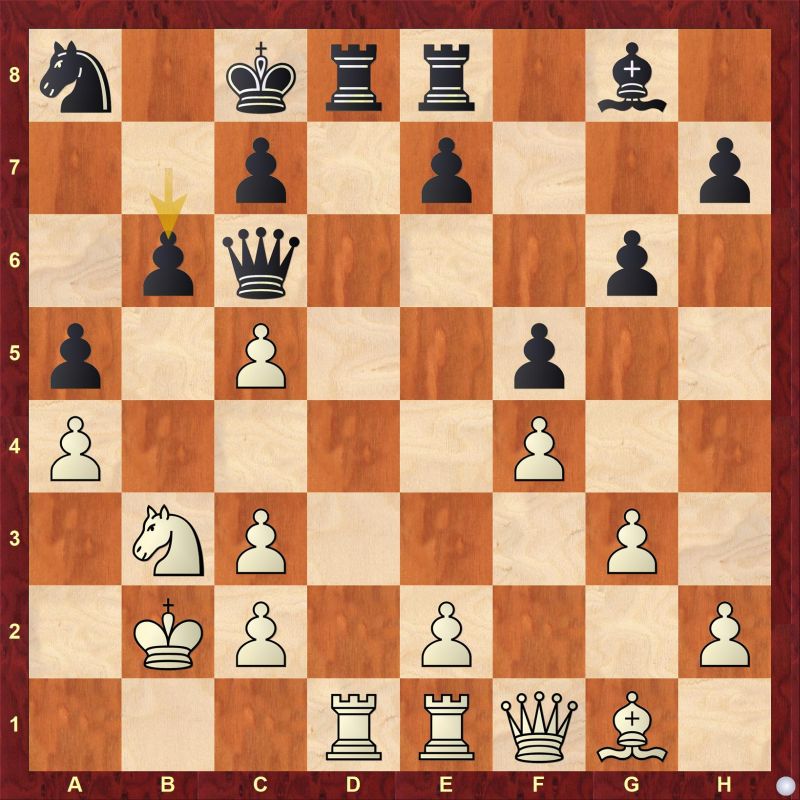 Find out the winning plan for white after 11...b6.
This is what Aronian had to say after his second consecutive win of the day
In an already difficult position, Carlsen blundered a piece against the reigning Fischer Random World Champion Wesley So and lost the game.
Carlsen - So
It is difficult to save the position for white after 25...Nxc4
Round 6
Kasparov had a decent position early in the game. However he couldn't maintain his advantage and allowed Nakamura to bounce back.
Kasparov - Nakamura
This was one of the critical moment of the game. What should white do here after 21...e5 ?
Carlsen scored a fine victory over Firouzja to end the day with 4.0/6
Firouzja - Carlsen
Find out why 29.Ka1 is a positional mistake and what white should have done instead.
MVL scored his sole victory of the day against Peter Svidler after the latter declined a repetition and continued despite having material deficit.
Aronian made a hat-trick of wins on Day 2 by defeating Leinier Dominguez-Perez in Round 6.
Replay all Round 4-6 games from Day 2
Replay the live stream
Standings after Round 6
Schedule
| | | |
| --- | --- | --- |
| DATE | TIME | EVENT |
| Sept. 11 | 11:30 p.m. | Draw for Position |
| Sept. 11 | 11:33 p.m. | 9LX Round 1 |
| Sept. 11 | 1:00 a.m. | Draw for Position |
| Sept. 11 | 1:33 a.m. | 9LX Round 2 |
| Sept. 11 | 2:30 a.m. | Draw for Position |
| Sept. 11 | 2:33 a.m. | 9LX Round 3 |
| Sept. 12 | 11:30 p.m. | Draw for Position |
| Sept. 12 | 11:33 p.m. | 9LX Round 4 |
| Sept. 12 | 1:00 a.m. | Draw for Position |
| Sept. 12 | 1:33 a.m. | 9LX Round 5 |
| Sept. 12 | 2:30 a.m. | Draw for Position |
| Sept. 12 | 2:33 a.m. | 9LX Round 6 |
| Sept. 13 | 11:30 p.m. | Draw for Position |
| Sept. 13 | 11:33 p.m. | 9LX Round 7 |
| Sept. 13 | 1:00 a.m. | Draw for Position |
| Sept. 13 | 1:33 a.m. | 9LX Round 8 |
| Sept. 13 | 2:30 a.m. | Draw for Position |
| Sept. 13 | 2:33 a.m. | 9LX Round 9 |
Time is in IST
Prizes
Total Prize Fund: US$150,000
| | |
| --- | --- |
| Place | Prize |
| 1st | $37,500 |
| 2nd | $25,000 |
| 3rd | $20,000 |
| 4th | $15,000 |
| 5th | $12,500 |
| 6th | $10,000 |
| 7th | $7,500 |
| 8th | $7,500 |
| 9th | $7,500 |
| 10th | $7,500 |
Links
---