10th Norway Chess 2022 R5: 'The Lightning Kid' Anand conquers Carlsen again
Last week Vishy Anand won against Magnus Carlsen in a Blitz game. The maestro was very close to winning against the world no.1 in their Classical encounter. However, the reigning world champion somehow managed to wriggle out of a difficult position with a draw. In the Armageddon, Carlsen made a mistake where he could have seized the advantage. 'The Lightning Kid' was not going to let another opportunity slip by and once again struck him for the second time in the faster format of the game. With this win, Anand has once again regained sole lead 10/15, closely followed by Carlsen at 9.5/15. Round 6 starts today from 5 p.m. local time (8:30 p.m. IST). Photo: Lennart Ootes/Norway Chess
Anand beats Carlsen for the second time in a week, regains sole lead
Both Anish Giri and his second, Aryan Tari scored their Classical victory of the event. This is also Tari's first win in the main event. Shakhriyar Mamedyarov and Maxime Vachier-Lagrave won their respective Armageddon games against Wesley So and Veselin Topalov respectively. Mamedyarov's Armageddon game against So was a cracker.
Anand - Carlsen: 1.5-1
Vishy Anand got a huge positional advantage against Magnus Carlsen in the middlegame. Computers will say it is completely winning for White, the human understanding reveals in the form of world champion that you can still defend it if you play correctly.
A quick glance shows that White has a significant advantage after 30.b7. The real question is how to convert it into a win? 30...Rab8 31.Rb6 c4 32.Rc6 Qd3 33.Qf1 Bf8 and the game meandered into a draw in seven more moves. A careful inspection unfolds the better continuation for White to be 32.Qg4 the correct way to gain the c4-pawn.
Carlsen once again opted for the Two-Knights' Defense against Anand. However, he went 4...Bc5 after 4.d3 unlike 4...Be7 which he played in the Classical encounter.
Anand - Carlsen, Armageddon
36...Nxg5 37.Rxg5+ Kf8 would have been better for Black. Instead, Black erred 36...Rh4. Anand found the correct continuation 37.Bxd5 and went on to win the game. The world champion blundered his knight in an already lost endgame.
Mamedyarov - So: 1.5-1
The Armageddon game between Shakhriyar Mamedyarov and Wesley So was an exciting game.
The position became absolutely crazy in a hurry. 17.Qb1 dxe2 18.fxe5 Nd7 19.Qe4 g6 20.f4 c4 21.b4 a5 22.Bc3 and White went on to win the game eventually.
Replay Round 5 games
Standings after Round 5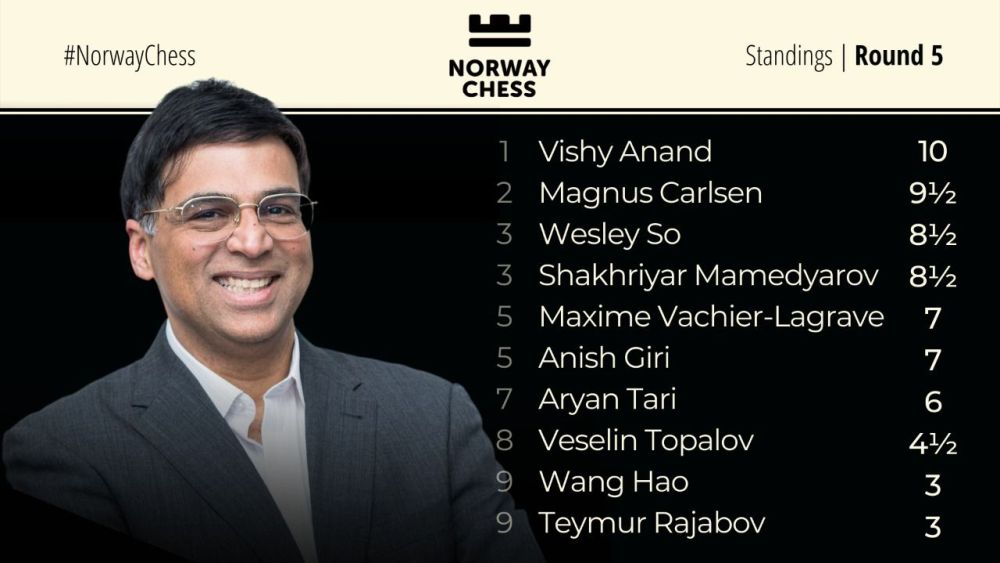 Round 6 pairings
Schedule
Blitz Round 1 starts on 30th May 2022. at 6 p.m. local time (9:30 p.m. IST).
Classical games will be played from 31st May to 10th June 2022. Everyday game starts at 5 p.m. local time (8:30 p.m. IST). 4th and 8th June are the rest days.
Links
---