Future Grandmasters of Karnataka - Part II
At the Karnataka State Under 9 Championship in Mysore, Sushrutha Reddy took upon himself the task of profiling the finest upcoming talents in the state of Karnataka. Over the course of the tournament, he successfully profiled most of the state's future masters and shared the fruits of his hardwork with ChessBase India. In the previous instalment of this article, we shared with you the profiles of the best female talents. And in this second part, we will be taking a look at the boys who hold the potential to bring glory to the state of Karnataka and India.
ChessBase takes pride in the fact that they are able to identify world class players when they are young and upcoming. For eg. Frederic Friedel (founder of ChessBase) had been able to not only able to find talents like Anand, Short, Karjakin, Carlsen etc. but also nurture and make them one of the best in the world.
We at ChessBase India have also been able to do our bit. For example, when we interviewed Nihal Sarin back in December 2015, the boy was rated just 2110. Just one and a half years later, he is an IM with a GM norm and a rating of 2471!
Karnataka is somehow the hotbed of young and upcoming chess talents. This is thanks to the excellent chess culture that is developing in the state with the State Association conducting regular tournaments and a lot of good chess academies functioning with dedicated coaches. Here are some of the talents (winners from the recently concluded under-9 state championships) that we think will make it big in the years to come.
In case you missed it - Part I dealing with girl talent in Karnataka
Arnav Muralidhar
A child prodigy, Arnav Muralidhar belongs to a select band of Karnataka Chess Players with consecutive State titles under their belt before they turned nine – siblings N Pramod and N Pradeep, Kavyashree and Kavana in the 1980s and Girish Koushik much later in the 2000s come to mind.
It all started when Muralidhar (Arnav's father), a FIDE rated player himself, was arranging chess pieces in front of Arnav who was a toddler at that time. The father's intent was to spark his interest in chess. Arnav's curiosity about the game increased dramatically observing his father practising alone.
Arnav has an exceptional memory and his calculation skills are phenomenal! It was these skills that influenced his father to bring in Gavi Siddayya, a reputed player and a chess coach from Bangalore, to train the young talent. Arnav was 6 at this time and started playing in a number of chess tournaments. Gavi Siddayya was instrumental in getting Arnav to participate in many chess tournaments which would give him more exposure.
His father says, "I got him a set of chess books to teach him while at home. Each day of the week was meticulously planned to spend either on the middle game, the opening or the end game. His dedication to get better at the game matched with my dedication to bring out the best chess player in him".

At the age of seven, with much experience and improved skill set, he started taking part in the open tournaments where he stood first in the categories for his age. He also stood 4th in the National Schools Under 7 Chess Championship. He was the first kid in Karnataka to get the FIDE rating in his age group (1169).
Muralidhar soon started approaching his friend Sanjay N, who is one of the best players of Karnataka, for guidance. He adds, "I collected information on various coaching material by contacting Arvind Shastry. With all the information and with a decent understanding of chess, together with Arnav, we created a timetable and distributed all the interesting study materials across the week. Since then and even to this day, Arnav has been waiting for me every day to come back from office to start the coaching as per our timetable.
Arnav's numerical ability and problem-solving skills are remarkable. His hunger for solving chess problems is something that goes beyond my control. Solving some of the chess problems after any tournament is a relaxing activity for him".
"In 2016, he became State Under 9 Champion and he won it on my birthday (17th April). It's a great deal enough to win the State Championships, but even greater a deal to retain the same position the following year too, making him the state champion for 2 consecutive years! His FIDE rating currently stands at 1433. The cupboard which houses his trophies has almost 60 and is out of space in all likelihood".


Another contributing factor to all his achievements is his school, Sri Kumaran's Children's Academy, which is providing him with complete support. Arnav, not to get carried away from his chess achievements, is maintaining his studies also at the top level by securing the "Student of the Year" title at his school consecutively since 3 years.
This little kid of age nine has got a mischievous glint in his eyes which when observed closely says just 1 word: Checkmate!
Some of his achievements are listed below:
Tournament

Rank

Date

Karnataka State Under-9 Boys and Girls Chess Championship 2017

1st place

July 2017

Karnataka State Under-9 Boys and Girls Chess Championship 2016

1st place

April 2016

Karnataka State Under-11 Chess Championship 2017

U-9 1st place

May 2017

Karnataka State Under-13 Open Rapid Chess tournament, Mysore

2nd place

May 2017

Mysore District under 9 Boys & Girls Chess Championship 2017

1st place

February 2017

3rd BRDCA International FIDE rating Chess Tournament 2017 Below 1600

U-12 2nd place

January 2017

4th Karnataka State Schools Championship 2017

U-9 2nd place

November 2016

Viktor Korchnoi Memorial FIDE rated Chess Tournament, Mysore

U-10 1st place

October 2016

Karnataka State Chess Championship Under 15 Open

U-9 2nd place

October 2016

30th National U-9 Chess Championship 2016, Punjab

Increased 125 FIDE points

August 2016

Karnataka State Amateur Chess Championship 2016

U-9 1st place

July 2016

CAK'S FIDE Rated Chess Tournament, Kerala

U-9 1st place

January 2016

1st National Open FIDE rated Chess Tournament, Manipal

U-8 1st place

December 2015

2015-2016 Inter school chess tournament

U-7 1st place

December 2015

1st Karnataka State Amateur FIDE Rated Chess Championship 2015

U-8 1st place

October 2015

MN Krishnarao Memorial Chess Cup

U-7 1st place

September 2015

29th National Under-7 Open and Girls Chess Championship 2015

6th place

August 2015

Karnataka State U-15 Open FIDE Rating Chess Championship 2015, Hubballi

U-8 1st place

August 2015

First Udupi National FIDE Rated Open chess Tournament 2015

U-8 1st place

May 2015

Karnataka State Rapid Chess Championship 2015, Mysore

U-7 1st place

April 2015

Karnataka State Open Rapid Chess Tournament 2015, Bangalore

U-10 2nd place

April 2015

4th National School Chess Championship 2015

U-7 4th place

January 2015

Big Brains Launching FIDE Rated Tournament

U-8 1st place

December 2014

RT Narayan Memorial Cup

1st International Rating Chess Tournament Below 1600

U-7 1st place

December 2014

Chitra Kalabhushana Sri Raghuthama Putty Memorial All India Open FIDE Rating Rapid & Blitz Chess Tournament 2014

U-7 1st place

November 2014
Sachith Katti
When Sachith was around 6 years of age, his parents bought him a chess set. Sachith immediately took a keen interest and learnt the basic rules of the game on the same day. He was soon challenging his grandparents, parents, and even the house-maid to a game of chess! Looking at his enthusiasm, his parents enrolled him into Chess Shoots Academy in Bangalore, for training. As he began to fare well, his coach advised him to participate in tournaments. Participating in tournaments brought out a hunger in him to win.
Sachith has always been playful and fun-loving and despite the serious nature of the game, always finds something to laugh about. The child has just produced his first breakthrough performance in his nascent Chess career. In the recently concluded Karnataka State Under 9 Open Chess Championship at Mysore, he finished second and is representing his State in the Nationals this year.
Sandeep Katti, Sachith's father, says, "Mr. Sheshashayan taught him the fundamentals of chess. Mr. Hanumantha inculcated fearlessness in his play. Subsequently, Mr. Jayaram has taught him the importance of systematic play with a strong focus on endings. Mr. Sameer Ghotane has focused on his tactical play with an emphasis on openings. Mr. Sushrutha Reddy from Sri Aurobindo Memorial School has also been supportive. Sachith is very thankful to all his coaches and also to Mr. Chethan Anand (better known as the father of Arhan Chethan Anand) for his help and willingness to share resources, and to the vibrant chess community of Karnataka".
Abhyuday Santosh
I have personally known Abhyuday since the time he was three months old! When Abhyuday was about 18 months old, he would climb up the Chess table and gaze at the Chess pieces. That gaze mesmerised me, to the extent that I believed that one day, this baby would become a chess champion!
Abhyuday's foray into chess began at his school – The International School Bangalore – when he was enlisted as one of the students for the co-curricular activities in chess. Since I had a connection with the child from many years, I soon recommended his mother, Dr Vanishree, to admit him into professional training under Durgesh.
Within a few months, Abhyuday became the Karnataka State Schools Under 7 Chess Champion in December 2015. One of the memories I have about Abhyuday is my celebration of his victory (of State Under 7 Schools) at Swennsens Ice Creams. By this time, Abhyuday had become very passionate about chess.
I must say that Abhyuday's best came when he moved to Chess Shoots Academy and trained under Jayaram and Sameer Ghotane. He went on to annex the Karnataka State Under 7 Open Chess Championship in the year 2016 at Mandya.
Sameer Ghotane, in recent months, struck a chord with the child and played a vital role in Abhyuday's solid and unbeaten performance in the Karnataka State Under 9 Open Chess Championship at Mysore. Despite coming up with a superlative performance, Abhyuday was a tad unlucky not to finish second, due to a slightly inferior Tie Break Score, and had to settle for third place.
Due credit must be given to Dr Vanishree, Abhyuday's mother who has struggled a lot in bringing Abhyuday thus far. The boy recently finished 7th at the under-8 section of Commonwealth 2017 held in Delhi
Arhan Chethan Anand
Arhan is arguably amongst the most exciting talents in Karnataka today. Arhan's initiation into chess can be attributed to Viswanathan Anand. As his father was glued to the computer watching the Nov 2013 World Chess Championship taking place at Chennai between Anand and Carlsen, Arhan started watching the same and showed some interest. Soon, realizing that the child required expert guidance, his father (Chethan Anand) admitted him to Chess Shoots Academy which is a leading Chess training Institute in Bangalore.
Arhan's unique trait in his personality was that he wanted to solve a lot of challenging chess problems. Keeping in view his sustained interest in Chess, Chess Shoots Academy appointed Shesha as his individual chess coach. A few months later, it was under the tutelage of Hanumantha R, an extremely popular man in Karnataka Chess, that Arhan started playing fearless and attacking chess.
Jayaram R, Hanumantha's nephew, who is widely known for his no-nonsense approach, soon took charge of Arhan and moulded him into a talent that Karnataka Chess should take note of. Gavi Siddayya who is an active player also started coaching Arhan and has acted as a catalyst in Arhan's development as a chess player.
Arhan loves to play physical sports like football, cricket and badminton. His father says, "Chess has become a way of life for him and everyone around him. The sport has taught him valuable life lessons by means of playing various tournaments and travelling to places all over India".
Some of the noteworthy achievements of Arhan are runner up in State u-7 selections, twice winner of state u-9 schools Chess Championships, 3rd in National Under 9 Schools Chess Championships, third in State U13 and U11 Chess Championships.
His father further attributes his son's rise to the increase in the number of Fide Rating Chess tournaments in Karnataka. He says, "thanks to some of the selfless organizers and UKCA who are doing their bit to provide a platform for players to improve and compete at national and international level, Arhan has managed to improve a lot".
Mitul K H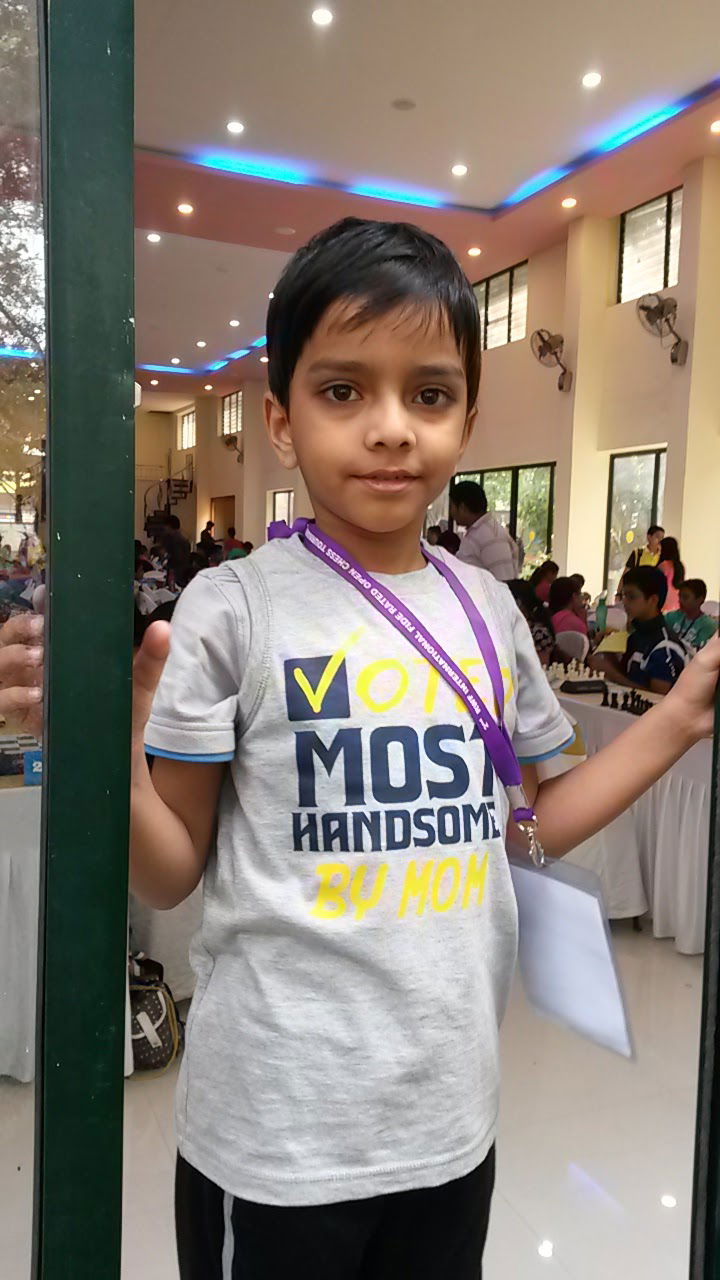 Two years ago, I identified Mitul as a talent to watch out for and shared the same with his parents.
At the age of four and a half, Mitul was introduced to chess to keep him engaged in a challenging activity. To his parents' surprise, he showed huge interest in the game, playing chess with his grandmother and even teaching his house maid to play the game.
Looking at his sustained interest, Mitul was admitted into formal chess coaching when he was aged five. Since then he is training under Chess Gurukul, Chennai, run by GM R. B. Ramesh and WGM Aarthie Ramaswamy. His first coach at Chess Gurukul was Mr. Saravanan who taught him the fundamentals and tactics of the game. The child loved solving complex chess problems which only enhanced his creative ability. Mitul obtained his FIDE rating before completing six years of age – an achievement of sorts as only a miniscule number of children have obtained their FIDE Rating by the age of six.
Subsequently, he was taught positional analysis by Ganesh, and it was under his tutelage when Mitul gradually improved his game playing many tournaments.
In 2016, he finished second in the State Under 7 Open Chess Championship and was selected to represent Karnataka in the National under-7 championship. He finished eleventh in the Nationals.
Mitul became the Under-7 champion in the Karnataka State Schools Chess Championship and finished fourth in National Schools.
Apart from chess, Mitul likes to play badminton and cricket. He is studying in third grade in Global Indian International School, Bangalore. He is a topper in academics and has achieved international first rank in Math Olympiad.
Ayush Yajaman
A chess set gifted to him on his 4th year birthday transformed Ayush Yajaman to be a competitive chess player that he is today in the country in his age category. Ayush started training at the age of four and a half years and quickly started winning almost all of the age category monthly tournaments.
Ayush won the Karnataka State Under 7 Chess Championship in the year 2015 and clinched the third place at the National Under-7 Chess Championship at Chennai in the same year. He then represented his country at the Under-8 Asian Championship held at Mongolia in 2016. Ayush secured 6th place in the recently concluded Under 9 Karnataka State chess championship. He is determined to better his performance in the upcoming Under 9 Nationals in November.
His father, Jayanth Yajaman adds, "Ayush is extremely hardworking, disciplined and determined. His love for the game is unparalleled. His epic determination to fight against all the odds when he managed to come out of severe viral fever just before the start of the Under-7 Nationals and then going on to finish third is an inspirational story in itself. Blessed with such attitude, I am sure he will bring laurels to his state and country someday. Ayush is blessed with the support of his dedicated coaches, Jayaram Ramanna and Sameer Ghotane who have been instrumental in all of his achievements".
P.S:
The incident about his grit and determination to recover from severe viral fever at the age of 7 and win Bronze for his state was documented on
Facebook
.
Apoorv Kamble
Apoorv is a passionate and naturally talented emerging chess kid from Bangalore, Karnataka. He mainly combines his intuitive play with theory, to surprise his opponents. Though he has not yet achieved any title, he has won plaudits for his game play from several chess coaches and leading players from Karnataka. Many are considering him as a rising star in Karnataka chess today.
Apoorv's foray in Chess started at an early age of 4½, with his sister's (Ishita Kamble) chess board. After watching his initial games, his parents decided to provide him professional coaching.
Apart from chess, Apoorv is passionate about Cricket. He regularly practices in Cricket as well and is keen to make to the School Team. He is also an excellent performer in School Academics.
Apoorv started honing his skills under Raja Ravi Sekhar, one of the most revered Coaches in Indian Chess, at the RRS Academy. In early 2016, the young boy began to train under Jigando Balan who provided the base with his one on one coaching sessions for almost a year. It was Jigando who played the role of a catalyst in creating Apoorv, the chess talent today.
Later, Apoorv went on to train under Arvind Shastry (who is also the Secretary of the United Karnataka Chess Association) besides having a playing partner in Sanjay Sindhia, an active Bangalore Player and also a chess coach.
The boy finished fifth in the Karnataka State Open Under 9 Chess Championship 2017 in what was a very keenly contested Tournament.
Vaibhav Kalpaka
If you ever want to meet a child who is always ready for a game of chess, regardless the time or location or situation, then it has to be Vaibhav Kalpaka! Here is a talent who is in complete love with the game of chess. Moreover, he is gifted with a keen eye for spotting tactics and possesses a completely original style of play.
As much as he wants to follow whatever he wants, Vaibhav is extremely curious to learn new ideas and put these into practice. Vaibhav is very comfortable in using ChessBase independently and is well versed with chess on the internet.
His mom, Shilpa, says, "Vaibhav loves spending time with his coach, Sushruta Reddy, and values the stories of various World Chess Champions and Grand masters that he hears from him. He has grown to be a very endearing kid whose world revolves around chess. He also enjoys reading various books – both fiction and non-fiction. Apart from chess, he loves to study insects. Black holes and space related things fascinate him the most. His closest friends are his batch mates at Innovators Chess Academy. Nowadays, he is also training his 'not-yet-5 year old' brother to learn chess so that they can play more together and also because then his brother could accompany him to tournaments as his chess partner"!
Vaibhav was introduced to chess by his father, Robin, in September 2015. He found playing chess fun and always wanted to play with his father.
Vaibhav's fantastic grasping ability meant that Robin took much longer to defeat him. His father sent the following note, "We soon realised the need to train him formally. So, we approached a chess center where the head played a game with him. After that, he put Vaibhav to the 2nd level course. Vaibhav found some part of the theory boring, but he still enjoyed playing. His course was completed by mid Dec. We felt he should get a better coach; we enquired through friends and colleagues. That's how we found Sushruta Reddy.
We, as parents, always felt that Sushruta believed in Vaibhav's potential. We always felt Vaibhav was not doing enough for chess as he never like writing games or revising chess theory. But he was still getting better at the game. Sushruta encouraged us to take him to tournaments and he was enjoying it. He was able to beat his dad more frequently now.
During his games until end of 2016, we found that he didn't have the patience to sit for long time at the chess board. He always liked to play fast. There were times when he had more than the initial time in his clock even at the end of his game.
Along with time, Vaibhav was slowly getting more matured at handling his game. He started spending more time on the Board in Tournaments. But he still hated writing. He never analysed games as well. He thought anything that is repeated is very boring. In school also, we hear that he doesn't listen to anything that is repeated and if it happens, he will be reading books! However, the teachers say he is able to answer anything when asked. He also didn't respect the opening theory in chess until his questions were well answered through a game. He didn't like analysing his games openly - that's what we thought. But now we realise that he is able to tell clearly where he went wrong after a game".
In the Karnataka State Under 9 Open Chess Championship at Mysore, Vaibhav finished tenth. The child has won several Trophies in various Chess Tournaments thus far. He finished 5th in the Karnataka State Under 7 Open Chess Championship 2016. However, as his Coach, I would rate his performance in the State Under 9 Chess Championship as his most significant, despite the fact that he finished tenth, in his nascent chess career. The event at Mysore was where Vaibhav's game has begun to evolve and only better performances can be expected from this stage.
Vaibhav Kalpaka has received excellent support from his parents and National Public School, HSR Layout – the Institution he studies in – for furthering his progress in the game he loves dearly.
About the author
Sushrutha Reddy is a well-known organiser who has been promoting chess at the grassroot level in Bangalore, Karnataka. Currently a chess coach at six schools, he has worked as the Joint Secretary of United Karnataka Chess Association and had been the chief arbiter at almost all tournaments in Bangalore held between 2000 and 2003. He is an occasional writer and had written the cover story on the Fischer-Spassky World Championship Match for The Week magazine in the past. Besides this, he owns the Innovators Chess Academy which has organised more than a hundred Chess Tournaments during the last thirteen years.
---