When chess becomes a language...
Most titled players in India agree that Nihal Sarin is a super-talent. Last year, he was crowned the World U-10 champion at Durban, South Africa. This year, aged eleven, he started the World U-12 at Halkidiki, Greece, as the twenty-eighth seed and yet was silver, missing the gold on tiebreak due to an O'Henry twist. Those who have seen him know that he is heavily underrated, bringing forward his A-game when he plays those rated above him. Welcome to the amazing world of Nihal Sarin.
When chess becomes a language...
Mathew P. Joseph Pottoore was a happy man when his six-year-old student scored 4.0/7 in his life's first tournament – a local one-day event at Kottayam, Kerala. However, there was no prize for his little boy. He walked up to the organizers and handed them a Rs. 100 note, and asked them to call out his student on stage and award it to him as a prize for his performance in the tournament. This was back in 2011.
Since then, eleven-year-old Nihal Sarin has won the National Under-9 title, World Under-10 title, and finished runner-up at both the National Under-11 and World Under-12 tournaments. However, it was only this month, after he missed the gold on tiebreak at the Under-12 World Youth in Greece, that his father told him this story.
At this tender age, he has already crossed the 2200 mark and has now started looking for his norms. Many a titled players in the Indian chess scene believe he is heavily underrated. It all began with a gentle gesture of Mathew Joseph's Rs. 100 prize.
Dr. Sarin Abdulsalam was at his wit's end to quench his son Nihal's thirst for activity. "He has always been a restless child, wriggling about in search of something to do and enjoy. During the summer vacation before his first standard class was due to begin, we enrolled him into a swimming class, but that lasted only for an hour or so. In the holidays prior to this one, we had given him some building blocks to play with, but some of the blocks would just vanish after a few days!"
The question of keeping Nihal occupied throughout the day made Dr. Sarin walk into a gift shop and zero in on a chess-set. Nihal's Grandfather A.A. Ummar knew the rules of the game and taught him how the pieces move. The solution worked -- the sight of moving pieces enchanted Nihal. The game made him happy, except when he would occasionally lose his queen and would end up bawling. Nevertheless, there was a minor 'rising of eyebrows' in the family when Nihal began to defeat his grandpa in a month or two.
When the school finally reopened, Nihal was supposed to take up a compulsory co-curricular activity as a part of his daily classes. He opted for roller-skating. After hurting himself with a few falls, he was convinced that skating is not something he enjoys. Dr. Sarin visited the school website in search of alternatives and found out that the school was offering chess classes as well, albeit for students from the fifth standard onwards. Dr. Sarin says, "Nihal could recognize the flags of all the 190 odd countries by the age of three, could already speak fluently in English by the time he was in upper kindergarten, knew the multiplication tables till sixteen by the time he turned six and enrolled into the first standard. The school decided to allow Nihal into the chess classes if the coach agreed to it."
Mathew  was the teacher who taught chess at the Excelsior English School, where Nihal studied. This was the time when he first came across Nihal. Dr. Sarin recounts, "I received a call from the school, saying the chess coach wants to speak to me. I thought I would get some feedback about not allowing Nihal in the class, as he was just too small." Mathew actually told Dr. Sarin that Nihal is blessed with supreme talent.
In his life's second chess tournament, Nihal finished eleventh. Sadly for him, only the top-ten took home prizes and trophies, while Nihal earned a medal for his efforts. In the school the next day, he announced to anybody who cared to listen that he won the 'first medal' in a chess tournament. The school authorities were overjoyed and ended up awarding him his second Rs. 100 prize!
Mathew had noticed in the class that while the other students were waiting for the bell to ring, announcing that the class is over, Nihal kept pestering him to continue playing with him. Almost on a daily basis, he would drag his father to accompany him to Mathew's apartment so he could play some more chess. Today, when I ask why he plays chess, Nihal says, "It is a good game to play -- entertaining and fun!"
Steadily, Nihal graduated from the local events to rated tournaments, where the opposition was invariably tougher. The Kerala State Under-7 turned out to be a cakewalk, and he managed to finish in the prize-list at the National Under-7 tournament. All the while, he kept reading about the game, devouring Alekhine games for evening snacks after school, and even dinner and bedtime readings.
Nihal reads chess books like a person would read a novel. He will just pick up a book and read moves and variations from it as if he were reading sentences, telling him a story. His favourite books are those based on his chess hero Alexander Alekhine. These days, he has also made a foray into the world of chess software and is currently studying a ChessBase DVD on Alexander Alekhine. He also loves Chess-Mate magazines, a monthly publication that has been in print for more than three decades.
Chess is like a language, the top players are very fluent at it. – Vishy Anand
He randomly picks a page or a position from the books and starts calculating and evaluating the possibilities, running through the variations given in the book in his head. He does all this at breakneck speed while sitting on the sofa, or just sleeping on the bed. You sit with him while he does this, and I assure you that you will weep tears of joy for having come across a genius.
It was in 2011-12 that Nihal's father Dr. Sarin, who is a Dermatologist, and his mother Dr. Shijin, who is a Psychiatrist, both of whom work as teachers in a medical college under the Kerala Government, were transferred to Thrissur in Kerala. Nihal moved to a new school – the CMI Devamatha Public School. As it turns out, even this school offered chess classes as a part of the school curriculum. One day, the school coach announced that the state champion for the year 2012, E.P. Nirmal, was visiting them to give a simultaneous exhibition. A bunch of students turned up to face Nirmal, and Nihal was amongst them. He managed to beat Nirmal.
This was the beginning of a 'friendship' that continues to blossom even today. In 2012, Nirmal  began to work with Nihal, improving his openings, sharpening his calculations, playing tons of games with him. "I had noticed while growing up as a player that most coaches would impose their wills on the child's character and suppress their natural game. They would force the student to follow a set of rules, or force him/her to play in a particular way," laments Nirmal. He further says, "When they are very young, it is the phase where their intuition is developing. A coach must teach his student, but the interference should be minimal. This approach worked for Nihal."
E.P. Nirmal works with Nihal on the department Nihal wants to study on a given day, based on his mood, and as a rule, interferes only when necessary. "His love for the game is deep. He always wants to work on some area of chess at any given time! My job has been to remove the roadblocks and let him flow."
The other important person to guide Nihal has been Ukrainian GM Dimitri Komarov, who in his heydays was rated above 2600. Just as in the case of his previous two 'coach cum friends', Nihal's meeting with Komarov was purely accidental as well. Nihal made his first foreign trip a month after becoming the National Under-9 champion, to Al-Ain to play the 2013 World Youth. As it happened, Komarov was the coach of the UAE team. He was making a dedicated effort to make one of the students solve a problem. However, the student was not showing much interest in finding the solution. Nihal happened to be checking out the proceedings between Komarov and his student, and this caught the grandmaster's eye. He called the boy to him and asked him to solve the position, which was duly dispatched in a flash.
Komarov was surprised at the little boy's ability to analyze a bunch of variations in a single go – he fell in love with Nihal, as have so many of his 'fans' who have come across him. It developed into a fruitful 'working relationship'; with Komarov coaching Nihal in areas he needs help, thus removing obstacles from his path.
Today, what has been the result of Nirmal's and Komarov's work in tandem?  In a couple of years, Nihal has gone from a lowly 1300 to become the World Under-10 champion, and almost winning the World Under-12 title as well, crossing the 2200 Elo mark in the process, and being specially bestowed with the FIDE Master title by the chess governing body. Personally, I believe that these are just the signs of things to come – the calm before the storm!
Nirmal reveals the key routine: "The focus has always been on playing. He plays bucket loads of blitz online on various sites like Playchess, etc. We pay special attention to these games. He plays something, and after the blitz game, I suggest a better or a different idea or a pattern I find from my own work on master games. This ensures that Nihal grabs the meaning of the pattern and remembers it. I just add that particular pattern to something he has just used in a fresh game."
This has been the key to Nihal's chess nourishment. This particular exercise of 'adding patterns' into Nihal's head is slowly turning him into a lethal gamesman. You can gauge the importance of 'knowing these patterns' from the following incident:
Keeping with a ChessBase tradition of giving a common 'Talent Test' to the prodigies, we let Nihal loose on a two-part problem. Try solving it on your own, blindfolded, i.e., without using a chessboard and then check out how Nihal fared in the video shot as he was solving it!
[Note: This exercise took place in the evening after he had returned from school. His school is from 9 a.m. to 4 p.m.]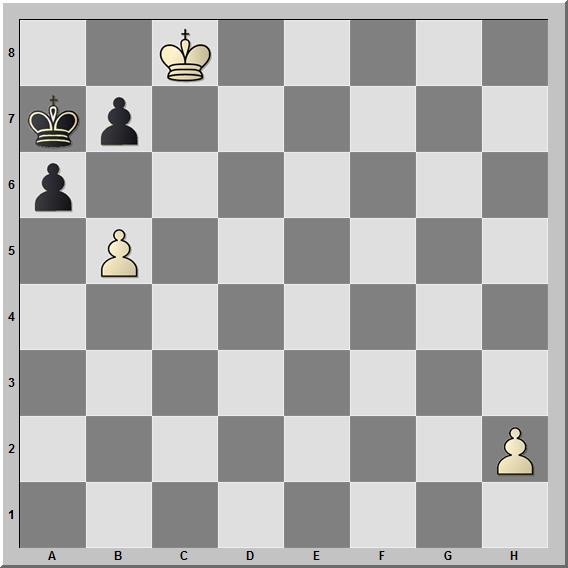 How shall you continue the game? Can White win this?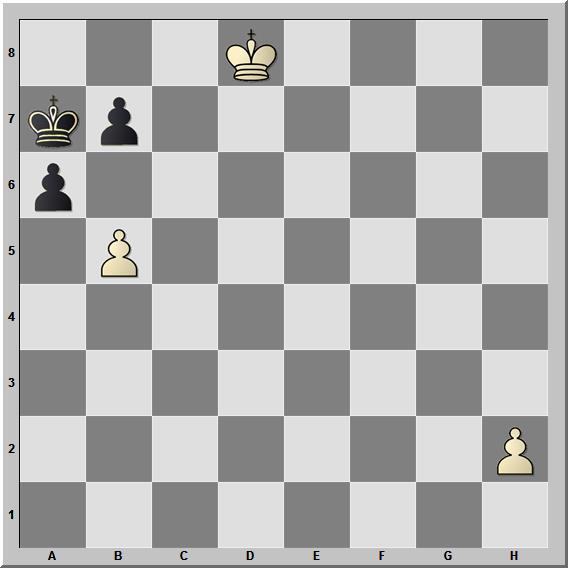 Keen eyes will immediately notice the difference it makes to the position. It is White to play. What is the best result possible from here? Support your answers with calculations.
(Ed. Note: Forgive me for starting the video only midway. I tried to make the whole affair seem as normal as possible, to not let the young boy feel out of place, solving a study on camera!)
After watching an 11-year-old decimating this problem, are you as stunned as I was when I witnessed it?
Over dinner, I investigated further into his chess studies and asked him what his thinking process was as he ran through the variations in the problems above, especially the second one. "I calculated the main line, and then I remembered a pattern I had studied some two years back in the book 'Endless Endings', somewhere in the chapter based on Queen+Pawn endgames. After that, it was easy to connect the concept here and construct the answer."
The answer to the second (tougher) problem is 1. b6+ Kb8 (1…Kxb6 would lose in a similar fashion as in the first problem) 2. h4 a5 3. h5 a4 4. h6 a3 5. h7 a2 6. h8=Q a1=Q, and now, we have a roadblock, as we cannot capture the queen because it leads to a stalemate. When Nihal reached this position in his head, he remembered the pattern he had studied years back:
Going back to the moment he was solving the problem, once he managed to connect the bridge, pat came the continuation: 7. Qg8!!. Now, during dinner, as he was explaining his thought process, I interrupted, asking why not 7. Qe8? "Of course, 7. Qe8 Qg7 is a draw." 7... Qa2 8. Qe8 Qa4 9. Qe5+ Ka8 10. Qh8. This cerebral feat was executed within a space of half a minute.
'Endless Endings' is not some endgame tome written by a world famous trainer, but a simple compilation of chess positions with some witty captions by an Indian trainer by the name K. Muralimohan, who has compiled a bunch of excellent easy-to-study and useful chess books. Later, during a visit to Nihal's 'library', I discovered the position (above) in the book he was referring to:
A hunger for knowing more patterns was also visible when I asked him to help me understand some games from the 2015 National Premier, which we had covered extensively for your pleasure. While running through the games in our reports, Nihal had observed that his state-mate IM Rathnakaran had been playing a particularly interesting variation in the French Defense while donning the black pieces.
What does he do next? He goes online and wherever he finds some titled player first, play Black and unleash the very variation he just saw! This simple method is how he learns.
Mundane things like television easily bore Nihal. "They are okay, but boring," is what his opinion is about watching TV shows. What about school? "I pay attention while taking notes, I don't find it particularly interesting, but some of the things I learn seem to be useful in life." Apart from chess, Nihal loves Tinkle and Malayalam comics, which he reads regularly.
Nihal's parents do not stop him from doing anything that he wishes to do. In fact, his wishes are almost equal to commands for them. If he wants to eat a particular fried chicken from a local eatery, which he likes, at 9 PM in the night, there is no question asked back to him. His father diligently makes a trip and brings him what he wants. Within their limited means, they do everything they possibly can to keep him happy.
Normally, kids of his age, with similar stature, they dream of becoming a World Champion someday. What about Nihal's goals in chess? "I want to play the best players of the world." "You don't want to beat them, or to become something, like a grandmaster, or the World Champion?" I ask. "I don't know about that as it depends on many factors. Playing is something I can surely do."
As you may observe, Nihal does not focus on 'becoming something', but rather on doing his job by playing. May the force be with you, child!
---