World Juniors Rd.07: Unstoppable Shtembuliak
In 2018 we had Parham Maghsoodloo who made a dash towards the finish line at the World Junior Championships. He won the event with one round to spare. In 2019 it seems like Evgeny Shtembuliak is going to take the honours. Although there are still four rounds left to be played, the Ukrainian GM has beaten some of the strongest opposition in the tournament. In round seven he got the better of GM Aram Hakobyan in the tense encounter. Shtembuliak leads with 6.0/7. He is followed on 5.5/7 by Miguel Santos Ruiz alone. In the girls section Mobina Alinasab remained in the lead after her draw against Stavroula Tsolakidou, but she was joined at the top by Polina Shuvalova as well. Detailed round seven report from New Delhi.
Remembering the legacy of Korchnoi
One of Korchnoi's biggest contributions to opening theory was seen in his game against Udovcic from 1967. It was a pawn sacrifice line in the French. It was not the first time that someone had played this, but Korchnoi was the first world class player who tried it in practice. It went very well for him in the game and till date the opening has been played on the highest level.
Divya Deshmukh vs Altantuya Boldbaatar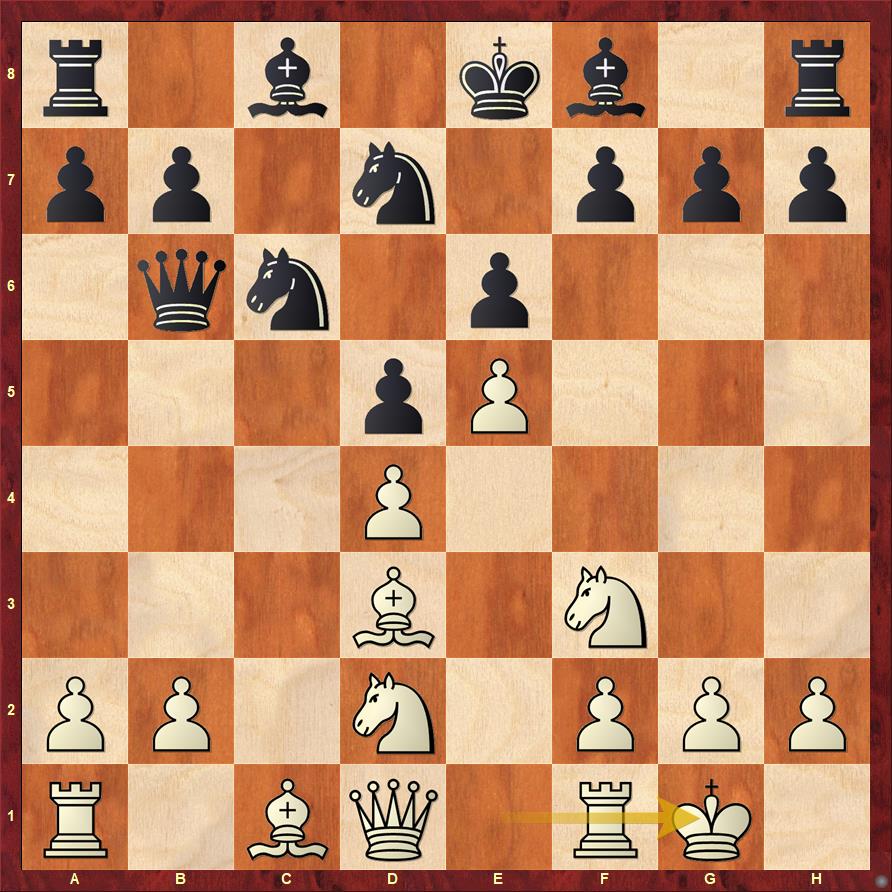 Altantuya responded to a3 in the above position with a5 and this was the critical mistake. White jumped in with Qa4 and with no Qb4 possible and the b5 square weakness, the game was already decided in Divya's favour.
Analysis by WIM Angela Franco
On board no. 1 in the girls section we had IM Stavroula Tsolakidou coming up with an interesting novelty on move no.8:
Mobina Alinasab vs Stavroula Tsolakidou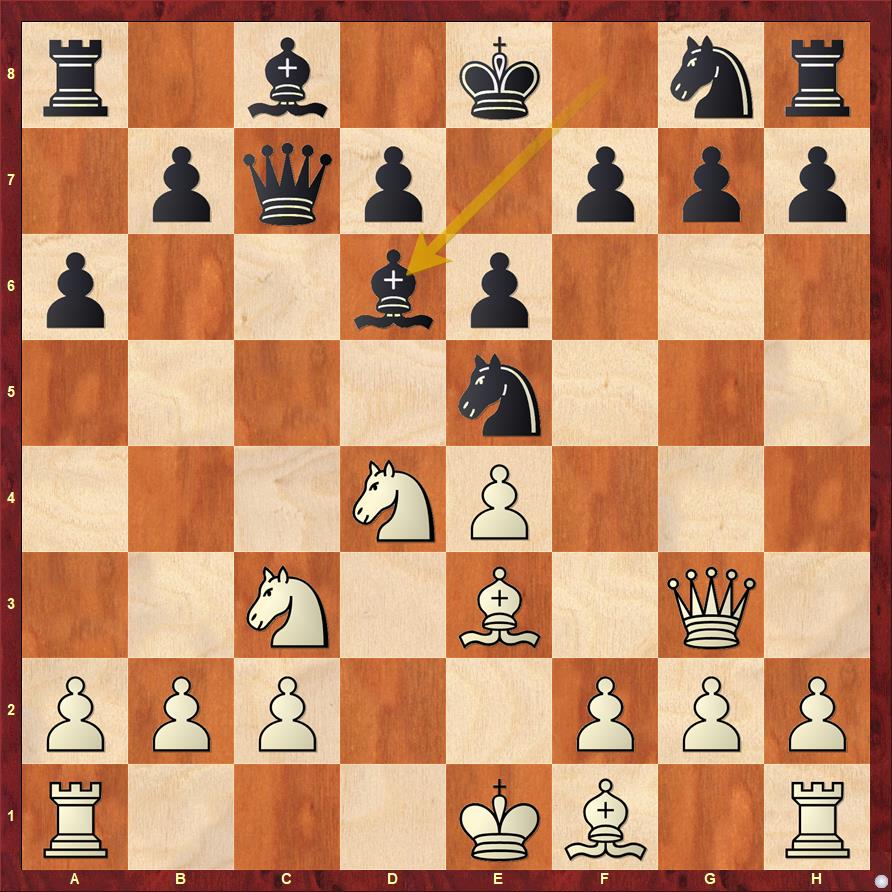 The game went on for 72 moves before the players agreed for a draw.
In the open section we had the two leaders Aram Hakobyan and Evgeny Shtembuliak. Both Hakobyan and Shtembuliak have shifted their base to USA. While Aram studies at the St. Louis University, Shtembuliak is from the Texas Tech universtiry. They both met each other on the top board. It was a big fight that in the end went Shtembuliak's way.
Ravi Haria vs Miguel Ruiz
Re1 is met with Qxe1 and after Nxe1 d2 it is all over! However, White had excellent chances to play for a win after Rd1! Miguel thought that he was still doing well after Qe2. However, the point is that Qe2 is met with Rxd3 Qxd3 and Ng5+! and White wins!

Video gallery:
Results of round 7 in open:
Standings after round 7 in open
| | | | | | | | | | | | |
| --- | --- | --- | --- | --- | --- | --- | --- | --- | --- | --- | --- |
| Rk. | SNo | | | Name | FED | Rtg | Bdld | Pts. | TB1 | TB2 | TB3 |
| 1 | 7 | | GM | Shtembuliak Evgeny | UKR | 2577 | | 6,0 | 0,0 | 29,0 | 31,5 |
| 2 | 10 | | GM | Santos Ruiz Miguel | ESP | 2560 | | 5,5 | 0,0 | 26,5 | 29,5 |
| 3 | 9 | | GM | Hakobyan Aram | ARM | 2561 | | 5,0 | 0,0 | 29,0 | 32,5 |
| 4 | 8 | | GM | Praggnanandhaa R | IND | 2567 | | 5,0 | 0,0 | 28,0 | 31,5 |
| 5 | 17 | | IM | Khanin Semen | RUS | 2507 | | 5,0 | 0,0 | 27,5 | 31,0 |
| 6 | 2 | | GM | Karthikeyan Murali | IND | 2617 | | 5,0 | 0,0 | 27,0 | 30,0 |
| 7 | 6 | | GM | Sargsyan Shant | ARM | 2580 | | 5,0 | 0,0 | 26,5 | 30,0 |
| 8 | 25 | | IM | Costachi Mihnea | ROU | 2463 | | 5,0 | 0,0 | 24,5 | 27,5 |
| 9 | 14 | | GM | Visakh N R | IND | 2529 | | 5,0 | 0,0 | 23,5 | 26,5 |
| 10 | 37 | | IM | Bronstein Or | ISR | 2413 | | 5,0 | 0,0 | 22,5 | 24,5 |
| 11 | 32 | | FM | Murzin Volodar | RUS | 2433 | | 5,0 | 0,0 | 22,0 | 24,5 |
| 12 | 12 | | IM | Gazik Viktor | SVK | 2546 | | 5,0 | 0,0 | 21,5 | 24,5 |
| 13 | 38 | | IM | Agmanov Zhandos | KAZ | 2403 | | 4,5 | 0,0 | 28,0 | 30,0 |
| 14 | 26 | | IM | Haria Ravi | ENG | 2463 | | 4,5 | 0,0 | 26,5 | 28,5 |
| 15 | 46 | | IM | Mendonca Leon Luke | IND | 2388 | | 4,5 | 0,0 | 26,0 | 27,0 |
| 16 | 53 | | IM | Pogosyan Stefan | RUS | 2364 | | 4,5 | 0,0 | 25,5 | 27,5 |
| 17 | 22 | | IM | Drygalov Sergey | RUS | 2470 | | 4,5 | 0,0 | 25,0 | 28,0 |
| 18 | 50 | | | Wang Shixu B | CHN | 2370 | | 4,5 | 0,0 | 25,0 | 27,0 |
| 19 | 51 | | IM | Raja Rithvik R | IND | 2369 | | 4,5 | 0,0 | 25,0 | 26,5 |
| 20 | 3 | | GM | Aravindh Chithambaram Vr. | IND | 2609 | | 4,5 | 0,0 | 24,5 | 27,5 |
Results of round 7
Standings after round 7 in girls
| | | | | | | | | | | |
| --- | --- | --- | --- | --- | --- | --- | --- | --- | --- | --- |
| Rk. | SNo | | | Name | FED | Rtg | Pts. | TB1 | TB2 | TB3 |
| 1 | 25 | | WIM | Alinasab Mobina | IRI | 2239 | 6,0 | 0,5 | 29,0 | 32,5 |
| 2 | 4 | | WIM | Shuvalova Polina | RUS | 2412 | 6,0 | 0,5 | 28,5 | 31,0 |
| 3 | 6 | | WGM | Assaubayeva Bibisara | KAZ | 2381 | 5,5 | 0,0 | 26,5 | 29,5 |
| 4 | 9 | | WIM | Divya Deshmukh | IND | 2358 | 5,5 | 0,0 | 25,5 | 28,0 |
| 5 | 13 | | FM | Antova Gabriela | BUL | 2318 | 5,5 | 0,0 | 25,5 | 27,5 |
| 6 | 10 | | | Berdnyk Mariia | UKR | 2349 | 5,5 | 0,0 | 24,5 | 27,0 |
| 7 | 2 | | IM | Tsolakidou Stavroula | GRE | 2431 | 5,0 | 0,0 | 28,0 | 31,5 |
| 8 | 17 | | WIM | Solozhenkina Elizaveta | RUS | 2283 | 5,0 | 0,0 | 26,5 | 29,0 |
| 9 | 11 | | WIM | Dordzhieva Dinara | RUS | 2335 | 5,0 | 0,0 | 23,5 | 26,0 |
| 10 | 63 | | WFM | Pandey Srishti | IND | 1963 | 5,0 | 0,0 | 22,0 | 22,5 |
| 11 | 20 | | WFM | Altantuya Boldbaatar | MGL | 2277 | 4,5 | 0,0 | 28,5 | 31,5 |
| 12 | 24 | | WIM | Priyanka Nutakki | IND | 2248 | 4,5 | 0,0 | 28,5 | 30,5 |
| 13 | 5 | | WGM | Vaishali R | IND | 2385 | 4,5 | 0,0 | 28,0 | 30,5 |
| 14 | 29 | | WIM | Mrudul Dehankar | IND | 2227 | 4,5 | 0,0 | 28,0 | 28,5 |
| 15 | 21 | | WIM | Arpita Mukherjee | IND | 2271 | 4,5 | 0,0 | 27,5 | 31,0 |
| 16 | 14 | | WIM | Rakshitta Ravi | IND | 2310 | 4,5 | 0,0 | 27,0 | 30,0 |
| 17 | 43 | | WFM | Afraoui Anaelle | FRA | 2106 | 4,5 | 0,0 | 26,5 | 29,0 |
| 18 | 27 | | | Diakonova Ekaterina | RUS | 2231 | 4,5 | 0,0 | 26,0 | 29,0 |
| 19 | 23 | | WFM | Protopopova Anastasiya | RUS | 2263 | 4,5 | 0,0 | 25,5 | 29,0 |
| 20 | 38 | | WIM | Sapale Saloni | IND | 2142 | 4,5 | 0,0 | 25,0 | 27,5 |
---