Western Asian R01+02: Arjun Gupta stuns Sri Lankan talent Thilakarathne
The classical games have begun at the Western Asian Youth and Junior Championships 2019. The first round itself saw a couple of upsets as Tanishka Kotia (2164) and Savitha Shri B (2076) suffered defeats in the hands of Vishwa Shah (1760) and Rathi Dhanashree (1631) in the under-20 girls section. While in round two of the second half it was Sankalp Gupta (2376) who fell victim to Harshal Shahi (2114) of the host city. The most emphatic performance of the day however came from the under-18 open category, where playing on board one Arjun Gupta (2024) outwitted the Sri Lankan talent Thilakarathne GMH (2397). In this report we bring you photos, analyses, and much more from the second day of the event.
Tough loss for the Sri Lankan contingent!
Even though India is undoubtedly the favourites in this Western Asian Youth Championships but Sri Lanka, with 34 of its participants, is one country which is expected to give the hosts a very close competition. But unfortunately in round two of the event the Sri Lankan contingent suffered a big blow as their lead player in open under-18 category went down against Arjun Gupta of India. This was an Indian Game where Thilakarathne with black pieces actually had the opportunity to grab some initiative out of the opening. But he missed his chance and slowly started to slip into a worse position. Let's check out what happened.
Arjun Gupta - Thilakarathne GMH, Round 2
Black struck immediately with 12...e5 in the above position. Next, 13.dxe5 was played and now the correct way to seize the edge would have been 13...Nc5! 14.Qe3 Nfxe4 etc but in the game the rather meek 13...dxe5 was opted with which the balance was once again restored.
The simple 18...Nxd5 would have been the right move here. The other two options - 18...Bxd2 and 18...Bxc4 - both give White the initiative (see annotations), Thilakarathne chose the latter in the game. After 18...Bxc4?! 19.Qxb4 axb4 20.Nxe7+ Kg7 21.Nxc8 Bxf1 22.Kxf1 White's position started to look.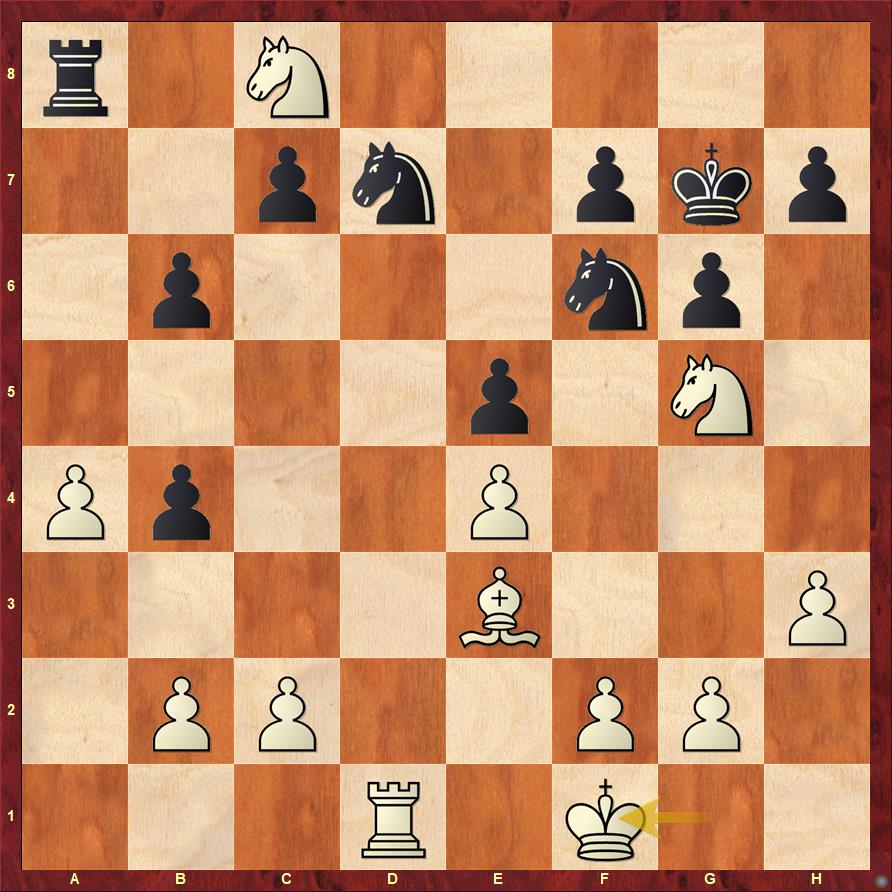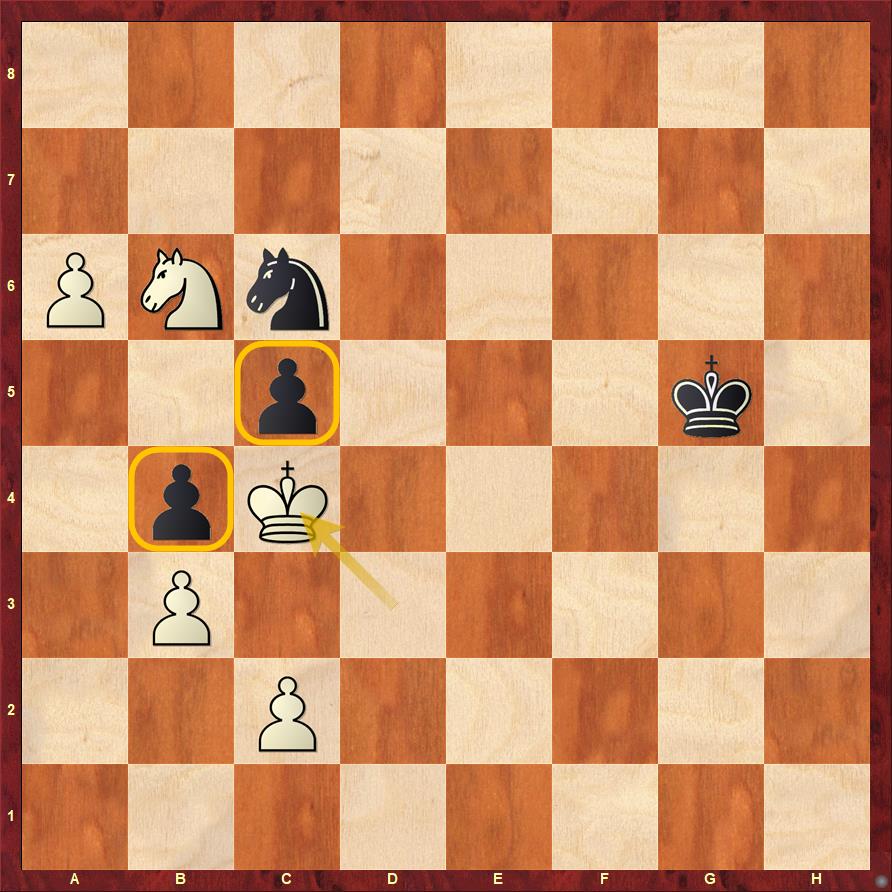 Vantika's tricky tactical trap
In the second round Vantika Agrawal defeated Kazakhstan's Sultanbek Zeinep to emerge as one of the three leaders in the under-20 girls group with 2.0/2 points. Let us see the critical moment from this encounter.
Sultanbek Zeinep - Vantika Agrawal, Round 2
Standings after round 2
U-20 Open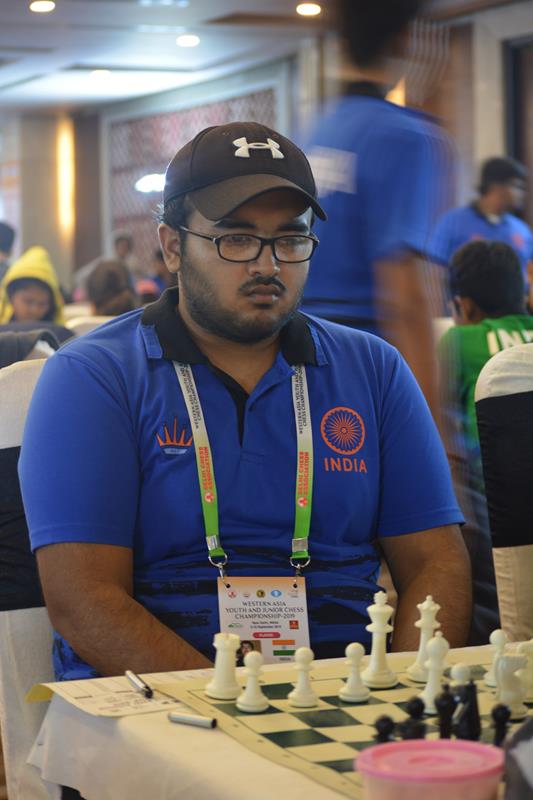 | | | | | | | | | | | | | | | |
| --- | --- | --- | --- | --- | --- | --- | --- | --- | --- | --- | --- | --- | --- | --- |
| Rk. | SNo | | | Name | sex | FED | Rtg | Pts. | TB1 | TB2 | TB3 | TB4 | TB5 | w-we |
| 1 | 3 | | | Sammed Jaykumar Shete | | IND | 2395 | 2,0 | 0,0 | 2 | 1,0 | 2,0 | 2,00 | 0,43 |
| | 10 | | IM | Vardaan Nagpal | | IND | 2346 | 2,0 | 0,0 | 2 | 1,0 | 2,0 | 2,00 | 0,16 |
| 3 | 7 | | FM | Rajdeep Sarkar | | IND | 2364 | 2,0 | 0,0 | 2 | 1,0 | 1,5 | 1,50 | 0,31 |
| | 19 | | FM | Harshal Shahi | | IND | 2114 | 2,0 | 0,0 | 2 | 1,0 | 1,5 | 1,50 | 0,90 |
| 5 | 11 | | | Raahul V S | | IND | 2278 | 2,0 | 0,0 | 2 | 0,5 | 0,5 | 0,50 | 0,16 |
| 6 | 1 | | IM | Rahul Srivatshav P | | IND | 2435 | 1,5 | 0,0 | 1 | 1,5 | 2,5 | 1,75 | -0,11 |
| | 2 | | FM | Abdisalimov Abdimalik | | UZB | 2409 | 1,5 | 0,0 | 1 | 1,5 | 2,5 | 1,75 | -0,08 |
| | 5 | | IM | Mendonca Leon Luke | | IND | 2385 | 1,5 | 0,0 | 1 | 1,5 | 2,5 | 1,75 | -0,21 |
| | 9 | | FM | Pranav Anand | | IND | 2361 | 1,5 | 0,0 | 1 | 1,5 | 2,5 | 1,75 | -0,24 |
| 10 | 4 | | FM | Anuj Shrivatri | | IND | 2387 | 1,5 | 0,0 | 1 | 1,5 | 2,0 | 1,25 | -0,11 |
Under-20 girls
| | | | | | | | | | | | | | | |
| --- | --- | --- | --- | --- | --- | --- | --- | --- | --- | --- | --- | --- | --- | --- |
| Rk. | SNo | | | Name | sex | FED | Rtg | Pts. | TB1 | TB2 | TB3 | TB4 | TB5 | w-we |
| 1 | 1 | | WIM | Vantika Agrawal | w | IND | 2304 | 2,0 | 0,0 | 2 | 1,0 | 2,0 | 2,00 | 0,20 |
| | 5 | | WIM | Abdusattorova Bakhora | w | UZB | 2109 | 2,0 | 0,0 | 2 | 1,0 | 2,0 | 2,00 | 0,18 |
| 3 | 8 | | WFM | Bommini Mounika Akshaya | w | IND | 2055 | 2,0 | 0,0 | 2 | 1,0 | 1,0 | 1,00 | 0,16 |
| 4 | 4 | | WIM | Chitlange Sakshi | w | IND | 2159 | 1,5 | 0,0 | 1 | 1,5 | 2,5 | 1,75 | -0,13 |
| 5 | 2 | | WIM | Aakanksha Hagawane | w | IND | 2232 | 1,5 | 0,0 | 1 | 1,5 | 2,0 | 1,25 | -0,42 |
| | 9 | | | Bakshi Rutuja | w | IND | 2002 | 1,5 | 0,0 | 1 | 1,5 | 2,0 | 1,25 | 0,29 |
| 7 | 13 | | | Shah Vishwa | w | IND | 1760 | 1,5 | 0,0 | 1 | 1,0 | 1,0 | 0,50 | 1,34 |
| 8 | 17 | | | Senthamizh Yazhini S | w | IND | 1626 | 1,0 | 0,0 | 1 | 2,0 | 2,5 | 0,50 | 0,84 |
| 9 | 10 | | WCM | Sultanbek Zeinep | w | KAZ | 1933 | 1,0 | 0,0 | 1 | 2,0 | 2,0 | 0,00 | -0,02 |
| | 11 | | WCM | Noshin Anjum | w | BAN | 1931 | 1,0 | 0,0 | 1 | 2,0 | 2,0 | 0,00 | 0,00 |
| | 15 | | | Nanditha V | w | IND | 1738 | 1,0 | 0,0 | 1 | 2,0 | 2,0 | 0,00 | 0,82 |
| | 16 | | | Rathi Dhanashree | w | IND | 1631 | 1,0 | 0,0 | 1 | 2,0 | 2,0 | 0,00 | 0,84 |
| 13 | 12 | | WFM | Lakshmi C | w | IND | 1865 | 1,0 | 0,0 | 1 | 1,5 | 1,5 | 0,00 | 0,08 |
Under-18 Open
| | | | | | | | | | | | | | | |
| --- | --- | --- | --- | --- | --- | --- | --- | --- | --- | --- | --- | --- | --- | --- |
| Rk. | SNo | | | Name | sex | FED | Rtg | Pts. | TB1 | TB2 | TB3 | TB4 | TB5 | w-we |
| 1 | 2 | | | Srijit Paul | | IND | 2310 | 2,0 | 0,0 | 2 | 1,0 | 2,0 | 2,00 | 0,24 |
| | 9 | | FM | Vatsal Singhania | | IND | 2159 | 2,0 | 0,0 | 2 | 1,0 | 2,0 | 2,00 | 0,28 |
| | 30 | | | Akshit Kumar J | | IND | 1786 | 2,0 | 0,0 | 2 | 1,0 | 2,0 | 2,00 | 1,72 |
| 4 | 14 | | | Mohamed Anees M | | IND | 2038 | 2,0 | 0,0 | 2 | 1,0 | 1,5 | 1,50 | 0,17 |
| | 16 | | | Arjun Gupta | | IND | 2024 | 2,0 | 0,0 | 2 | 1,0 | 1,5 | 1,50 | 0,98 |
| 6 | 3 | | FM | Abdurakhmonov Mukhammadali | | UZB | 2288 | 1,5 | 0,0 | 1 | 1,5 | 2,5 | 1,75 | -0,25 |
| | 5 | | FM | Ajay Karthikeyan | | IND | 2206 | 1,5 | 0,0 | 1 | 1,5 | 2,5 | 1,75 | -0,13 |
| | 6 | | FM | Abdilkhair Abilmansur | | KAZ | 2189 | 1,5 | 0,0 | 1 | 1,5 | 2,5 | 1,75 | -0,17 |
| | 26 | | | Dubey Sanchay | | IND | 1881 | 1,5 | 0,0 | 1 | 1,5 | 2,5 | 1,75 | 1,23 |
| 10 | 15 | | | Aakash Sharadchandra Dalvi | | IND | 2025 | 1,5 | 0,0 | 1 | 1,5 | 2,0 | 1,25 | -0,30 |
| | 37 | | | Suresh Garg | | IND | 1546 | 1,5 | 0,0 | 1 | 1,5 | 2,0 | 1,25 | 1,34 |
Under-18 Girls
| | | | | | | | | | | | | | | |
| --- | --- | --- | --- | --- | --- | --- | --- | --- | --- | --- | --- | --- | --- | --- |
| Rk. | SNo | | | Name | sex | FED | Rtg | Pts. | TB1 | TB2 | TB3 | TB4 | TB5 | w-we |
| 1 | 1 | | WCM | Mrudul Dehankar | w | IND | 2198 | 2,0 | 0,0 | 2 | 1,0 | 1,0 | 1,00 | 0,17 |
| | 2 | | | Priyanka K | w | IND | 2169 | 2,0 | 0,0 | 2 | 1,0 | 1,0 | 1,00 | 0,23 |
| 3 | 6 | | | Pandey Srishti | w | IND | 1928 | 2,0 | 0,0 | 2 | 0,5 | 1,0 | 1,00 | 0,16 |
| 4 | 4 | | WCM | Jyothsna L | w | IND | 1989 | 1,5 | 0,0 | 1 | 1,5 | 2,5 | 1,75 | -0,02 |
| | 12 | | | Rindhiya V | w | IND | 1753 | 1,5 | 0,0 | 1 | 1,5 | 2,5 | 1,75 | 1,11 |
| 6 | 5 | | | Srimathi R | w | IND | 1972 | 1,5 | 0,0 | 1 | 1,5 | 2,0 | 1,25 | -0,20 |
| 7 | 13 | | | Shriya R Revankar | w | IND | 1751 | 1,5 | 0,0 | 1 | 1,5 | 1,5 | 0,75 | 0,84 |
| 8 | 8 | | | Toshali V | w | IND | 1823 | 1,0 | 0,0 | 1 | 2,0 | 2,5 | 0,50 | 0,00 |
| 9 | 7 | | | Ghosh Samriddhaa | w | IND | 1863 | 1,0 | 0,0 | 1 | 2,0 | 2,0 | 0,00 | -0,04 |
| 10 | 9 | | WCM | Jayaweera Sayuni Gihansa | w | SRI | 1821 | 1,0 | 0,0 | 1 | 1,5 | 2,5 | 1,00 | -0,20 |
Under-16 Girls
| | | | | | | | | | | | | | |
| --- | --- | --- | --- | --- | --- | --- | --- | --- | --- | --- | --- | --- | --- |
| Rk. | SNo | | | Name | FED | Rtg | Pts. | TB1 | TB2 | TB3 | TB4 | TB5 | w-we |
| 1 | 3 | | WCM | Bristy Mukherjee | IND | 1931 | 2,0 | 0,0 | 2 | 1,0 | 2,0 | 2,00 | 0,16 |
| 2 | 4 | | | Ahmed Walijah | BAN | 1720 | 2,0 | 0,0 | 2 | 0,5 | 1,0 | 1,00 | 0,00 |
| 3 | 2 | | | Greeshma Anand Dhumal | IND | 2042 | 1,5 | 0,0 | 1 | 1,5 | 2,5 | 1,75 | -0,32 |
| 4 | 1 | | WFM | Salonika Saina | IND | 2100 | 1,5 | 0,0 | 1 | 1,5 | 2,0 | 1,25 | -0,34 |
| | 5 | | WCM | Chinnam Vyshnavi | IND | 1668 | 1,5 | 0,0 | 1 | 1,5 | 2,0 | 1,25 | 0,61 |
| 6 | 6 | | | Dahampriya H K T Dewnethmie | SRI | 1651 | 1,5 | 0,0 | 1 | 1,5 | 1,5 | 0,75 | 0,63 |
| 7 | 8 | | WCM | Arushi Kotwal | IND | 1590 | 1,5 | 0,0 | 1 | 1,0 | 1,5 | 1,25 | 0,25 |
| 8 | 22 | | | Urja Goyal | IND | 1130 | 1,5 | 0,0 | 1 | 1,0 | 1,5 | 1,00 | 1,18 |
| 9 | 20 | | | Shreya Shree Bansal | IND | 1322 | 1,0 | 0,0 | 1 | 2,0 | 2,5 | 0,50 | 0,71 |
| 10 | 14 | | | Mishra Riya | IND | 1479 | 1,0 | 0,0 | 1 | 2,0 | 2,0 | 0,00 | 0,34 |
Under-14 Open
| | | | | | | | | | | | | | | |
| --- | --- | --- | --- | --- | --- | --- | --- | --- | --- | --- | --- | --- | --- | --- |
| Rk. | SNo | | | Name | sex | FED | Rtg | Pts. | TB1 | TB2 | TB3 | TB4 | TB5 | w-we |
| 1 | 2 | | | Sharipov Davron | | UZB | 2110 | 2,0 | 0,0 | 2 | 1,0 | 2,0 | 2,00 | 0,21 |
| | 6 | | | Gokhale Rishabh Chandrashekhar | | IND | 1957 | 2,0 | 0,0 | 2 | 1,0 | 2,0 | 2,00 | 0,36 |
| | 8 | | | Ayush Sharma | | IND | 1944 | 2,0 | 0,0 | 2 | 1,0 | 2,0 | 2,00 | 0,30 |
| 4 | 12 | | | Jain Kashish Manoj | | IND | 1870 | 2,0 | 0,0 | 2 | 1,0 | 1,0 | 1,00 | 0,27 |
| | 15 | | | Chilukuri Sai Varshith | | IND | 1813 | 2,0 | 0,0 | 2 | 1,0 | 1,0 | 1,00 | 1,00 |
| | 24 | | | Jain Adi | | IND | 1675 | 2,0 | 0,0 | 2 | 1,0 | 1,0 | 1,00 | 0,81 |
| 7 | 13 | | | Pawar Harshit | | IND | 1838 | 2,0 | 0,0 | 2 | 0,5 | 0,5 | 0,50 | 0,08 |
| 8 | 5 | | | Karthik Sai Ch | | IND | 2033 | 1,5 | 0,0 | 1 | 1,5 | 2,5 | 1,75 | -0,22 |
| | 7 | | | Devesh Anand Naik | | IND | 1946 | 1,5 | 0,0 | 1 | 1,5 | 2,5 | 1,75 | -0,21 |
| | 10 | | | Aditya Varun Gampa | | IND | 1937 | 1,5 | 0,0 | 1 | 1,5 | 2,5 | 1,75 | -0,22 |
Under-14 Girls
| | | | | | | | | | | | | | | |
| --- | --- | --- | --- | --- | --- | --- | --- | --- | --- | --- | --- | --- | --- | --- |
| Rk. | SNo | | | Name | sex | FED | Rtg | Pts. | TB1 | TB2 | TB3 | TB4 | TB5 | w-we |
| 1 | 2 | | | Bhagyashree Patil | w | IND | 1744 | 2,0 | 0,0 | 2 | 1,0 | 2,0 | 2,00 | 0,44 |
| 2 | 1 | | | Shivika Rohilla | w | IND | 1780 | 2,0 | 0,0 | 2 | 1,0 | 1,5 | 1,50 | 0,23 |
| 3 | 4 | | | Velpula Sarayu | w | IND | 1692 | 2,0 | 0,0 | 2 | 1,0 | 1,0 | 1,00 | 0,35 |
| | 11 | | | Tina C | w | IND | 1483 | 2,0 | 0,0 | 2 | 1,0 | 1,0 | 1,00 | 0,88 |
| 5 | 3 | | | Bobomurodova Maftuna | w | UZB | 1744 | 1,5 | 0,0 | 1 | 1,5 | 2,5 | 1,75 | -0,30 |
| 6 | 16 | | | Premanath Prasansa | w | SRI | 1400 | 1,5 | 0,0 | 1 | 1,5 | 2,0 | 1,25 | 0,54 |
| 7 | 8 | | | Femil Chelladurai | w | IND | 1581 | 1,5 | 0,0 | 1 | 1,0 | 2,0 | 1,50 | -0,09 |
| 8 | 5 | | | Abrorova Sabrina | w | TJK | 1687 | 1,5 | 0,0 | 1 | 1,0 | 1,5 | 1,00 | 0,09 |
| | 14 | | WCM | Fatima Saif Al-Ali | w | UAE | 1420 | 1,5 | 0,0 | 1 | 1,0 | 1,5 | 1,00 | -0,10 |
| 10 | 37 | | | Rajshree Lath | w | IND | 0 | 1,5 | 0,0 | 0 | 1,5 | 2,0 | 1,25 | |
Under-12 Girls
| | | | | | | | | | | | | | | |
| --- | --- | --- | --- | --- | --- | --- | --- | --- | --- | --- | --- | --- | --- | --- |
| Rk. | SNo | | | Name | sex | FED | Rtg | Pts. | TB1 | TB2 | TB3 | TB4 | TB5 | w-we |
| 1 | 5 | | | Ratnapriya K | w | IND | 1482 | 2,0 | 0,0 | 2 | 1,0 | 2,0 | 2,00 | 0,57 |
| 2 | 10 | | | Vakcheri Mohitha | w | IND | 1409 | 2,0 | 0,0 | 2 | 1,0 | 1,5 | 1,50 | 0,46 |
| 3 | 11 | | | Mythri Maddisetty | w | IND | 1401 | 2,0 | 0,0 | 2 | 0,5 | 1,0 | 1,00 | 0,09 |
| 4 | 14 | | | Falak Joni Naik | w | IND | 1341 | 2,0 | 0,0 | 2 | 0,5 | 0,5 | 0,50 | 0,81 |
| 5 | 9 | | WCM | Pallie Ehsha Mishela | w | SRI | 1444 | 1,5 | 0,0 | 1 | 1,5 | 2,0 | 1,25 | -0,20 |
| | 13 | | | Dolisiyas Dash | w | IND | 1366 | 1,5 | 0,0 | 1 | 1,5 | 2,0 | 1,25 | 0,11 |
| 7 | 8 | | | Cera Dagaria | w | IND | 1445 | 1,5 | 0,0 | 1 | 1,5 | 1,5 | 0,75 | 0,03 |
| | 23 | | | Naga Laxmi Seelam | w | IND | 1113 | 1,5 | 0,0 | 1 | 1,5 | 1,5 | 0,75 | 0,91 |
| 9 | 3 | | | Kheerthi Ganta | w | IND | 1490 | 1,5 | 0,0 | 1 | 1,0 | 1,5 | 1,00 | -0,06 |
| | 4 | | WCM | Patel Riddhi R | w | IND | 1485 | 1,5 | 0,0 | 1 | 1,0 | 1,5 | 1,00 | -0,15 |
Under-10 Open
| | | | | | | | | | | | | | | |
| --- | --- | --- | --- | --- | --- | --- | --- | --- | --- | --- | --- | --- | --- | --- |
| Rk. | SNo | | | Name | sex | FED | Rtg | Pts. | TB1 | TB2 | TB3 | TB4 | TB5 | w-we |
| 1 | 2 | | | Mayank Chakraborty | | IND | 1751 | 2,0 | 0,0 | 2 | 1,0 | 2,0 | 2,00 | 0,19 |
| | 6 | | | Daaevik Wadhawan | | IND | 1687 | 2,0 | 0,0 | 2 | 1,0 | 2,0 | 2,00 | 0,21 |
| | 7 | | | Md Imran | | IND | 1666 | 2,0 | 0,0 | 2 | 1,0 | 2,0 | 2,00 | 0,24 |
| | 8 | | | Aakash G | | IND | 1655 | 2,0 | 0,0 | 2 | 1,0 | 2,0 | 2,00 | 0,21 |
| | 11 | | | Nirnay Garg | | IND | 1585 | 2,0 | 0,0 | 2 | 1,0 | 2,0 | 2,00 | 0,27 |
| | 13 | | | Arshpreet Singh | | IND | 1478 | 2,0 | 0,0 | 2 | 1,0 | 2,0 | 2,00 | 0,43 |
| | 14 | | | Rajveer Pinkesh Nahar | | IND | 1463 | 2,0 | 0,0 | 2 | 1,0 | 2,0 | 2,00 | 0,39 |
| 8 | 15 | | | Sparsh Bisht | | IND | 1431 | 2,0 | 0,0 | 2 | 1,0 | 1,0 | 1,00 | 0,46 |
| | 18 | | | Palak Mohapatra | w | IND | 1406 | 2,0 | 0,0 | 2 | 1,0 | 1,0 | 1,00 | 1,07 |
| 10 | 3 | | | Sadbhav Rautela | | IND | 1720 | 1,5 | 0,0 | 1 | 1,5 | 2,5 | 1,75 | -0,29 |
Under-8 Open
| | | | | | | | | | | | | | |
| --- | --- | --- | --- | --- | --- | --- | --- | --- | --- | --- | --- | --- | --- |
| Rk. | SNo | | | Name | FED | Rtg | Pts. | TB1 | TB2 | TB3 | TB4 | TB5 | w-we |
| 1 | 1 | | | Rosh Jain | IND | 1616 | 2,0 | 0,0 | 2 | 1,0 | 2,0 | 2,00 | 0,16 |
| | 9 | | | Nimay Agrawal | IND | 1152 | 2,0 | 0,0 | 2 | 1,0 | 2,0 | 2,00 | 0,89 |
| | 15 | | | Verma Vivaan | IND | 1067 | 2,0 | 0,0 | 2 | 1,0 | 2,0 | 2,00 | 0,73 |
| | 25 | | | Mithra Kumaran J K | IND | 0 | 2,0 | 0,0 | 2 | 1,0 | 2,0 | 2,00 | |
| 5 | 4 | | | Sakline Mostafa Sajid | BAN | 1349 | 2,0 | 0,0 | 2 | 1,0 | 1,0 | 1,00 | 0,18 |
| | 12 | | | Rishabh Kumar | IND | 1126 | 2,0 | 0,0 | 2 | 1,0 | 1,0 | 1,00 | 0,71 |
| 7 | 3 | | | Vaz Ethan | IND | 1388 | 1,5 | 0,5 | 1 | 1,5 | 2,5 | 1,75 | -0,31 |
| 8 | 11 | | | Adilkhanov Adilbek | KAZ | 1133 | 1,5 | 0,5 | 1 | 1,5 | 1,5 | 0,75 | 0,31 |
| 9 | 5 | | | Ishaan Singh Khanuja | IND | 1285 | 1,0 | 0,0 | 1 | 2,0 | 3,0 | 1,00 | -0,71 |
| | 10 | | | Yuvanesh A | IND | 1137 | 1,0 | 0,0 | 1 | 2,0 | 3,0 | 1,00 | 0,00 |
| | 13 | | | Prakul A | IND | 1083 | 1,0 | 0,0 | 1 | 2,0 | 3,0 | 1,00 | -0,18 |
Under-8 Girls
| | | | | | | | | | | | | | | |
| --- | --- | --- | --- | --- | --- | --- | --- | --- | --- | --- | --- | --- | --- | --- |
| Rk. | SNo | | | Name | sex | FED | Rtg | Pts. | TB1 | TB2 | TB3 | TB4 | TB5 | w-we |
| 1 | 1 | | | Warsia Khusbu | w | BAN | 1334 | 2,0 | 0,0 | 2 | 1,0 | 1,0 | 1,00 | 0,00 |
| | 3 | | | Aggarwal Tashna | w | IND | 1110 | 2,0 | 0,0 | 2 | 1,0 | 1,0 | 1,00 | 0,00 |
| | 4 | | | Kolagatla Alana Meenakshi | w | IND | 1066 | 2,0 | 0,0 | 2 | 1,0 | 1,0 | 1,00 | 0,00 |
| 4 | 5 | | | Anaishaa Pinkesh Nahar | w | IND | 1021 | 2,0 | 0,0 | 2 | 0,5 | 0,5 | 0,50 | 0,00 |
| 5 | 2 | | | Prisha Kesarwani | w | IND | 1133 | 1,5 | 0,0 | 1 | 1,5 | 2,5 | 1,75 | 0,00 |
| 6 | 6 | | | Aadhya Jain | w | IND | 1018 | 1,5 | 0,0 | 1 | 1,5 | 2,0 | 1,25 | 0,00 |
| | 11 | | | Kirthika B | w | IND | 0 | 1,5 | 0,0 | 1 | 1,5 | 2,0 | 1,25 | |
| | 17 | | | Samaira Jain | w | IND | 0 | 1,5 | 0,0 | 1 | 1,5 | 2,0 | 1,25 | |
| 9 | 8 | | | Anwesha Banik | w | IND | 0 | 1,0 | 0,0 | 1 | 2,0 | 3,0 | 1,00 | |
| | 18 | | | Sequeira Jennica | w | IND | 0 | 1,0 | 0,0 | 1 | 2,0 | 3,0 | 1,00 | |
| | 21 | | | Tanishka Jain | w | IND | 0 | 1,0 | 0,0 | 1 | 2,0 | 3,0 | 1,00 | |
Under-6 Open
Rk.
SNo
Name
sex
FED
Rtg
Pts.
TB1
TB2
TB3
TB4
TB5
w-we
1
1
Madhvendra Pratap Sharma
IND
1084
2,0
0,0
2
1,0
2,0
2,00
0,00
3
Armaan Agarwal
IND
0
2,0
0,0
2
1,0
2,0
2,00
18
Vivaan Rudainwal
IND
0
2,0
0,0
2
1,0
2,0
2,00
4
4
Aryan Baid
IND
0
2,0
0,0
2
1,0
1,0
1,00
5
7
Hridhaan Chawla
IND
0
1,0
0,0
1
2,0
3,0
1,00
10
Krishnav Mrinmoy Hazarika
IND
0
1,0
0,0
1
2,0
3,0
1,00
7
5
Darshil Krunal Sutariya
IND
0
1,0
0,0
1
2,0
2,0
0,00
6
Havish Kovidh Tadavarthy
IND
0
1,0
0,0
1
2,0
2,0
0,00
8
Joshi Aditya Shripad
IND
0
1,0
0,0
1
2,0
2,0
0,00
9
Kakavand Ramtin
IRI
0
1,0
0,0
1
2,0
2,0
0,00
12
Mithun Pranav
IND
0
1,0
0,0
1
2,0
2,0
0,00
Under-6 Girls
| | | | | | | | | | | | | | | |
| --- | --- | --- | --- | --- | --- | --- | --- | --- | --- | --- | --- | --- | --- | --- |
| Rk. | SNo | | | Name | sex | FED | Rtg | Pts. | TB1 | TB2 | TB3 | TB4 | TB5 | w-we |
| 1 | 3 | | | Diya Digamber Sawal | w | IND | 0 | 2,0 | 0,0 | 2 | 1,0 | 2,0 | 2,00 | |
| 2 | 2 | | | Aadya Ranganath | w | IND | 0 | 2,0 | 0,0 | 2 | 1,0 | 1,5 | 1,50 | |
| 3 | 4 | | | Khayalvizhi Kamesh | w | IND | 0 | 2,0 | 0,0 | 2 | 0,5 | 1,0 | 1,00 | |
| 4 | 12 | | | Shashini Puvi | w | IND | 0 | 2,0 | 0,0 | 2 | 0,5 | 0,5 | 0,50 | |
| 5 | 14 | | | Srinika S | w | IND | 0 | 1,5 | 0,0 | 1 | 0,5 | 0,5 | 0,25 | |
| 6 | 9 | | | Saanvi Aggarwal | w | IND | 0 | 1,0 | 0,0 | 1 | 2,0 | 2,5 | 0,50 | |
| | 13 | | | Srijita Das | w | IND | 0 | 1,0 | 0,0 | 1 | 2,0 | 2,5 | 0,50 | |
| 8 | 8 | | | Rammadugu Geethika Sri | w | IND | 0 | 1,0 | 0,0 | 1 | 2,0 | 2,0 | 0,00 | |
| | 10 | | | Samhita Pungavanam | w | IND | 0 | 1,0 | 0,0 | 1 | 2,0 | 2,0 | 0,00 | |
| 10 | 15 | | | Yati Agarwal | w | IND | 0 | 1,0 | 0,0 | 0 | 2,0 | 2,5 | 0,50 | |
---