India's first WGM Vijayalakshmi turns 40
S. Vijayalakshmi is the one of the greatest woman chess players of India. Her list of achievements is just endless. Her father Mr. Subbaraman taught her the game of chess and since then there has been no looking back. While India has had many WIMs, it was only Viji who opened the doors for female players to dream big - to think about WGM and IM title. Viji was the first Indian player to beome a WGM and IM in 2001. In this article we tell you about Viji's playing style, preferences and much more. We also take you to the Hail Rapid Rating tournament that was held by Saudi Arabia from 15-18 March where Viji led right from start until the end, but a last round loss pushed her back to the second spot. We bring you an article dedicated to one of the greatest female players ever seen in Indian chess history.
Viji turns 40 years old
Vishy Anand is unanimously considered as the man who pioneered the Indian chess revolution. The five-time World Champion inspired an era of Indian chess with one powerful performance after another. Now India has 61 grandmasters, but there was a period when everyone was wondering when would we have our first! In 1987, Anand became India's first GM at the age of 18 and that's when everyone started to believe that becoming a GM was indeed possible. That's what legends do. They blaze new paths. The make people believe that tasks which previously seemed impossible to achieve are now possible. What Anand achieved in men's chess, Vijayalakshmi achieved in female chess.
Indian women's chess had a few stalwarts - the three Khadilkar sisters - Rohini, Vasanthi and Jayshree, Anupama Gokhale and Bhagyashree Thipsay. While all of them brought Indian women's chess on a global stage, none of them could become a Women's Grandmaster (WGM). WIM is the maximum that anyone had achieved until 2001 in Indian chess. In came Vijayalakshmi Subbaraman (also known as Viji) and surpassed everything that any woman player in India had achieved by a big margin. She won the national title six times, became the Asian zone champion, Commonwealth Champion, two individual silver medals at the Olympiad and that is not all. She was ranked eleventh in April 2006 in the world with a rating of 2485.
Viji not only became India's first WGM in 2001, she also became India's first IM and scored three GM norms reaching a live rating of 2498! Yes, that's how close she was. Just two Elo points and she would have become India's first woman player to achieve the full-fledged GM title. In a way she laid down the foundation for Humpy and Harika to later achieve the GM title.
Viji second in Saudi Arabia!
The girl who had won just about every age group national title starting from under-10 turned forty years old today (25th of March 2019). Viji's career that was on the rise saw a sudden downturn because of couple of reasons. She became a mother and her father passed away. These two events slowed down her chess career and in September 2014, she went down to as low as 2314. Viji was already 35 years old back then. But she had begun resurrecting her chess career. Like her style of play in a game of chess where she never gives up, Viji still harbours ambitions of becoming a GM one fine day. And these are not empty words. She is working towards them with all her might. Her rating is now improving and she is rated 2345. Just a few days ago she won the runners-up position in the Hail rapid international in Saudi Arabia.
Final Standings
| | | | | | | | | | | |
| --- | --- | --- | --- | --- | --- | --- | --- | --- | --- | --- |
| Rk. | SNo | | | Name | FED | Rtg | Pts. | TB1 | TB2 | TB3 |
| 1 | 1 | | IM | Bulmaga Irina | ROU | 2414 | 7,0 | 0,0 | 46,5 | 40,5 |
| 2 | 7 | | IM | Vijayalakshmi Subbaraman | IND | 2246 | 6,5 | 0,0 | 46,0 | 39,0 |
| 3 | 2 | | GM | Socko Monika | POL | 2379 | 6,0 | 0,0 | 46,5 | 39,5 |
| 4 | 5 | | IM | Szczepkowska Karina | POL | 2311 | 6,0 | 0,0 | 46,5 | 39,5 |
| 5 | 8 | | WGM | Tsatsalashvili Keti | GEO | 2216 | 6,0 | 0,0 | 45,0 | 38,0 |
| 6 | 3 | | IM | Cornette Deimante | LTU | 2342 | 6,0 | 0,0 | 45,0 | 38,0 |
| 7 | 4 | | WGM | Ambartsumova Karina | RUS | 2331 | 6,0 | 0,0 | 41,5 | 34,5 |
| 8 | 10 | | | Hassan Hala | EGY | 1811 | 5,5 | 0,0 | 40,5 | 33,5 |
| 9 | 6 | | IM | Zozulia Anna | BEL | 2265 | 5,5 | 0,0 | 40,0 | 34,0 |
| 10 | 23 | | | Alhassan Aljowhrah | KSA | 0 | 5,5 | 0,0 | 36,5 | 30,5 |
| 11 | 9 | | WIM | Moskalets Svetlana | UKR | 2201 | 5,0 | 0,0 | 46,5 | 39,5 |
| 12 | 15 | | | Al Qabishis Afnan | KSA | 1794 | 5,0 | 0,0 | 40,5 | 33,5 |
| 13 | 19 | | | Algabri. Asma | KSA | 0 | 5,0 | 0,0 | 38,5 | 32,5 |
| 14 | 11 | | | Al Belihy Remaz | KSA | 0 | 4,0 | 0,0 | 40,0 | 34,0 |
| 15 | 16 | | | Al Shammari Thekra | KSA | 0 | 4,0 | 0,0 | 35,5 | 29,5 |
Viji is well known for her fighting spirit in chess. No matter how drawn or lost her position is, she always keeps playing on with optimism trying to find her chances. In the third round she faced Russian WGM Karina Ambartsumova. Look at how she squeezed water from stone.
7 things you didn't know about Viji
1. Viji was taught chess by her father Later Mr. Subbaraman
Viji: "It so happened that my father also learnt the game along with me. While I focused more on playing, he had his aims set on coaching me in the best way he could. It was a very raw and interesting process that we went through. Back in 1980s there were hardly any chess books. So many times we were wrong and had to correct ourselves, but it was this learning process that helped me tremendously. Soon I started to not only understand my father's teachings but also successfully implemented them in my games. He helped me a lot psychologically in my chess career. People in the chess circles say that I have a lot of confidence, and I got all of that from my dad."
2. Viji is the eldest of three sisters and all three of them play chess
Viji: Our family came from extremely humble backgrounds. My father was the sole bread winner and he had three girls to take care of. It was extremely difficult. Many times I would see the worried look on his face due to the financial burdens. I am sure that the Polgars and Khadilkars, too, had a tough time, but our situation was definitely worse. The condition we were in itself motivated us to try our best. My sister Meenakshi has been a shadow to me. In every tournament that I go to she has been there with me as a support. My youngest sister Banu Priya is so lovable. Whenever I lose a game I call her and she always has nice words to say, which cheers me up."
3. Viji is one of the most tenacious defenders you will ever see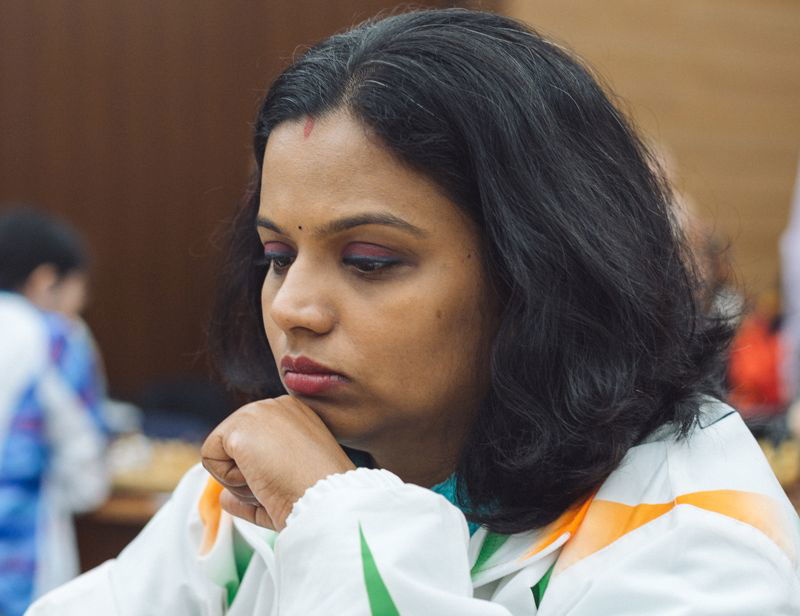 Viji: "I keep seeing winning positions for myself in all the games. [Laughs] And luckily I am able to win. Chess is after all a game and I can beat anyone on any given day because of my fearless attitude. You can say that I am quite an optimist."
This game below is one of Vijayalakshmi's brilliant defensive efforts. Have a look at how the white queen dances in front of the black king while the two black queens look completely helpless.
Vijayalakshmi vs Soumya Swaminathan, 2011
4. Married to GM Sriram Jha
Viji: "Sriram is three years older than me. We both won the Under-18 National Championships in the same year. We became good friends and slowly things started to work out. We got into a relationship when I was around 21 years old. After about four years of courtship we got married. That's a short summary of our love story. In 2008 we had Aryan. And now we are a happy little family."
5. Viji's bundle of joy Aaryan
Viji: "After marriage they do have to change a bit, but becoming a mother changes your life completely. Your world turns around the child. I have transformed a lot for the better, due to my son. This happens because you have to be a good example for him. The birth of Aryan has given a new meaning to my life. Aryan is the soul who is able to diminish the vacuum that I felt after the death of my father. I look up to him and he is the motivator to my life."
6. The aim to become a GM again
When you have been so close to your GM title in past, it is very difficult to motivate yourself, especially since age is not on your side. But Viji is an eternal optimist. This what she said when asked about her GM title:
Viji: "And sometimes when you see your old games you feel really bad. You feel that you have lost yourself somewhere. But I believe that I had the game to become a grandmaster – and I still have it in me. If I am able to concentrate better I am sure I will make a comeback."
7. Viji hates computers!
Viji: "A computer's evaluations have never meant anything to me. The computer analyses in isolation. When we play at the board there are lot of factors that need to be taken into consideration. For example: going to a different place to play a tournament, having different food to eat, the energy levels for a particular game, standings in the tournament, etc. Many times the computers give an evaluation which doesn't really matter, because some positions can be very uncomfortable for certain opponents, even if the silicon machine says that it's better for them. I do not believe in computers assessment, rather I think if the player can handle that position well he should play it."
Wishing Viji a very happy 40th birthday!

---