Vantika Agrawal becomes the 21st Woman Grandmaster of India
Vantika Agrawal scored her final WGM-norm in her first tournament in over 1.5 years at Vezerkepzo GM August 2021. She scored 4.5/9, performed at 2408 to become India's latest Woman Grandmaster. She scored two of her WGM-norms and crossed 2300 by July 2019. The Covid-19 pandemic delayed her an opportunity to play over-the-board tournaments. However, that did not stop her from preparing and increasing her strength. She started turning things in her favor after winning Gold for the Indian team at FIDE Online Olympiad 2020. Her hard work is paying off as she won one accolade after the other, the latest being her winning the coveted WGM title.
Scores her final WGM-norm in her comeback tournament
Vantika Agrawal had scored two WGM-norms and already fulfilled the 2300 rating criteria. However, she had not played any over-the-board tournament since January 2020. She won the Gold medal for the Indian team in the first ever FIDE Online Olympiad last year, then she won FIDE Binance Business Schools Super Cup for her college SRCC in July 2021. Within a few days after winning for her college team, she won the AICF National Senior Women's Online championship and secured second position in the AICF National Junior Girls Online 2021. She has been working hard, and her consistent performance shows that.
Speaking with ChessBase India, Vantika said, "Happy to complete my last WGM norm. Was desperately waiting to play over the board tournaments from almost 2 years."
First WGM norm
Vantika scored her first WGM-norm at 24th Abu Dhabi Chess Festival in 2017. Despite starting the tournament with a loss, she scored 5 points in the remaining eight games including a win over IM Eesha Karavade and a draw with GM Harmen Jonkman (NED).
Vantika - Eesha, 24th Abu Dhabi Masters 2017
20.Nc6 forces Black to take the knight, resulting in a passed pawn on c6 which played a key role in White scoring a victory.
Second WGM norm
The second WGM-norm was scored in the National Women's championship in 2019 where Vantika scored 8.5/11 to finish second, performed at 2404. She beat the legendary IM Subbaraman Vijayalakshmi and WGM Mary Ann Gomes, drew with the eventual champion, then WGM Bhakti Kulkarni.
Vantika - Vijayalakshmi, National Women's 2019
Vantika showed great positional understanding which gave her the upper hand, and eventually she found the tactical shot 24.Ne5 after which there is no good defense for Black. The game continued 24...Bxf2+ 25.Kxf2 fxe5 26.Rxb5 Qf7+ 27.Ke1 Rxb5 28.Qc8+ Qf8 29.Qxe6+ and it's all over for Black.
Third WGM norm
Vantika scored her final WGM-norm at Vezerkepzo GM August 2021. She defeated GM Zoltan Varga (HUN) and drew with GM Boris Kantsler (ISR), performed at 2408, scored 4.5/9 to secure her final WGM-norm, thus the title. She had already crossed 2300 in September 2017.
Vantika - Varga, Vezerkepzo GM 2021
Vantika once again showed great positional understanding as she played 17.d5 at the right time. Black cannot take it and thus played 17...c5. Black soon blundered a pawn and abandoned all hope to save the game.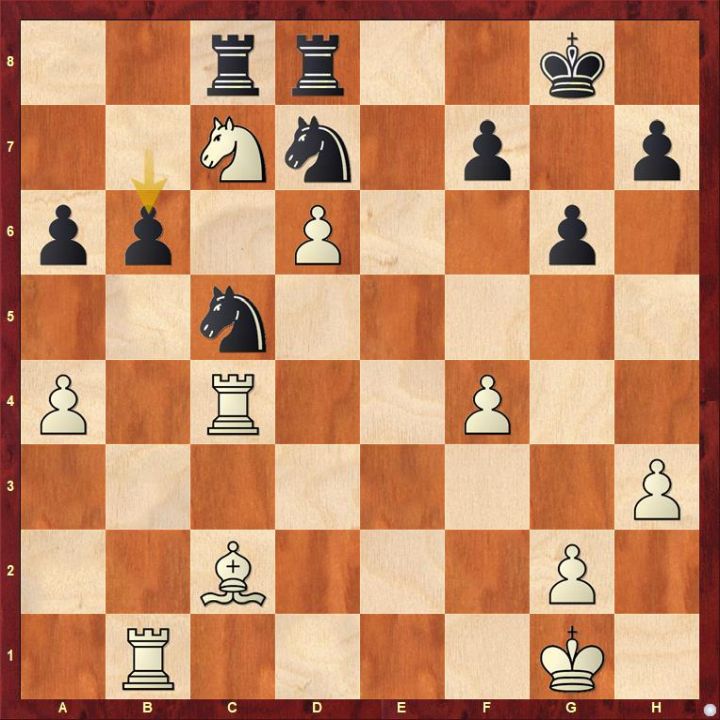 28.Nd5 forces Black to lose the pawn to save the exchange. White went on to win the game and score her final WGM-norm to become India's latest WGM.
Vantika scored a fantastic victory over Ajay Krishna S in the fourth round of the same event. Check out the analysis by IM Sagar Shah.
Replay Vantika's games
Final Standings
| | | | | | | | | | | | | | | | | |
| --- | --- | --- | --- | --- | --- | --- | --- | --- | --- | --- | --- | --- | --- | --- | --- | --- |
| Rk. | SNo | | | Name | FED | Rtg | TB1 | TB2 | TB3 | Rp | n | w | we | w-we | K | rtg+/- |
| 1 | 3 | | FM | Ajay Karthikeyan | IND | 2426 | 7,0 | 0,0 | 28,25 | 2613 | 9 | 7 | 4,90 | 2,10 | 10 | 21,0 |
| 2 | 4 | | GM | Horvath Adam | HUN | 2491 | 6,0 | 0,5 | 25,25 | 2510 | 9 | 6 | 5,74 | 0,26 | 10 | 2,6 |
| 3 | 7 | | IM | Kaczur Florian | HUN | 2495 | 6,0 | 0,5 | 23,25 | 2510 | 9 | 6 | 5,82 | 0,18 | 10 | 1,8 |
| 4 | 2 | | IM | Rathanvel V S | IND | 2445 | 4,5 | 1,5 | 17,75 | 2391 | 9 | 4,5 | 5,16 | -0,66 | 10 | -6,6 |
| 5 | 9 | | WIM | Vantika Agrawal | IND | 2286 | 4,5 | 1,0 | 16,75 | 2408 | 9 | 4,5 | 3,04 | 1,46 | 20 | 29,2 |
| 6 | 1 | | GM | Varga Zoltan | HUN | 2389 | 4,5 | 0,5 | 19,75 | 2355 | 8 | 3,5 | 3,89 | -0,39 | 10 | -3,9 |
| 7 | 6 | | GM | Kantsler Boris | ISR | 2426 | 4,0 | 0,0 | 15,75 | 2350 | 9 | 4 | 4,90 | -0,90 | 10 | -9,0 |
| 8 | 8 | | FM | Lu Maximillian | USA | 2386 | 3,5 | 0,0 | 16,00 | 2355 | 8 | 3,5 | 3,86 | -0,36 | 20 | -7,2 |
| 9 | 10 | | FM | Stinka Jakub | CZE | 2244 | 2,5 | 1,0 | 8,00 | 2247 | 9 | 2,5 | 2,53 | -0,03 | 20 | -0,6 |
| 10 | 5 | | | Ajay Krishna S | IND | 2372 | 2,5 | 0,0 | 11,75 | 2233 | 9 | 2,5 | 4,16 | -1,66 | 20 | -33,2 |
---