Vaishali triumphs at 8th Fischer Memorial 2022, scores her second GM-norm
IM Vaishali R scored 7.0/9 to win 8th Fischer Memorial, Heraklion GM Round Robin Tournament. Both her and FM Yoav Milikow (ISR) scored the same points. However, Vaishali beat the teenager in the fifth round, which decided the tie-breaks. The most important part is Vaishali scored her second GM-norm and took her live rating to 2430.4. She is now final GM-norm and 69.6 Elo rating away from becoming India's third woman ever to become a GM after Humpy and Harika. Among the top Indian women, IM Padmini Rout and IM Tania Sachdev are the only two who have a GM-norm each. Vaishali will be part of the India A team at the Chess Olympiad 2022 as announced a couple of days ago. Photo: Amruta Mokal
Vaishali on her way to become India's third woman to earn the GM title
IM Vaishali R scored her second GM-norm almost three years after scoring her maiden GM-norm at Xtracon Chess Open 2019 in Denmark. One must not forget that she was unable to play any over-the-board tournaments for almost 18 months due to the Covid-19 pandemic. Fun fact: Praggnanandhaa R also scored his second GM-norm at the exact same event four years ago by scoring the exact same points 7.0/9.
Despite starting with only 0.5/2 including a draw with GM Spyridon Kapnisis (GRE), Vaishali managed to chain five consecutive victories. Then she drew with GM Ioannis Nikolaidis (GRE, 2536) and defeated FM Marco Materia (FRA, 2398) in the final round to win the tournament and score her second GM-norm.
Mitsis - Vaishali, Round 6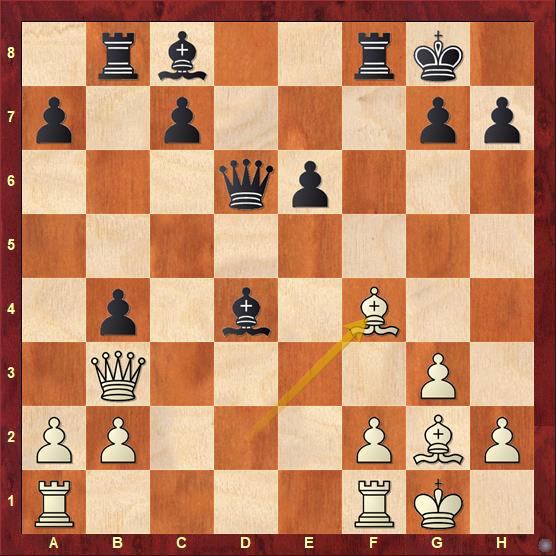 Vaishali made a beautiful positional exchange sacrifice against Georgios Mitsis (GRE, 2344) here 20...Rxf4 21.gxf4 Qxf4. There is nothing immediate for Black. However, having a bishop pair in open position, rook being ready to swing from b to f or g-file, Black also had two pawns for the exchange, white king being vulnerable due to the lack of g-pawn. It made her decision that much easier that the exchange sacrifice is absolutely right. Black went on to win the game comfortably.
Replay Vaishali's games
Final Standings
| | | | | | | | | | |
| --- | --- | --- | --- | --- | --- | --- | --- | --- | --- |
| Rk. | SNo | | Name | FED | Rtg | Pts. | TB1 | TB2 | TB3 |
| 1 | 6 | IM | Vaishali R | IND | 2411 | 7,0 | 1,0 | 5 | 5,0 ... |
| 2 | 9 | FM | Milikow Yoav | ISR | 2383 | 7,0 | 0,0 | 5 | 5,0 ... |
| 3 | 5 | GM | Kapnisis Spyridon | GRE | 2450 | 6,0 | 0,0 | 4 | 4,0 ... |
| 4 | 4 | FM | Materia Marco | FRA | 2398 | 5,5 | 0,0 | 4 | 4,0 ... |
| 5 | 10 | GM | Korneev Oleg | ESP | 2521 | 5,0 | 0,0 | 5 | 3,0 ... |
| 6 | 2 | FM | Szwed Jacek | POL | 2360 | 4,5 | 1,0 | 4 | 2,5 ... |
| 7 | 3 | GM | Nikolaidis Ioannis | GRE | 2536 | 4,5 | 0,0 | 4 | 2,5 ... |
| 8 | 1 | | Mitsis Georgios | GRE | 2344 | 3,5 | 0,0 | 4 | 2,0 ... |
| 9 | 8 | FM | Jahncke Giso | GER | 2326 | 2,0 | 0,0 | 5 | 1,0 ... |
| 10 | 7 | | Samaridis Konstantinos | GRE | 2064 | 0,0 | 0,0 | 5 | 0,0 ... |
Links
---