The Queen's Gambit - Episode 2 review
The Queen's Gambit continue its momentum in the second episode. It shows the journey of a chess player from the beginner to a tournament player in episode 2. Due to involvement of Kasparov and Pandolfini, you can be rest assured that chess part in this mini-series will be absolutely authentic. Will we see some trash talk and blitzing out moves? Sure from dramatization, it has to be done for the general audience. The series showcases various nuances of the game as well as what a player has to endure to make a name and get into the big leagues. The journey in chess is not at all easy until you reach at the very top. Check out the detailed spoiler-free review of Episode 2 covering the chess aspect in great detail. Photo: Netflix stream
Episode 2 - Exchanges
As we have mentioned in the Episode 1 review, without divulging any major spoiler plot details, we are only going to review the chess part of each episode of this Netflix mini-series - The Queen's Gambit. The second episode starts with a six years of time leap according to Beth Harmon.
We see Beth attending a class of mathematics at her new school where the teacher asks about Binomial Theorem. She is the first and only one to answer what it is. We have been already given a hint that she might know this in episode 1.
In case you forgot, here is the clue about Beth's potential knowledge about Binomial Theorem and an inkling about her genius.
After a bit of hesitation, the first question she asks when she talks for the first time in the dining hall is, 'Is there a school chess club?' Because she is always finding a way to play chess and get better.
Beth enquires if there is a chess club in the school | Photo: Netflix stream
Beth gets intrigued by seeing chess sets when she visits a shopping mall but she is denied a purchase by her guardian.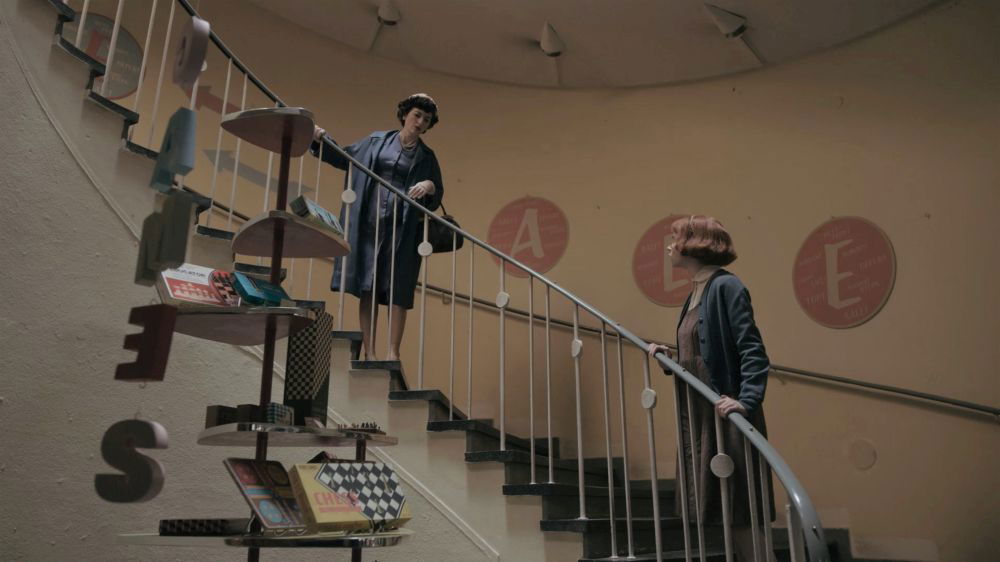 One fine day Beth visits her school library and enquires if there is a chess book there. The librarian was not sure if they had any but she knew that there is a biography on José Capablanca. Beth hears about the world champion for the first time from her. The librarian only describes him as a grandmaster and not a world champion - which shows that the librarian has a little knowledge about chess but not complete. As a kid whenever I visited a library, be it in school or somewhere else, first thing I checked was if they have any chess book because getting chess books was not as easy as it is today over two decades ago.
Beth finds the Capablanca's biography - My Chess Career. She finds someone has scribbled on Capablanca's photo on one of the first few pages. She goes through the pages of the book and it shows descriptive notation. Of course an actual book was used, not a prop. This is definitely one of the many reasons why chess players and enthusiasts will like this series.
If you are looking for someone or something be it a book or an object, chances are you will be able to spot it more often and easily than one can fathom. Chess Review is an actual magazine which was available in USA from 1933 to 1969.
She picks up the magazine and flips through a few pages. We see a diagram from L Alster's game and it happens to be from Sicilian Defense - one of the first openings she ever heard and learnt.
Trapl - Alster, Prague 1963
Beth's eyes get stuck on an advertisement of a chess book which we know is a famous one - Pawn Power in Chess by Hans Kmoch.
Beth continues to go through the magazine quickly and for the first time she sees a report about USSR Championship (foreshadowing?). IM Vasily Panov was a Soviet chess player who played in five USSR championships.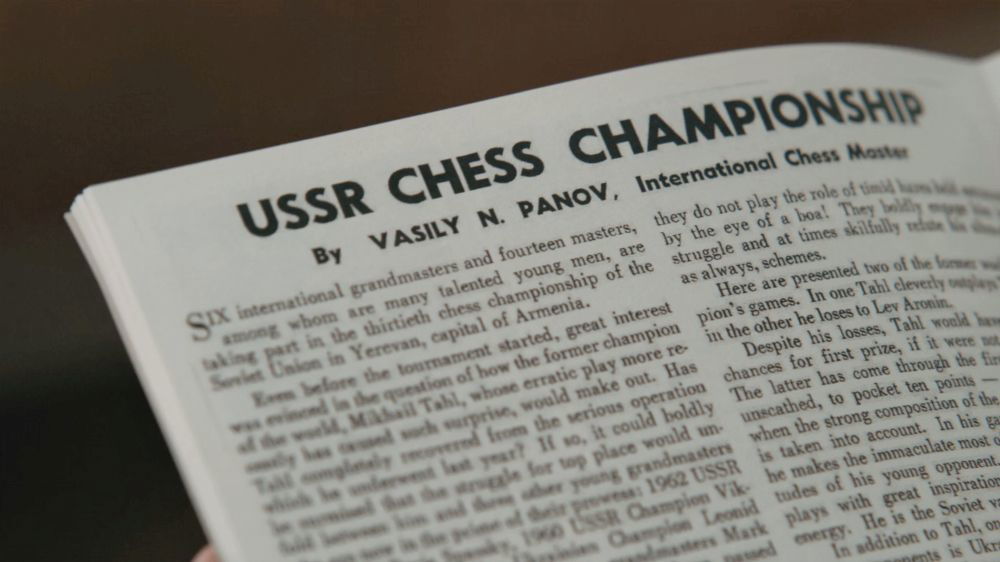 She flips again and sees a woman playing chess. Until now she hadn't seen or heard of any woman playing chess.
Long before the advent of internet, newspapers, magazines, notice and word-of-mouth were the only way one could get to know about upcoming tournaments. Those who are familiar with US tournaments, can see that the format of the tournament announcement has not changed much over the years.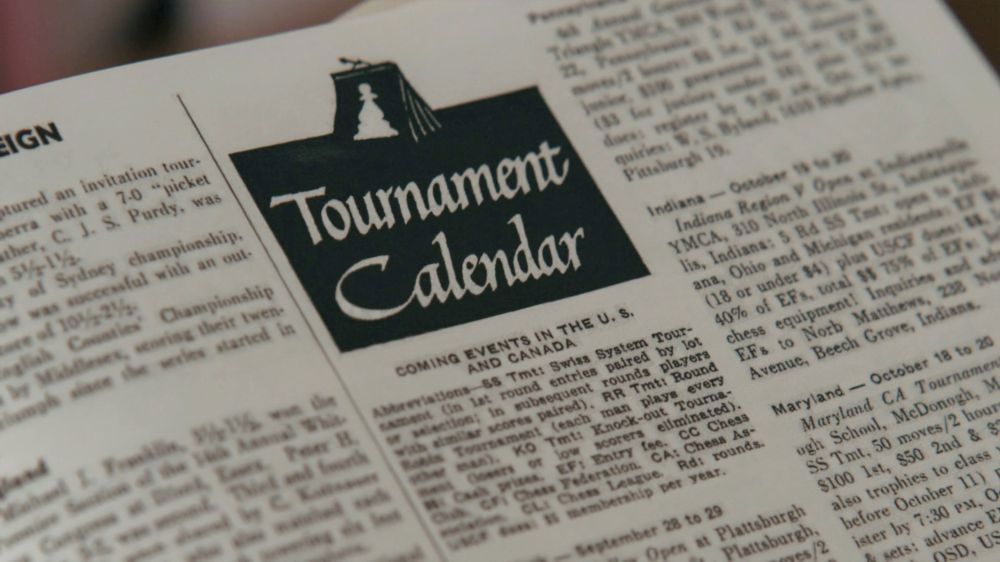 The first tournament Beth makes her debut in is Kentucky State Championship. She says she wants to work to earn, her guardian thinks that she wants to buy clothes with it but Beth surprises her by saying that she wants to play chess tournaments with that money. She writes to Mr.Shaibel (Custodian) asking for her entry fee, because $5 over five decades ago was a lot.
When Beth returns to pharmacy, once again she ventures towards the magazine area and quickly browses through the Chess Review magazine.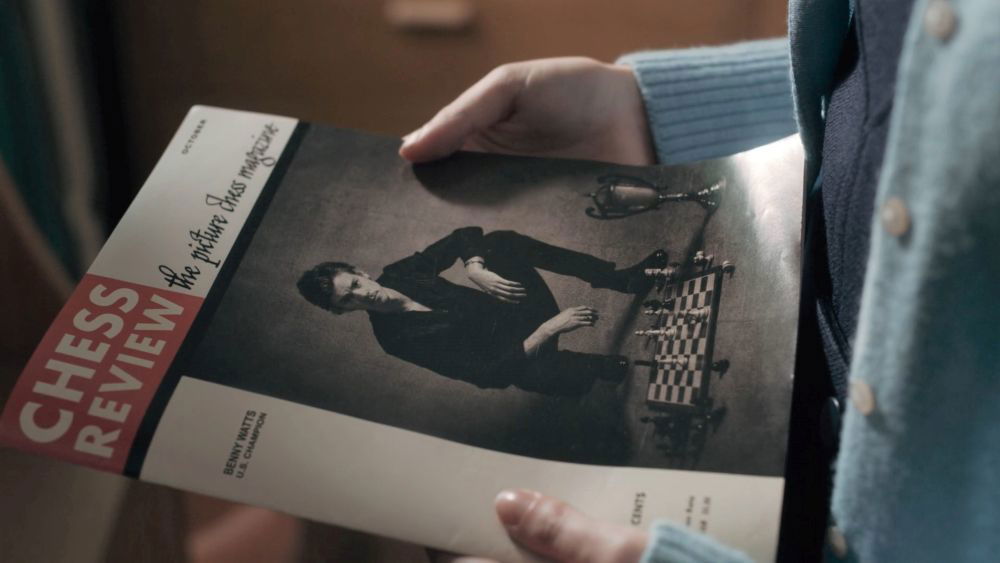 After a few days we scene Beth tearing up the veil on top of her bed as it was obstructing her visualization. Once again she could visualize the chess pieces on the board on the roof.
When she reaches the venue, she was told that she is not strong enough to play in the Open section because she is unrated and never played a tournament before in her life. She was also informed that there is no women's section and the organizers wanted to put her in the beginners section. She defied all and stuck to her conviction of playing in the Open section after enquiring if it was against any rule to play in the same. One of the random unknown player explained her how the pairing works as she was completely unaware of it.
Do you remember your first visit to a tournament hall? What was the feeling? Overwhelming? Well I think Scott Frank portrayed it quite nicely.
Beth's first round opponent explained her all intricacies about the clock including flag fall and scoresheet. After making the first move, Beth's opponent herself forgot to press the clock. This portrays that Beth was playing on the last board against a weaker opponent. Also notice the refreshment paper glasses which is prevalent next to last boards in general in a tournament hall as the last board is generally considered to be of lesser significance. Even the clock time is nailed correctly as 4:30. This was kept as the clock time, so that after 90 minutes when the clock is about to strike 6'o clock, it is easier to understand.
During a tournament, have you ever met or talked with a player out of hundreds only to face them in one of the subsequent rounds? Well it happened to me more often than I can count and it happened to Beth too. Well for Beth it was a script and more of a Director's choice instead of happenstance, but you get my point.
This is something even young/new players can relate to also. Top boards having a separate section, in the above scene you can see top boards partitioned from the rest of the boards.
We often see a crowd next to top boards or the last game to go on in a particular round. There might be one or two kids/newcomers who are inquisitive, even though they might whisper and ask something to a friend, however for the players it can be quite annoying. We see Beltik (2150) playing against Cullen (1760) and Beltik win the game in the next two moves.
Beltik - Cullen
It is obvious that white is winning here. In the scene, Beltik forgets to press the clock after 1.Nxd4 Qxd4 2.Rd1 but Cullen still resigns. Good thing is clock was placed on the correct side, so even from the camera angle we were unable to see the timings left, but getting that technicality right definitely makes the chess universe happy.
In the next scene, we see pairings of Round 2 have been put up. Beth got paired against her first rated opponent Cooke who has a USCF Rating 1520.
We see the final parts of the game where Beth is completely winning.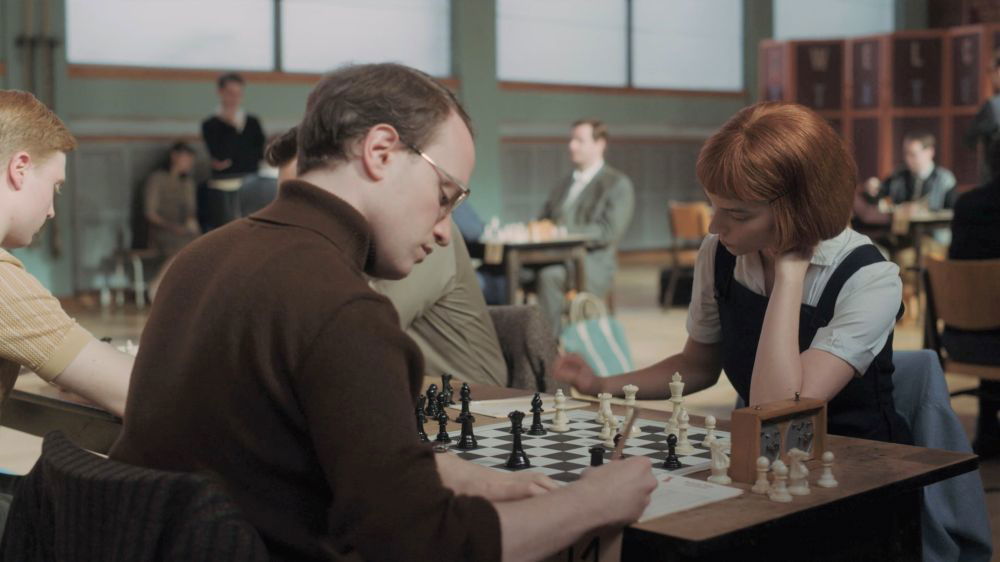 Beth - Cooke
White is completely winning here. Find out the winning continuation. For the first time in the entire mini-series, we witness a verbal, 'I resign' by Cooke instead of knocking his own king down as an indication towards resignation.
Beth got disappointed that she did not face an 1800-rated player and she made a few enquiry about ratings. Back in those days getting rating quickly wasn't easy as rating lists did not used to come out every month. We see both opting for Scandinavian/Center Counter opening for the first time in the series. The following moves were shown 1.e4 d5 2.exd5 c6 3.dxc6 Nxc6. The scene fast forwards by a couple of moves and then fades to the following position:
Townes - Beth
We see Beth playing 1...Qxh2 2.Nxh2 Re7 3.Rg2 before the game leaps to the next position.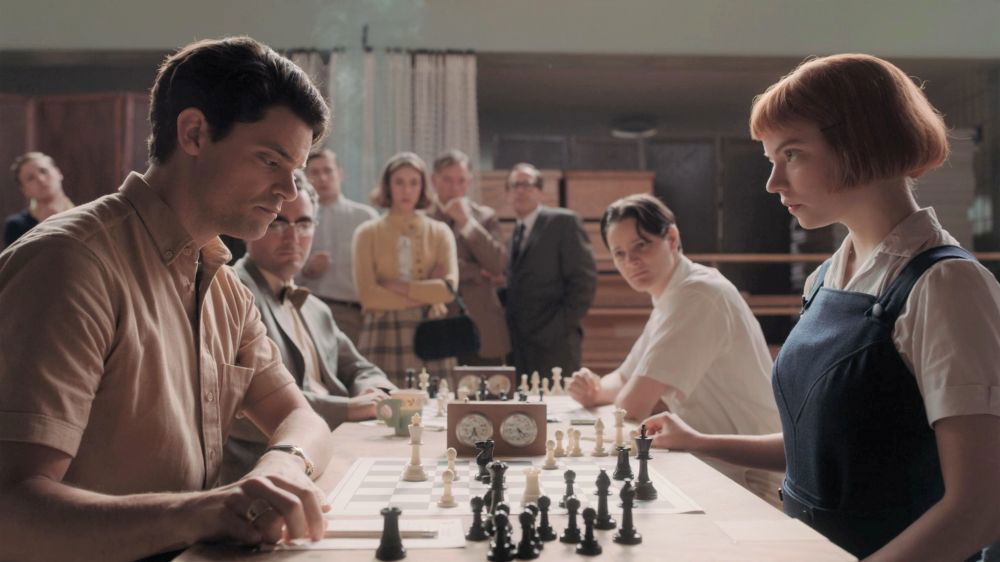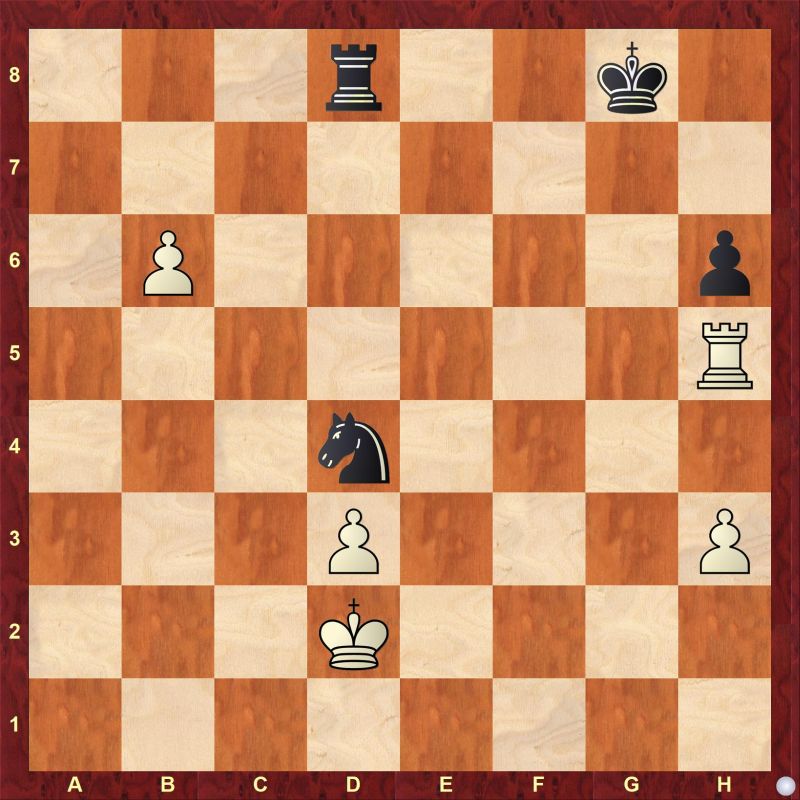 The position is a draw but white blundered in the game with 1.Rxh6. Find out why it is a blunder.
In the next round, we see Beth facing Sizemore who combs his hair after every few moves which she finds distracting. We all have faced a Sizemore in our career who does things during the game to distract us. We do not see the game but the point was made clear.
Beth faced Harry Beltik in the final round. He arrived 10 minutes late to the board which is shown by a quick shot at the clock as shown above. We are all familiar with players who deliberately arrive late on the board just to play mind games. He gives nonchalant look to Beth before shaking hands and pulling the chair to sit down. Beltik opts for Caro-Kann Defence, something that took Beth by surprise as she hasn't faced this before (from what was shown in the series so far). Although camera shows Beth's hand making a gesture like a knight's move but we see 4.h3 on the board. Beltik is seen to be yawning every now and then which might not be intentional but quite distracting. Both players blitz out a few moves and we see the following position in the next scene
Nezhmetdinov - Kasparian, Riga 1955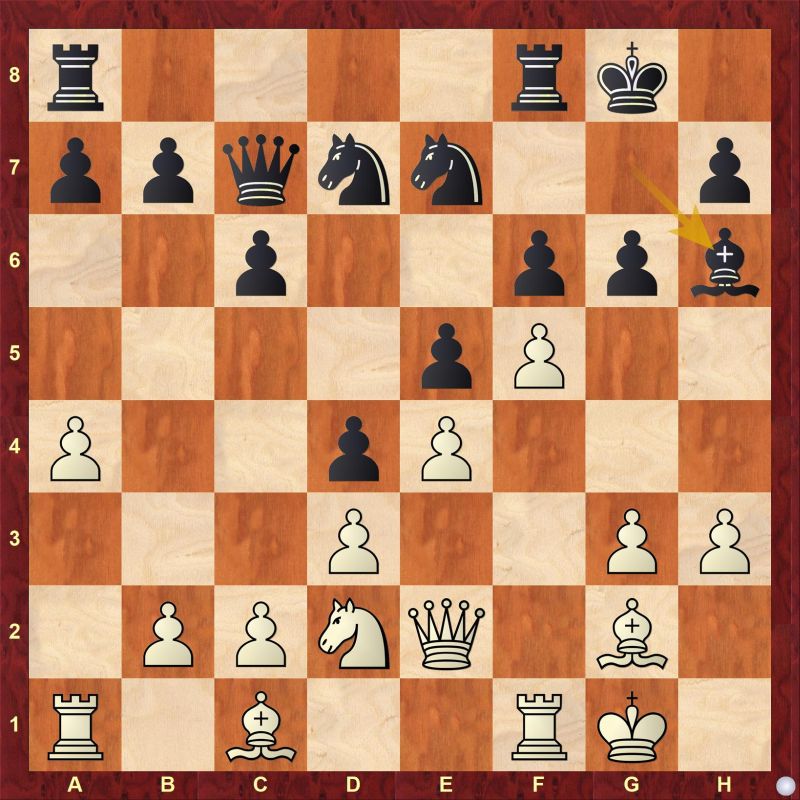 The game is an exact replay of the game between Nezhmetdinov and Kasparian from Riga 1955. The game takes an 18-move leap and we see the following position:
To dramatize things, we see both players making some trash talk and Beth at one point says that she does not have to use the queen which is not true. I mean if she is portrayed as a genius then why would she make an incorrect statement? Anyway few small things can be overlooked because the majority of things are absolutely perfect which is certainly not easy to achieve.
Beth wins the tournament and the first prize of $100. Her guardian feels proud of her achievement when she sees it being reported on a newspaper.
If you are wondering what she did with the prize money, well she got a chess board and pieces along with few books.
She bought the first ever book she ever laid eyes on - Modern Chess Openings which was introduced to her by the custodian Mr.Shaibel.
Episode 2 concludes with Beth's guardian planning for her next tournament with her considering all expenses - entry fee, accommodation, food and prize. Don't we all do/did it at some point?
Conclusion
Episode 2 once again gives an authentic experience for chess players and enthusiasts. If you look for anachronisms then you will find it in everything from Lord of The Rings to James Bond. But we are not going to nitpick this mini-series. We are only going to consider the chess aspect of it and from where I stand, I must say it has been a pleasant experience so far. The chess player's journey, different chess characters, aspects of the game, almost everything is covered quite well. And if anyone has a problem with games being replayed, well if that makes us revisit the classics, I don't mind at all.
Watch the entire episode of The Queen's Gambit Episode 2 - Exchanges on Netflix. The series is meant for adults only. So kids, if they want to watch the episodes for chess purpose, they can take an adult's help in watching only the chess elements of the mini-series.
Links
---