Tech Mahindra GCL Day 5: Vintage Vishy strikes Aronian, Ganges Grandmasters score a gargantuan win
Vishy Anand continues to lead by example. Once again he won the battle of the 'Icons' against Levon Aronian (TCK). While his three points was confirmed, his teammates Leinier Dominguez Perez, Yifan Hou and Bella Khotenashvili scored emphatic wins to ensure their team score the biggest victory of the event in terms of game points 14-2. Balan Alaskan Knights overcame their 3-15 loss as they beat the top team SG Alpine Warriors 3-0 (10-9) by a minimum margin. Nodirbek Abdusattorov, Zhongyi Tan and Nino Batsiashvili's wins rendered R Praggnanandhaa and Magnus Carlsen's individual triumphs ineffective as they only added game points, while BAK won the match. There will be two matches tomorrow, starting with Ganges Grandmasters vs Chingari Gulf Titans from 5:30 p.m. local time, 7 p.m. IST. Photo: Aditya Sur Roy
Balan Alaskan Knights bounce back with a statement victory over SG Alpine Warriors
The worse time to face Magnus Carlsen is after he loses a game. Whoever is next is simply going to be a prey for the world no.1. That is what happened to Ian Nepomniachtchi. Carlsen arrived on the board with determination. It looked like Nepo put the Norwegian in trouble early in the game but he has always swam against the current. This time also he liquidated it into an equal endgame and we all know how he built a career by grinding and converting equal endgames into a win. His teammate and the only other player to score a win was Praggnanandhaa. However, two Black wins were not enough either as Arjun Erigaisi scored the only other point, a draw for the team. With four more matches to go, it is far from over.
Match #15: Ganges Grandmasters - Triveni Continental Kings: 3-0 (14-2)
Ganges Grandmasters won the toss and chose white pieces. First result was a draw between Richard Rapport (GG) and Yangyi Yu (TCK). Bella Khotenashvili (GG) scored the win for her team against compatriot, Nana Dzagnidze (TCK). World no.1 woman, Yifan Hou (GG) defeated Kateryna Lagno (TCK). Leinier Dominguez Perez (GG) scored the third win of the match against Wei Yi (TCK) ensuring Ganges Grandmasters win the match with two games to spare. This win brought GG back at the top of the points table 12/15.
Anand - Aronian
Aronian (TCK) blundered his h-pawn when he went 26...h5?? as 27.gxh5 does not allow Black to recapture Bxh5 due to 28.Qd5 fork, dropping a piece. Black was forced to play 27...Bh7 and Anand (GG) eventually went on to convert his advantage into a win comfortably.
Bella - Dzagnidze
GM Bella (GG) made a nice finish in an already winning position against GM Dzagnidze (TCK).
Replay GG vs TCK games
Match #16: Balan Alaskan Knights - SG Alpine Warriors: 3-0 (10-9)
The rematch phase of the tournament begins. Nino Batsiashvili (BAK) scored the first win for her team against Elisabeth Paehtz (SGAW). Teimour Radjabov (BAK) drew against Arjun Erigaisi (SGAW). Nodirbek Abdusattorov and Zhongyi Tan's wins secured a team victory for the BAK. Magnus Carlsen defeated Ian Nepomniachtchi, however it still did not help SGAW to even out the deficit.
Nepomniachtchi - Carlsen
Carlsen (SGAW) is known to win countless endgames which are relatively equal. This one was no different. 32.Bxg7? won't work due to Nf5+. So the game continued 33.Bb2 Rb3 34.Ra7 Rxh2 35.Rxa5 h5 36.Ra6 Bd6 37.Bb5 Ke7 38.Bc4? is considered to be the mistake by the computer as g5 gave Black a decisive advantage. The endgame eventually liquidated into a rook and pawn vs queen endgame.
Defending this game with white pieces against Carlsen is no easy task. It wouldn't be an overstatement to say that there are not a lot of players who can survive this against the world no.1.
Nino - Elisabeth
Elisabeth (SGAW) blundered 21...hxg5?? 22.Nd7+- Qd8 23.Re8+ Qxe8 24.Nxf6+ White gained Black's queen for only his two knights.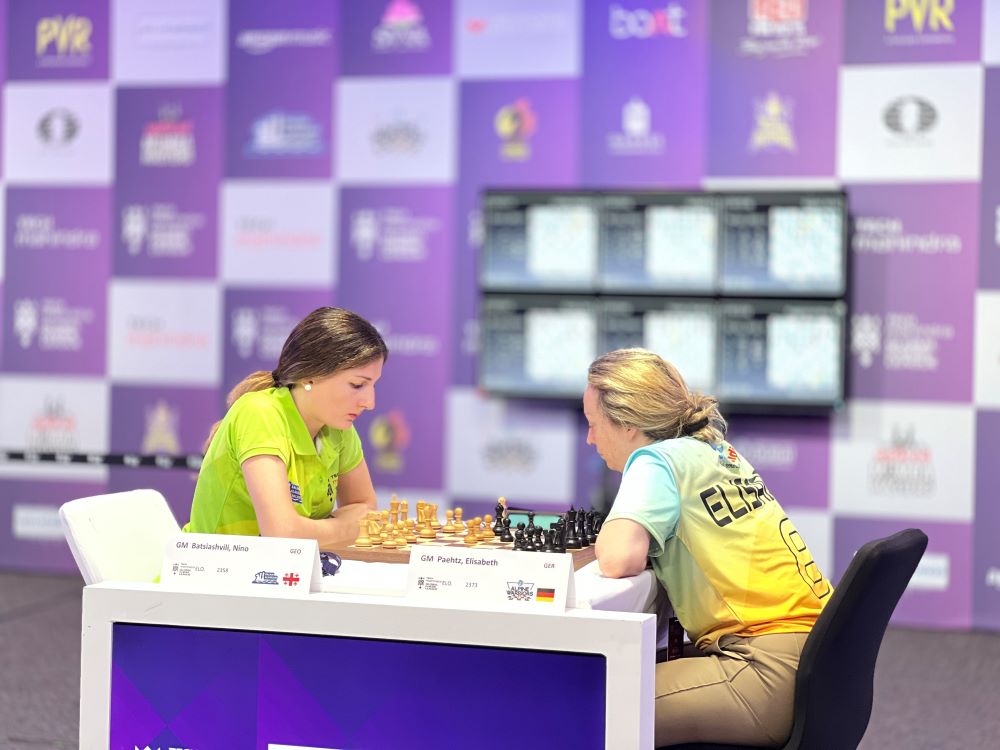 Abdusattorov - Gukesh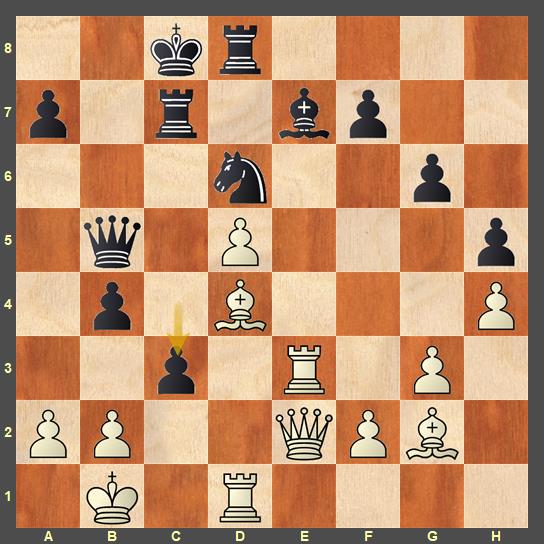 Abdusattorov (BAK) and Gukesh (SGAW) had another exciting game. 32.Rc1 Qxe2 33.Rxe2 Nb5 34.Be5 Bd6 35.Bf6 Rf8 36.a4 cxb2?? 37.Rxc7+ things completely changed in White's favor. 36...bxa3 would have kept Black in the game. White won the game in another dozen moves.
Raunak - Praggnanandhaa
Raunak (BAK) went wrong 45.Rg2?? in the final moments of the endgame. He allowed his opponent Praggnanandhaa (SGAW) to invade with his rook 45...Re1 46.Qd2 Re4 47.Kh2 Qc4 White didn't have much to do as his pawns were overstretched and king was overexposed. Pragg picked up his fourth consecutive win with the black pieces and Raunak suffered his fifth loss at the event.
Replay BAK vs SGAW games
Video Gallery
Standings after Day 5
Day 6 matches
Match #17: Ganges Grandmasters vs Chingari Gulf Titans from 5:30 p.m. local time, 7 p.m. IST
Match #18: upGrad Mumba Masters vs Triveni Continental Kings from 7 p.m. local time, 8:30 p.m. IST
What is the Scoring System?
Each team will have six players and a manager, who will be competing on six boards which will be played simultaneously. While each board will be called a game, all six combined boards will be termed one match. Once the board order is decided, it cannot be altered after drawing lots while deciding the run order of play. And in each match, all the players of one team will play with the same colour.
A game won with Black pieces will result in 4 Game Points (GP) to the winning player. A victory for a player with White pieces will see them win 3 GP. A draw will be rewarded with 1 GP, and a defeat gets the player 0 GP. Each players' GP will contribute to the Team's total Match Points (MP).
With regards to the calculations on Match Points (MP), a Team which scores more GP than their opposition will be rewarded with a bonus of 3 MP. If both the Teams are level on GP, they will be awarded 1 MP each. However, if a team scores lesser GP than the opposing team, they won't get any MP for that Match.
Scoring System for Game Points (GP)
| | |
| --- | --- |
| 4 GP (3+1) | A player wins the Game with Black Pieces |
| 3 GP | A player wins the Game with White Pieces |
| 1 GP | Draw |
| 0 GP | Defeat |
Scoring System for Match Points (MP)
| | |
| --- | --- |
| 3 MP | The team that scores more Game Points |
| 1 MP | If both teams are level on Game Points |
| 0 MP | The team that scores lesser Game Points than the opponent |
The Final will be played over best-of-2 matches. There will be a drawing of lots to determine which Team is White in Match 1, this team will then be black in Match 2. The team who wins more matches will be the Champion. In the event of a tie:
• There will be a playoff blitz fixture, which will be a best-of-2 match. The team that was white in Match 1 and black in Match 2 will play white in Match 3 and black in Match 4. The time limit for each game will be all moves in 3 minutes plus 2 seconds. The Team that wins the most matches in the fixture will be the Champion.
• If the Teams remain tied, there shall be a drawing of lots to determine a board from 1 to 6. The player from each Team on this board will then participate in a sudden-death blitz game. The time limit for this game will be 3 minutes plus 2 seconds per move. The player from the Team who was white in Matches 1 and 3, will play white in this game.
• If the sudden death blitz game is drawn, then the procedure is repeated except that the colour of the player from each team alternates from the colour the team had in the preceding sudden death blitz game.
• If the tie remains unbroken, the above procedure is repeated until a sudden death blitz game has a winner.
Links
Chess-results: Round 5 and Round 6
Tech Mahindra Global Chess League: Official site, facebook, twitter, instagram, youtube and linkedin
Tech Mahindra: Official site, facebook, twitter, youtube and linkedin
---