Tech Mahindra GCL Day 1: Vishy Anand ensures a smooth sailing for Ganges Grandmasters
The last time Vishy Anand played a rated tournament game was on 9th October 2022 at European Club Cup. After eight months and 13 days, the maestro did not show any rust on the board. In fact, he felt very optimistic about his position when he played 34.Qg1! against Jan-Krzysztof Duda. He felt that his queen and rook were flooding towards the kingside. The other former world champion in his team, Yifan Hou scored the second decisive game of the match against Alexandra Kosteniuk. Thus, Chingari Gulf Titans lost to Ganges Grandmasters 0-3 (4-10) without conceding a single match. Four matches will be played tomorrow starting with SG Alpine Warriors vs Balan Alaskan Knights from 3 p.m. local time, 4:30 p.m. IST. Photo: Maria Emelianova
Grischuk props up upGrad Mumba Masters
It took the three-time World Blitz champion, Alexander Grischuk to score the crucial victory with the black pieces against Yangyi Yu to ensure upGrad Mumba Masters win against Triveni Continental Kings. In a regular team event, the match result would have been a draw as Wei Yi (TCK) defeated Vidit Gujrathi (TCK). However, at Tech Mahindra GCL, a win with black pieces earn 4 game points whereas it's only 3 points for a win with white. Thus, uMM won the first match of the event against TCK.
Match #1: Triveni Continental Kings - upGrad Mumba Masters: 0-3 (7-8)
Alexander Grischuk saved the match for upGrad Mumba Masters. He scored the sole win for the team over Yangyi Yu (TCK). The first result of the day was Wei Yi (TCK) scoring a win over Vidit Gujrathi (uMM). uMM's Koneru Humpy and Javokhir Sindarov made massive saves against TCK's Kateryna Lagno and Jonas Buhl Bjerre, TCK's Levon Aronian and Nana Dzagnidze drew against uMM's Maxime Vachier-Lagrave and Harika Dronavalli respectively. Dzagnidze (TCK) had a small window of opportunity but it was not easy to find with less time on the clock.
Yangyi - Grischuk
Black was already pressing and had a firm control of the position. White needed to go 31.Bxg6 to reduce the intensity of the attack. Instead, 31.Nef5 made things worse for White after Qf4 32.Ne2 Qxh2+ 33.Qxh2 Bxh2 34.Kxh2 Bxf5 35.Bxf5 Rxf5 soon Black gained one more pawn and went on to convert his advantage into a win.
Wei - Vidit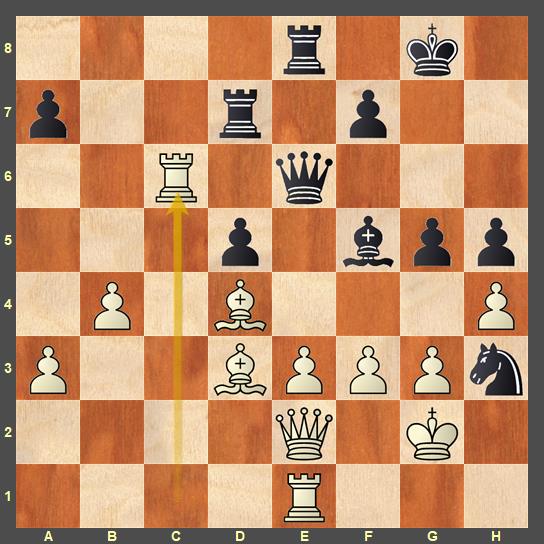 Wei Yi (TCK) is not the one who likes to be on the receiving end of an attack. Instead, he prefers to launch an attack of his own when the opportunity presents itself. That is exactly how he reacted against 32...g5 with an exciting 33.Rxc6! Black's knight at h3 is already trapped, so it is more than an exchange sacrifice for White. 33...Qxc6 34.Bxf5 Rc7 35.Kxh3 Qa4 36.hxg5 Rc4 37.f4! White sacrifices his d4-bishop to launch a fatal attack on Vidit's (uMM) king. 37...Rxd4 38.Qxh5 Rd2 39.Qh7+ Kf8 40.Qh6+ Ke7 41.Qf6+ Kf8 42.g6 and Black resigned as checkmate threat is unstoppable.
Lagno - Humpy
Kateryna Lagno (TCK) had a great opportunity to win against Koneru Humpy (uMM). She just needed to play 41.Bf6! Rxe6 42.Bxg7 and White gains the d4-pawn in the next move. Instead, 41.e7 allowed Black to save the game Kf7. White got some more small opportunities but they were not that easy to spot. Humpy scored a crucial 1 point with this draw.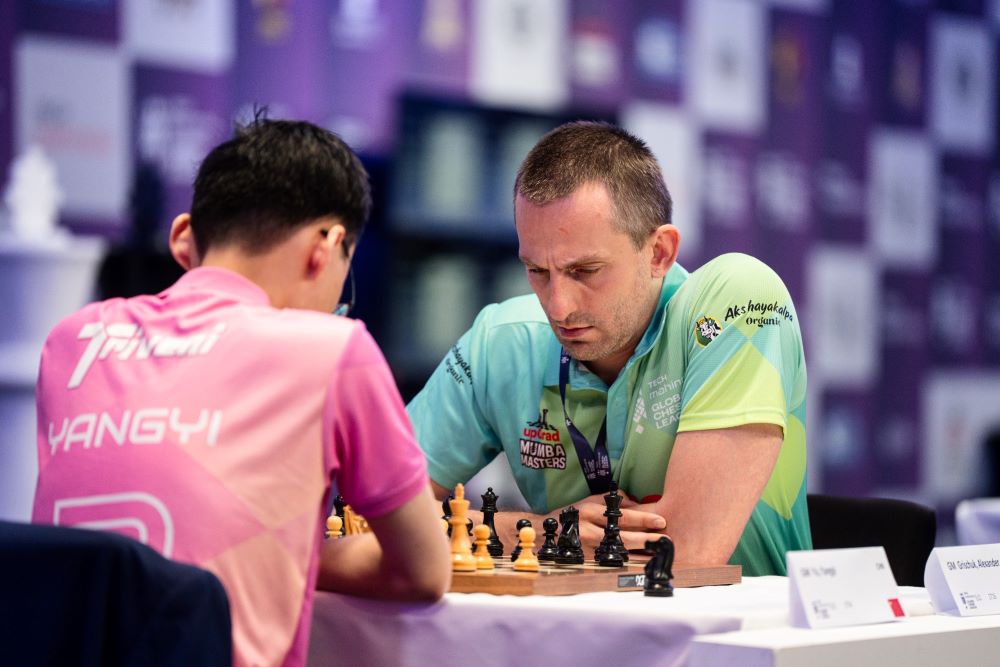 Replay TCK vs uMM games
uMM celebrates their first win in the opening match of the event
Match #2: Chingari Gulf Titans - Ganges Grandmasters: 0-3 (4-10)
The first two results of the match were two quiet draws between Richard Rapport (CGT) and Leinier Dominguez Perez (CGT) against Shakhriyar Mamedyarov (GG) and Daniil Dubov (GG) respectively. The former world champions, Vishy Anand and Yifan Hou scored the wins for Ganges Grandmasters against Chingari Gulf Titans' Jan-Krzysztof Duda and Alexandra Kosteniuk respectively.
Anand - Duda
Vishy Anand (GG) found a very nice move 34.Qg1! getting ready to launch an attack towards the black king. His opponent, Duda (CGT) made a few questionable choices 34...Kg6 35.Qg3 Qxa2 36.g5 fxg5 37.Qxe5 Qa6 38.f4 gxf4 39.Nd5 Bxd5 40.Rg1+ and Black resigned as checkmate is unstoppable.
Vishy Anand after his auspicious start
Yifan - Kosteniuk
41...Kg7? was a minute mistake by Alexandra Kosteniuk (CGT). Yifan Hou (GG) seized her opportunity. Try to find out what it was.
Replay CGT vs GG games
World no.1 Magnus Carlsen has already made his intentions known
Video Gallery
Steve Waugh chimed in on the similarities between chess and cricket
Photo Gallery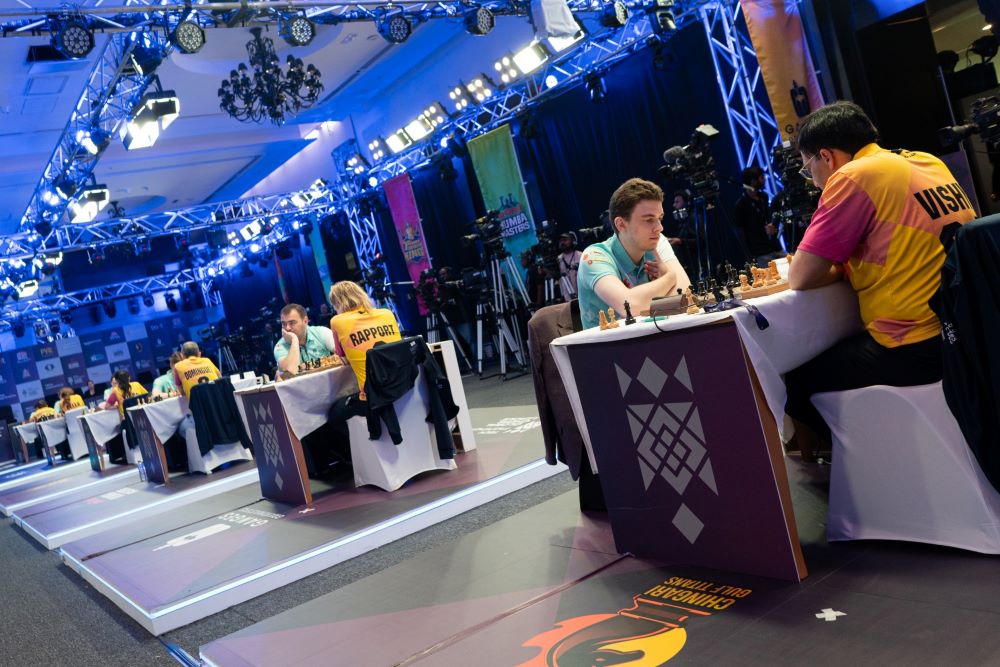 Standings after Day 1
Day 2 matches
Match #3: SG Alpine Warriors vs Balan Alaskan Knights from 2 p.m. local time, 3:30 p.m. IST.
Match #4: Triveni Continental Kings vs Chingari Gulf Titans from 3:20 p.m. local time, 4:50 p.m. IST.
Match #5: Ganges Grandmasters vs SG Alpine Warriors from 5:30 p.m. local time, 7 p.m. IST.
Match #6: upGrad Mumba Masters vs Balan Alaskan Knights from 6:50 p.m. local time, 8:20 p.m. IST.
What is the Scoring System?
Each team will have six players and a manager, who will be competing on six boards which will be played simultaneously. While each board will be called a game, all six combined boards will be termed one match. Once the board order is decided, it cannot be altered after drawing lots while deciding the run order of play. And in each match, all the players of one team will play with the same colour.
A game won with Black pieces will result in 4 Game Points (GP) to the winning player. A victory for a player with White pieces will see them win 3 GP. A draw will be rewarded with 1 GP, and a defeat gets the player 0 GP. Each players' GP will contribute to the Team's total Match Points (MP).
With regards to the calculations on Match Points (MP), a Team which scores more GP than their opposition will be rewarded with a bonus of 3 MP. If both the Teams are level on GP, they will be awarded 1 MP each. However, if a team scores lesser GP than the opposing team, they won't get any MP for that Match.
Scoring System for Game Points (GP)
| | |
| --- | --- |
| 4 GP (3+1) | A player wins the Game with Black Pieces |
| 3 GP | A player wins the Game with White Pieces |
| 1 GP | Draw |
| 0 GP | Defeat |
Scoring System for Match Points (MP)
| | |
| --- | --- |
| 3 MP | The team that scores more Game Points |
| 1 MP | If both teams are level on Game Points |
| 0 MP | The team that scores lesser Game Points than the opponent |
The Final will be played over best-of-2 matches. There will be a drawing of lots to determine which Team is White in Match 1, this team will then be black in Match 2. The team who wins more matches will be the Champion. In the event of a tie:
• There will be a playoff blitz fixture, which will be a best-of-2 match. The team that was white in Match 1 and black in Match 2 will play white in Match 3 and black in Match 4. The time limit for each game will be all moves in 3 minutes plus 2 seconds. The Team that wins the most matches in the fixture will be the Champion.
• If the Teams remain tied, there shall be a drawing of lots to determine a board from 1 to 6. The player from each Team on this board will then participate in a sudden-death blitz game. The time limit for this game will be 3 minutes plus 2 seconds per move. The player from the Team who was white in Matches 1 and 3, will play white in this game.
• If the sudden death blitz game is drawn, then the procedure is repeated except that the colour of the player from each team alternates from the colour the team had in the preceding sudden death blitz game.
• If the tie remains unbroken, the above procedure is repeated until a sudden death blitz game has a winner.
Links
Tech Mahindra Global Chess League: Official site, facebook, twitter, instagram, youtube and linkedin
Tech Mahindra: Official site, facebook, twitter, youtube and linkedin
---