NC World Masters 2022 R3: Vishy Anand beats Daniel Fridman with 6.Ke2
Yes, Vishy Anand really played 6.Ke2 against GM Daniel Fridman. It was in a chess variant where castling is prohibited, thus 6.Ke2 is absolutely sensible move in that particular position because you have to do something with the king for its safety. Things eventually worked out in the favor of the maestro as he went on to beat the Germany no.10. He is now tied with Michael Adams at the top with 1.5 points each, after Germany no.4 Dmitrij Kollars beat the English legend. Today Anand will play against Dmitrij Kollars, the first round game which was postponed due to Kramnik falling ill. Anand's Round 1 game against Kollars and NRW Women's Cup Round 6 starts today at 3 p.m. local time (6:30 p.m. IST). Photo: Michelle Lassak/Sparkassen Chess Trophy
Anand joins Adams in the lead
Vishy Anand has never lost a game against Daniel Fridman. That still remains unchanged. Anand has a 3-1 score against the German. He has won all his games with the white pieces against him. On Wednesday, that statistic was repeated once again albeit in a unique variant, No Castling chess. WGM Priyanka Nutakki drew her game with IM Zoya Schleining (GER). They are now at 3.5/5 each, a half point behind the tournament leader FM Lara Schulze (GER).
Round 3: Anand - Fridman: 1-0
Vishy Anand opted for 6.Ke2 in a typical Ruy Lopez/Spanish opening setup. Since castling is prohibited in No-Castling chess, this is certainly a good idea. What decided the fate of the game was when Daniel Fridman (GER) went for a dubious sacrifice to create trouble for his opponent's king.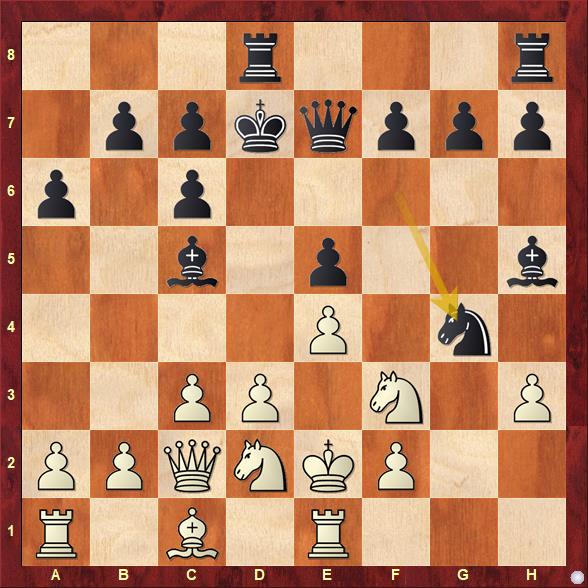 12...Bg6 would have been alright. 12...Nxg4 is not that good because Black does not have enough compensation to go on. 13.hxg4 Bxg4 14.Rg1 h5 15.Nc4 Kc8 16.Be3 was played 16.Ncxe5 immediately was fine too. 16...g6 17.Ncxe5 Bxe3 18.fxe3 Qxe5 19.Rxg4 hxg4 20.Nxe5 Rh2+ 21.Kd1 Rh1+ 22.Kd2 Rxa1 23.d4 Rh8 24.Kd3 and it is completely winning for White.
Anish Giri did not let his opportunity slip by to chime on Anand's 6.Ke2
Replay the live stream
Replay NC World Masters Round 3 games
Links
Sparkassen Chess Trophy: facebook, youtube, twitter and instagram
---