Sarbartho Mani and Narayani Umesh Marathe dominate 36th National Under-7 Open and Girls 2023
Sarbartho Mani (WB) scored a perfect 9/9 to win 36th National Under-7 Open 2023. Narayani Umesh Marathe (MAH) registered 8.5/9 to win the Girls event. Both champions finished a full point ahead of the field. Kavish Palaniappan K (TN) and Shivay Singh (UP) scored 8/9 to secure second and third place according to tie-breaks. Sanvitha A Shetty (KAR) scored sole 7.5/9 to be placed second. Nakshatra Gumudavelly (KAR) edged past five other girls to claim third place 7/9. The total prize fund combining Open and Girls section was ₹500000. The top three prizes in both Open and Girls sections were ₹50000, ₹36000 and ₹30000 along with a trophy each respectively. Photos: Shahid Ahmed
Sarbartho and Narayani finish a full point ahead of the field
It is not every day we get to see someone become a National champion with a perfect score. Sarbartho Mani (WB) headed the final round with a perfect score 8/8. A draw against Shivin K (TN) would have made him a clear champion. However, Sarbartho went for a win and finished with a perfect score 9/9. In the Girls section, Narayani Umesh Marathe (MAH) defeated Aryahi Bhattacharya (WB) in the final round, to become a clear champion. The organizers, Sara Bangla Daba Sangstha gave a medal each to all 359 participants combining both Open and Girls section.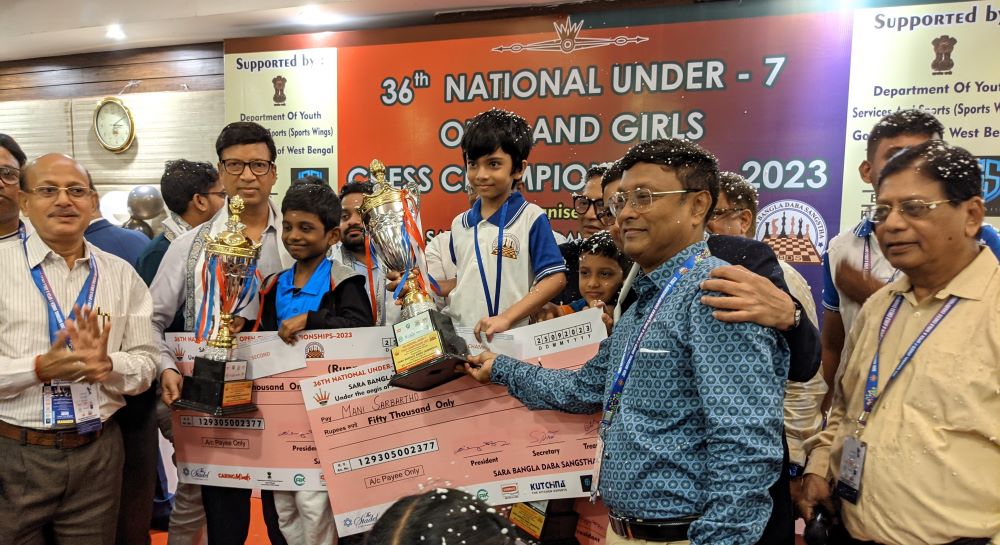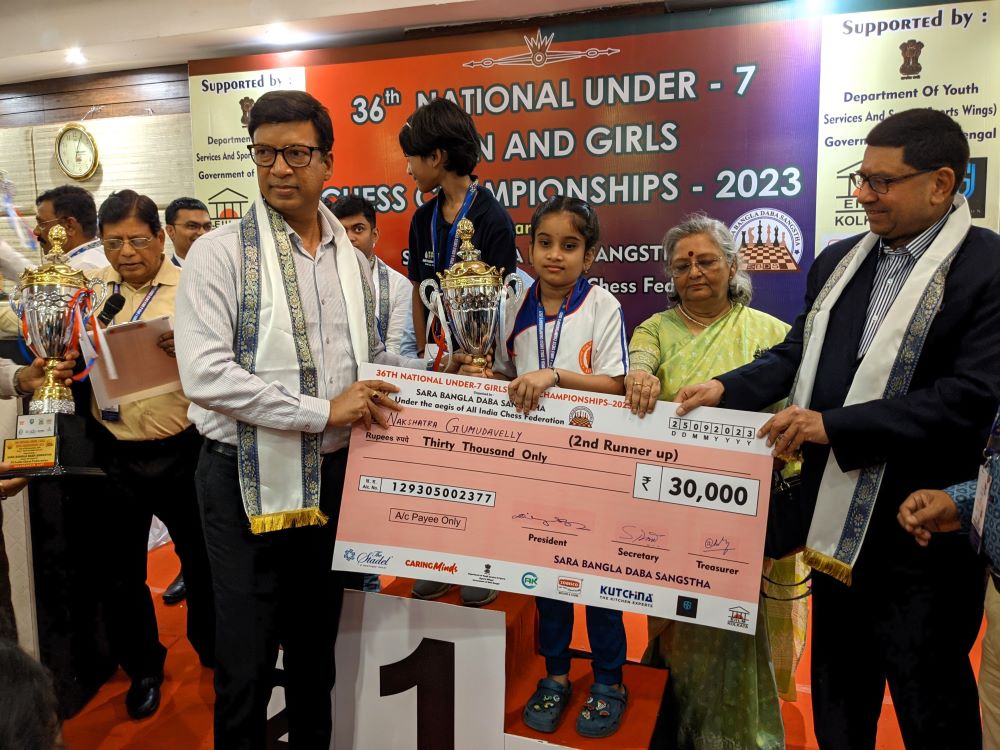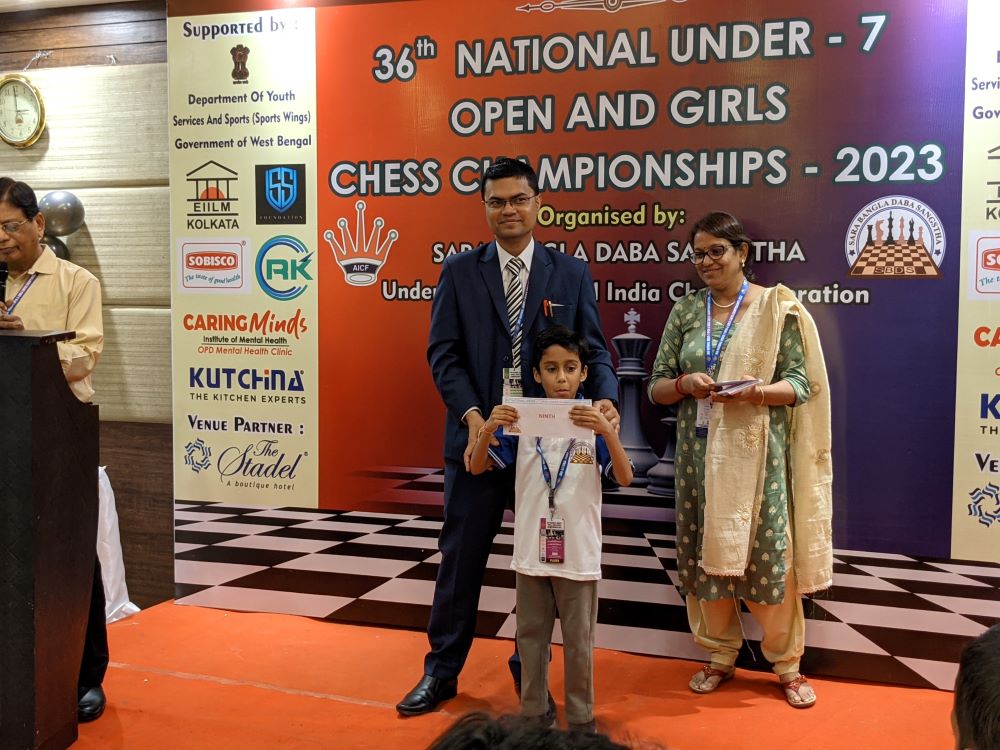 Photo Gallery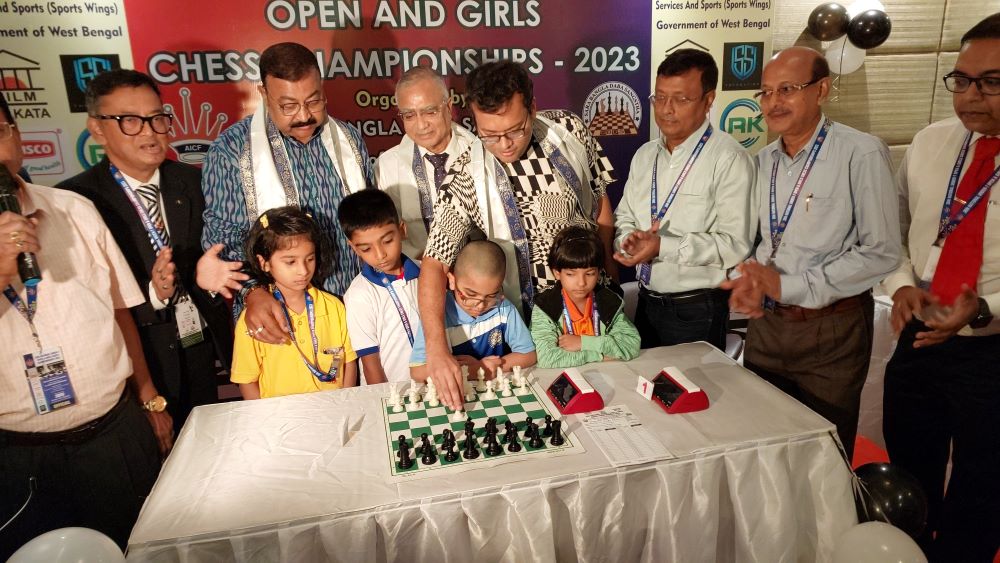 The tournaments were inaugurated by the two-time Gold medalist at World Teams, Arjuna awardee and the man who has won countless accolades - GM Surya Sekhar Ganguly, Swapan Banerjee, President of Bengal Olympic Association, in presence of Prof. (Dr.) R P Banerjee, Chairman & Director, EIILM Kolkata, India's second GM in history Dibyendu Barua, organizers and officials of the tournament.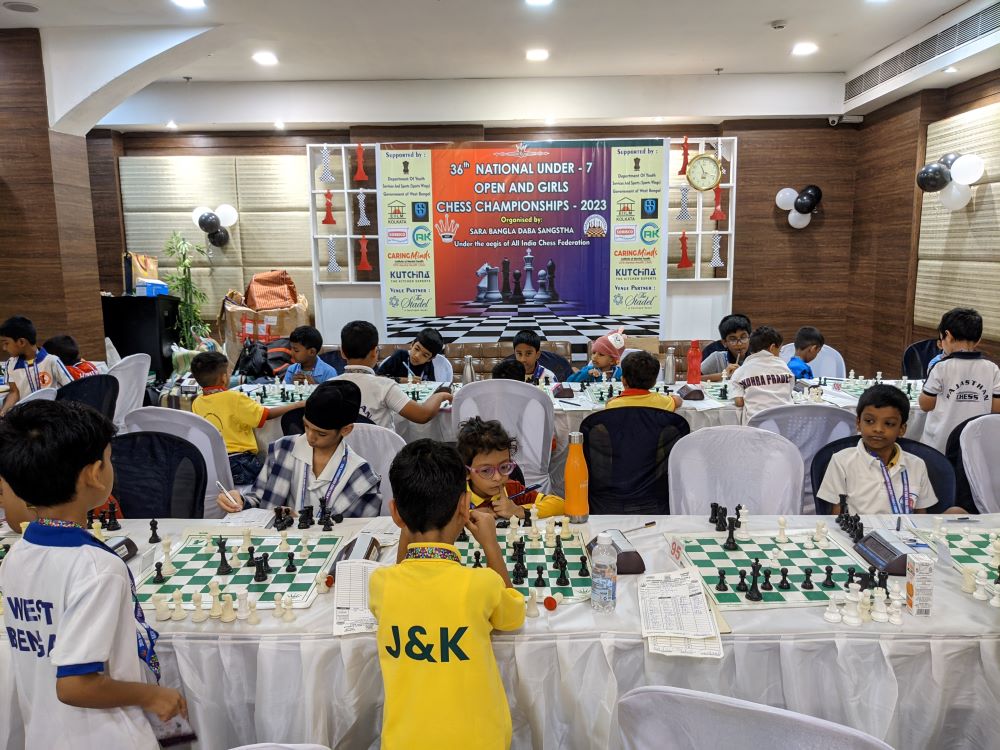 West Bengal's latest and India's 81st Grandmaster, Sayantan Das, India's 43rd GM Diptayan Ghosh, Sanjay Budhia, renowned industrialist, Namit Bajoria, Managing Director, Kutchina and many other guests were present at the Closing Ceremony
For more photos, please check out the album here.
Video Gallery
More game videos will be published over time on our channel and page, stay tuned!
A total of 237 players in the Open and 122 in the Girls took part from 27 states and union territories across the country in this five-day nine round Swiss-league Under-7 Rating tournament which was organized by Sara Bangla Daba Sangstha at The Stadel, Salt Lake Stadium in Kolkata, West Bengal from 21st and 25t September 2023. The time control of the event was 90 minutes + 30 seconds increment from move no.1.
Final standings in Open
Rk.
SNo
Name
Typ
sex
FED
Rtg
Club/City
Pts.
TB1
TB2
TB3
TB4
TB5
K
rtg+/-
1
2
Mani, Sarbartho
U07
IND
1369
West Bengal
9
54
59
59,00
0
9
40
54
2
11
ACM
Kavish, Palaniappan K
U07
IND
1135
Tamil Nadu
8
54
58
49,00
0
8
40
54
3
22
Shivay, Singh
U07
IND
1063
Uttar Pradesh
8
48,5
51,5
42,50
0
8
40
92,8
4
5
Sattwik, Swain
U07
IND
1206
Odisha
7,5
48
52,5
42,50
0
7
40
2,4
5
19
Vishesh, Gupta
U07
IND
1072
Delhi
7,5
44,5
48,5
38,25
0
7
40
13,6
6
1
Divith, Reddy Adulla
U07
IND
1428
Telangana
7
53,5
56,5
39,50
0
7
40
-29,2
7
26
Shivin, K
U07
IND
1021
Tamil Nadu
7
51,5
55,5
38,50
0
7
40
43,2
8
4
Hriday, Garg
U07
IND
1258
Delhi
7
50
53
38,00
0
7
40
-23,2
9
3
Aarav, Somani
U07
IND
1284
West Bengal
7
48,5
52
38,50
0
7
40
-65,2
10
159
Prayan, Chopra
U07
IND
0
Madhya Pradesh
7
47
52
39,75
0
6
11
128
Laksh, Mihir Dighe
U07
IND
0
Maharashtra
7
46
49,5
36,00
0
7
12
149
Nova, Ayer Juyal
U07
IND
0
Maharashtra
7
43
46,5
35,00
0
7
13
173
Rithvik, Uppu
U07
IND
0
Andhra Pradesh
7
42,5
44,5
32,50
0
7
14
179
Saathvik, Chakravarthy Ramayanam
U07
IND
0
Telangana
7
42
45
32,50
0
7
15
124
Krithik, Kathiresan
U07
IND
0
Tamil Nadu
7
42
45
32,00
0
7
16
25
Akshith, Done
U07
IND
1035
Telangana
6,5
52
55,5
34,75
0
6
40
11,2
17
8
Ayaan, Phutane
U07
IND
1179
Karnataka
6,5
49,5
52
33,25
0
6
40
-49,2
18
24
Shreyan, Thipparthi
U07
IND
1038
Telangana
6,5
49
53
34,75
0
6
40
-18,4
19
103
Hemanth, Reddy
U07
IND
0
Karnataka
6,5
48
52
33,50
0
6
20
105
Inba, Dhinesh Babu
U07
IND
0
Tamil Nadu
6,5
46,5
49,5
33,25
0
6
Final standings in Girls
| | | | | | | | | | | | | | | |
| --- | --- | --- | --- | --- | --- | --- | --- | --- | --- | --- | --- | --- | --- | --- |
| Rk. | SNo | | | Name | sex | FED | Rtg | Club/City | Pts. | TB1 | TB2 | TB3 | TB4 | TB5 |
| 1 | 3 | | | Narayani, Umesh Marathe | w | IND | 1200 | Maharashtra | 8,5 | 52 | 57 | 53,75 | 0 | 8 |
| 2 | 5 | | | Sanvitha, A Shetty | w | IND | 1080 | Karnataka | 7,5 | 53 | 57 | 45,00 | 0 | 7 |
| 3 | 80 | | | Nakshatra, Gumudavelly | w | IND | 0 | Karnataka | 7 | 50 | 55 | 41,25 | 0 | 6 |
| 4 | 38 | | | Aryahi, Bhattacharya | w | IND | 0 | West Bengal | 7 | 50 | 55 | 39,50 | 0 | 7 |
| 5 | 89 | | | Rayna, Ajay Patel | w | IND | 0 | Gujarat | 7 | 49 | 51 | 35,00 | 0 | 7 |
| 6 | 7 | | | Harshika, M | w | IND | 1025 | Tamil Nadu | 7 | 48,5 | 52,5 | 38,50 | 0 | 7 |
| 7 | 26 | | | Ankita, Raj | w | IND | 0 | Bihar | 7 | 48 | 52,5 | 39,00 | 0 | 7 |
| 8 | 24 | | | Anirudhi, Anant | w | IND | 0 | Chhattisgarh | 7 | 44,5 | 47 | 35,00 | 0 | 7 |
| 9 | 73 | | | Madhumitha, G | w | IND | 0 | Tamil Nadu | 6,5 | 49,5 | 53 | 37,00 | 0 | 6 |
| 10 | 46 | | | Chippada, Poshana Rithika Akshaya | w | IND | 0 | Andhra Pradesh | 6,5 | 46,5 | 49 | 30,75 | 0 | 6 |
| 11 | 17 | | | Aditi, Moharana | w | IND | 0 | Odisha | 6,5 | 44,5 | 48,5 | 32,25 | 0 | 6 |
| 12 | 54 | | | Dutta, Mahee | w | IND | 0 | Karnataka | 6,5 | 44,5 | 46,5 | 30,75 | 0 | 6 |
| 13 | 105 | | | Sukriti, Rhea S | w | IND | 0 | Tamil Nadu | 6,5 | 43,5 | 47,5 | 32,75 | 0 | 6 |
| 14 | 79 | | | Naira, Aditya | w | IND | 0 | Jharkhand | 6 | 47,5 | 50 | 29,00 | 0 | 6 |
| 15 | 2 | | | Yadav, Sanskriti | w | IND | 1207 | Uttar Pradesh | 6 | 46,5 | 50,5 | 31,50 | 0 | 6 |
| 16 | 1 | | | Anupriya, Yadav | w | IND | 1307 | Uttar Pradesh | 6 | 46 | 46,5 | 26,75 | 0 | 5 |
| 17 | 114 | | | Tvesha, Singh | w | IND | 0 | Delhi | 6 | 45,5 | 49,5 | 29,50 | 0 | 6 |
| 18 | 6 | | | Sakshi, Kaushal | w | IND | 1029 | Haryana | 6 | 45,5 | 47,5 | 28,75 | 0 | 5 |
| 19 | 115 | | | Vamshika, Boga | w | IND | 0 | Telangana | 6 | 43,5 | 46 | 26,50 | 0 | 6 |
| 20 | 84 | | | Paushita, Paliwal | w | IND | 0 | Rajasthan | 6 | 43 | 47 | 29,00 | 0 | 6 |
---