Raahul VS is the latest International Master of India
18-year-old Raahul VS scored his first IM-norm back in March 2017 at Sharjah Open. He scored his second IM-norm at Prague Open 2018 and in the next ten months, he scored his final IM-norm at 1st Goa GM Open. He reached 2381 in December 2018, but a few setbacks moved him further away from 2400. The Chennai lad played his last over-the-board tournament 4th Shaastra Rapid Rating in February 2020. The Covid-19 delayed his opportunity to fulfill the rating criteria. 14-months later he returned to Classical chess tournament. He scored his fourth and fifth IM-norm before crossing 2400 in the live ratings on Children's day, 14th November to become India's latest International Master. Photo: Shahid Ahmed
Perseverance pays off eventually
Sometimes you are this close to achieving your dreams, something that you have worked for years but you get yanked away far from it in just a matter of few days. Raahul VS completed the norm requirements by October 2018 and he reached his then peak rating 2381 by December. However, his rating dropped to 2234 in January 2020. That did not deter him from his journey. He worked hard, persevered a tough time and crossed 2400 in November 2021 to earn his much deserved International Master title.
We reached out to Raahul for his thoughts and he shared, "I am very happy and grateful for my family and my coach RB Ramesh who have supported me till now and continuing to give me their support".
First IM-norm
Raahul scored his first IM-norm at 1st Sharjah Masters International in 2017. Despite starting with only 0.5/2, he won the next three games and finished with a score of 5.0/9, performed 2425, including wins over GM Zaur Mammadov (AZE) and IM Jaime Santos Latasa (ESP), drew with GM Jan-Christian Schroeder (GER) and IM Nitin S. He gained 33.2 Elo rating points.
Jaime - Raahul, Round 5
Jaime Santos Latasa who was an IM back then, erred early in the middlegame as he made incorrect pawn sacrifice 13.d5. He put up a lot of fight to extend the inevitable result.
Second IM norm
Almost nine months later, Raahul scored his second IM-norm at Prague Open A 2018 in Czech Republic. He made a fantastic start, scoring 6.0/7, including wins over IM Evgenij Kalegin (RUS), WGM Bhakti Kulkarni and a draw against IM Manuel Pena Gomez (ESP). In the penultimate round, he lost to GM Milan Pacher (SVK). However, he bounced back well to beat IM Zhen Yu Cyrus Low (SGP) to finish at eighth place.
Raahul - Kalegin, Round 7
19.Bxd6 actually does not work because 19...Rxd6 20.c5 Rxd4 21.cxb6 Rxe4 and Black has decisive advantage due to gaining extra material. Sometimes an inaccurate sacrifice can work too if you can read your opponent's mind. Black made a mistake 19...c5 20.Bxe5 Bxe5 21.Nf3 White not only gained a valuable pawn but also gained positional advantage which he converted into a win in the next few moves.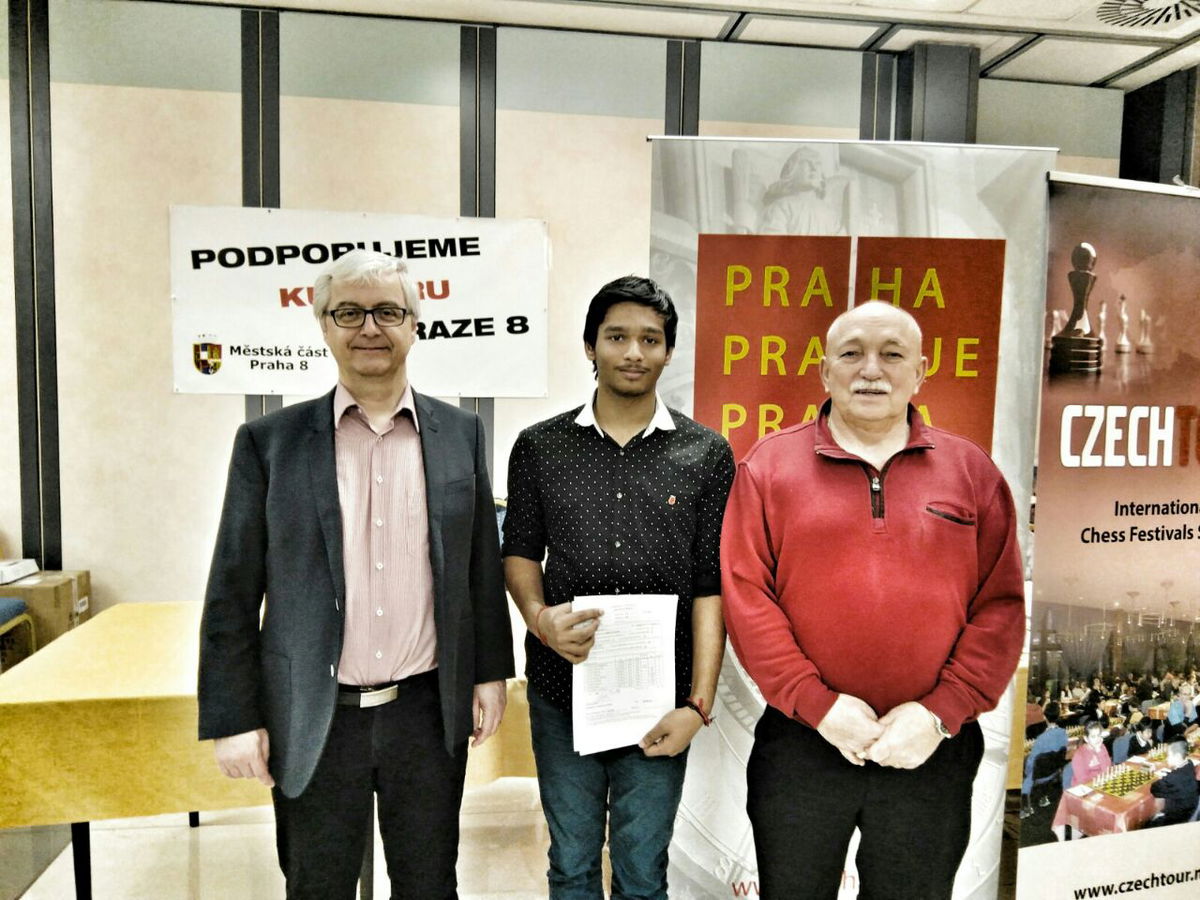 Third IM-norm
Raahul VS scored his final IM-norm at 1st Goa International GM Open, nine months after he scored his second IM-norm. He scored an unbeaten 8.0/10 to finish at sixth position after starting the event as the 54th seed. He defeated GMs Neelotpal Das and Valeriy Neveroy (UKR), IM Rafael Bakunts (ARM), WGM Aarthie Ramaswamy; drew with GMs Alexandr Predke (RUS), Deepan Chakkravarthy and IM Sayantan Das.
Raahul - Predke, Round 4
Computer suggests 22.Qxd7 Qxa1+ 23.Bf1 Qf6 24.Bb4 which is quite interesting. The game continued 22.Rb1 Bxe3 23.Qb3+ Kh8 24.dxe3 Qxd6 and the game was drawn in another six moves.
Fourth, fifth IM-norm and live rating 2400+
Raahul scored his fourth IM-norm at GM Round Robin Rujna Zora 2 in April this year, in his second Classical tournament after being away from over-the-board action for almost 14 months. However, he still needed to get to 2400 in the live ratings. He scored his fifth IM-norm at GM Rujna Zora 5. On 14th November, he crossed 2400 in the live ratings at 6th BOŽIDAR KIĆOVIĆ International Open.
Raahul's coach GM R B Ramesh tweeted on his student becoming India's latest IM
Replay Raahul's games
Previous coverage of Raahul VS
---