Prraneeth Vuppala becomes the latest International Master of India
15-year-old Prraneeth Vuppala became the latest International Master of India on 15th March 2022. The Telangana boy scored his final IM-norm and maiden GM-norm at the same event First Saturday GM March 2022. He scored his first IM-norm at the age of 11 years back in October 2018. He crossed 2400 and secured his second IM-norm at Vergani Cup January 2022. His live rating is now 2430.4. He is two GM-norms and 69.6 Elo rating points away from becoming India's next GM. The boy's quest for Grandmaster title continues at Vezerkepzo GM March 2022 which starts today. Photo: Rupali Mullick
Prraneeth scores IM and GM-norm at the same event
Prraneeth Vuppala is an Asian Youth Under-8 Bronze medalist in 2015. He won Hyderabad District and Telangana State Under-11 in the same year 2017. In the following year he won Telangana State Under-11 again and also State Under-15 at the age of 11 years before scoring his maiden IM-norm. Last year he became champion in the AICF National Under-14 Open.
First IM-norm
Prraneeth scored his first IM-norm at Narcis 7 in Divcibare, Serbia in October 2018. He was only 11 years old then. He scored wins over GM Eduard Andreev (UKR), GM Milko Popchev (BUL), IM Igor Solomunovic (SRB), drew with GM Bogdan Lalic (CRO) and GM Miodrag R Savic (SRB).
Andreev - Prraneeth, Narcis 7
16...Ng3 is a very nice move. White should not take it 17.hxg3 hxg3 is completely winning for Black. White accepted the sacrifice and lost the game in a few moves.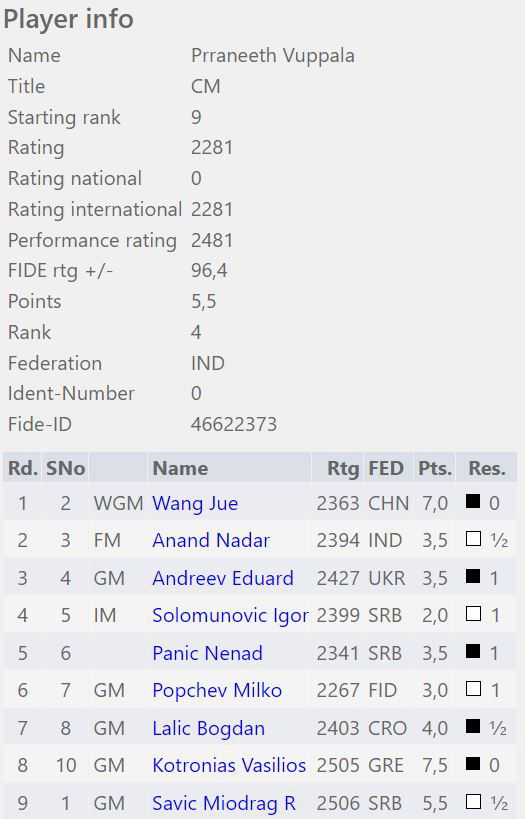 Second IM-norm
Prraneeth scored his second IM-norm at Vergani Cup January 2022 in Cattolica, Italy. He scored an unbeaten 5.5/9. He won against GM Hans Niemann (USA) and WGM Ulviyya Fataliyeva (AZE), drew with GM Arjun Kalyan and GM Kenny Solomon (RSA).
Prraneeth - Hans, Vergani Cup 2022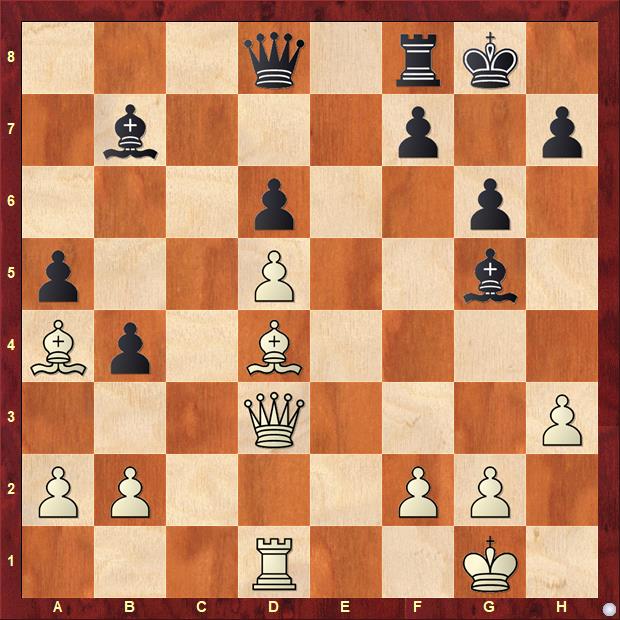 23...a5 may seem like an unassuming move at a first glance. Only after a careful observation, one might realize why it is a big positional mistake. Try to think like Prraneeth and find the best continuation for White.
Find out the beautiful finish for White after 32...Qe8.
Third IM and First GM-norm
Two months after scoring his second IM-norm, Prraneeth earned his final IM and maiden GM-norm at First Saturday GM March 2022 in Budapest, Hungary. Despite starting with a loss, Prraneeth scored 7 points in the remaining eight games. He defeated GM David Berczes (HUN), GM Lajos Seres (HUN), IM Bhakti Kulkarni and IM Ajay Krishna S. Prraneeth also drew with GM Milan Pacher (SVK) and IM Rathanvel V S.
Prraneeth - Seres, First Saturday GM March
17...Ng4+ is Black's final attempt to salvage something against material loss. 18.fxg4 Bxd4+ 19.Nf3 Bxe3+ 20.Qxe3 Rxf3+ 21.Kxf3 Rf8+ 22.Nf5 and it's all over for Black.
Replay Prraneeth's games
---