Prraneeth Vuppala becomes India's 82nd Grandmaster, Telangana CM announces ₹2.5 crore to become a Super GM
IM Prraneeth Vuppala became India's 82nd Grandmaster on Thursday 11th May 2023. He defeated GM Hans Niemann (USA) in the penultimate round of Baku Open 2023 to cross 2500 in the live ratings and become a Grandmaster. The 15-year-old scored his first GM-norm at First Saturday GM March 2022 in Budapest, Hungary. Then he delivered a fantastic performance to secure his second GM-norm at 55th Biel Master Tournament 2022 in Biel, Switzerland. The final GM-norm was scored at 2nd Chessable Sunway Formentera Open 2023 in Spain. The third norm and 2500 live ratings happened in consecutive events within the span of 25 days. Telangana Chief Minister, K Chandrashekar Rao announced ₹2.5 crore for training and other expenses required for Praneeth to become a super GM in chess in the future. Photo: Rupali Mullick
Prraneeth scores final GM-norm and crosses 2500 in the live ratings within a month
Prraneeth Vuppala has beaten two 2700+ GMs - Kirill Alekseenko at 55th Biel Master Tournament 2022 and Hans Niemann at Baku Open 2023. He was introduced to chess by his father who taught him the basic rules of chess. Then he joined a club where he learned for a month. When he reached 1200, he started training with N Ramaraju, with whom he trained for seven years till 2021. Then he started working with GM Victor Mikhalevski and continues to do so.
First GM-norm: First Saturday GM March 2022
Prraneeth earned his final IM and maiden GM-norm at First Saturday GM March 2022 in Budapest, Hungary. Despite starting with a loss, Prraneeth scored 7 points in the remaining eight games. He defeated GM David Berczes (HUN) and GM Lajos Seres (HUN), drew against GM Milan Pacher (SVK).
Prraneeth - Seres, Round 4
17...Ng4+ is Black's final attempt to salvage something against material loss. 18.fxg4 Bxd4+ 19.Nf3 Bxe3+ 20.Qxe3 Rxf3+ 21.Kxf3 Rf8+ 22.Nf5 and it's all over.
Second GM-norm: Biel MTO 2022
Prraneeth scored his second GM-norm at Biel Master Tournament in July 2022 in Biel, Switzerland. He scored 6/9, scoring victories against GM Kirill Alekseenko, GM Maxime Lagarde (FRA) and drew with GM Martin Petrov (BUL) and GM Yangyi Yu (CHN).
Prraneeth - Alekseenko, Round 2
Prraneeth Vuppala followed the old adage - passed pawns must be pushed. That's exactly what he did 25.d6 as per the requirement of the position. 25...Qe6 26.c5 Nf4 27.Bf1 Rfd8 28.c6 Rac8 29.Rxa6 b3 30.c7
Black can no longer save the game. He resigned after eight more moves when the checkmate became inevitable.
Third GM-norm: 2nd Chessable Sunway Formentera Open 2023
Eight months after scoring his second GM-norm, Prraneeth earned his final GM-norm at 2nd Chessable Sunway Formentera Open in Formentera, Spain. He defeated GM Li Di (CHN), GM Pranav Anand, GM Daniel Alsina Leal (ESP), drew against GM Xu Yi (CHN), GM Leon Luke Mendonca, GM Daniel Dardha (BEL), GM Vladimir Fedoseev and GM Aryan Chopra. Prraneeth's 6/9 performance earned him a fifth place finish after Playoffs. He scored his final GM-norm in nine rounds.
Prraneeth - Li, Round 2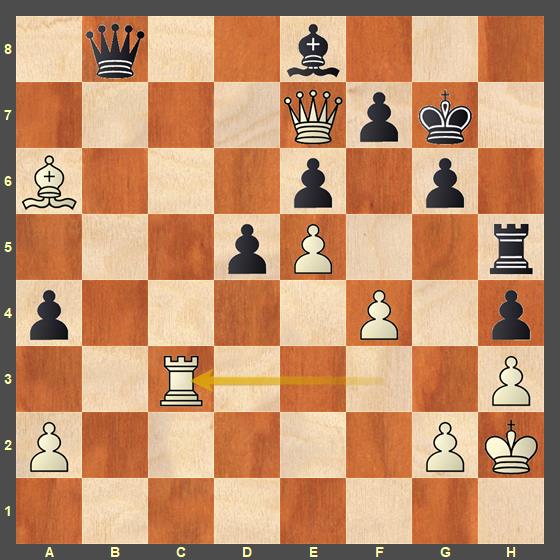 GM Li Di (CHN, 2554) had trouble getting the rook into play right out of the opening against IM Prraneeth Vuppala (2437). 39...Rh8 just ended the game for him 40.Rc8 Qb6 41.Qf6+ Kh7 42.Qxh4+ Kg7 43.Qf6+ Kh7 44.Rxe8 and Black resigned.
Live Rating 2500: Baku Open 2023
Just days after scoring his final GM-norm, Prraneeth Vuppala crossed 2500 in the live ratings at Baku Open 2023 when he beat GM Hans Niemann (USA) in the penultimate round.
Niemann - Prraneeth, Round 8
Hans went for his usual bold approach by sacrificing a bishop 25.Bxh6!? It does not look like it will work out for White, but it clearly seems interesting. Black has to defend correctly to ensure nothing goes wrong. 25...gxh6 even Kxh6 would have worked too but practically it looks slightly audacious. 26.Qxf6 Bxe5 27.Rxe5 Rg8 28.Rf3?? is a blunder as the c-pawn starts rolling c3 29.Qxf7+ Rg7 30.Qxe6 c2 31.Re1 c1Q 32.Rxc1 Qxc1+ White has almost no compensation for the lost rook. The four pawns are not enough to salvage a draw.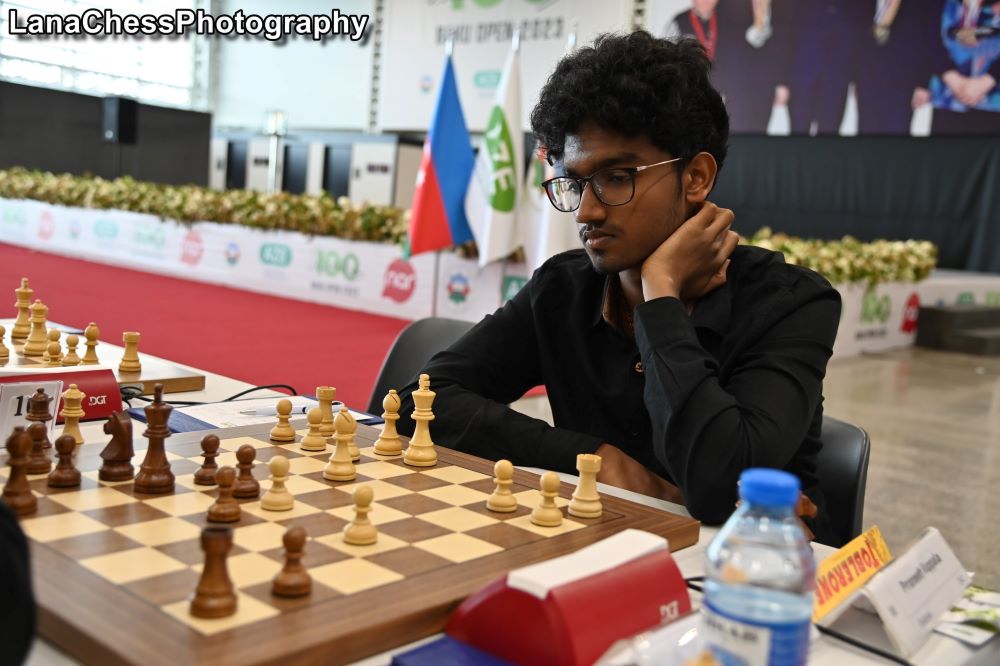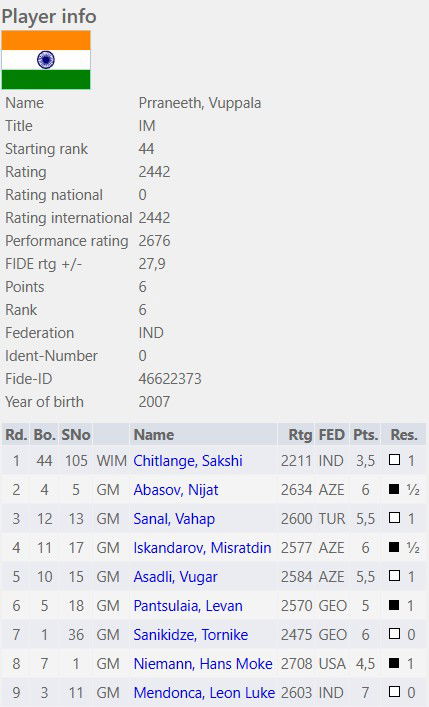 Vishy Anand congratulated Prraneeth Vuppala on becoming India's latest GM
India's latest GM Prraneeth Vuppala and his family met with Telangana Chief Minister - K Chandrashekar Rao
Replay Prraneeth's games
Prraneeth Vuppala's Best Achievements
• Bronze - Asian Youth Under-8 Open 2015
• Champion - AICF National Under-14 Open 2021
• Champion - Telangana State Under-11 Open 2017
• Champion - Telangana State Under-11 Open 2018
• Champion - Telangana State Under-15 Open 2022
Videos
---