Unconquerable Vishy Anand leads Paris Grand Chess Tour event with 5.0/6
The third event of the Grand Chess Tour 2019 began in Paris from the 27th of July. It is a rapid and blitz tournament and for Vishy Anand, it is his second GCT event on the tour this year. In the first one, Anand had performed not up to his standards in Zagreb, Croatia, where he drew nine of his eleven classical games and lost two. Maybe he isn't left with that power to beat the youngsters was what everyone thought. Well, Vishy has always had a knack of proving his detractors wrong, not by his words, but with his powerful play on the board. On the first day of the Paris Grand Chess Tour rapid Vishy beat Ian Nepomniachtchi and Anish Giri and drew with Fabiano Caruana. With 5.0/6 he now leads the event along with Caruana.
You look at Vishy one day before the Paris leg of Grand Chess Tour is about to begin and you feel as if nothing is different. The 49-year-old champion is relaxed. He is strolling around the Arc de Triomphe, he is calmly reading the regulations of the event at the opening ceremony.
Behind this calm demeanor is a man who has come to the event with a firm resolve to perform well. The thing which differentiates Anand from other top players of his generation is that Anand believes he can beat the youngsters, works hard to prepare himself to stay at that level, and has the willpower to stretch himself even at the age of 49.
Anand vs Nepomniachtchi
Vishy played the g3 variation against the Najdorf and Nepo played the opening in quite dubious style. The black knight usually develops on d7 in such lines. Nepo played it to c6, and this game showed why it was not a good idea.
Anand vs Nepomniachtchi
Anish Giri vs Vishy Anand
Anand's opening choice was very surprising. Isn't the Bogo Indian supposed to give White a risk free edge? Well, Vishy seems to have come to the event with some new ideas. Anish was able get a small advantage out of the opening. At one point Anish could have converted it into something tangible, but he faltered, Anand created counterplay and we reached an ending in which Vishy had an extra pawn.
Giri vs Anand
White has a few options up his sleeve. He can play f3 and then take on g4 with his pawn keeping the integrity of his structure. On the other hand, he could also play Kg3 and take on g4 with his king. The last option is to play Rb8+ now or on the next move and push the black king to h7 and then continue the play. All of the lines lead to a draw. But playing Kg3 is more clear than playing the pawn to f3 because of the following reason:
It is quite surprising that a player of Anish's calibre could not draw this endgame. But it shows that when you are playing with less time, then calculating accurately is no longer possible. You have to play it on feel. And Anish felt that he should take on g4 with his pawn and cut the black king off on the seventh rank. Quite logical thoughts, just that it wasn't enough to hold the game. Check out the analysis below to understand where Giri went wrong.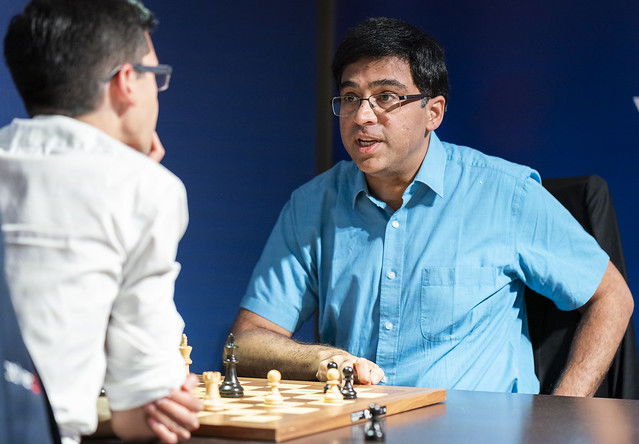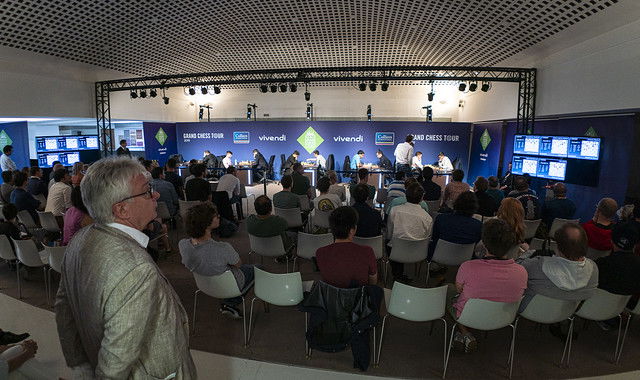 More about Grand Chess Tour
The fifth edition of the Grand Chess Tour (GCT) sees the tour expand to eight tournaments and increase in the number of full tour participants to twelve. The tour will also welcome fourteen event level wildcards in 2019. Tour participants will fight for a record prize fund of $1.75 million as the GCT expands its reach to four continents to include tournaments in Africa, Asia, Europe and America. The prize money on offer for the classical tournaments has been increased to $325,000 per event ($90,000 for 1st place and $60,000 for 2nd) while the prize fund for the GCT Finals in London will also be raised to $350,000 ($150,000 for 1st place and $100,000 for 2nd).
Croatia GCT and the Sinquefield Cup will be classical tournaments with five rapid and blitz tournaments to be held in Abidjan, Paris, St Louis, Bucharest and Kolkata. The GCT Finals will once again be held in London as part of the 2019 London Chess Classic. The twelve full tour participants will play in both classical events as well as in three of the five rapid and blitz tournaments. The classical events will be expanded to eleven-rounds while the rapid and blitz events will all use the GCT's traditional ten player formats. The top four players by cumulative score will qualify for the 2019 GCT Finals which will be held during the London Chess Classic in London, UK between November 30 and December 10, 2019.
Live games begin at 18.30 hours IST
Completed Games
---