MPL National Teams 2023 R8: AAI on the verge of second consecutive triumph
AAI defeated Kerala B 2.5-1.5 with only three members. Since GM Sankalp Gupta was absent, GM Aravindh Chithambaram and the reigning Asian Junior Open Gold medalist, IM Harshavardhan G B scored important victories. GM Abhimanyu Puranik averted disaster and drew his game to ensure AAI move closer to second consecutive triumph at this event. They just need to draw their last round match against Tamil Nadu B to clinch the tournament. PSPB is two points behind at 13/16, followed by RSPB A 12/16. Both AAI and PSPB won their respective matches in the Women's event. Therefore, they are still in the lead with 11/12 each. AAI needs to tie the result with PSPB to become champion. Round 9 Open and Round 7 Women starts today at 10 a.m. IST. Photo: Aditya Sur Roy
Women: AAI and PSPB are guaranteed a top two finish
Irrespective of the result of how AAI and PSPB fares in the last round. They are going to finish in top two as no other teams have a mathematical chance to catch up with them. If PSPB wins, AAI must win, in case PSPB draws, AAI also needs to score a draw minimum to win the tournament, as AAI is four game points ahead of them. They registered their fifth whitewash of the event against Tamil Nadu A. Maharashtra, Tamil Nadu B and Andhra Pradesh are in contention for a third place finish.
Open Round 8: AAI - Kerala B: 2.5-1.5
GM Aravindh Chithambaram (2613) and the reigning Asian Junior Open champion, IM Harshavardhan G B (2428) scored comfortable victories over their respective opponents. GM Abhimanyu Puranik (2596) was held to a draw by Nithin Babu (2053). Although, Nithin had a couple of great opportunities. GM Sankalp Gupta was absent for his game against the 34th National Under-12 Open champion, Goutham Krishna H.
Nithin - Abhimanyu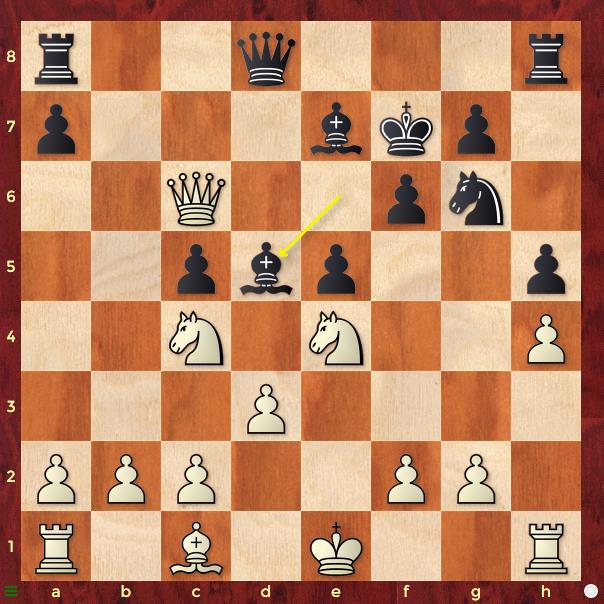 The first opportunity arose when Black blundered 15...Bd5. White had played 15.Ne4 with the intention of jumping one of his knights, preferably the c4-knight to d6. This was mentioned by Abhimanyu and Harshavardhan after the game concluded to Nithin.. So, when the time came to play it, he missed and played 16.Qa4. However, he got another opportunity, a bit discreet but still it counts.
Position after 33...Nf4
White went for 34.Qxc4 and the queens were traded immediately Qxc4 35.Nxc4 Nxd5. Although White was still better but not as much as he would have been had he opted for 34.d6 Rxd6 35.Be5 Nd3+ 36.cxd3 cxd3+ 37.Nc4! and White would have been on the path towards victory.
AAI - Kerala B: 2.5-1.5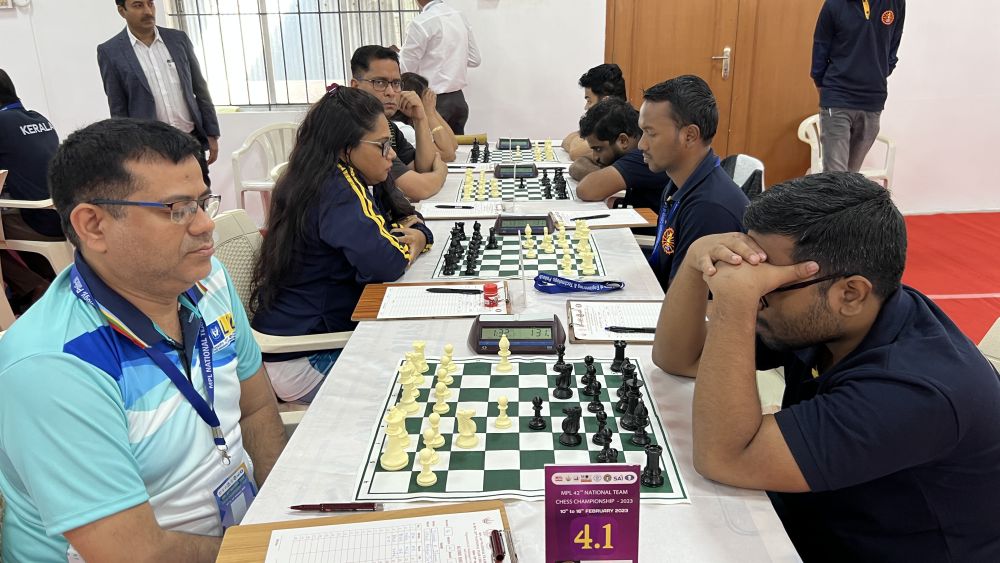 Women Round 6: Tamil Nadu B - PSPB: 1.5-2.5
IM Padmini Rout (2389) and IM Soumya Swaminathan (2308) scored wins. IM Eesha Karavade (2294) drew with WFM Jyothsna L (1910). WIM Isha Sharma (2213) lost to Saranya Y (1920). PSPB defeated Tamil Nadu B to stay in the championship picture.
For more Round 8 Open and Round 6 Women photos, please click here.
Replay Round 8 Open games
Replay Round 6 Women games
Round 8 Open results
No.
SNo
Team
MP
Res.
:
Res.
MP
Team
SNo
1
2
AAI
13
2½
:
1½
9
Kerala B
13
2
3
RSPB A
11
2
:
2
10
RSPB B
5
3
1
PSPB Men
11
4
:
0
9
Kerala A
14
4
8
LIC
9
1½
:
2½
9
Odisha A
6
5
18
Tamil Nadu A
8
0
:
4
8
Tamil Nadu B
4
6
21
Bihar B
8
½
:
3½
8
Tamil Nadu C
9
7
10
Tamil Nadu D
8
2½
:
1½
8
Haryana A
20
8
7
Telangana
7
2
:
2
6
Karnataka B
11
9
12
Bihar A
6
2½
:
1½
7
Madhya Pradesh
15
10
16
Pondicherry
7
2
:
2
6
SSCB
23
11
27
Andhra Pradesh A
6
1
:
3
6
DASCB
19
12
25
Karnataka A
6
2
:
2
6
Andhra Pradesh B
24
13
26
Himachal A
4
½
:
3½
4
Tamil Nadu E
22
14
30
Himachal B
4
2½
:
1½
2
Haryana B
28
15
29
Himachal C
0
1
:
3
4
BSNL
17
Standings after Round 8
| | | | | | | | | | | | |
| --- | --- | --- | --- | --- | --- | --- | --- | --- | --- | --- | --- |
| Rk. | SNo | Team | Games | + | = | - | TB1 | TB2 | TB3 | TB4 | TB5 |
| 1 | 2 | AAI | 8 | 7 | 1 | 0 | 15 | 0 | 24 | 431 | 60 |
| 2 | 1 | PSPB Men | 8 | 6 | 1 | 1 | 13 | 0 | 22 | 407,5 | 54,5 |
| 3 | 3 | RSPB A | 8 | 4 | 4 | 0 | 12 | 0 | 22,5 | 417,8 | 58,5 |
| 4 | 5 | RSPB B | 8 | 5 | 1 | 2 | 11 | 2 | 20 | 380,3 | 48,5 |
| 5 | 6 | Odisha A | 8 | 5 | 1 | 2 | 11 | 0 | 20,5 | 343 | 52 |
| 6 | 4 | Tamil Nadu B | 8 | 4 | 2 | 2 | 10 | 0 | 20,5 | 359 | 51 |
| 7 | 10 | Tamil Nadu D | 8 | 5 | 0 | 3 | 10 | 0 | 18,5 | 292 | 45,5 |
| 8 | 9 | Tamil Nadu C | 8 | 5 | 0 | 3 | 10 | 0 | 17,5 | 286,5 | 43,5 |
| 9 | 8 | LIC | 8 | 4 | 1 | 3 | 9 | 0 | 19,5 | 312 | 49 |
| 10 | 13 | Kerala B | 8 | 3 | 3 | 2 | 9 | 0 | 16,5 | 272,3 | 46 |
Round 9 Open pairings
No.
SNo
Team
MP
Res.
:
Res.
MP
Team
SNo
1
4
Tamil Nadu B
10
:
15
AAI
2
2
6
Odisha A
11
:
13
PSPB Men
1
3
14
Kerala A
9
:
12
RSPB A
3
4
5
RSPB B
11
:
10
Tamil Nadu D
10
5
9
Tamil Nadu C
10
:
9
LIC
8
6
13
Kerala B
9
:
8
Pondicherry
16
7
20
Haryana A
8
:
8
Telangana
7
8
19
DASCB
8
:
8
Bihar A
12
9
21
Bihar B
8
:
8
Tamil Nadu A
18
10
23
SSCB
7
:
7
Karnataka B
11
11
15
Madhya Pradesh
7
:
7
Karnataka A
25
12
24
Andhra Pradesh B
7
:
0
Himachal C
29
13
22
Tamil Nadu E
6
:
6
Himachal B
30
14
27
Andhra Pradesh A
6
:
4
Himachal A
26
15
28
Haryana B
2
:
6
BSNL
17
Round 6 Women results
No.
SNo
Team
MP
Res.
:
Res.
MP
Team
SNo
1
4
Tamil Nadu Women B
7
1½
:
2½
9
PSPB Women
1
2
6
Tamil Nadu Women A
6
0
:
4
9
AAI Women
2
3
3
Maharashtra Women A
6
3
:
1
6
Telangana Women
5
4
11
Andhra Pradesh Women
6
2
:
2
4
Odisha Women A
7
5
12
Himachal Women B
4
1
:
3
4
Tamil Nadu Women D
8
6
13
Himachal Women C
1
0
:
4
4
Kerala Women
9
7
10
Tamil Nadu Women C
3
4
:
0
1
Himachal Women A
14
Standings after Round 6
Round 7 Women pairings
No.
SNo
Team
MP
Res.
:
Res.
MP
Team
SNo
1
1
PSPB Women
11
:
7
Andhra Pradesh Women
11
2
2
AAI Women
11
:
7
Tamil Nadu Women B
4
3
8
Tamil Nadu Women D
6
:
8
Maharashtra Women A
3
4
9
Kerala Women
6
:
6
Tamil Nadu Women A
6
5
5
Telangana Women
6
:
1
Himachal Women A
14
6
12
Himachal Women B
4
:
5
Tamil Nadu Women C
10
7
7
Odisha Women A
5
:
1
Himachal Women C
13
---