MPL National Teams 2023 R7: AAI continues their winning streak
AAI continues their winning streak at MPL 42nd National Team Chess Championship 2023 Open. Odisha lost to them 1.5-2.5. GM Abhimanyu Puranik scored the important victory which helped his team AAI win their sixth match. AAI maintains their sole lead 13/14, two points ahead of RSPB A and PSPB 11/14. In the Women's event, PSPB defeated Maharashtra 2.5-1.5. AAI scored their fourth whitewash of the event, it was against Telangana in the fifth round. Both teams are in the lead 9/10. If both teams maintain their match points same, eventually game points will become a factor in determining the champions. Round 8 Open and Round 6 Women starts today at 10 a.m. IST. Photo: Aditya Sur Roy
Women: AAI and PSPB still in the lead
AAI has won four out of five matches with a 4-0 score. While, PSPB managed only one 4-0 win in the first round. Since they drew with each other in the third round, if both teams maintain their parallel scores in the last two rounds, AAI will have the upper hand as they already have 2.5 game points more than the top seed.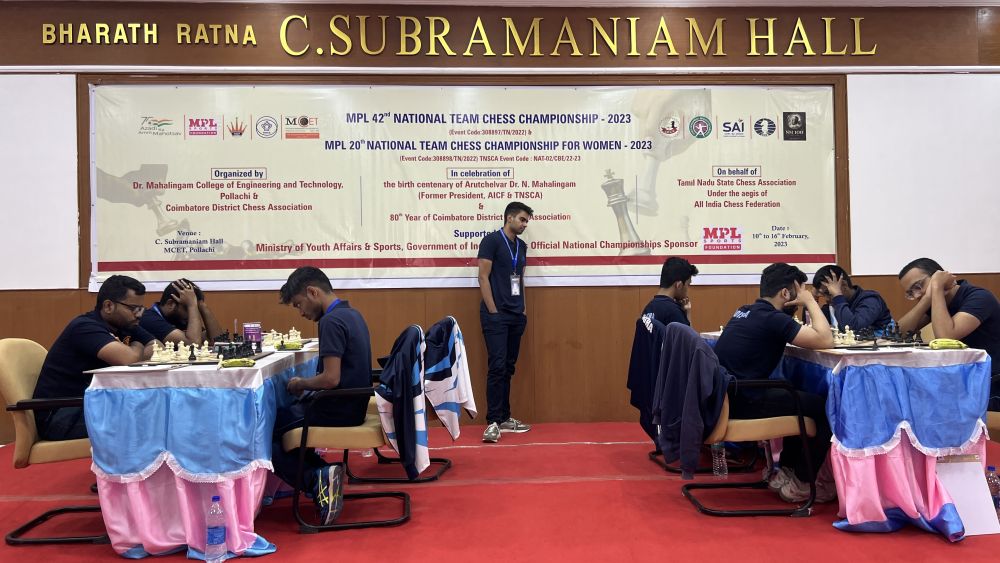 Open Round 7: Odisha - AAI: 1.5-2.5
Three out of four games ended in draws. Utkal Ranjan Sahoo (2371), CM Rajesh Nayak (2139) and Nilsu Pattnaik (1985) of Odisha drew with GM Aravindh Chithambaram (2613), GM Sankalp Gupta (2504) and IM Harshavardhan G B (2428) of AAI, each respectively. GM Abhimanyu Puranik (2596) scored the sole victory for his team AAI against IM Sidhant Mohapatra (ODI, 2378).
Abhimanyu - Sidhant
Position after 44.b5
The rook endgame was quite difficult for Black to defend practically. 44...Rg3? did not help his case. White played the precise correct move 45.b6! Rxh3 46.b7 Rxd3+ 47.Kb2 f3 48.b8Q Black fought for a bit but to no avail. White won the game comfortably and thus maintained AAI's two point lead over the competition.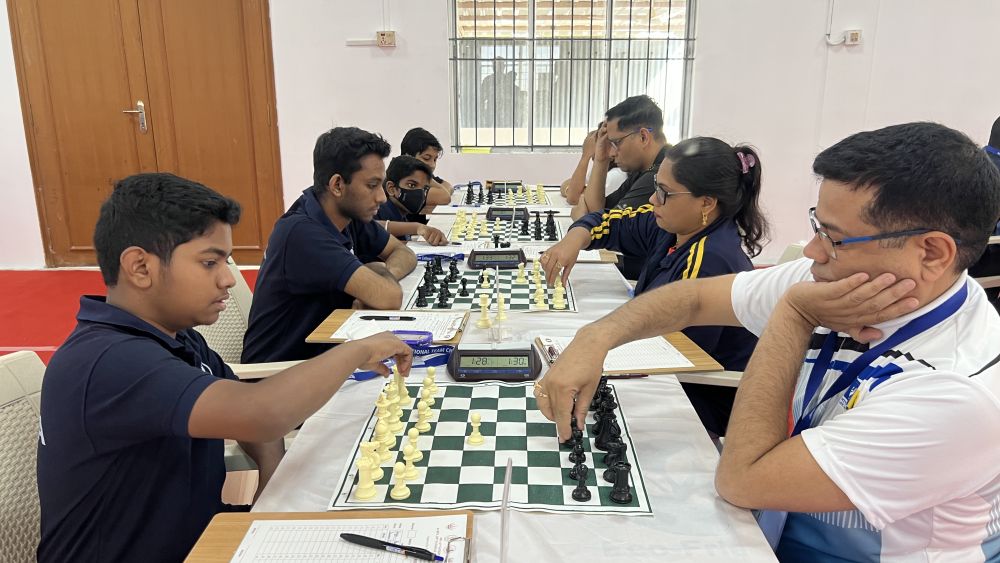 Women Round 5: PSPB - MAH: 2.5-1.5
PSPB's IM Eesha Karavade (2294) and WGM Mary Ann Gomes (2334) defeated WIM Mrudul Dehankar (2034) and WFM Vishwa Shah (2127) of Maharashtra, respectively. IM Padmini Rout (2389) lost to WIM Sakshi Chitlange (2239). The last game of the match to conclude was between IM Soumya Swaminathan (2308) and WIM Aashna Makhija (2129). It ended in a draw.
Sakshi - Padmini
20...f6 created an opportunity for White 21.Nc6! Rxe3 22.Qxe3 Ra8 23.Ne7+ Kf8 24.Nf5 Qe5 25.Qh3 and Black's position fell apart in a hurry.. 20...Kf8 is how Black should have continued.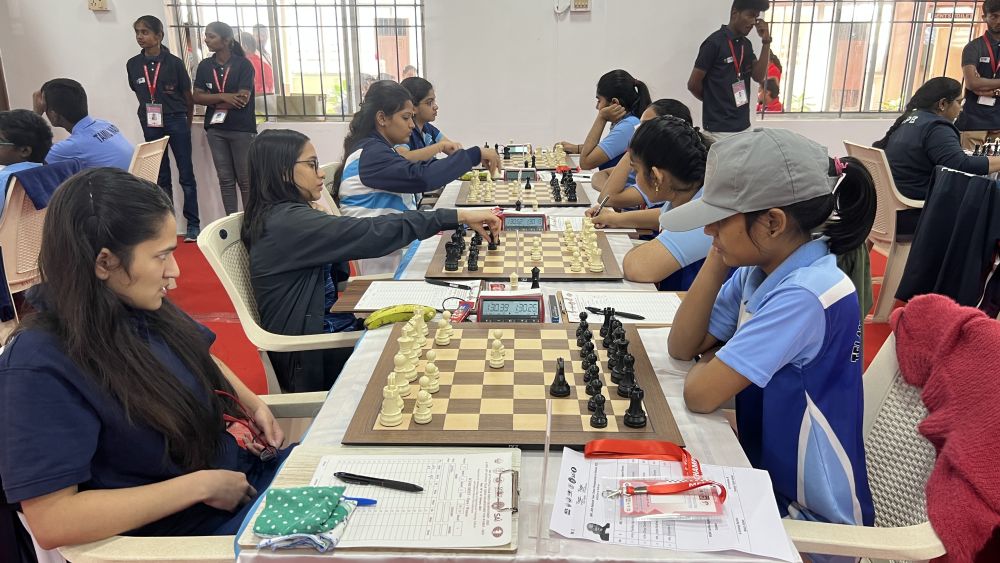 For more Round 7 Open and Round 5 Women photos, please click here.
Replay Round 7 Open games
Replay Round 5 Women games
Round 7 Open results
No.
SNo
Team
MP
Res.
:
Res.
MP
Team
SNo
1
6
Odisha A
9
1½
:
2½
11
AAI
2
2
1
PSPB Men
9
3½
:
½
8
Haryana A
20
3
9
Tamil Nadu C
8
½
:
3½
9
RSPB A
3
4
5
RSPB B
8
3
:
1
8
Tamil Nadu B
4
5
13
Kerala B
8
2
:
2
8
LIC
8
6
14
Kerala A
7
3
:
1
7
Pondicherry
16
7
15
Madhya Pradesh
7
1
:
3
6
Tamil Nadu D
10
8
11
Karnataka B
6
1
:
3
6
Bihar B
21
9
24
Andhra Pradesh B
6
½
:
3½
6
Tamil Nadu A
18
10
25
Karnataka A
6
1
:
3
5
Telangana
7
11
30
Himachal B
4
0
:
4
4
Bihar A
12
12
17
BSNL
4
1
:
3
4
Andhra Pradesh A
27
13
19
DASCB
4
3
:
1
4
Tamil Nadu E
22
14
29
Himachal C
0
0
:
4
4
SSCB
23
15
28
Haryana B
2
1
:
3
2
Himachal A
26
Standings after Round 7
| | | | | | | | | | | | |
| --- | --- | --- | --- | --- | --- | --- | --- | --- | --- | --- | --- |
| Rk. | SNo | Team | Games | + | = | - | TB1 | TB2 | TB3 | TB4 | TB5 |
| 1 | 2 | AAI | 7 | 6 | 1 | 0 | 13 | 0 | 21,5 | 330,5 | 53,5 |
| 2 | 3 | RSPB A | 7 | 4 | 3 | 0 | 11 | 1 | 20,5 | 331 | 52 |
| 3 | 1 | PSPB Men | 7 | 5 | 1 | 1 | 11 | 1 | 18 | 305,3 | 44,5 |
| 4 | 5 | RSPB B | 7 | 5 | 0 | 2 | 10 | 0 | 18 | 284,5 | 45 |
| 5 | 6 | Odisha A | 7 | 4 | 1 | 2 | 9 | 0 | 18 | 265,8 | 45,5 |
| 6 | 8 | LIC | 7 | 4 | 1 | 2 | 9 | 0 | 18 | 248,8 | 45,5 |
| 7 | 14 | Kerala A | 7 | 4 | 1 | 2 | 9 | 0 | 16 | 173,5 | 37 |
| 8 | 13 | Kerala B | 7 | 3 | 3 | 1 | 9 | 0 | 15 | 213,8 | 42,5 |
| 9 | 4 | Tamil Nadu B | 7 | 3 | 2 | 2 | 8 | 0 | 16,5 | 256,8 | 41 |
| 10 | 10 | Tamil Nadu D | 7 | 4 | 0 | 3 | 8 | 0 | 16 | 219 | 38 |
Round 8 Open pairings
No.
SNo
Team
MP
Res.
:
Res.
MP
Team
SNo
1
2
AAI
13
:
9
Kerala B
13
2
3
RSPB A
11
:
10
RSPB B
5
3
1
PSPB Men
11
:
9
Kerala A
14
4
8
LIC
9
:
9
Odisha A
6
5
18
Tamil Nadu A
8
:
8
Tamil Nadu B
4
6
21
Bihar B
8
:
8
Tamil Nadu C
9
7
10
Tamil Nadu D
8
:
8
Haryana A
20
8
7
Telangana
7
:
6
Karnataka B
11
9
12
Bihar A
6
:
7
Madhya Pradesh
15
10
16
Pondicherry
7
:
6
SSCB
23
11
27
Andhra Pradesh A
6
:
6
DASCB
19
12
25
Karnataka A
6
:
6
Andhra Pradesh B
24
13
26
Himachal A
4
:
4
Tamil Nadu E
22
14
30
Himachal B
4
:
2
Haryana B
28
15
29
Himachal C
0
:
4
BSNL
17
Round 5 Women results
No.
SNo
Team
MP
Res.
:
Res.
MP
Team
SNo
1
1
PSPB Women
7
2½
:
1½
6
Maharashtra Women A
3
2
2
AAI Women
7
4
:
0
6
Telangana Women
5
3
7
Odisha Women A
4
0
:
4
5
Tamil Nadu Women B
4
4
9
Kerala Women
4
1
:
3
4
Andhra Pradesh Women
11
5
10
Tamil Nadu Women C
3
0
:
4
4
Tamil Nadu Women A
6
6
13
Himachal Women C
1
0
:
4
2
Tamil Nadu Women D
8
7
14
Himachal Women A
1
½
:
3½
2
Himachal Women B
12
Standings after Round 5
| | | | | | | | | | | | |
| --- | --- | --- | --- | --- | --- | --- | --- | --- | --- | --- | --- |
| Rk. | SNo | Team | Games | + | = | - | TB1 | TB2 | TB3 | TB4 | TB5 |
| 1 | 2 | AAI Women | 5 | 4 | 1 | 0 | 9 | 1 | 18 | 193 | 44,5 |
| 2 | 1 | PSPB Women | 5 | 4 | 1 | 0 | 9 | 1 | 15,5 | 197 | 39 |
| 3 | 4 | Tamil Nadu Women B | 5 | 3 | 1 | 1 | 7 | 0 | 13,5 | 109 | 32,5 |
| 4 | 3 | Maharashtra Women A | 5 | 3 | 0 | 2 | 6 | 0 | 12,5 | 135,8 | 30,5 |
| 5 | 6 | Tamil Nadu Women A | 5 | 3 | 0 | 2 | 6 | 0 | 12,5 | 79,8 | 31,5 |
Round 6 Women pairings
No.
SNo
Team
MP
Res.
:
Res.
MP
Team
SNo
1
4
Tamil Nadu Women B
7
:
9
PSPB Women
1
2
6
Tamil Nadu Women A
6
:
9
AAI Women
2
3
3
Maharashtra Women A
6
:
6
Telangana Women
5
4
11
Andhra Pradesh Women
6
:
4
Odisha Women A
7
5
12
Himachal Women B
4
:
4
Tamil Nadu Women D
8
6
13
Himachal Women C
1
:
4
Kerala Women
9
7
10
Tamil Nadu Women C
3
:
1
Himachal Women A
14
---