D K Sharma clinches MP Masters 2021 Classical, Rapid and Blitz
IM D K Sharma won MP Masters 2021 in all three events - Classical, Rapid and Blitz, scoring 5.0/7, 3.5/5 and 9.5/12 respectively. He played 24 games in five days, including 12 Blitz games on 25th November 2021. Earlier in September he won the 1st Zenith Challenger Cup by winning all eight games and finishing a full point ahead 8.0/8 at Mathura. The stalwart of Uttar Pradesh, D K Sharma won the National Blitz championship in 2018, with a fractured arm. That should definitely give you an inkling of his prowess. Trophies, software products and books were the prizes for the prize winners. Photo: Niklesh Jain
A trifecta triumph
Indrajeet Mahindrakar secured second position in both Rapid and Blitz scoring 3.5/5 and 9.0/12. A last round loss cost WIM Franco Valencia Angela (COL) the championship, and she was placed second in the Classical event. IM Vikramaditya Kulkarni also scored 9.0/12 in Blitz, he was placed third according to the tie-breaks. Saurabh Choubey secured 3rd position in Classical 3.5/5 and Aishwin Daniel was placed third in Rapid 3.0/5.
Round 4: Vikramaditya - Aanjaneya: 0-1
Aanjaneya Phatak scored a nice win against IM Vikramaditya Kulkarni who avoided theory in all games with white pieces by starting with 1.a3.
A good position allows you to play moves like 14...e3. The idea is simple Black wants to play Ne4, get rid of the protector of the b1 square so that he can play Qb1 and gain material. Another idea is to bring the queen to e4 after exchanging the knights and then open h-file. Aanjaneya did both of them to score a victory.
Aishwin - Siddhant: 1-0
Aishwin Daniel made a good recovery from a difficult position and then launched an attack of his own successfully.
33.Nxg6 gives a clear idea of White's intentions 33...Kxg6 34.Re6+ Kxf7 35.Rxc6 Rxc6 36.Qd5+ and it's all over for Black.
Round 5: Angela - Vikramaditya: 0-1
WIM Angela Franco Valencia (COL) went for a trick against IM Vikramaditya Kulkarni.
21.e5 was played with the idea of 22.Bxf5. However, Black stopped the threat 21...Ne4 22.exd6 Bxd6 23.f3 Re5 24.fxe4 Rxa5 and suddenly Black is in the game. 25.Kb1 worsened things for White after 25...Bg3. White eventually lost the game, which was her first loss of the event.
Saurabh - D K Sharma: 0-1
IM D K Sharma joined the lead by beating Saurabh Choubey.
30.Bxf6 would have kept White afloat a bit longer. After a few moves, White decided to take the a7-pawn and Black got 35...c4+ which gave him the decisive advantage.
Round 6: Vikramaditya - Saurabh: 1-0
Saurabh Choubey won arguably the most exciting game of the tournament against IM Vikramaditya Kulkarni where the equilibrium shifted back and forth between the players.
Aishwin - Angela: 0-1
Angela bounced back with a clinical victory against Aishwin.
How do you defend this position as White? It turns out 19.Kg2 is the only way for White to stay in the game. However, 19.Qd1 was played 19...Qf6 20.Kg2 Rf8 21.Be2 Qg6+ and the white king fell into a mating net.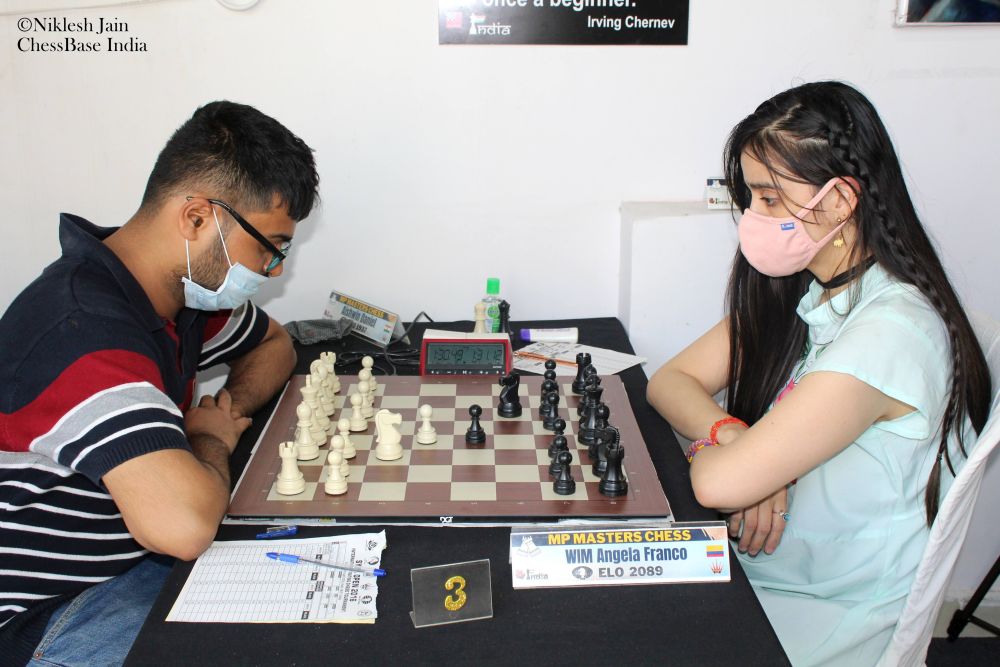 Round 7: Angela - Siddhant: 0-1
Angela lost her final round game against Sidhant after she lost a valuable pawn in the middlegame.
D K Sharma - Vikramaditya: 1-0
In the battle among IMs, D K Sharma prevailed over Vikramaditya Kulkarni.
The above position gives us a clear idea about who is in control. However, after 30...Rd8 White played 31.h3 which allowed Black to take the d4-pawn which he did not take. White managed to convert his advantage into a win, thus clinched the tournament too.
Photo Gallery:
Replay the Live stream
Replay Round 4-7 games
Round 4-7 results
Round 4 on 2021/11/23 at 04:00 PM
Bo.
No.
FED
Rtg
Name
Result
Name
FED
Rtg
No.
1
8
IND
2129
Mahindrakar Indrajeet
1 - 0
AFM
Choubey Saurabh
IND
1953
6
2
7
IND
2288
IM
Sharma Dinesh K.
½ - ½
WIM
Franco Valencia Angela
COL
2089
5
3
1
IND
2355
IM
Kulkarni Vikramaditya
0 - 1
Phatak Aanjaneya
IND
2212
4
4
2
IND
1937
Aishwin Daniel
1 - 0
FM
Gaikwad Siddhant
IND
2033
3
Round 5 on 2021/11/24 at 10:00 AM
Bo.
No.
FED
Rtg
Name
Result
Name
FED
Rtg
No.
1
3
IND
2033
FM
Gaikwad Siddhant
½ - ½
Mahindrakar Indrajeet
IND
2129
8
2
4
IND
2212
Phatak Aanjaneya
0 - 1
Aishwin Daniel
IND
1937
2
3
5
COL
2089
WIM
Franco Valencia Angela
0 - 1
IM
Kulkarni Vikramaditya
IND
2355
1
4
6
IND
1953
AFM
Choubey Saurabh
0 - 1
IM
Sharma Dinesh K.
IND
2288
7
Round 6 on 2021/11/24 at 04:00 PM
Bo.
No.
FED
Rtg
Name
Result
Name
FED
Rtg
No.
1
8
IND
2129
Mahindrakar Indrajeet
½ - ½
IM
Sharma Dinesh K.
IND
2288
7
2
1
IND
2355
IM
Kulkarni Vikramaditya
0 - 1
AFM
Choubey Saurabh
IND
1953
6
3
2
IND
1937
Aishwin Daniel
0 - 1
WIM
Franco Valencia Angela
COL
2089
5
4
3
IND
2033
FM
Gaikwad Siddhant
1 - 0
Phatak Aanjaneya
IND
2212
4
Round 7 on 2021/11/25 at 10:00 AM
Bo.
No.
FED
Rtg
Name
Result
Name
FED
Rtg
No.
1
4
IND
2212
Phatak Aanjaneya
0 - 1
Mahindrakar Indrajeet
IND
2129
8
2
5
COL
2089
WIM
Franco Valencia Angela
0 - 1
FM
Gaikwad Siddhant
IND
2033
3
3
6
IND
1953
AFM
Choubey Saurabh
½ - ½
Aishwin Daniel
IND
1937
2
4
7
IND
2288
IM
Sharma Dinesh K.
1 - 0
IM
Kulkarni Vikramaditya
IND
2355
1
Final Standings in Classical
| | | | | | | | | | | |
| --- | --- | --- | --- | --- | --- | --- | --- | --- | --- | --- |
| Rk. | SNo | | Name | FED | Rtg | Pts. | TB1 | TB2 | TB3 | TB4 |
| 1 | 7 | IM | Sharma Dinesh K. | IND | 2288 | 5,0 | 0,0 | 17,25 | 4 | 2 |
| 2 | 5 | WIM | Franco Valencia Angela | COL | 2089 | 4,5 | 0,0 | 14,50 | 4 | 3 |
| 3 | 6 | AFM | Choubey Saurabh | IND | 1953 | 3,5 | 1,5 | 10,25 | 3 | 2 |
| 4 | 2 | | Aishwin Daniel | IND | 1937 | 3,5 | 1,5 | 10,25 | 3 | 1 |
| 5 | 3 | FM | Gaikwad Siddhant | IND | 2033 | 3,5 | 0,0 | 11,00 | 3 | 1 |
| 6 | 1 | IM | Kulkarni Vikramaditya | IND | 2355 | 3,0 | 1,0 | 11,00 | 3 | 1 |
| 7 | 8 | | Mahindrakar Indrajeet | IND | 2129 | 3,0 | 0,0 | 9,75 | 2 | 1 |
| 8 | 4 | | Phatak Aanjaneya | IND | 2212 | 2,0 | 0,0 | 8,00 | 2 | 1 |
Final Standings in Blitz
| | | | | | | | | | |
| --- | --- | --- | --- | --- | --- | --- | --- | --- | --- |
| Rk. | SNo | | Name | FED | Rtg | Pts. | TB1 | TB2 | TB3 |
| 1 | 1 | IM | Sharma Dinesh K. | IND | 2392 | 9,5 | 0,0 | 45,50 | 9 |
| 2 | 7 | | Mahindrakar Indrajeet | IND | 1983 | 9,0 | 1,0 | 42,50 | 9 |
| 3 | 6 | IM | Kulkarni Vikramaditya | IND | 2279 | 9,0 | 1,0 | 39,75 | 8 |
| 4 | 4 | | Aishwin Daniel | IND | 1794 | 6,0 | 0,0 | 23,50 | 5 |
| 5 | 5 | FM | Gaikwad Siddhant | IND | 1848 | 5,0 | 0,0 | 22,25 | 4 |
| 6 | 3 | AFM | Choubey Saurabh | IND | 1838 | 2,0 | 0,0 | 6,50 | 2 |
| 7 | 2 | WIM | Franco Valencia Angela | COL | 2195 | 1,5 | 0,0 | 4,50 | 1 |
Final Standings in Rapid
| | | | | | | | | | | |
| --- | --- | --- | --- | --- | --- | --- | --- | --- | --- | --- |
| Rk. | SNo | | Name | FED | Rtg | Pts. | TB1 | TB2 | TB3 | TB4 |
| 1 | 1 | IM | Sharma Dinesh K. | IND | 2422 | 3,5 | 0,5 | 8,25 | 2 | 1 |
| 2 | 2 | | Mahindrakar Indrajeet | IND | 1760 | 3,5 | 0,5 | 7,25 | 2 | 0 |
| 3 | 4 | | Aishwin Daniel | IND | 1752 | 3,0 | 0,0 | 5,75 | 2 | 1 |
| 4 | 3 | WIM | Franco Valencia Angela | COL | 2197 | 2,0 | 0,5 | 4,75 | 0 | 0 |
| 5 | 6 | AFM | Choubey Saurabh | IND | 1719 | 2,0 | 0,5 | 3,75 | 1 | 0 |
| 6 | 5 | FM | Gaikwad Siddhant | IND | 1941 | 1,0 | 0,0 | 2,75 | 0 | 0 |
Links
---