MP Masters 2021 R1-3: Franco Valencia Angela gains sole lead 3.0/3
WIM Franco Angela (COL) has taken the sole lead by winning all three of her games. She beat Saurabh Choubey in the third round. Three players are trailing her by a full point. They are - Saurabh Choubey, IM Dinesh Kumar Sharma and IM Vikramaditya Kulkarni. The tournament is played in a single Round-Robin format with a time control of 90 minutes each + 30 seconds increment from move no.1. The average rating of the tournament is 2125. Blitz and Rapid Rating Round-Robin will take place on 25th and 26th November respectively. There is a spot open for each of those events. Round 4 starts today at 4:00 p.m. IST. Photo: Niklesh Jain
All decisive games so far
All twelve games played till the third round yielded decisive results only. The tournament witnesses the participation of two IMs, a WIM and a FM. If you are interested in playing Blitz and/or Rapid FIDE rating Round-Robin tournament on 25th and 26th November at the same venue, please contact: nikleshchess@yahoo.com. Only 18+ double vaccinated entries will be considered by the organizer.
Round 1: Aanjaneya - Angela: 0-1
Aanjaneya Phatak made a tactical error in an already difficult endgame against Franco Angela (COL) in the first round.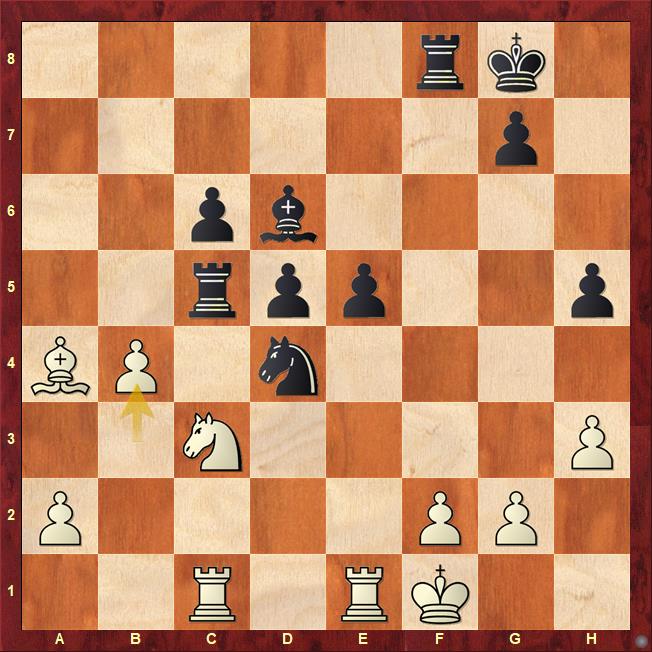 26.b4 ran into 26...Rxc3 27.Rxc3 Bxb4 and Black gained a valuable pawn which gave her a decisive advantage.
Round 2: Indrajeet - Angela: 0-1
In the second round, Indrajeet Mahindrakar was unable to maximize his bishop pair against a rook. A strange backward move invited all kinds of trouble as he paid the price for neglecting development of pieces.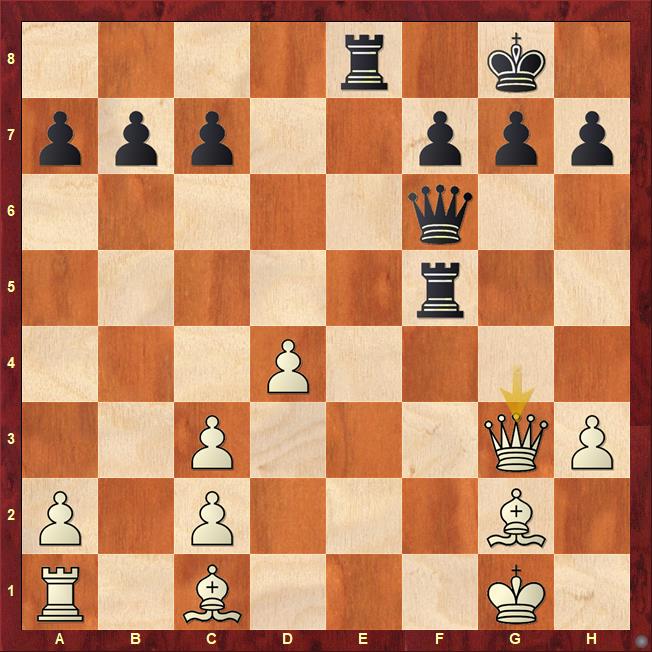 Find out the winning continuation for Black after 20.Qg3.
D K Sharma - Sidhant: 1-0
IM D K Sharma won an interesting battle against FM Sidhant Gaikwad.
Round 3: Sidhant - Vikramaditya: 1-0
Sidhant Gaikwad played enterprising chess to beat IM Vikramaditya Kulkarni in the third round.
18.Nd5 is an excellent move. It uses the probable pin on the e-file after 18...cxd5 19.exd5 Qc7 and now White played another fantastic move 20.Qg5. There is absolutely no hurry in regaining the piece when you can only further your dominance on the kingside. Soon White focused both bishops on the kingside with a piercing attack.
Aanjaneya - D K Sharma: 1-0
Aanjaneya Phatak defeated IM D K Sharma with a beautiful attack using his active pieces.
33...gxf5 tempts White to play 34.Nxf5 exf5 35.e6 which would have given White the full point a bit earlier. Aanjaneya eventually played Nxf5 after four more moves which gave him the win.
Angela - Saurabh: 1-0
White managed to create an isolated passed pawn on the d-file which became a thorn on black's territory.
Black had to play 31...e4 to make sure things do not go out of hand. Find out how 31...Qc5 completely shifted things in White's favor.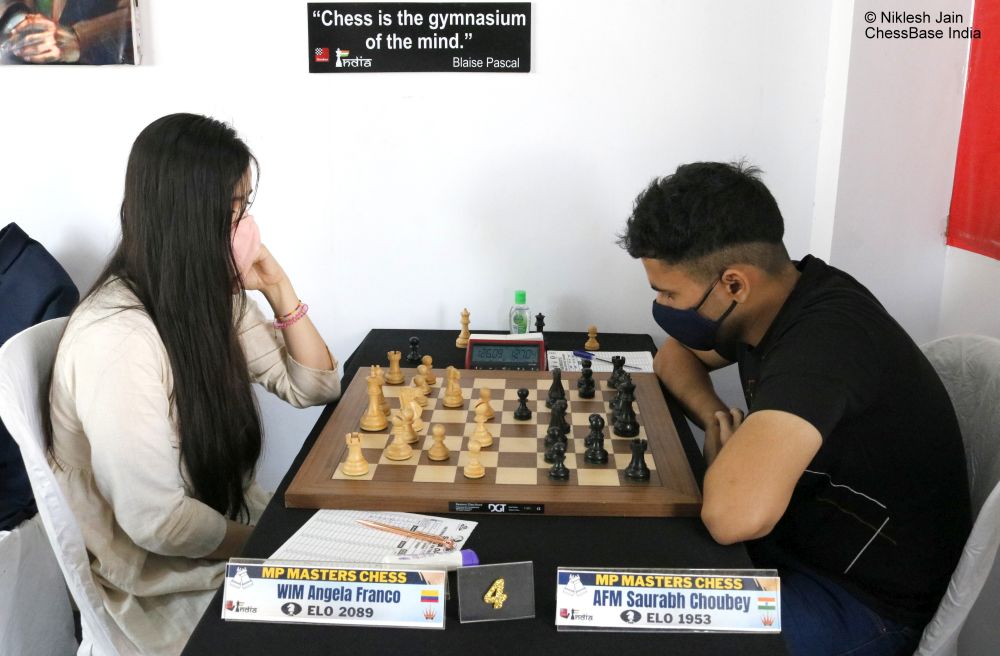 Photo Gallery: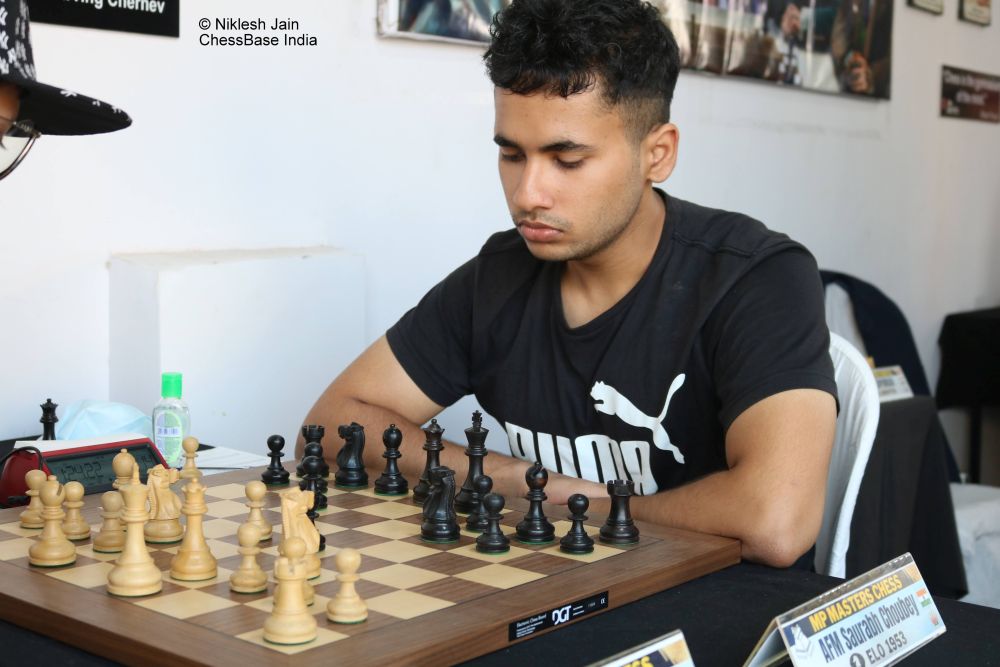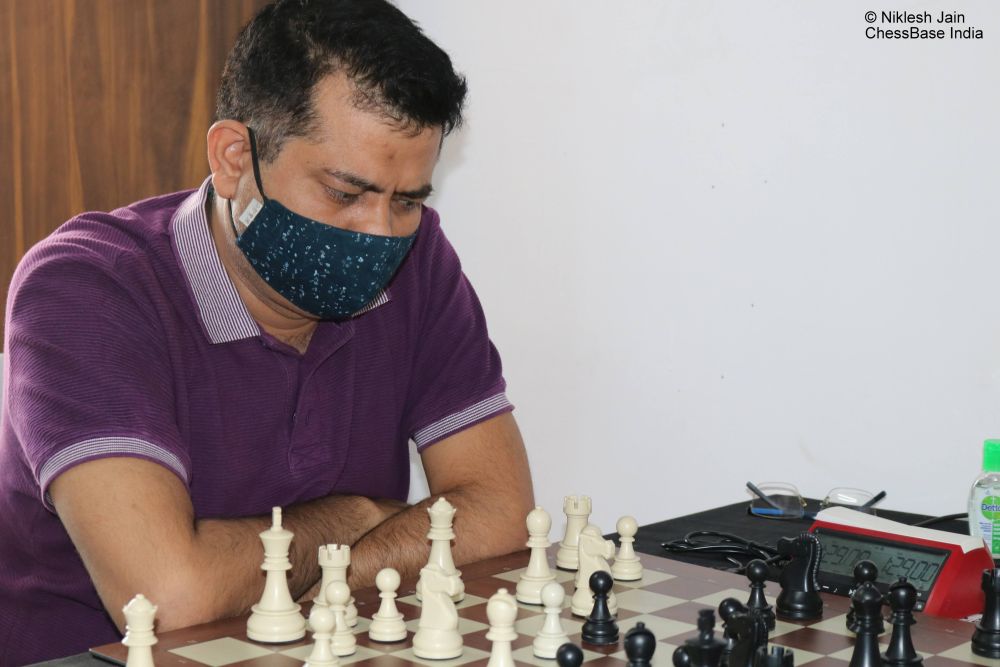 Replay the Live stream
Replay Round 1-3 games
Round 1-3 results
Round 1 on 2021/11/22 at 10:00 AM
Bo.
No.
FED
Rtg
Name
Result
Name
FED
Rtg
No.
1
1
IND
2355
IM
Kulkarni Vikramaditya
1 - 0
Mahindrakar Indrajeet
IND
2129
8
2
2
IND
1937
Aishwin Daniel
0 - 1
IM
Sharma Dinesh K.
IND
2288
7
3
3
IND
2033
FM
Gaikwad Siddhant
0 - 1
AFM
Choubey Saurabh
IND
1953
6
4
4
IND
2212
Phatak Aanjaneya
0 - 1
WIM
Franco Valencia Angela
COL
2089
5
Round 2 on 2021/11/22 at 04:00 PM
Bo.
No.
FED
Rtg
Name
Result
Name
FED
Rtg
No.
1
8
IND
2129
Mahindrakar Indrajeet
0 - 1
WIM
Franco Valencia Angela
COL
2089
5
2
6
IND
1953
AFM
Choubey Saurabh
1 - 0
Phatak Aanjaneya
IND
2212
4
3
7
IND
2288
IM
Sharma Dinesh K.
1 - 0
FM
Gaikwad Siddhant
IND
2033
3
4
1
IND
2355
IM
Kulkarni Vikramaditya
1 - 0
Aishwin Daniel
IND
1937
2
Round 3 on 2021/11/23 at 10:00 AM
Bo.
No.
FED
Rtg
Name
Result
Name
FED
Rtg
No.
1
2
IND
1937
Aishwin Daniel
1 - 0
Mahindrakar Indrajeet
IND
2129
8
2
3
IND
2033
FM
Gaikwad Siddhant
1 - 0
IM
Kulkarni Vikramaditya
IND
2355
1
3
4
IND
2212
Phatak Aanjaneya
1 - 0
IM
Sharma Dinesh K.
IND
2288
7
4
5
COL
2089
WIM
Franco Valencia Angela
1 - 0
AFM
Choubey Saurabh
IND
1953
6
Standings after Round 3
| | | | | | | | | | | |
| --- | --- | --- | --- | --- | --- | --- | --- | --- | --- | --- |
| Rk. | SNo | | Name | FED | Rtg | Pts. | TB1 | TB2 | TB3 | TB4 |
| 1 | 5 | WIM | Franco Valencia Angela | COL | 2089 | 3,0 | 0,0 | 3,00 | 3 | 2 |
| 2 | 6 | AFM | Choubey Saurabh | IND | 1953 | 2,0 | 0,0 | 2,00 | 2 | 1 |
| | 7 | IM | Sharma Dinesh K. | IND | 2288 | 2,0 | 0,0 | 2,00 | 2 | 1 |
| 4 | 1 | IM | Kulkarni Vikramaditya | IND | 2355 | 2,0 | 0,0 | 1,00 | 2 | 0 |
| 5 | 3 | FM | Gaikwad Siddhant | IND | 2033 | 1,0 | 0,0 | 2,00 | 1 | 0 |
| | 4 | | Phatak Aanjaneya | IND | 2212 | 1,0 | 0,0 | 2,00 | 1 | 0 |
| 7 | 2 | | Aishwin Daniel | IND | 1937 | 1,0 | 0,0 | 0,00 | 1 | 0 |
| 8 | 8 | | Mahindrakar Indrajeet | IND | 2129 | 0,0 | 0,0 | 0,00 | 0 | 0 |
Links
---