Sankalp Gupta wins Joytu Sheikh Hasina International GM 2021
IM Sankalp Gupta scored an unbeaten 7.0/9 to win Joytu Sheikh Hasina International GM 2021. He finished a half point ahead of the competition. Five players finished at 6.5/9 and they were placed second to sixth respectively. They are - IM Mitrabha Guha, IM Aronyak Ghosh, IM Sayantan Das, GM Ziaur Rahman and GM Masoud Mosadeghpour. Sankalp won US$ 4000 (approx ₹297000), Mitrabha received US$ 2500 (approx. ₹185000) and Aronyak got (₹111000). Sankalp gained 13.4 Elo rating points, Mitrabha 11.6 and Aronyak increased 5.4 rating points. Photo: Bangladesh Chess Federation
Five players finish at 6.5/9
We reached out to the winner IM Sankalp Gupta and asked his thoughts on winning the tournament, "Thanks a lot, it feels great to win the tournament. Played some good games and managed to defend some very worse positions." He also added, "My game against Mitrabha is my favorite, it was the crucial game as he was on 5/5." - Sankalp on his favorite game of the tournament.
Round 7: Sankalp - Sayantan: 1-0
IM Sayantan Das opted for a side variation, which made the position slightly dicey early in the opening.
The game continued 12.Bxc6 dxc3 13.Bd5+ e6 14.Bc4 cxd2+ and Black managed to get back in the game.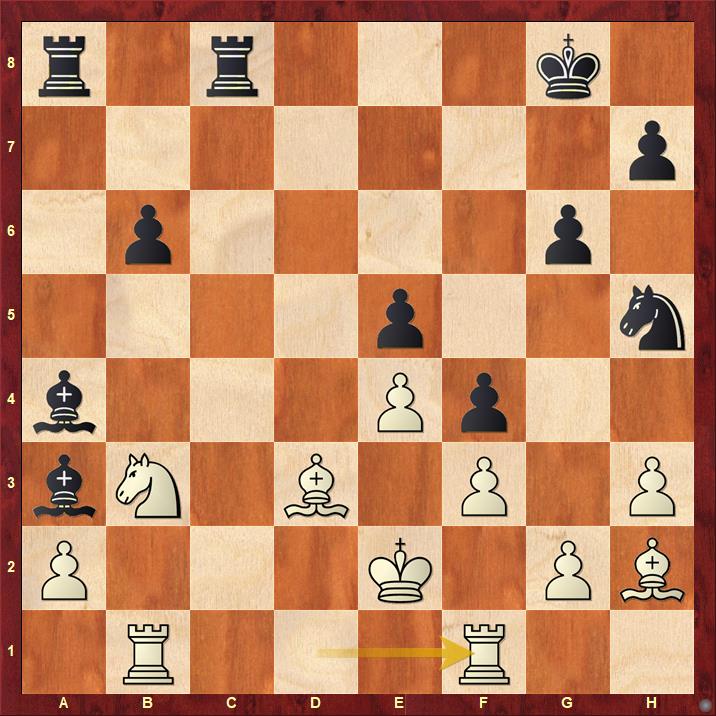 22...Rc3 would have been a better option than 22...Be8 23.Nd2 Bc5 and retreat both bishops. Sankalp managed to turn things around and win the game.
Ghaem - Nubairshah: 0.5-0.5
IM Nubairshah Shaikh sacrificed a knight which was made interesting as his opponent GM Ghaem Maghami Ehsan (IRI) decided to accept it.
White decided to accept the sacrifice 23.fxe3 which gave Black a huge initiative. The game continued 23...Ra8 and White managed to save the day, 24.Qxc6+. Find out what Black should have done instead.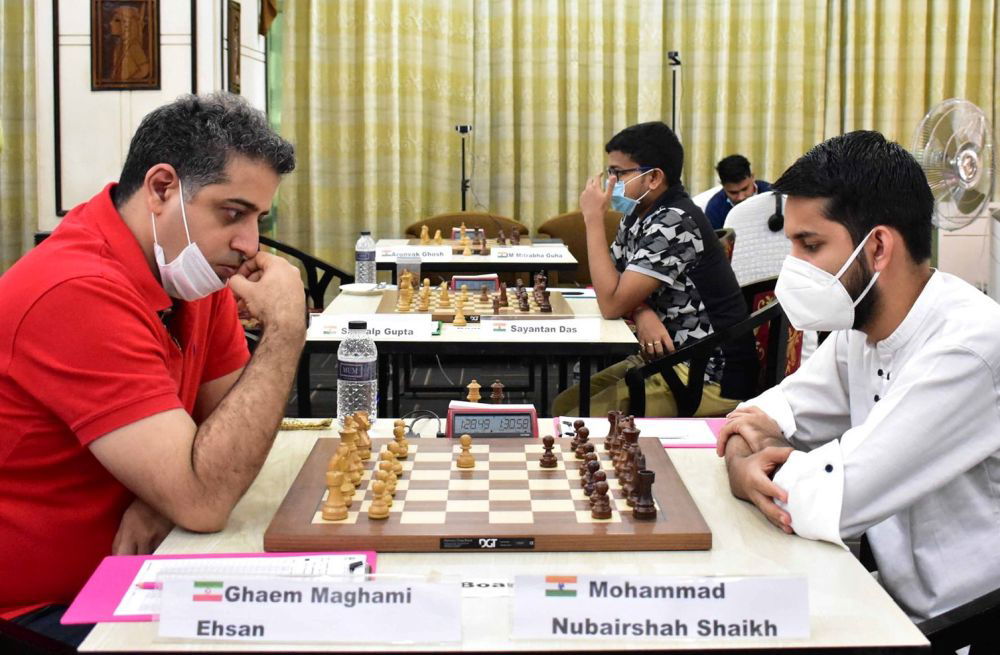 Neelash - Sumets: 0.5-0.5
IM Neelash Saha drew with the top seed of the tournament GM Andrey Sumets (UKR).
Sammed - Deep: 0.5-0.5
IM Sammed Jaykumar Shete had a wild game against GM Deep Sengupta. The evaluation kept changing back and forth. The game eventually ended in a draw.
Malakhatko - Subhayan: 0-1
After a lot of maneuvering, GM Vadim Malakhatko (BEL) finally made a mistake.
46.Nd2 removed the support of the c2-bishop which allowed take the advantage of the pin on the b1-h7 diagonal as he played 46...Nxd5 and soon got the upper hand. White lost all the weak pawn and eventually the game too.
Round 8: Nubairshah - Sankalp: 0.5-0.5
IM Sankalp Gupta made a great save against fellow countryman IM Nubairshah Shaikh.
White should have played 45.Rd8 here instead of 45.Qd1 to maintain the advantage, since Black king is relatively weaker and more vulnerable. Sankalp managed to defend the position and make a draw.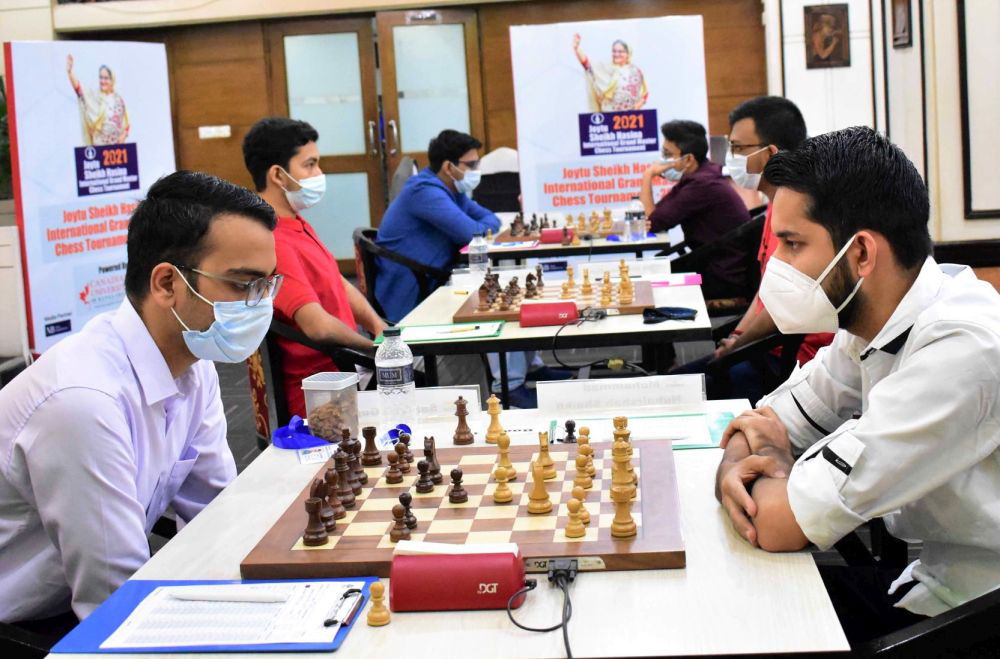 Subhayan - Aronyak: 0-1
Subhayan was cruising towards a draw against IM Aronyak Ghosh, until the former blundered in the final moments of the game.
The only move to save the game for White was 40.Kb3. White unfortunately played 40.Kd2 and lost the game because of 40...Rd1+.
Sayantan - Ghaem: 1-0
IM Sayantan Das scored a nice win over GM Ghaem Maghami Ehsan (IRI).
Deep - Neelash: 0-1
GM Deep Sengupta and IM Neelash Saha had an exciting finish which could have gone either player's way.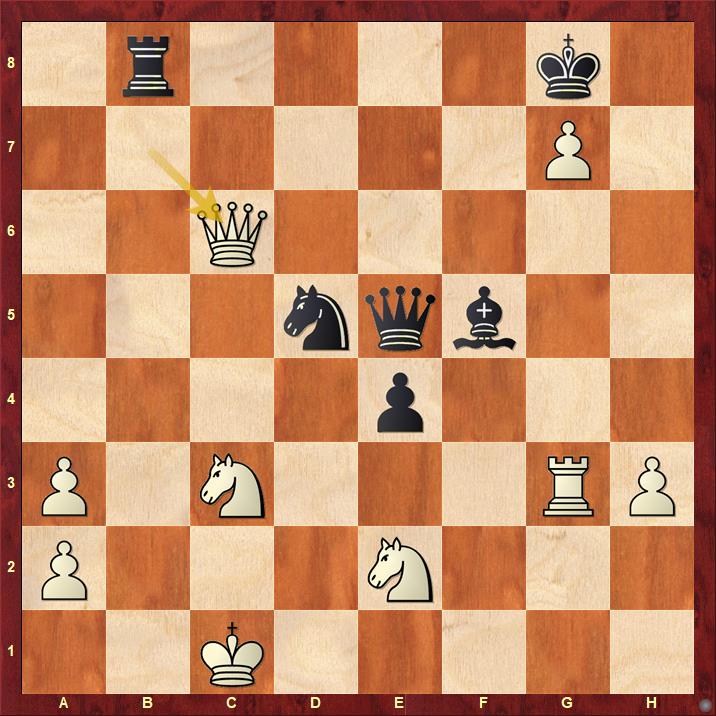 Black is completely winning here. 32...Nxc3 33.Rxc3 e3 and Black should win this. However, probably due to time trouble, the game continued 32...e3 which gave White a chance to fight back. Can you find out what White could have done?
Round 9: Mosadeghpour - Mitrabha: 1-0
Mitrabha got himself a good position against GM Masoud Mosadehpour (IRI). A draw in the final round would have made Mitrabha the champion, since Sankalp made a quick draw and had less tie-breaks.
18...Rc4 followed by Qc7 keeps things in control for Black. Shortly Black sacrificed an exchange when he could have kept things in balance and eventually lost the game.
Srijit - Sayantan: 0-1
IM Srijit Paul lost an exciting encounter against IM Sayantan Das.
Highlights
Here are a few interesting finishes from Round 7-9:
Replay the Live stream
Replay Round 7-9 games
Round 9 results
Final standings
| | | | | | | | | | | | | | | | | | | | | | |
| --- | --- | --- | --- | --- | --- | --- | --- | --- | --- | --- | --- | --- | --- | --- | --- | --- | --- | --- | --- | --- | --- |
| Rk. | SNo | | | Name | sex | FED | Rtg | RtgI | Pts. | TB1 | TB2 | TB3 | TB4 | TB5 | Rp | n | w | we | w-we | K | rtg+/- |
| 1 | 8 | | IM | Sankalp Gupta | | IND | 2433 | 2433 | 7,0 | 0,0 | 45,0 | 49,5 | 2356 | 5 | 2550 | 9 | 7 | 5,66 | 1,34 | 10 | 13,4 |
| 2 | 5 | | IM | Mitrabha Guha | | IND | 2467 | 2467 | 6,5 | 0,0 | 49,5 | 54,0 | 2423 | 6 | 2561 | 9 | 6,5 | 5,34 | 1,16 | 10 | 11,6 |
| 3 | 7 | | IM | Aronyak Ghosh | | IND | 2440 | 2440 | 6,5 | 0,0 | 44,5 | 48,5 | 2331 | 4 | 2478 | 9 | 6,5 | 5,96 | 0,54 | 10 | 5,4 |
| 4 | 10 | | IM | Das Sayantan | | IND | 2431 | 2431 | 6,5 | 0,0 | 44,5 | 48,0 | 2399 | 6 | 2532 | 9 | 6,5 | 5,19 | 1,31 | 10 | 13,1 |
| 5 | 12 | | GM | Rahman Ziaur | | BAN | 2424 | 2424 | 6,5 | 0,0 | 43,5 | 47,5 | 2339 | 4 | 2476 | 9 | 6,5 | 5,78 | 0,72 | 10 | 7,2 |
| 6 | 4 | | GM | Mosadeghpour Masoud | | IRI | 2486 | 2486 | 6,5 | 0,0 | 42,0 | 45,5 | 2319 | 5 | 2470 | 9 | 6,5 | 6,54 | -0,04 | 10 | -0,4 |
| 7 | 9 | | IM | Mohammad Nubairshah Shaikh | | IND | 2432 | 2432 | 6,0 | 0,0 | 45,0 | 49,5 | 2397 | 4 | 2491 | 9 | 6 | 5,22 | 0,78 | 10 | 7,8 |
| 8 | 13 | | IM | Neelash Saha | | IND | 2418 | 2418 | 6,0 | 0,0 | 41,5 | 45,0 | 2324 | 5 | 2421 | 9 | 6 | 5,74 | 0,26 | 10 | 2,6 |
| 9 | 6 | | GM | Malakhatko Vadim | | BEL | 2447 | 2447 | 6,0 | 0,0 | 41,0 | 44,5 | 2311 | 4 | 2419 | 9 | 6 | 6,27 | -0,27 | 10 | -2,7 |
| 10 | 22 | | | Subhayan Kundu | | IND | 2301 | 2301 | 5,5 | 0,0 | 47,5 | 50,5 | 2372 | 4 | 2410 | 9 | 5,5 | 4,08 | 1,42 | 20 | 28,4 |
| 11 | 21 | | IM | Srijit Paul | | IND | 2312 | 2312 | 5,5 | 0,0 | 44,5 | 48,0 | 2345 | 4 | 2386 | 9 | 5,5 | 4,49 | 1,01 | 20 | 20,2 |
| 12 | 11 | | IM | Koustav Chatterjee | | IND | 2431 | 2431 | 5,5 | 0,0 | 44,0 | 47,5 | 2375 | 4 | 2423 | 9 | 5,5 | 5,49 | 0,01 | 10 | 0,1 |
| 13 | 3 | | GM | Sengupta Deep | | IND | 2527 | 2527 | 5,5 | 0,0 | 43,5 | 48,0 | 2348 | 4 | 2407 | 9 | 5,5 | 6,65 | -1,15 | 10 | -11,5 |
| 14 | 14 | | IM | Sammed Jaykumar Shete | | IND | 2412 | 2412 | 5,5 | 0,0 | 41,0 | 44,5 | 2357 | 4 | 2406 | 9 | 5,5 | 5,41 | 0,09 | 10 | 0,9 |
| 15 | 2 | | GM | Ghaem Maghami Ehsan | | IRI | 2536 | 2536 | 5,5 | 0,0 | 41,0 | 44,5 | 2296 | 4 | 2347 | 9 | 5,5 | 7,07 | -1,57 | 10 | -15,7 |
Links
---