World Youth U16 Olympiad 2023 R4-5: India victorious over England 3.5-0.5, draws against Romania
India defeated England 3.5-0.5 in the fourth round of FIDE World Youth Under-16 Olympiad 2023. Aswath, Arjun Adireddy and Tejaswini G scored the victories. Only Harsh Suresh was held to a draw by Indy Southcott-Moyers. In the fifth round, India drew against Romania 2-2. Aswath and Harsh scored the victories while Arjun and Tejaswini suffered losses. Currently India is at eighth position 7/10. China has taken sole lead 10/10, followed by Turkiye at sole second place 9/10. Armenia and Hungary are at 8/10 each. India will face Uzbekistan in Round 6 which starts at 10:30 a.m. local time, 2 p.m. IST. Photo: FIDE/Lennart Ootes
China gains sole lead
The Netherlands 1 lost to China 0.5-3.5 in Round 4. In Round 5, China defeated Kazakhstan 1 by 3.5-0.5 to emerge sole leader 10/10. Turkiye is trailing them by a full point at 9/10. They will clash against each other in Round 6 today.
Round 4: India - England: 3.5-0.5
Aswath S (2229), CM Arjun Adireddy (1987) and Tejaswini G (1733) defeated CM Kenneth Hobson (1851), Theo Khoury (1865) and Ruqayyah Rida (1765). Only FM Harsh Suresh (2158) was held to a draw by Indy Southcott-Moyers (1983).
Aswath - Kenneth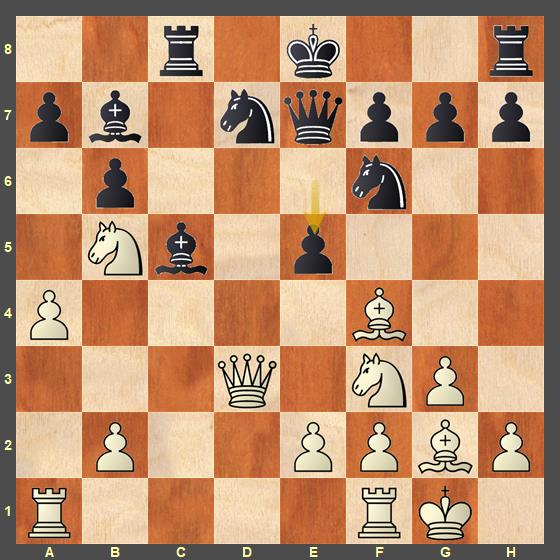 Aswath found a nice tactic 15.Nxe5 Bxg2 16.Nxd7 Bxf1 17.Nxc5 Rxc5 18.Rxf1 Qd7?? worsened things for Black due to 19.Bd6 Rc6 20.Rd1 a6 21.Qe3+ Qe6 22.Nc7+ and White went on to win the game.

Round 5: India - Romania: 2-2
Aswath S and FM Harsh Suresh won against FM Filip Magold (2195) and FM Vladimir-Alexandru Cnejev (2164), CM Arjun Adireddy and Tejaswini G lost to FM Andrei Filip (2182) and WCM Lia-Alexandra Maria (1859) respectively.
Aswath - Filip
White found a nice way to punish Black for 26...hxg5? Try to find the best continuation for White was executed in the game.
A total of 252 players including 5 IMs and 3 WIMs are representing 63 teams from 47 countries across the world. The six-day nine-round Swiss League Under-16 team event is being organized by Royal Dutch Chess Federation at High Tech Campus Eindhoven in Eindhoven, Netherlands from 13th to 18th August. The time control of the event is 45 minutes + 10 seconds increment.
Replay Round 4-5 games
Round 5 results
No.
Team
Team
Res.
:
Res.
1
China
Kazakhstan 1
3½
:
½
2
Turkiye
Uzbekistan
3
:
1
3
Armenia
The Netherlands 1
3
:
1
4
Hungary
Canada 1
3
:
1
5
India
Romania
2
:
2
6
Austria
Switzerland
2
:
2
7
Latvia
Ukraine
2
:
2
8
Bangladesh
Azerbaijan
2
:
2
9
France
Kazakhstan 2
½
:
3½
10
Germany
Israel
1½
:
2½
Standings after Round 5
Round 6 pairings
No.
Team
Team
Res.
:
Res.
1
China
Turkiye
:
2
Hungary
Armenia
:
3
Kazakhstan 1
Switzerland
:
4
Uzbekistan
India
:
5
Israel
Latvia
:
6
Romania
Bangladesh
:
7
Kazakhstan 2
Austria
:
8
Ukraine
Greece
:
9
Italy
The Netherlands 1
:
10
Azerbaijan
The Netherlands 3
:
Links
---