World Youth U16 Olympiad 2023 R2-3: India bounces back against Georgia 3-1
India lost to the top seed Kazakhstan 1 by 3-1 in the second round of FIDE World Youth Under-16 Olympiad 2023. On the top board, Aswath S held IM Aldiyar Ansat to a draw. FM Harsh Suresh also managed to draw his game against FM Edgar Mamedov. However, CM Arjun Adirredy and Tejaswini G lost to FM Daniyal Sapenov and WIM Alua Nurmanova respectively. Team India bounced back in the third round by winning against Georgia 1-3. Arjun and Tejaswini this time scored wins against Nikolozi Shamatava and Kesaria Mgeladze respectively. Aswath and Harsh drew their respective games. Today is the second of three double rounds of the event. India will face England in Round 4 which starts at 10:30 a.m. local time, 2 p.m. IST. Photos: FIDE/Lennart Ootes
India loses against the top seed Kazakhstan 1 by 3-1
China and The Netherlands 1 are currently leading with a perfect score 6/6. India is presently sharing the 12th spot with 15 other teams with a score of 4/6.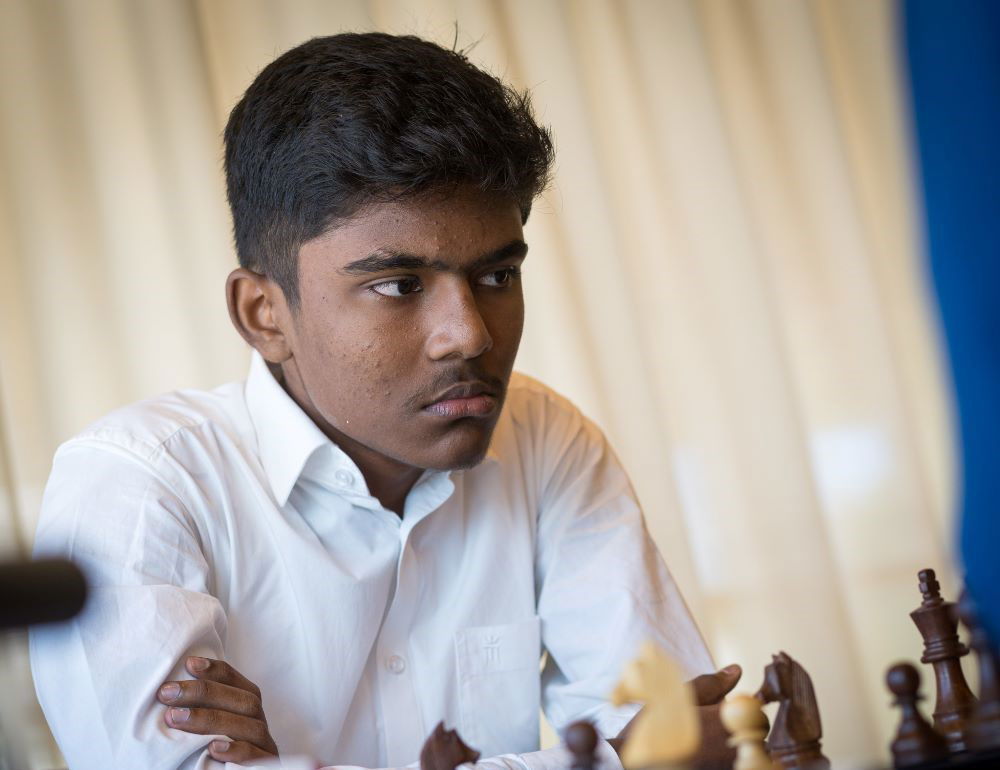 Round 2: Kazakhstan 1 - India: 3-1
Aswath S (2229) held IM Aldiyar Ansat (2370) to a draw. FM Harsh Suresh (2158) also drew his game against FM Edgar Mamedov (2091). CM Arjun Adireddy (1987) and Tejaswini G (1733) lost to FM Daniyal Sapenov (2268) and WIM Alua Nurmanova (2252) respectively.
Round 3: Georgia - India: 1-3
CM Arjun Adireddy and Tejaswini G scored victories over Nikolozi Shamatava (1872) and Kesaria Mgelaze (1660) respectively. Aswath S and FM Harsh Suresh (2158) were held to draws byFM Luka Kiladze (1912) and WFM Anastasia Kirtadze (1884) respectively.
Kirtadze - Harsh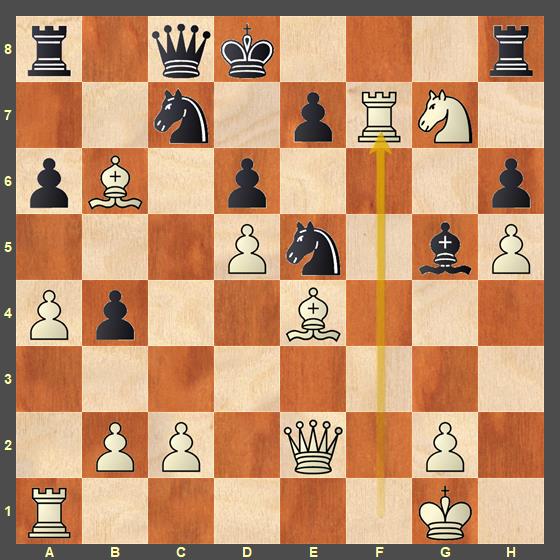 25.Rxf7! is an excellent exchange sacrifice Nxf7 runs into 26.Ne6+ White picks up the c7-knight and most importantly destabilizes the black king again. The game continued 25...Qb7 26.a5 Nxf7 27.Ne6+ Ke8 and now White should have taken the c7-knight. Instead, 28.Bg6 allowed the knight to escape Nxd5. The game eventually reached to a bishop and pawn vs two connected pawns endgame.
The above diagram is a study-like position. White needed to find precise continuation to win the game. She couldn't and Harsh managed to escape with a draw. Find out the winning continuation for Black.
A total of 252 players including 5 IMs and 3 WIMs are representing 63 teams from 47 countries across the world. The six-day nine-round Swiss League Under-16 team event is being organized by Royal Dutch Chess Federation at High Tech Campus Eindhoven in Eindhoven, Netherlands from 13th to 18th August. The time control of the event is 45 minutes + 10 seconds increment.
Replay Round 2-3 games
Round 3 results
No.
Team
Team
Res.
:
Res.
1
Hungary
Kazakhstan 1
2
:
2
2
China
Romania
4
:
0
3
The Netherlands 1
Canada 1
2½
:
1½
4
Turkiye
Armenia
3
:
1
5
Kazakhstan 2
Uzbekistan
½
:
3½
6
Azerbaijan
Bulgaria
3½
:
½
7
Italy
France
0
:
4
8
Israel
Greece
1½
:
2½
9
Austria
Lithuania
2
:
2
10
Albania
Ukraine
½
:
3½
Standings after Round 3
Round 4 pairings
No.
Team
Team
Res.
:
Res.
1
The Netherlands 1
China
:
2
Kazakhstan 1
Azerbaijan
:
3
France
Turkiye
:
4
Ukraine
Hungary
:
5
Uzbekistan
Germany
:
6
Romania
Greece
:
7
Croatia
Austria
:
8
Canada 1
Lithuania
:
9
Armenia
Slovakia
:
10
India
England
:
Links
---