Women's Candidates 2022-23 Pool A QF: Anna Muzychuk advances to the Semifinals
Anna Muzychuk (UKR) defeated Koneru Humpy to advance to the Semifinals of Women's Candidates 2022-23 Pool A. After a draw in the first two games, Anna had decisive advantage in the third tie-break, first Blitz game. She missed her opportunity and Humpy forced a draw by perpetual check. In the fourth game, the India no.1 and World no.3 made a simple one move blunder which cost her the game. Anna will face Lei Tingjei (CHN) in the Semifinals. The former got the white pieces in the first game. Today is a rest day. Semifinals start on Tuesday, 1st November at 3 p.m. local time, 6:30 p.m. IST. Photo: FIDE/Michal Walusza
Anna Muzychuk vs Lei Tingjie in the Semifinals
Anna - Humpy, Tie-break 3
30.Nd2 first to block the second rank and prevent any perpetual before going Rg1 ensures a win for White. However, White went 30.Rg1 first which allowed Black to save the half point in the first Blitz game of 5 mins + 3 seconds increment.
Humpy - Anna, Tie-break 4
White blundered 16.Bd2 Bxd4 17.exd4 Qxe2 and White lost material. Humpy resigned immediately which means she got eliminated and Anna advanced to the Semifinals where she will face Lei Tingjie (CHN).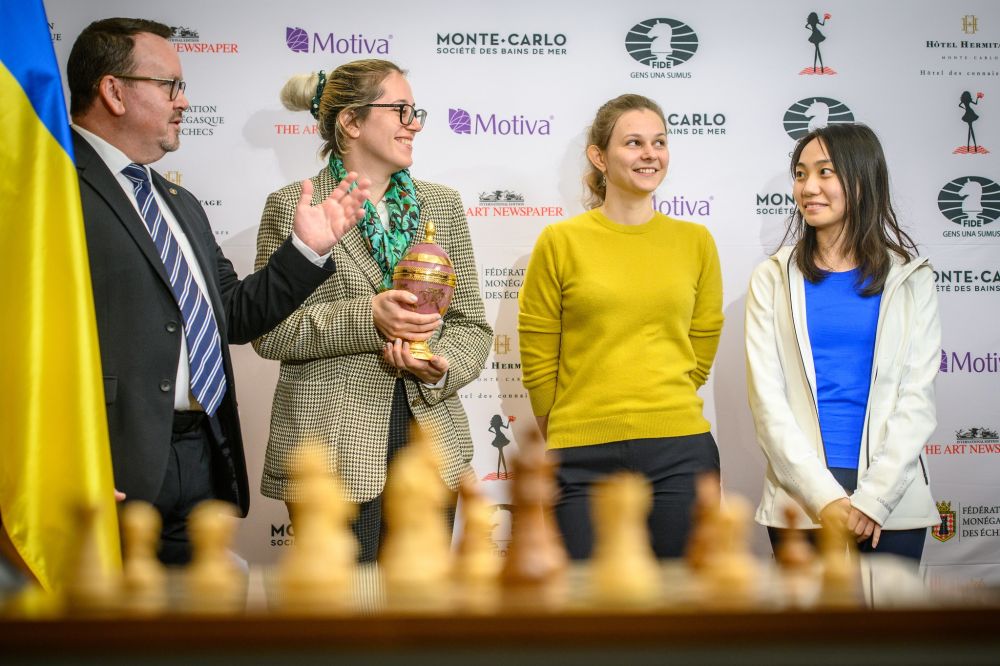 Links
---