European Club Cup 2022 R5: Harikrishna beats Vishy Anand for the very first time
How did Pentala Harikrishna bounce back after losing to Magnus Carlsen? By winning against Vishy Anand for the very first time in his career. Harikrishna played to his strength and outplayed the maestro in the endgame. Vidit Gujrathi scored his fifth win in-a-row. He defeated the new Romania no. Richard Rapport to become World no.24 in the live ratings. Novy Bor Chess Club defeated CSU ASE Superbet convincingly 4.5-1.5 to maintain their sole lead 10/10. They will face Schachclub Viernheim 1934e.V. who is currently in sole second place, in the penultimate round. Round 6 starts today at 2 p.m. local time, 5:30 p.m. IST. Photo: WIM Fiona Steil-Antoni/European Chess Club Cup 2022
Novy Bor Chess Club bests the top seed CSU ASE Superbet
There is a reason Novy Bor Chess Club has claimed a podium finish in the last three editions of European Chess Club Cup 2022. One of the reason could possibly be that most of the players are playing for the team for a very long time. Harikrishna is playing for Novy Bor since 2014. He will face Shakhriyar Mamedyarov in the penultimate sixth round, while Vidit Gujrathi who is back in his form, will be up against Yuriy Kryvoruchko.
Novy Bor Chess Club - CSU ASE Superbet: 4.5-1.5
Pentala Harikrishna (2717) and Vidit Gujrathi (2710) defeated Vishy Anand (2756) and Richard Rapport (2754) respectively. This was Harikrishna's first win ever against Anand of his career. D Gukesh (2732) drew with David Navara (2676).
Harikrishnha - Anand
Harikrishna played to his strength. It is well-known that he is very strong in the endgame. He exchanged pieces at a regular interval, arrived into a bishop and knight endgame in less than 25 moves. The endgame was very much equal. However, 31.e5 posed an innocuous question of where should the knight retreat. Both f7 and b5 are fine for Black. Yet, the maestro displaced it to e8 which was not the best choice. 31...Ne8 32.Nd4 Ng7 33.Kf2 h6 34.Ke3 Be8 35.Bc4 Bd7 36.b4 and soon the lack of squares for the black knight to move around freely became evident. It was almost trapped. White improved his position slowly and at an opportune moment exchanged his bishop with his opponent's knight which gave him a completely winning knight vs bishop endgame.
The Berlin Defence in Ruy Lopez is a solid opening for Black. It is considered drawish due to the nature of the opening. A draw with the black pieces against a strong opponent is often considered to be a good result. The last time Vidit Gujrathi defeated Richard Rapport with the black pieces in a rated game was in World Team 2015, over seven years ago.
Rapport - Vidit
Before playing Kf2, White needed to trade the pawns at b4. The difference is, exchanging the pawns first does not give Black the opportunity to get rid of the doubled c-pawns which is what happened in the game. 29.Kf2 c5 30.Ndc2 Bf5 31.cxb4 cxb4 32.Ke3 c5 and the position is completely in favor of Black. 33.h3 c4 34.bxc4 Nxc4+ and Vidit has shown over the years that he does not miss these opportunities of converting substantial advantages in the endgame.
Replay Novy Bor Chess Club - CSU ASE Superbet games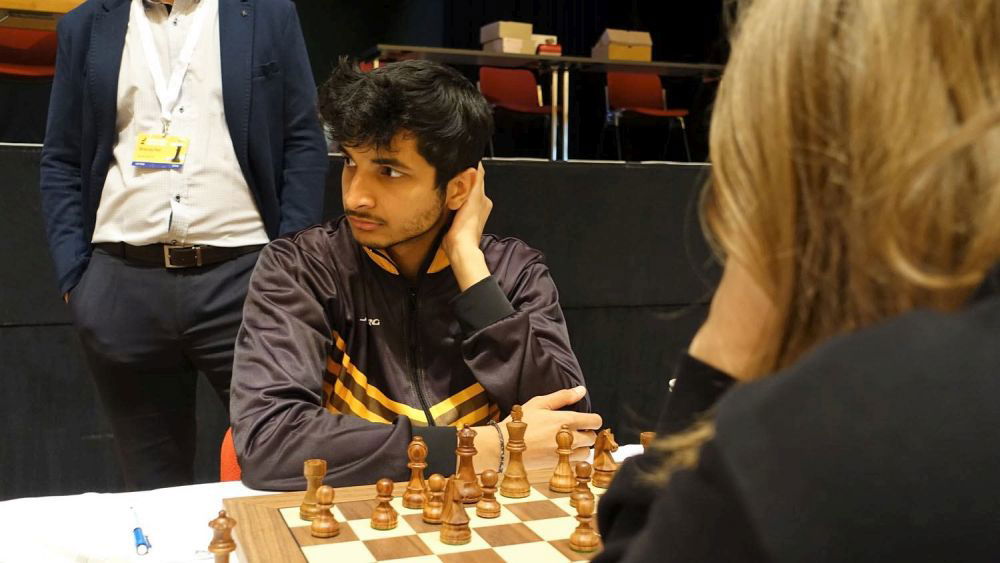 Magnus Carlsen tweeted on his game, replying to a GM Peter Svidler's analysis during the live stream
TAJFUN - SK Ljubljana - Schachclub Viernheim 1934 e.V. : 2.5-3.5
Arjun Erigaisi (2728) drew with Shakhriyar Mamedyarov (2747). Nihal Sarin (2673) missed a win against Yuriy Kuzubov (2612).
Nihal - Kuzubov
Black was completely lost after 63...Rxh6. White does not need to rush and take the g5-pawn. Instead, use it as a blockade to keep his g4-pawn alive. 64.Rxh6 + Kxh6 65.Nxc5 Kg6/7 66.Nb3 Kf6 67.Nxa5 Be1 68.Nc6+-. Black cannot even easily attack the g4-pawn, let alone capture it. A half point more would have drawn the match for the team.
Replay TAJFUN - SK Ljubljana - Schachclub Viernheim 1934 e.V. games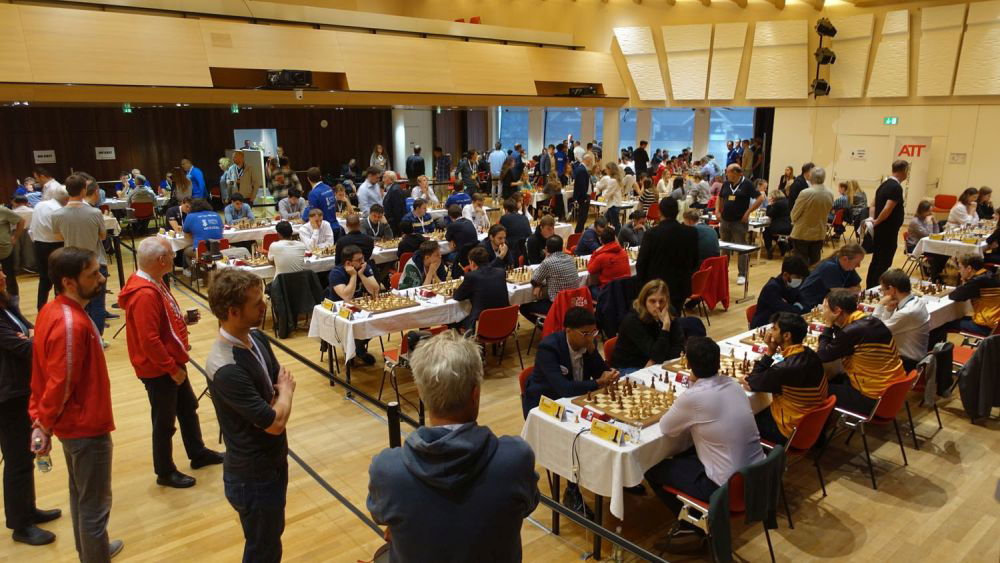 Everyday round starts at 3 p.m. local time, 6:30 p.m. IST from 3rd to 8th October 2022. The final round on 9th October starts 11 a.m. local time, 2:30 p.m. IST. The seven-round Swiss system tournament has a time control of 90min/40moves+30min/end+30sec increment per move starting from move 1. It is organized by SK Mayrhofen Zell/Zillertal and currently taking place at Europahaus Mayrhofen - Congress Zillertal in Austria.
Replay Round 5 Open games
Replay Round 5 Women games
Round 5 Open results
No.
SNo
Team
Pts.
MP
Res.
:
Res.
MP
Pts.
Team
SNo
1
2
Novy Bor Chess club
18
8
4½
:
1½
7
17½
CSU ASE Superbet
1
2
5
Clichy-Echecs-92
19
7
3
:
3
7
17½
Asnieres Le Grand Echiquier
3
3
4
TAJFUN - SK Ljubljana
18½
7
2½
:
3½
7
18
Schachclub Viernheim 1934e.V.
6
4
8
Silla - València Origin of Chess
19½
7
2½
:
3½
6
17½
Offerspill Chess Club
7
5
16
Moravská Slavia Brno
16½
6
2½
:
3½
6
16½
Vugar Gashimov
9
6
10
Beer Sheva Chess Club
16½
6
5
:
1
6
13½
SK Dunajska Streda
19
7
20
LSG Leiden 1
15
6
1½
:
4½
6
15
FC Bayern München
12
8
14
Kfar Saba Chess Club
16½
6
2
:
4
6
14
Schach ohne Grenzen
21
9
15
Schachgesellschaft Riehen
13½
6
3½
:
2½
6
11
SK König Tegel 1949
43
10
11
Sentimento Ajka BSK
13½
5
3
:
3
5
13
SK Rockaden
22
Round 6 Open pairings
No.
SNo
Team
Pts.
MP
Res.
:
Res.
MP
Pts.
Team
SNo
1
6
Schachclub Viernheim 1934e.V.
21½
9
:
10
22½
Novy Bor Chess club
2
2
3
Asnieres Le Grand Echiquier
20½
8
:
8
21½
Beer Sheva Chess Club
10
3
12
FC Bayern München
19½
8
:
8
22
Clichy-Echecs-92
5
4
7
Offerspill Chess Club
21
8
:
8
18
Schach ohne Grenzen
21
5
9
Vugar Gashimov
20
8
:
8
17
Schachgesellschaft Riehen
15
6
1
CSU ASE Superbet
19
7
:
7
22
Silla - València Origin of Chess
8
7
4
TAJFUN - SK Ljubljana
21
7
:
7
20
Schachgesellschaft Zürich
17
8
25
Paul Keres
15
6
:
6
16½
Sentimento Ajka BSK
11
9
13
Gokturk Satranc Spor Kulubu
17½
6
:
6
14
Schachklub Absam
27
10
29
KBSK Brugge
13½
6
:
6
18½
Kfar Saba Chess Club
14
Links
---