European Club Cup 2022 R2: Gukesh does a Zlatan against Zoltan
D Gukesh played like Zlatan Ibrahimović does in a football match. In the second round, the 16-year-old just brutally destroyed his opponent, GM Zoltan Varga. SK Dunajska Streda lost to his team, CSU ASE Superbet 0.5-5.5. Vishy Anand was rested and the new Romania no.1, Richard Rapport played in his stead. Pentala Harikrishna, Arjun Erigaisi and Nihal Sarin drew their respective games. Vidit Gujrathi won a prolonged encounter which he should have much before. The legend, Anand will return to the board once again in the third round as he will battle against GM Rauf Mamedov. Round 3 starts today at 2 p.m. local time, 5:30 p.m. IST. Photo: Ashwin Subramanian
Carlsen beats Naumann
Yes, Magnus Carlsen registered his first victory against a German GM Alexander Naumann. GM Eric Hansen also made his debut for Carlsen's team, Offerspill Chess Club. They defeated Schachgesellschaft Solingen 5.5-0.5. The world champion will take a rest in the third round when their team faces Schachgesellschaft Riehen.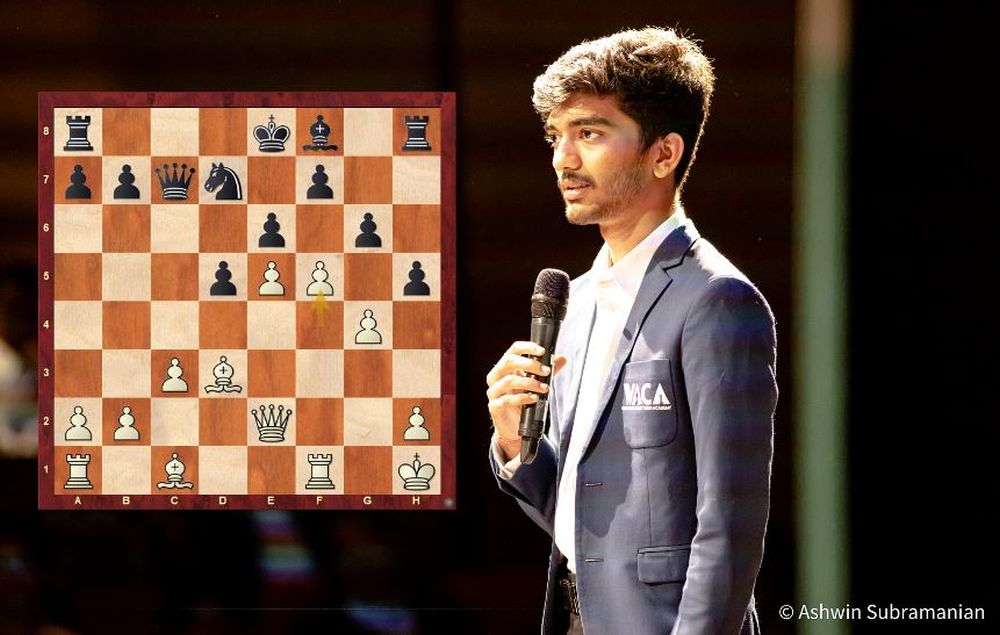 CSU ASE Superbet - SK Dunajska Streda: 5-1
GM D Gukesh (2732) was playing with the sole intention of winning his game against GM Zoltan Varga (2401).
Gukesh - Zoltan
If 8.g4 was any indication of what Gukesh is planning to do, he made it abundantly clear with 17.f5. White's king is at h1, g4 can be captured which opens the h-file for the rook. The e5-pawn is hanging too. Black has a plethora of capture choices and yet all of them only makes things worse for Black.
Captain of CSU ASE Superbet, GM FST Ivan Sokolov expressed gratitude towards the team sponsors and Vishy Anand in a tweet
Replay CSU ASE Superbet - SK Dunajska Streda games
Novy Bor Chess Club - Amevo Apeldoorn: 5.5-0.5
Pentala Harikrishna (2717) was held to a draw by IM Arthur Pijpers (2455). Vidit Gujrathi (2710) should have won his game against IM Jelmer Jens (2410) much earlier.
Vidit - Jelmer
29.c4 dxc4 30.Qxc4 and White went on to win the game after 40 more moves. Find out what White should have done here instead.
Replay LSG Leiden 1 - Novy Bor Chess Club games
Reykjavik Chess Club - TAJFUN - SK Ljubljana: 1-5
Both Arjun Erigaisi (2728) and Nihal Sarin (2673) drew their games against GM Gudmundur Kjartansson (2456) and GM Margeir Petursson (2447) respectively.
Replay Reykjavik Chess Club - TAJFUN - SK Ljubljana games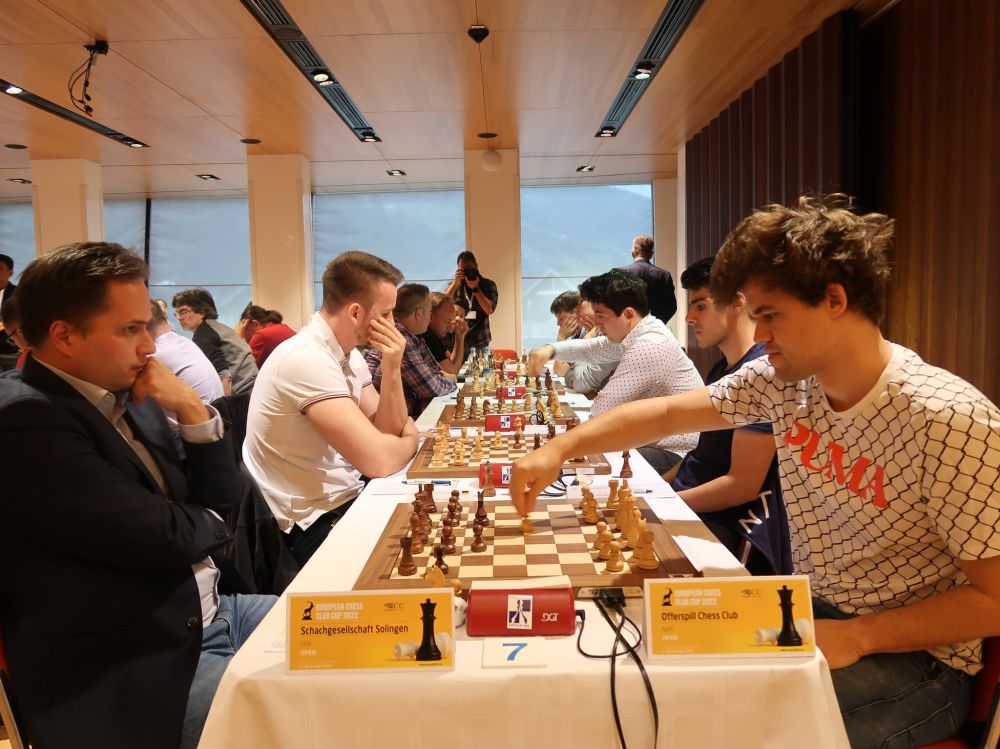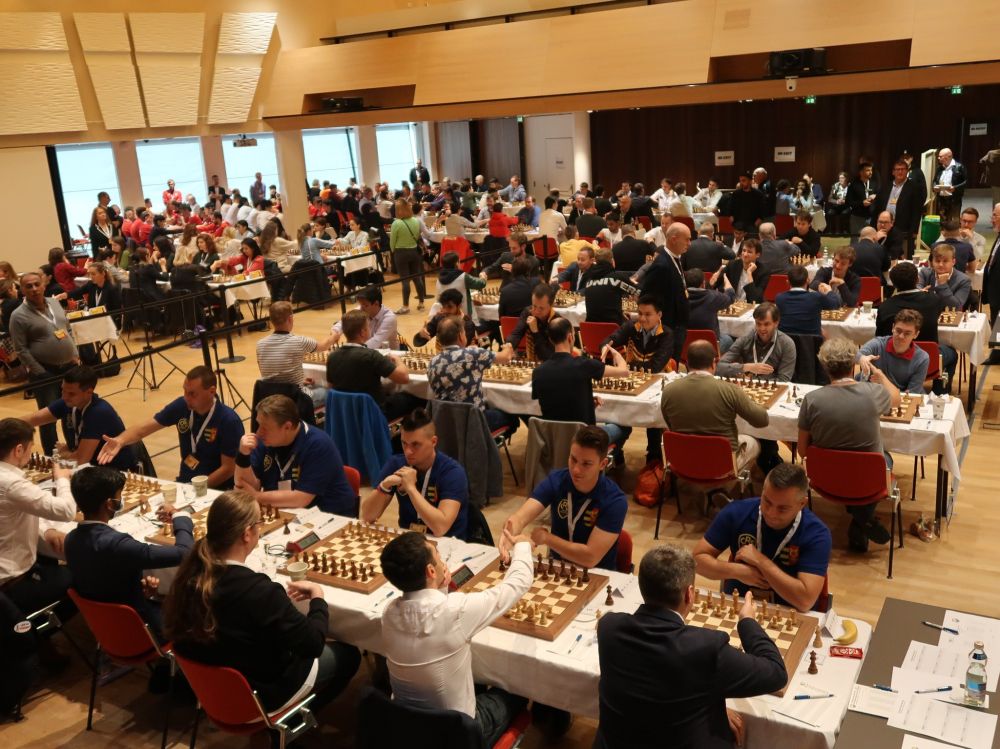 Everyday round starts at 3 p.m. local time, 6:30 p.m. IST from 3rd to 8th October 2022. The final round on 9th October starts 11 a.m. local time, 2:30 p.m. IST. The seven-round Swiss system tournament has a time control of 90min/40moves+30min/end+30sec increment per move starting from move 1. It is organized by SK Mayrhofen Zell/Zillertal and currently taking place at Europahaus Mayrhofen - Congress Zillertal in Austria.
Replay Round 2 Open games
Replay Round 2 Women games
Round 2 Open results
No.
Team
Team
Res.
:
Res.
1
CSU ASE Superbet
SK Dunajska Streda
5
:
1
2
LSG Leiden 1
Novy Bor Chess club
1
:
5
3
Asnieres Le Grand Echiquier
Schach ohne Grenzen
4½
:
1½
4
Reykjavik Chess Club
TAJFUN - SK Ljubljana
1
:
5
5
Clichy-Echecs-92
KSK Rochade Eupen-Kelmis
5
:
1
6
Paul Keres
Schachclub Viernheim 1934e.V.
1
:
5
7
Offerspill Chess Club
Schachgesellschaft Solingen
5½
:
½
8
Schachklub Absam
Silla - València Origin of Chess
1
:
5
9
Vugar Gashimov
Stockholms SS
4½
:
1½
10
KBSK Brugge
Beer Sheva Chess Club
½
:
5½
Round 3 Open pairings
No.
Team
Team
Res.
:
Res.
1
Vugar Gashimov
CSU ASE Superbet
:
2
Novy Bor Chess club
Beer Sheva Chess Club
:
3
Sentimento Ajka BSK
Asnieres Le Grand Echiquier
:
4
TAJFUN - SK Ljubljana
FC Bayern München
:
5
Gokturk Satranc Spor Kulubu
Clichy-Echecs-92
:
6
Schachclub Viernheim 1934e.V.
Kfar Saba Chess Club
:
7
Schachgesellschaft Riehen
Offerspill Chess Club
:
8
De Sprènger Echternach
Silla - València Origin of Chess
:
9
SK Rockaden
Denizsu Aquamatch
:
10
Moravská Slavia Brno
De Pluspion Wachtebeke
:
Links
---