Cairns Cup R08: Humpy takes sole lead and inches closer to the title
The fight for the top spot escalated to an altogether different level in the penultimate round of Cairns Cup 2020. On one hand Koneru Humpy thoroughly out-prepared Valentina Gunina in the opening and demolished her in a mere 35 moves, while on the other the 16-year-old Carissa Yip stole the show by beating the reigning World Champion and top seed Ju Wenjun. Elsewhere, Alexandra Kosteniuk too continued to be a class act by taking down Nana Dzagnidze with some brilliant show of technique. The strongest women's tournament in the history of chess will thus enter its ninth and final round with four players in contention for the first place. Humpy is in sole lead with 5.5/9, Kosteniuk follow her just half a point behind, and Ju Wenjun and Mariya Muzychuk share the third place with 4.5/9 each.
The Cairns Cup 2020 has delivered some of the most dramatic plot twists so far but its penultimate round exceeded all its previous rounds in thrill and action. Valentina Gunina was caught totally out of her depth in a line of the Meran Semi-Slav against Koneru Humpy which the latter had actually played back in 2006 to beat Anatoly Karpov. Humpy was in her best element and she unleashed an absolute rampage on the Russian to clinch a thumping victory. The other shocker of the day was the lowest seed of the event Carissa Yip beating the top seed Ju Wenjun.
Humpy in sole lead and close to the title !!
Koneru Humpy has already surpassed the reigning World Champion Ju Wenjun in live ratings and has taken the sole lead in the event with her sensational victory over Valentina Gunina. She is up against compatriot Harika Dronavalli in the last round and a draw for her is good enough to secure a clear or joint first place finish.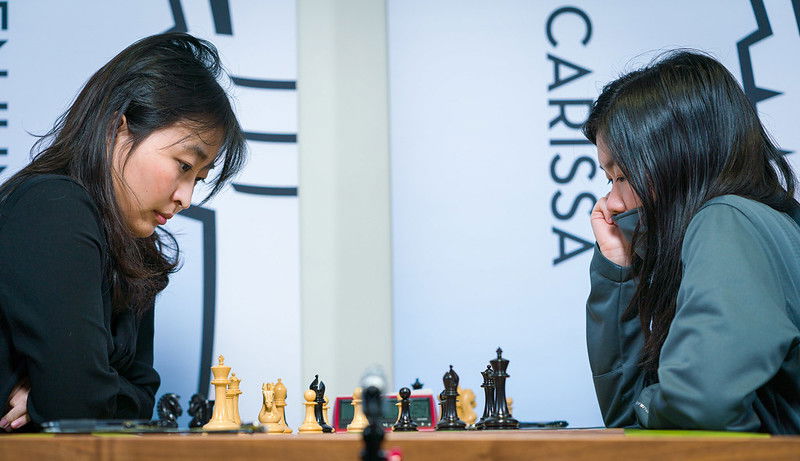 Standings and final round pairings
---